Lunching at Aurora's
D Richard's
By: Louise Fayet
D Richard's is one of Anguilla's most elegant restaurants. By night, it is Anguilla's finest steak house. It lights up bright against the Caribbean night sky, serving fine cuts of meat in a luxurious ambiance.
During the day, the restaurant exudes a rich golf club atmosphere in league with some of the most exclusive clubs around the world.
After a full morning of Anguilla golf, lunch in this blissful setting is the ultimate reward...
Welcome to D Richard's

Inside D Richard's
The entrance is nothing but grand. High stately walls are covered in eye-catching grass.
Step inside and the bar wows you. Leather high top chairs line up in perfect fashion against the white marble bar. Equally swanky is the club house's interior dining room, set just across from the bar.
Complete with plush leather seats and vaulted ceilings, this stately room is a posh pick for post-golf lunching.
Stately Interior Dining Room

True golf aficionados, however, will opt to dine outside.
Let us show you why...
Lofty Outdoor Terrace With a View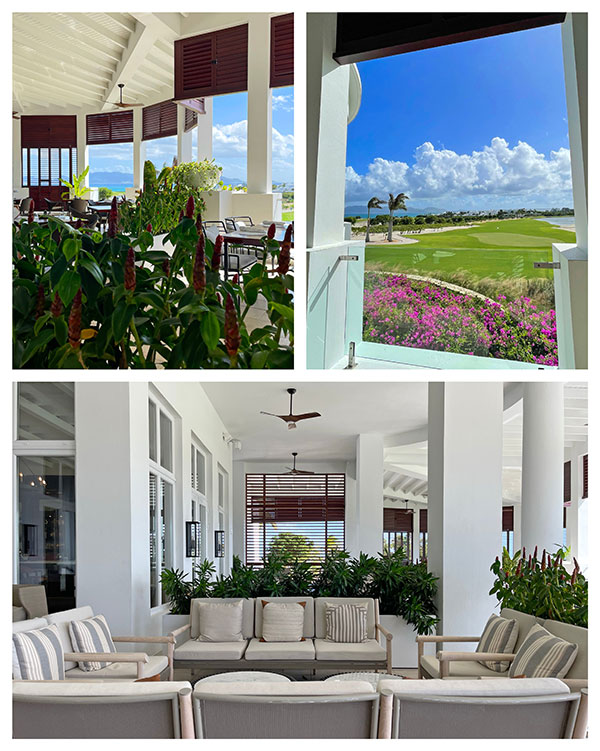 D Richards overlooks the course's finishing 18th hole, its fairway, the Caribbean Sea and St. Martin in the distance. The view is grand!
The majestic vistas enchant you and inspire a state of golf zen. The surrounding atmosphere enhances that feeling.
Tall white walls are offset by rich mahogany shutters. The colors contrast beautifully against the natural blue and green scenery.
Overlooking 18 and The Caribbean Sea

The lofty outdoor terrace offers plenty of seating and lounging areas.
Tip: Choose a seat closest to the restaurant's edge for a live view of golfers wrapping up their games!
How to Start Lunch at D Richard's?
From D Richard's cocktail list, the Lemongrass Moscow Mule will have you feeling refreshed all afternoon long.
Refreshing Moscow Mule & Robert Rey Manhattan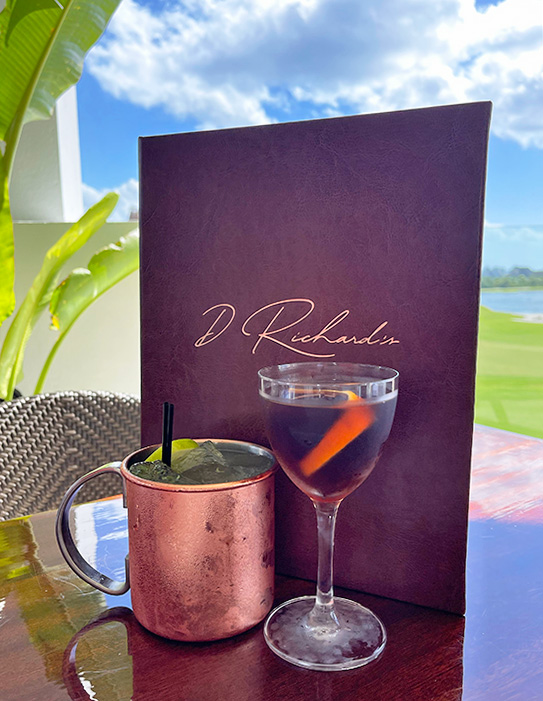 This drink is made with Absolut Vodka, lemongrass-infused Wray & Nephew, lime and Fever Tree ginger beer.
If it is whiskey you prefer, the Robert Rey Manhattan packs a punch. Templeton 4 year Rye Whiskey, Pu'er tea-infused Mancino Rosso vermouth and orange bitters go down smooth after a morning on the course.
Now, let's talk food! D Richard's boasts a beautiful menu, chock full of excellent golf fare. Choosing is tough as everything sounds scrumptious.
Appetizers include creamy tomato soup, lobster salad, crayfish salad, chopped Cobb, classic caesar and...
Guacamole & Greens Bowl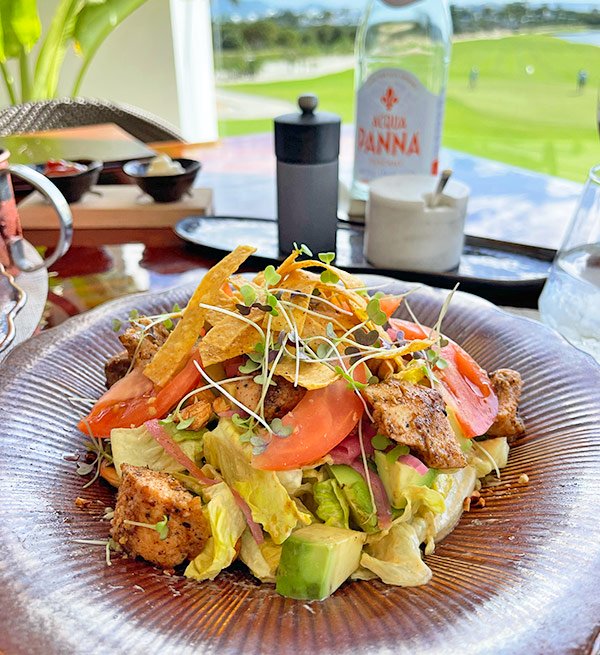 Chunks of flavor-packed blackened mahi mahi are mixed with local tomatos, pickled red onions, avocado, cilantro and crispy tortilla chips. Light and super fresh, it is all dressed in a cashew vinaigrette.
From the tortilla chips, to the soft mahi mahi, the textures in this salad are addictively delicious.
Next, Nori had her heart set on the World's Best Salad.
World's Best Salad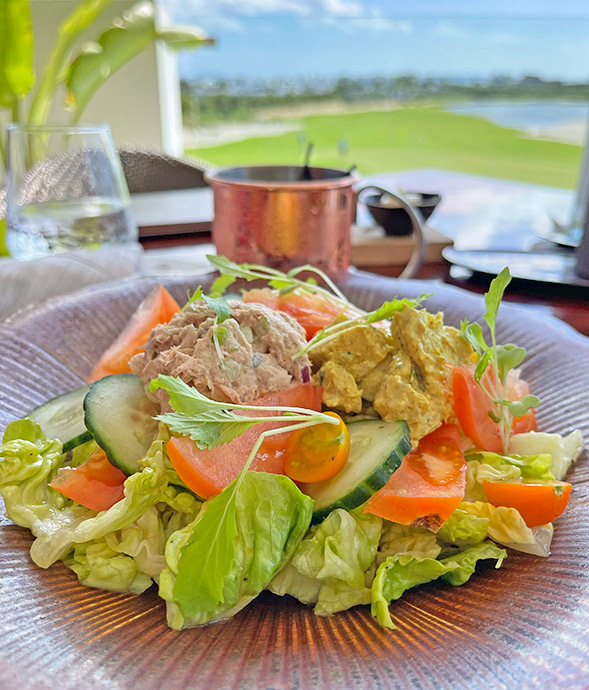 Lovers of tuna salad, chicken salad and egg salad are in for a treat! These three classics are all laid to rest on a bed of butter lettuce with sliced cucumber and tomato.
Special Note: All greens are grown in the property's hydroponic gardens. It doesn't get fresher than an Aurora salad.
When it comes to mains, the menu reels you in! Fish of the Day Sandwich, Country Club Sandwich, D Richard's Hot Dog, Deli Sandwich, BLT, Tortilla Wrap... the choices of mouthwatering dishes is seemingly endless.
Our #1 recommendation?...
D Richard's Wagyu Burger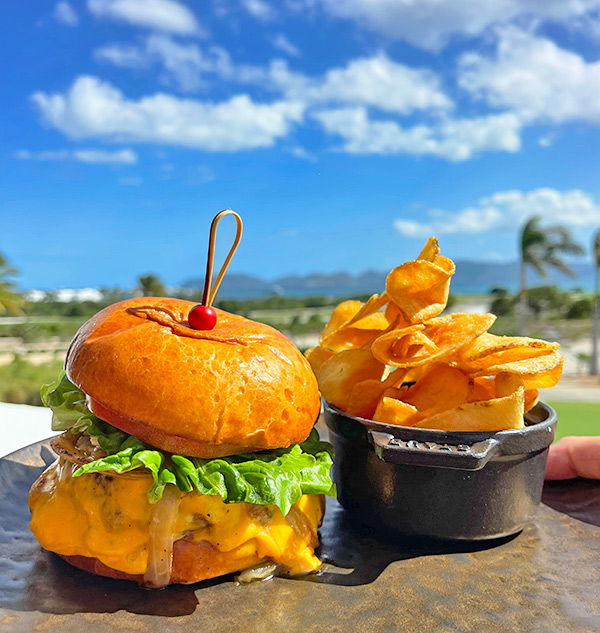 A perfectly-seasoned Wagyu beef patty is popped on a house-made brioche bun with lettuce, tomato and griddled onion. For most decadent results, top your burger with cheddar, pepper jack or American cheese.
This burger may be one of the best we have ever had.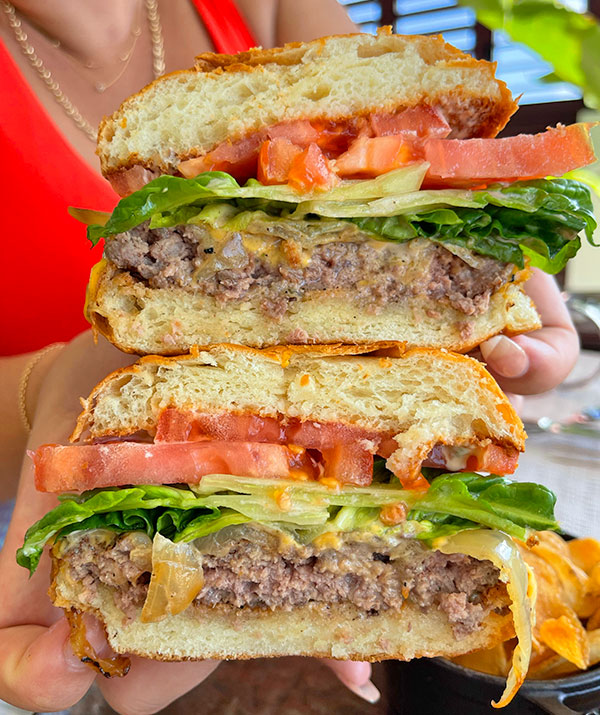 Juicy and full of flavor, the Wagyu simply melts in your mouth. The bun absorbs all of the burger's juices, the melted cheese and the sweet hints of onion. Just thinking about it brings a tear to my eye!
Served with their housemade crispy chips, it makes for the perfect post-golf meal.
If it is seafood you seek, D Richard's has you covered! Cooked on their Josper Charcoal Grill, Chef's menu features yellowfin tuna, mahi mahi fillet and red snapper fillet.
Seafood Heaven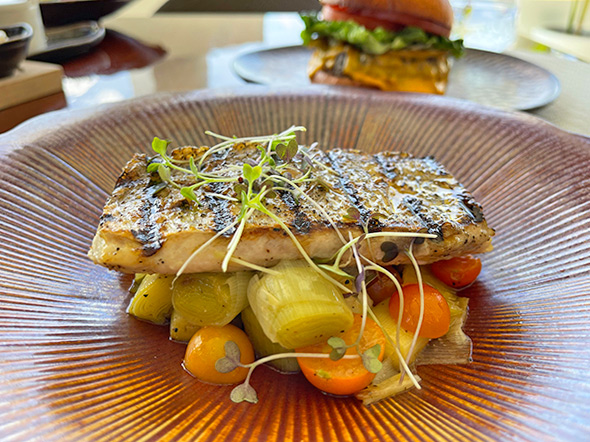 A flawless piece of snapper is grilled to perfection, complete with picturesque grill marks. The sumptuous snapper is laid on roasted leeks and cherry tomato halves, and drizzled with hazelnut and citrus oil.
This dish blends "fresh and healthy" with "super flavorful."
See You at D Richard's

With its eye-catching view, sumptuous setting and prompt and friendly service, this the perfect spot for a relaxing cocktail and afternoon meal.
Golfers and non-golfers alike are sure to fall in love with the experience at D Richard's.
Directions, Hours & Contact
Directions: D Richard's is located at Aurora International Golf Course.
Hours: Open for breakfast "Grab and Go" 7-11am daily. Open Wednesday-Sunday for lunch 11am-4pm, Wednesday-Saturday for dinner 6-10pm.
Tel: 264-498-5602 or 800-210-6444