Anguilla Guide to Events in March...
Moonsplash and the Tail End of "High Season"
In many parts of the world, "March comes in like a lion and out like a lamb."
In Anguilla, the weather comes in with warm sea breezes and goes out with warm sea breezes ;-) More about Anguilla weather in March.
Prices, though, may go out like a lamb...
In most cases the high season rates for accommodations are present at the start of March and by the end of March, many places are ready to drop to their low season rates on April 1st (others may wait until April 15).
Tip: Are you planning to vacation towards the end of March, into the beginning of April? Ask for the off-season rate, even if it's only for the time vacationing in Anguilla in April.
March is a really great time to be on the island!
Why?
It's Easter (sometimes)! It's Spring Break! And it's the month when many people from "up north" just can't take winter any longer. Spring is just around the corner.
Put it all together and it's party time!
Rendezvous Bay is the location for Moonsplash in March. Ahhhh...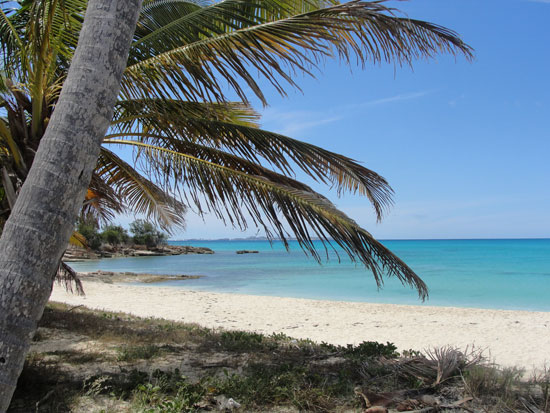 Bankie Banx's Moonsplash
Moonsplash Sunday at The Dune Preserve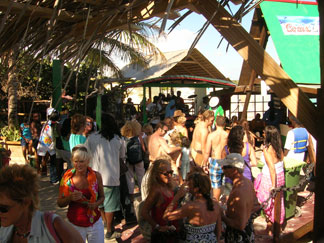 Another big draw in March is Bankie Banx's Moonsplash at The Dune Preserve.
Moonsplash is an annual event that has run for well over 20 consecutive years.
Moonsplash host Bankie Banx
singing at his home, The Dune Preserve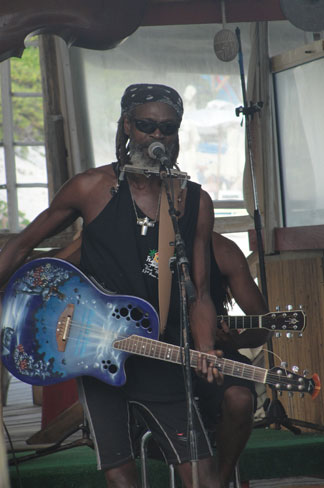 What is Moonsplash?
First you need to understand The Dune Preserve to get an idea of the setting. You can read more about The Dune Preserve in Anguilla, here.
Moonsplash is held each year usually on the March full moon, or the full moon before Easter.
This makes for an amazing backdrop... Who can resist moonlit water?
The Dune Preserve's owner, local musician and celeb, Bankie Banx gets his stage ready for a 3 day event with a variety of local and regional musicians.
Headliners from over the years include: Tarrus Riley, Bunny Wailer, Jimmy Buffett, Jah Cure, Gregory Isaacs, Sugar Minnott, Marcia Griffiths, Steel Pulse, Inner Circle, Stephen Cat Coore, and Duane Stephenson to name a few.
Local musicians and groups will also perform.
Of course, this includes Bankie Banx himself (and his trademark hand-stand) and depending on the year, the popular local band British Dependency.
In years gone, Orange Grove have made the boat ride over from St. Martin to impress the Moonsplash audience and John Mayer has made a surprise appearance and performed on stage with Bankie...
What a bonus!
Ruel Richardson & Joyah (yes, a female bassist ;-)
of Anguilla's British Dependency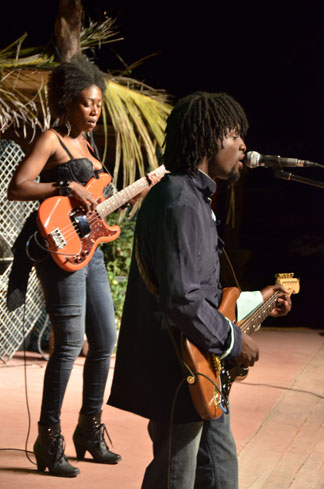 The vibe at the Dune during Moonsplash is cool. There are more people here at this time than any other time of the year.
And they're all here for the music. The music kicks off on Friday night and Saturday night is the headliners show.
Then Sunday is a lazy Dune day with that evening usually prompting a jam session by the musicians still hanging around.
Everyone comes together at Moonsplash... Locals and tourists, established musicians and aspiring ones.
Bankie's Dune is an ideal spot for this to unfold each year.
All of this with the Caribbean breeze passing you by as you take in the notes on one of the best Anguilla beaches, Rendezvous Bay.
Duane Stephenson sings August Town to the Moonsplash crowd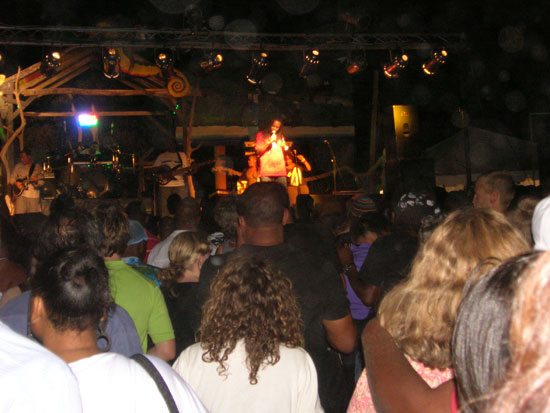 Orange Grove jams the crowd at Moonsplash 2011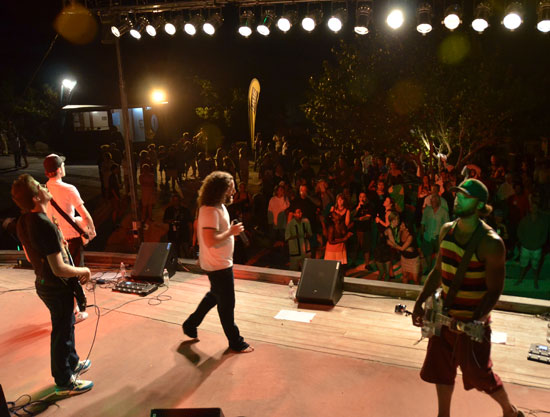 If that isn't enough reason to try Anguilla in March, I don't know what is! Unless you don't like music ;-)
Another March event in Anguilla is St. Gerard's Garden Party.
Beautiful St. Gerards in The Valley

Anguilla's Historic Wallblake House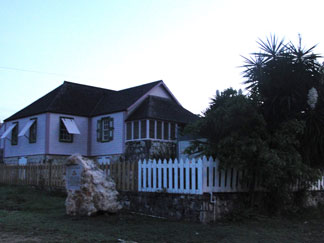 St. Gerard's is the beautiful Catholic church in The Valley just north of the airport roundabout and next to the Wallblake House.
You can read more about Anguilla's Historic Wallblake House, here.
During the Garden Party, which is held on the grounds of the Wallblake House, you can experience foods prepared by the congregation including local and regional cuisine.
There is plenty of live music and dancing as well.
In March, spring has sprung and everyone is celebrating as they should.
The weather is ideal (and no hurricane threat), the live music is a force to be reckoned with, and all of the incredible Anguilla restaurants are in full swing and ready to please your tastebuds.
Some years, depending on when Easter falls March is host to Easter weekends' Festival Del Mar in Island Harbour and the Sandy Ground Easter Monday boatrace.
We'll focus more on those on the April page since, so far, Festival Del Mar has fallen in April. There is always something impressive going in on this special little island...
A portion of the action at Festival del Mar in Island Harbour