Anguilla Guide to
January and February:
Anguilla's High Season
Why is January so popular in Anguilla?
While I love the holiday magic in the USA and Europe, it tends to fade after December 25th. The cold, dreary days make me crave a change.
That's when Anguilla calls... a winter haven unlike any other. Just picture it for yourself... a day under the sun, by crystal-clear waters, far from winter's grasp and the post-holiday bustle...
The Beach Calls!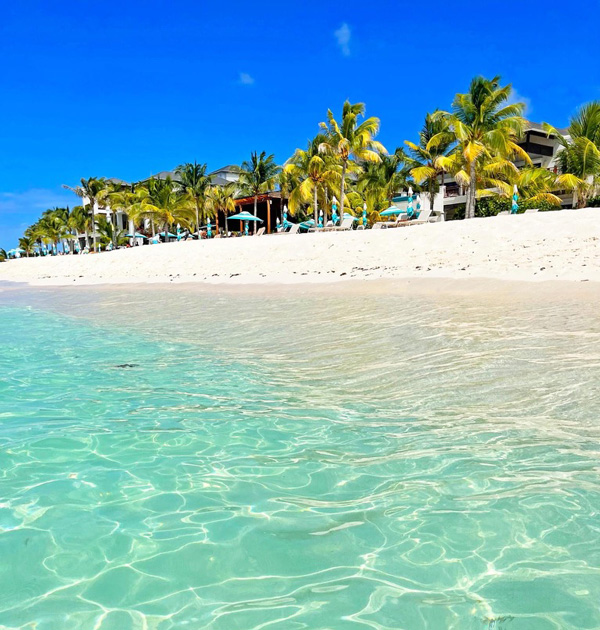 January in Anguilla is a vacationer's dream, a serene break from the holiday rush and winter days.
While Northern regions freeze, Anguilla stays warm and comfortable, without extremely hot days or big weather systems. Note: If you are used to visiting Anguilla in the summer, winter months do bring more wind and bigger waves.
Also keep in mind that January is when the jet-set heads to Anguilla. Don't be surprised if you catch a glimpse of a few celebs and big mega yachts anchored in Meads Bay!
The most popular time of the year to visit the island, the prices reflect the demand.
While you can enjoy Anguilla on a budget, this season, from November to March/April, sees higher rates. This is, after all, Anguilla's high season. Hotels, villas and even car rental services all increase their rates. However, many affordable places to stay remain truly affordable for experiencing Anguilla on a budget, even in January.
New Year Celebrations in Anguilla
In Anguilla, the first week of January is anything but ordinary. It is a high-energy period that marks the peak of the holiday week. This spirited week kicks off with Old Year's Night or New Year's Eve. A colossal party night, it is celebrated island-wide. Hotels and restaurants usually host their own special events.
Sandy Ground is another popular spot to ring in the New Year. (Click play above for a look at nightlife down on Sandy Ground!)
Elvis', Waves and Lit Lounge are favorites for joining the festivities and saying farewell to the old year.
Where to Celebrate New Year's Eve in Anguilla?
Wherever you celebrate on-island, you are in for a great time. Anguilla is a memorable place to ring in the New Year. You can read about New Year's Eve here.
For the rest of the week following January 1st, the island is typically very busy.
Note: Many hotels like Four Seasons close their doors during the first week of January. The property is usually open to guests only.
High-end restaurants like Blanchards keep their usual high-traffic, bustling with patrons. Even affordable restaurants like SandBar are almost always at max capacity so booking ahead is important.
Likewise, more people means more demand for activities and services. Make sure you plan and book ahead.
After that first week of January, the island quiets down.
February in Anguilla: A Tranquil Post-January Retreat
From the second week in January right into February, the pace of the island takes a gentle turn. This is a serene period, and there's a noticeable "lull" in the air and a quieter atmosphere. While it is still high season, February offers a more peaceful retreat.
While I would still recommend making reservations for dinner, you don't need to book a table weeks in advance.
This is true all the way through February until President's Day. This holiday usually sees an influx of visitors. So, again, plan ahead if you intend to dine at some of the island's most popular restaurants.
Last but not least, there are plenty of events at the hotels and restaurants during this period. Click here for a live music schedule.
The end of February also sees the annual Flower and Garden Show and Agricultural Open Day, where people from around the island come to compete to make Anguilla more beautiful through greenery.
If you appreciate flower arrangements, be sure to make time for the Flower and Garden show!
More Anguilla Travel Information
More January Information
More February Information