Lit Lounge...
Smooth Nightlife Vibes on Sandy Ground
By: Louise Fayet
Sandy Ground has always been Anguilla's nightlife hot spot, from way back when Johnno's was the "go to" for drinks and dancing, to the days of Pumphouse. Plentiful with restaurants and bars, this strip of sand is the place to be after dinner.
Rounding out the Sandy Ground scene today is...
Lit Lounge

Set on the Eastern side of Sandy Ground (where the sailing school was), Lit Lounge is picture-perfect! Palm trees sway overhead and string lights twinkle above in the night sky.
The building has been renovated. Lit Lounge features a massive wooden deck with high tables and chairs, a long bar with bar seating and a second floor lounge area.
First things first? Make your way to the beautifully lit bar for a tasty Lit Lounge original cocktail!
The Bar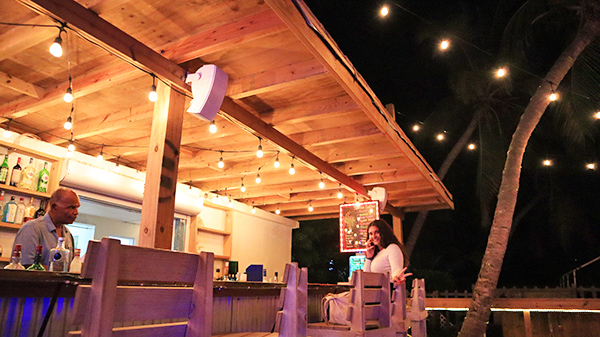 Specialty Cocktails & Bar Eats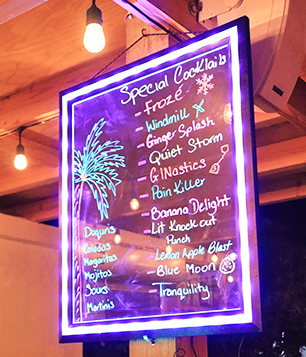 The colorful lit menu teases the eye, displaying their list of special cocktails.
Options include classics like daiquiris, coladas, margaritas, mojitos, sours and martinis.
The specialty cocktails are especially fun with names like the Ginger Splash and Quiet Storm.
We started off with a Blue Moon and a Strawberry Daiquiri.
Made by one of our favorite bartenders, Ambrose, you may recognize him from Tasty's!
Blue Moon & Strawberry Daiquiri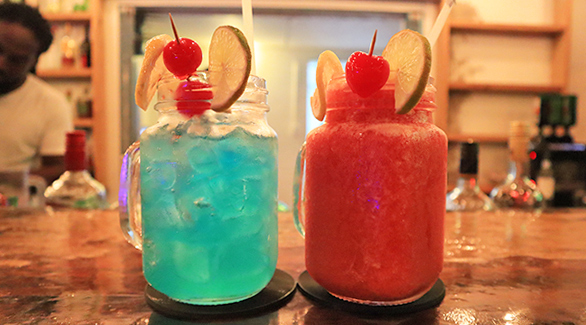 Ambrose sure knows how to make a smooth Strawberry Daiquiri, and we loved the presentation. These drinks come in adorable Mason Jars.
As for the Blue Moon? Sweet and strong! A tequila based cocktail with Blue Curaçao, it sure is beautiful. But buyer beware: it packs a potent punch!
Another, lighter specialty cocktail?...
The GINastics

Refreshing and gentle, this one is infused with floral flavors.
Now a Caribbean classic....
Rum Punch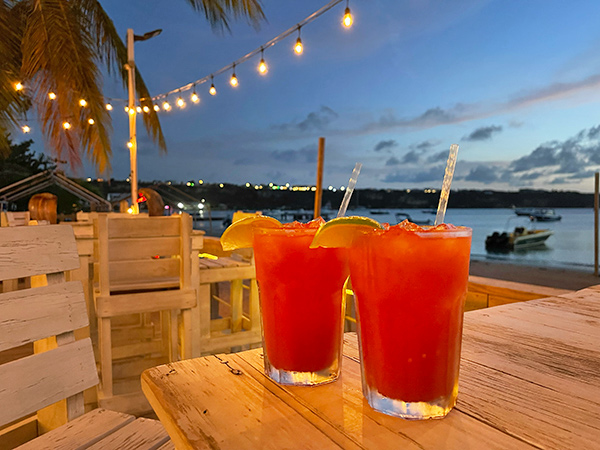 You can never go wrong with a rum punch and Lit Lounge can attest!
When hunger calls, Lit Lounge's kitchen is open all night long. In collaboration with Ethnik Cuisine the Asian inspired menu offers a wide range of yummy tapas, sushi rolls and pizzas.
Starting with tapas, bao buns...
Chicken Sliders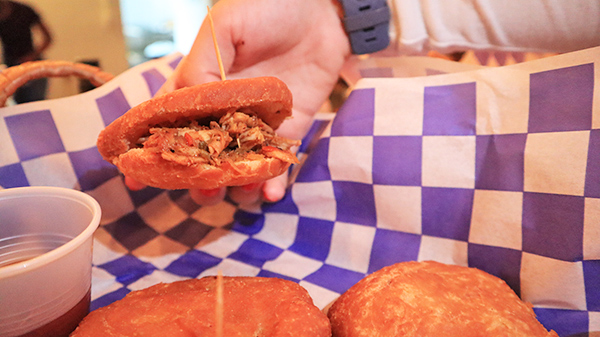 Perfect for late night nibbling are the Johnny cake sliders. Lit Lounge serves up your choice of curried mushroom chicken or creole mahi fish.
Crisp Johnny cakes are filled with a flavorful mix of chicken (or fish), served with a sweet chili sauce. These were Nori's favorite for the night.
More crispy bites...
Saltfish Fritters & Spring Rolls

Finger foods don't end there! My personal favorite...
Crispy Fried Chicken Wings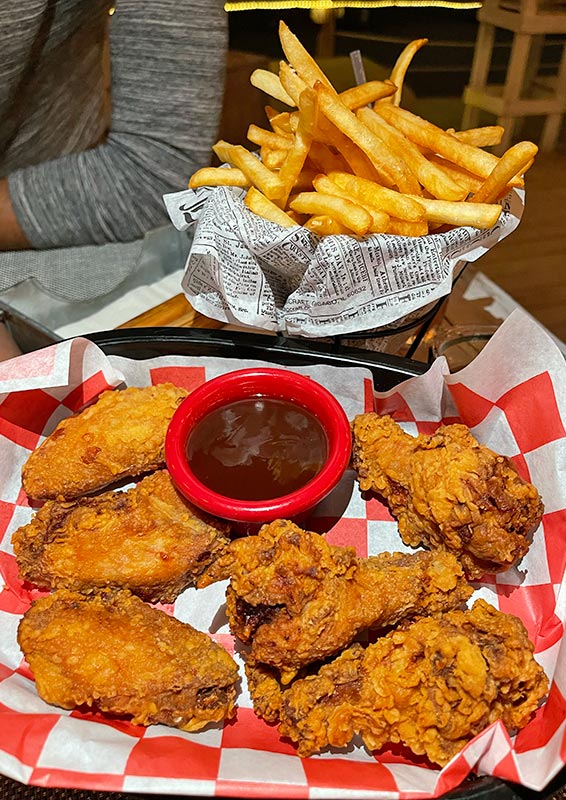 These tangy wings are seasoned with a top secret blend of spices and served with Chef Sweets' signature Asian BBQ sauce. This is always my go to tapa choice. Crispy and finger licking great!
From the "Take a Seat" section of the menu, the Kao Soi...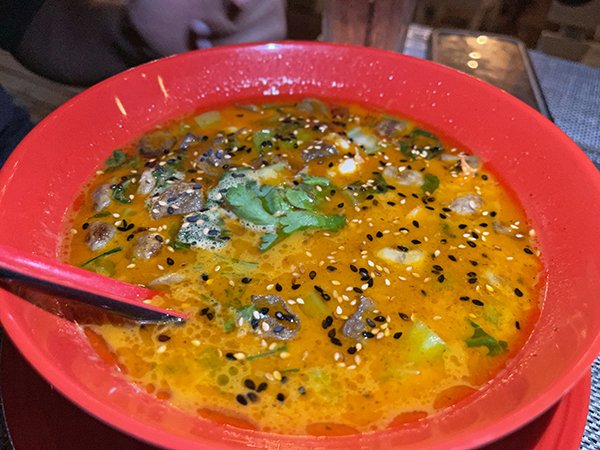 Thai coconut red curry soup is poured over noodles and served with bok choy and wild mushrooms. This filling soup has the perfect amount of spice and you can even add shrimp!
Next, the main courses: House Asian salad, fried whole fish, Chinese fried rice and pad thai.
Chinese Fried Rice

Jasmine rice, peas, carrots and a fried egg with your choice of chicken or shrimp.
Pad Thai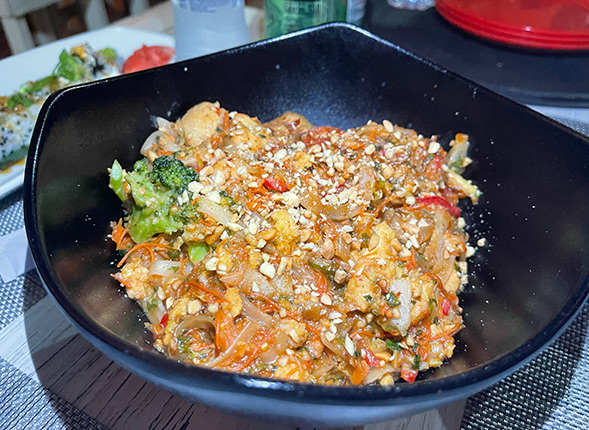 Stir fried rice noodles, fresh vegetables, traditional sauce and crushed peanuts. You can also add chicken or shrimp.
Next up, the sushi rolls!
Ethnik Cusisine is known for their sushi rolls, they never disappoint! Lit Lounge offers sushi from Thursdays to Sundays. Here are a couple of our favorites!
Sandy Dragon Roll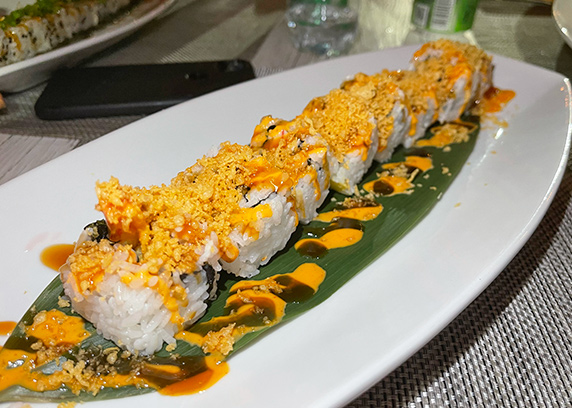 Shrimp tempura, crab and avocado topped with chefs delicious sauce. As a big shrimp tempura fan, this roll came in as my star roll for the night!
Now, one of the most unique rolls I have ever seen...
The Pyramids Roll

Popcorn chicken, Asian BBQ sauce, guacamole, spicy mayo, broccoli and cucumber.
The menu also offers rolls like the classic spicy tuna, bbq salmon roll with plantain and lemon aioli and other unique rolls.
Lastly from the main course section, the "Lit Pizza".
Choose from a wide variety of pizzas: Cheese, garbage pizza (all toppings), ham, chicken, italian sausage, meat lovers, classic pepperoni, fish, spiny lobster pizza and the fisherman's seafood pizza.
Half Pepperoni & Half Chicken Pizza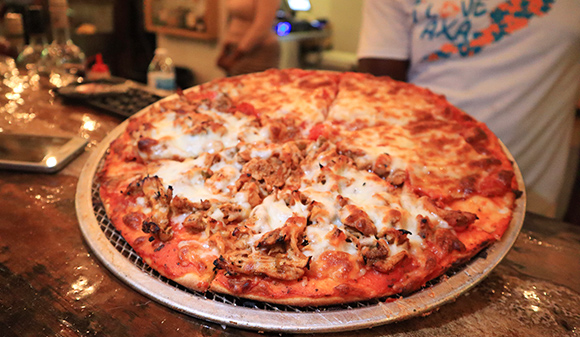 Garden Veggie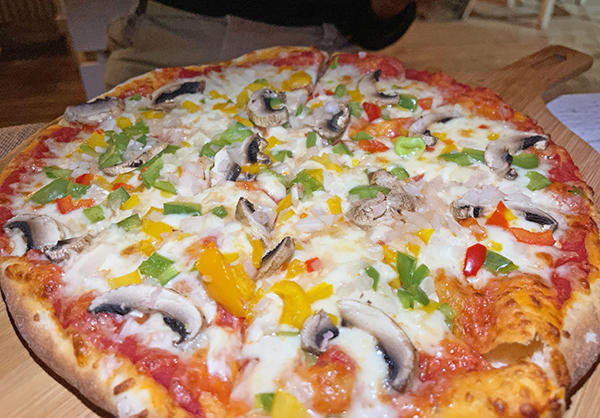 Time for dessert!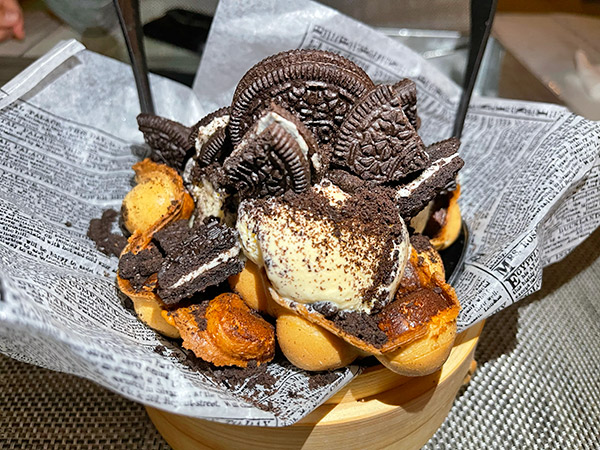 Last but not least? A sweet treat. End your meal with a chocolate chip or oatmeal skillet cookie with ice cream or choose a grand slice of eggnog cheese or baileys cheesecake - YUM!
Let's Get Lit!
Once it's order up, it's to the dance floor!
Don't miss Lit Lounge on a Thursday night! Karaoke Night is hosted by none other than Darvin Mussington. Sing your heart out under the stars as folks come out in droves to celebrate another beautiful evening in Anguilla.
Karaoke Night at Lit Lounge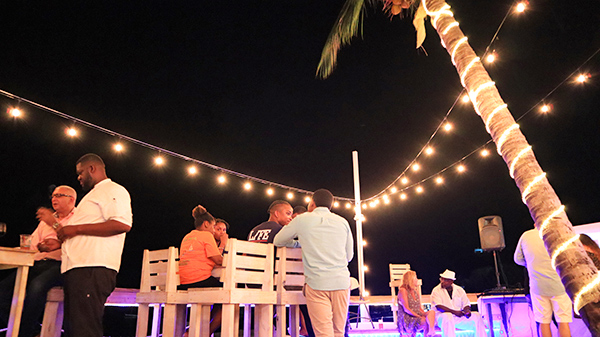 Lit Lounge has terrific live music events. Follow them on Facebook for live music announcements.
As for my favorite seat in the house? Head up to the second floor. I love sitting up above the action. The second floor has a spectacular view of the lounge below and Sandy Ground's boats in the distance...
View From The Top!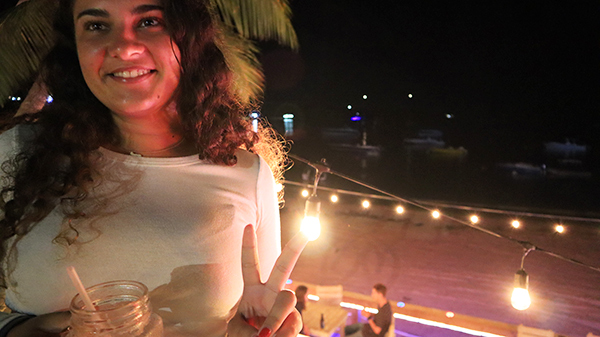 Tip: Lit Lounge makes for a great spot for sunset cocktails. They open at 6pm, right in time for a famous Sandy Ground Sunset.
Another Spectacular Sandy Ground Sunset!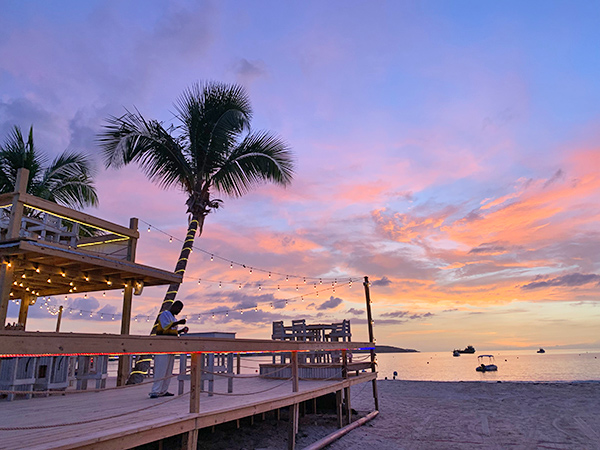 With nightlife hotspot, Elvis' just down the beach, Lit Lounge is an excellent addition to the Sandy Ground nightlife scene!
Opening Hours & Contact
Hours: Open daily from 6pm until late.
Tel: (264) 476-9966
Location: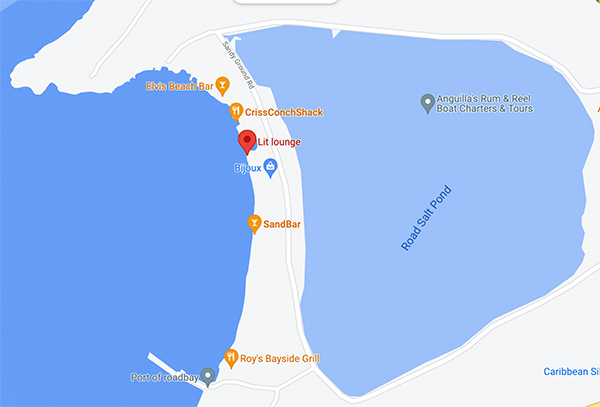 Menu: Click here