Elvis' Beach Restaurant...
Potent Drinks, Mexican Eats
& Hammocks on The Beach
If you know Anguilla, chances are you know Anguilla's #1 beach bar...
Elvis'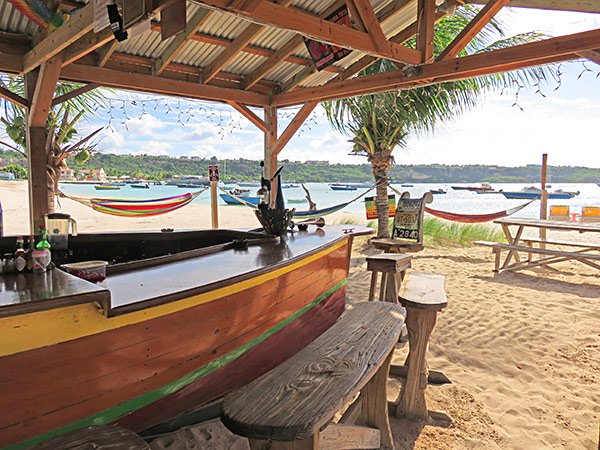 Set on the tranquil side of Sandy Ground, Elvis' has long been the place to be come night fall. Open air and toes in the sand, potent drinks flow as reggae favorites come through the speakers. The vibe is classic unpretentious and laid-back Anguilla. It is your quintessential Caribbean beach bar.
With all of the right ingredients, it's no surprise that Elvis' is a favorite watering hole for most. World-famous, even the Travel Channel can't get enough of Elvis' (see video below)!
The good vibes are all thanks to the owners, resident celebrity, Elvis...
Elvis and Ralph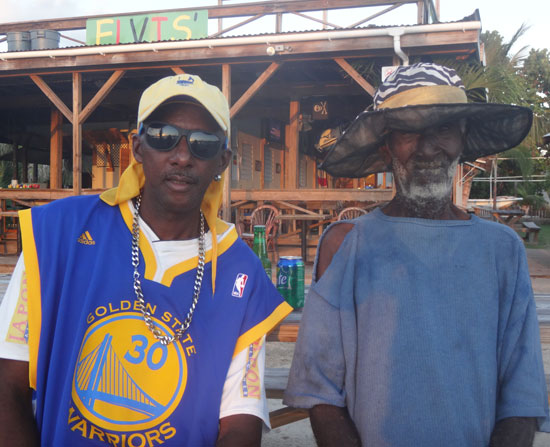 And Maryland transplant, Brett...
With Brett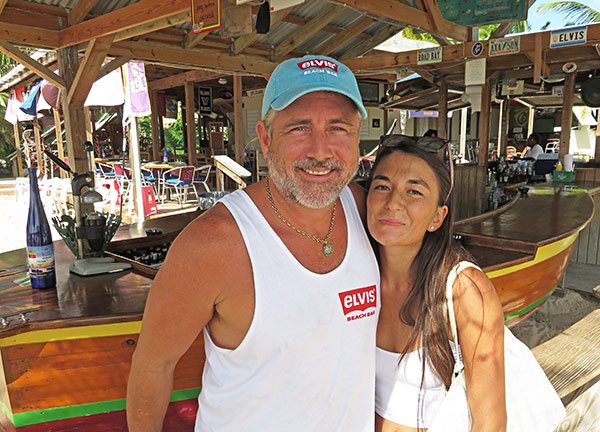 Armed with quick wits and stories that make your eyes go wide, Brett and Elvis keep the fun times rolling on Sandy Ground.
Elvis' Beach Bar & Restaurant

Elvis' boat bar on the beach is the second most famous part of Elvis' beach bar (only after Elvis himself, of course!).
This is the epicenter.
Elvis' Boat Bar on the Beach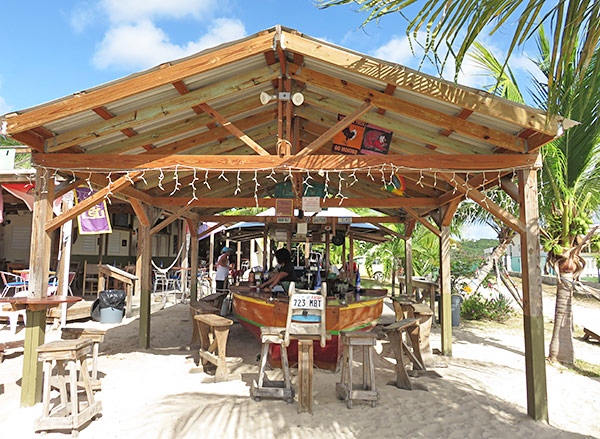 The beach bar looks out to a sandy dance floor that swells during Elvis' full moon parties. A projector and big screen makes up the backdrop, playing sports through most afternoons and nights. TIP: Come football season, Elvis' is the place to be.
Elvis' Beach Bar & Restaurant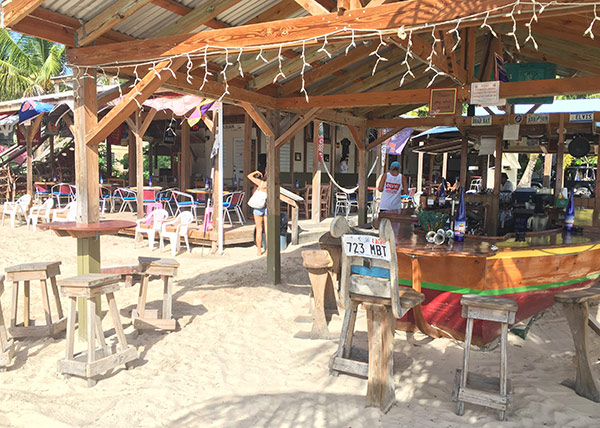 Flanking that is the covered restaurant, complete with three different flatscreens broadcasting, you guessed it, sports...
Elvis' Restaurant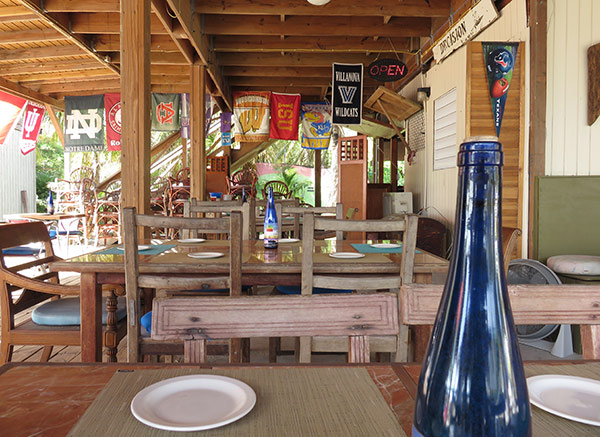 If the football flags didn't drive the point home, Brett takes his sports seriously! You never miss a game in Anguilla thanks to Brett.
In addition to being a nightlife hot spot, a favorite for a sunset cocktail, and a destination for sports lovers, Elvis' is also a solid pick for a barefoot dinner and long, lazy afternoons filled with rum-induced snoozes and tasty beach eats.
Strong Drinks & Mexican Eats
In line with the beach bar bum vision that Brett & Elvis have crafted, what makes more sense than a Mexican menu? After all, tacos are an essential part of every beach bar bum's diet. ;-)
World Famous Elvis' Rum Punch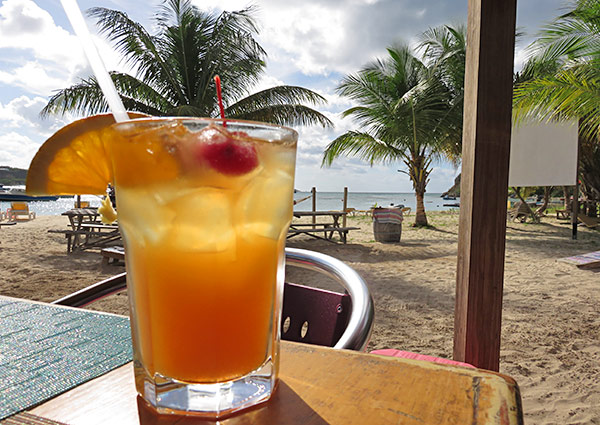 A number of specialty cocktails, margaritas and crisp rosés make up Elvis' drink menu. Tempted by the margaritas (given the Mexican menu), in Anguilla we "go" rum punch every time. And, Elvis' is one the best.
The lunch and dinner menu features Tex-Mex favorites with Anguillian twists. For example, the "Goatchos." Elvis' nachos are topped with slow cooked local goat, a favorite meat here in Anguilla.
Saving the goat for next time, Louise and I started with the Nacho Supreme...
Elvis' Nacho Supreme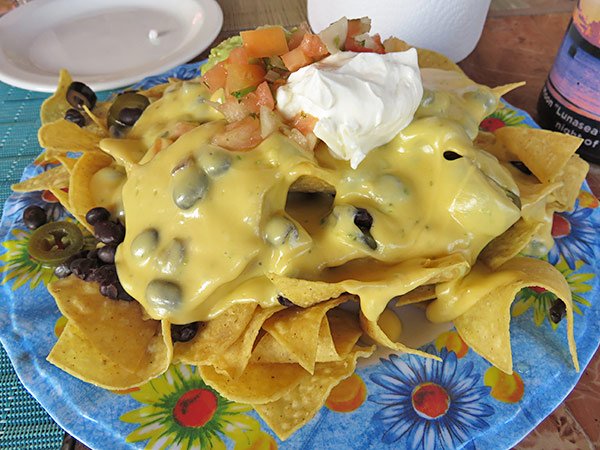 Brett advised we get a half order. An excellent call! It's a sizable portion even at half size. Loaded with black beans, jalapeños, olives, guacamole and the very best part... warm, house-made cheesy-pico sauce. By the end of the plate, we were almost wondering if we should have gone with the full order.
Elvis' Fish Tacos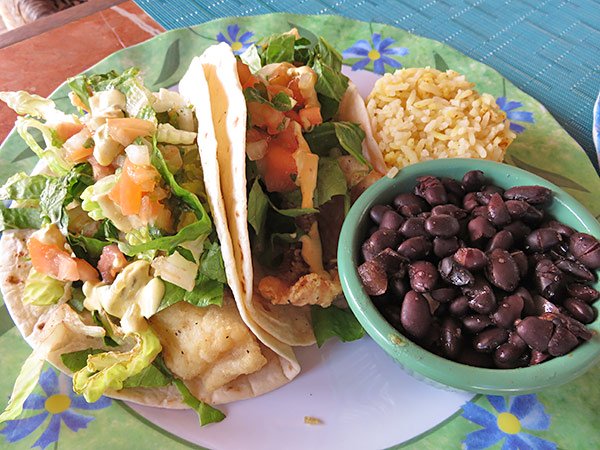 Next up? Elvis' Fish Tacos. Many claim that these are the best fish tacos in Anguilla. From your first bite of the snapper, the reason becomes apparent.
Large pieces of snapper are lightly fried, wrapped in warm tortillas and topped with lettuce, pico de gallo and a secret zesty sauce that perfectly complements the snapper. The snapper itself is cooked right, piping hot, the batter light and crisp. Rice and beans are served on the side.
Post-Lunch Snooze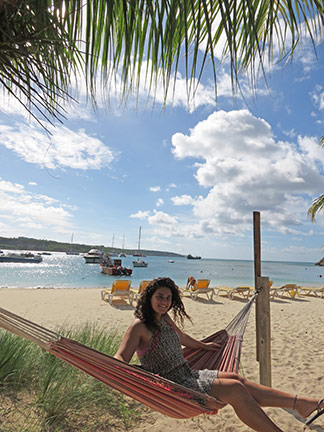 Also on Elvis' menu are "Fresh Mex Bowls" (choice of ground beef, pulled pork, shredded chicken, Jerk chicken), burritos, burgers and a variety of tacos, including goat.
A must-try in Anguilla, the goat is calling our names.
Happily fed, "one more rum punch, please" we asked our waitress.
Then? To the beach.
Beach chaises and hammocks dot the sands surrounding Elvis' restaurant.
Sit back, relax.
At Elvis', there's no rush, no hassle.
Just 100% smooth Caribbean vibes.
This is beach bar living at its best!
Elvis' is open for lunch, dinner and late nights 7 days/week.