Waves...
Making Waves on Sandy Ground
By: Louise Fayet
Beachy, fun with a prime spot in the sun, we all love Waves!
Welcome to Waves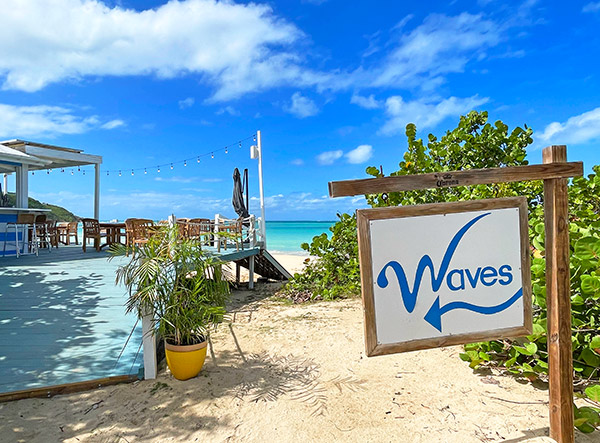 This beach bar first got its start way back in the day on Meads Bay. Set right next to Four Seasons, it quickly developed a reputation for delivering excellent beach eats and drinks with a chic-relaxed vibe.
Waves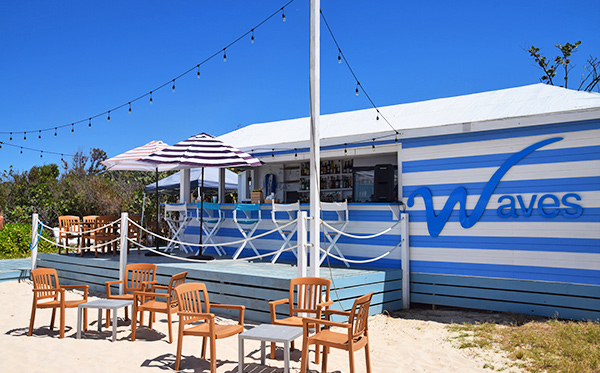 This wood-clad beach bar became one of our personal favorites for a laidback day on Meads.
Toes in The Sand on Meads Bay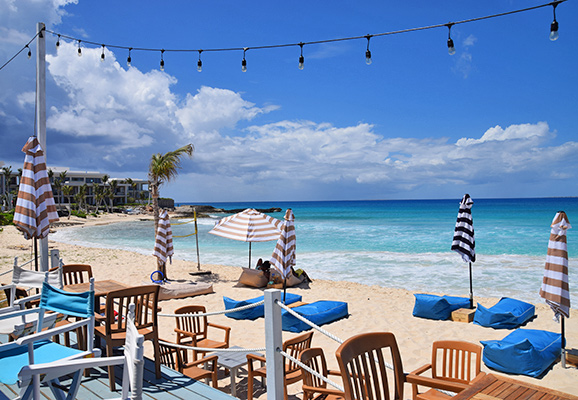 Naturally, we were crushed when Waves closed during the height of the pandemic in 2020.
Fast forward to today and we have wiped away our tears of sorrow because...
Making Waves on Sandy Ground
The Waves team has transplanted the entire beach bar and deck to the south side of Sandy Ground!
Presenting Waves at Sandy Ground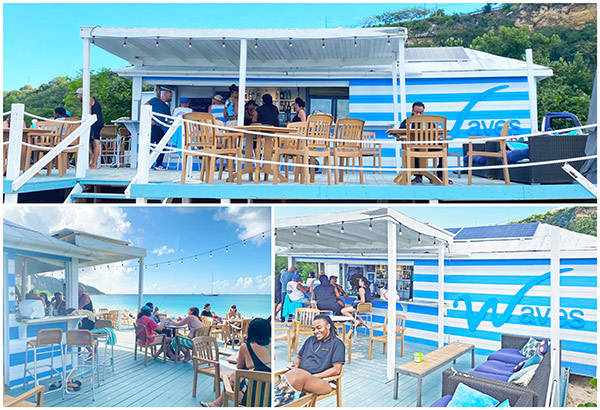 It is no surprise that the beach bar has re-opened to rave reviews.
Its classic beachy feel and same great taste is alive and thriving on Sandy Ground.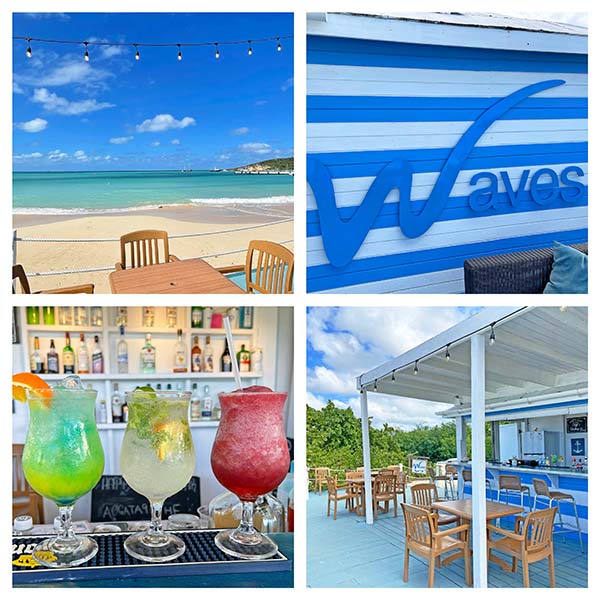 Hang by the bar, grab a table with a view, relax in their comfy couches or lounge on a chaise on the sand. Once you've settled in, the only question is...
What's For Lunch?
Waves' menu features a terrific line up of beachy finger food. One of the must-tries? The loaded fries...
Classic Loaded Fries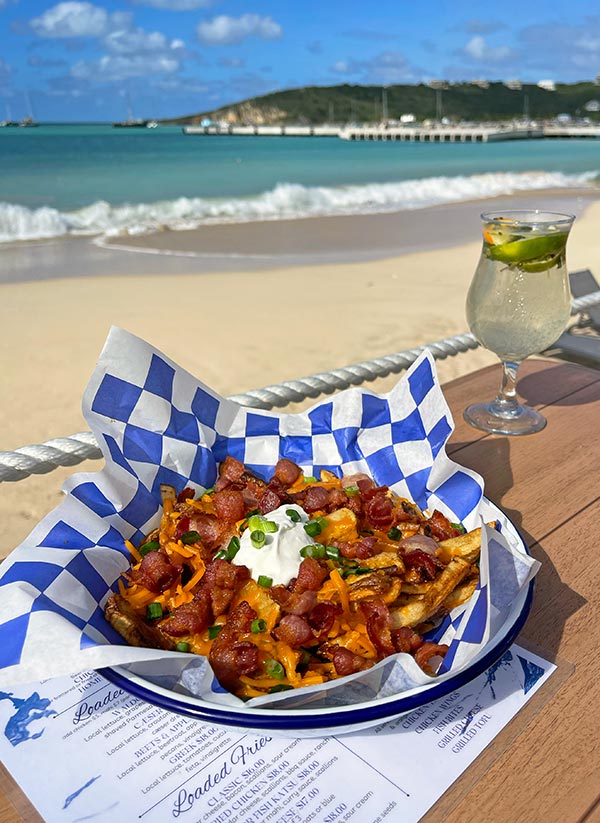 A heaping bowl of homemade, hand-cut fries are topped with just about anything you can imagine. We love the "Classic" with sour cream, bacon, cheddar cheese and spring onions...
Let's Dig In!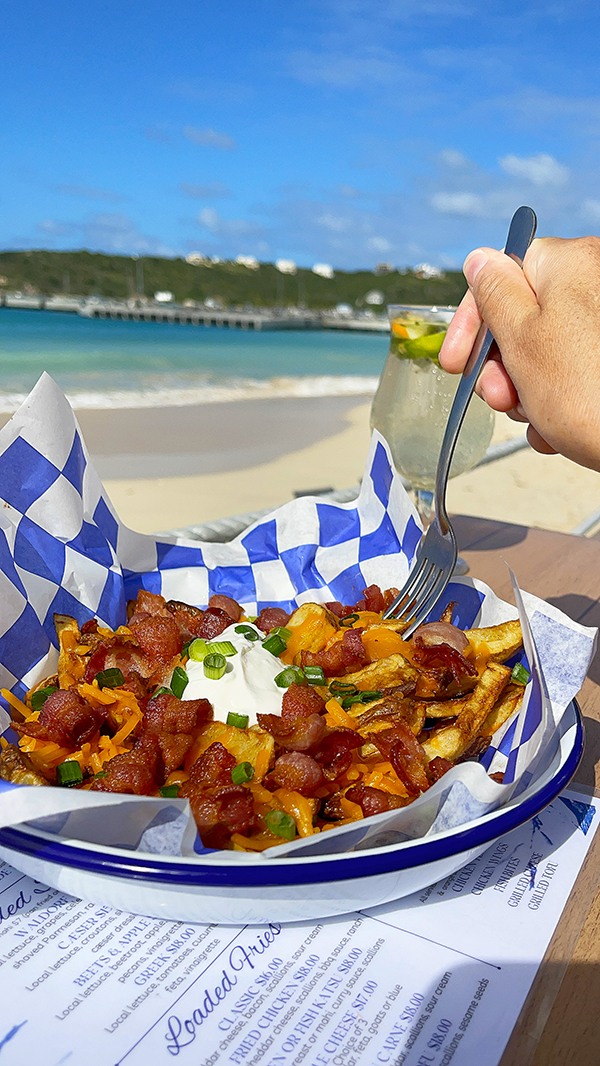 Other options include "Triple Cheese" and "Chilli con Carne."
Another finger food favorite...
Huge and Crispy Wings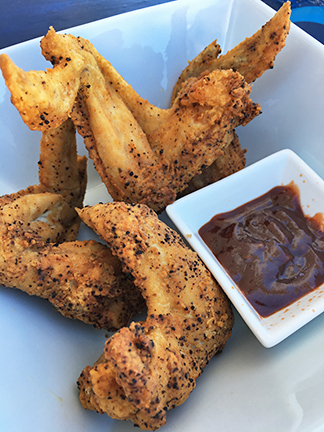 Quite possibly the largest wings we've ever seen, they are equal part crisp and light! Be sure to pair them with a side of the sweet BBQ sauce.
From there, Waves' menu expands into a number of burgers, sandwiches and entrees. Burger lovers will be in heaven with Waves'...
Wagu Beef Burger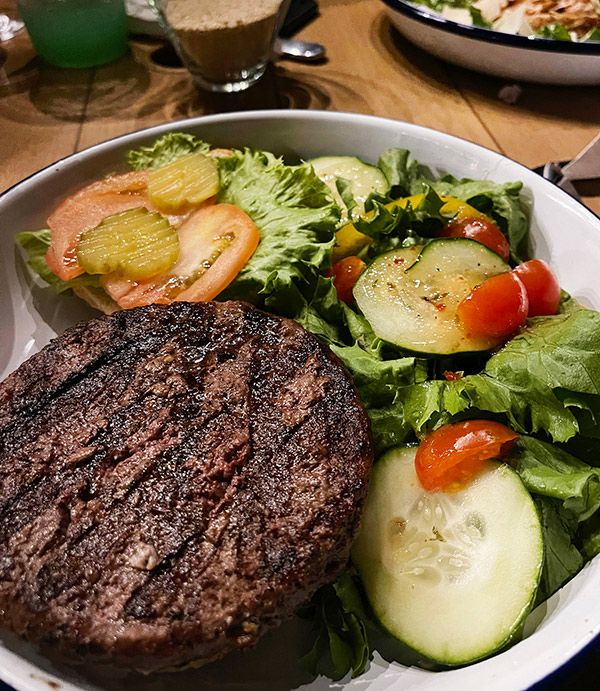 All 8 oz of this decadent burger are grilled to perfection. Topped with pickles, tomato and lettuce and served with a garden salad, finishing this burger will have you rubbing your belly in delight in no time!
Our #1 menu must-have? The steak sandwich. It is earth-shakingly divine.
Waves' Steak Sandwich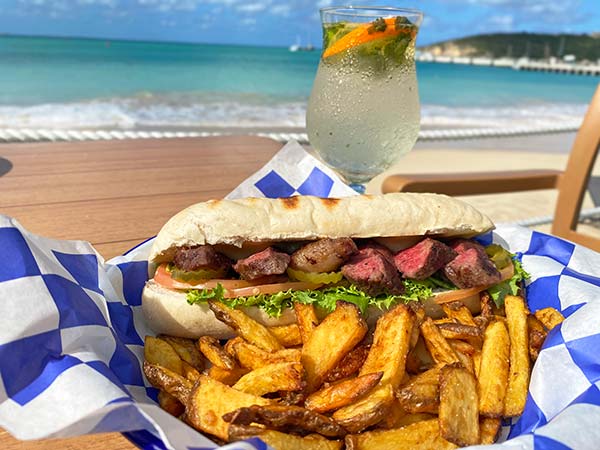 The steak is succulent and soft. Each piece melts in your mouth. Chef Olivia enhances the expertly-cooked steak with lettuce, tomato and a flavorful mix of melted Swiss cheese and fried onions. All served on a grilled baguette with a side of their signature house-made fries, you could not ask for more.
If it is vegan and vegetarian options you seek, Waves accommodates all diets.
Their entree menu boasts a tasty grilled tofu dish. A melange of fresh tomatoes, scallions and tofu are mixed together, sprinkled with sesame seeds and served over steamed rice.
Grilled Tofu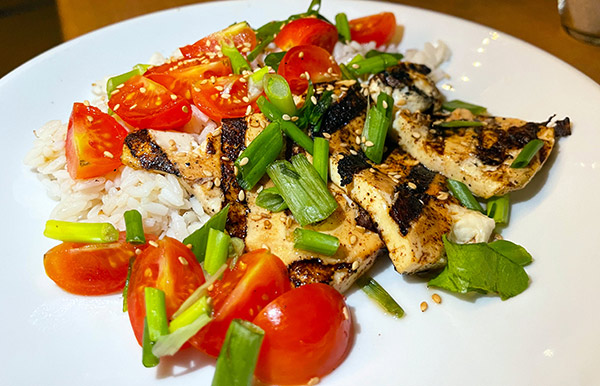 The entree menu also features fish & chips, chili con carne and...
Chicken Katsu Curry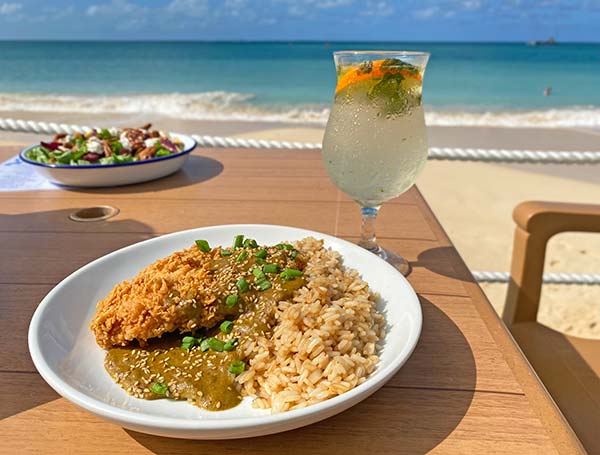 Chicken is breaded, fried and bathed in a house-made curry sauce. The hearty concoction is topped with green onions and served with rice.
When it comes to salads, Waves serves up a number of "Loaded Salads." The Caesar is one of our top choices...
Loaded Caesar Salad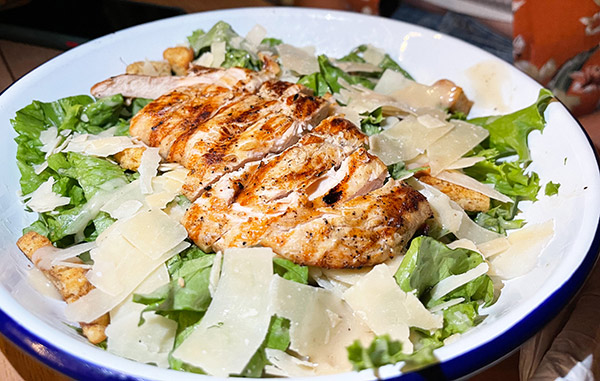 A healthy mix of locally sourced lettuce, fresh croutons and shaved parmesan are dressed up with homemade caesar salad dressing. For extra-flavorful results, add juicy chicken breast to complete the meal.
Other salad options include the Waldorf salad, the Greek salad and most popular of all...
Beets & Apple Loaded Salad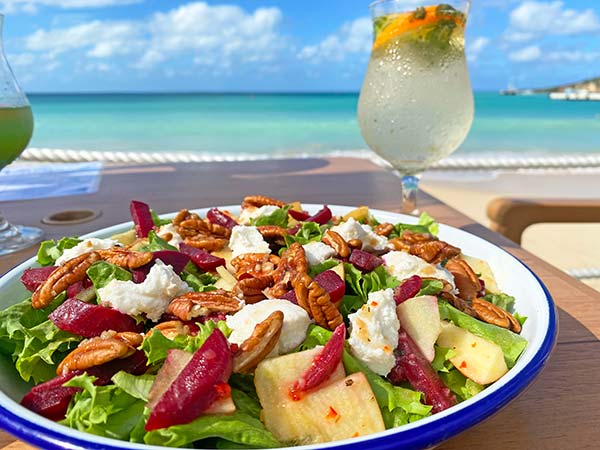 This salad is a delightful combination of sweet and savory. Beets, apples, goat cheese and pecans are placed on a bed of fresh lettuce and laced with a vinaigrette. Light and healthy, we love the rich, nutty undertones!
A Waves cocktail is the best way to wash it all down. Bartender Rey mixes some of the best cocktails this side of the island.
The River, The Duberry Daiquiri & The Rum Punch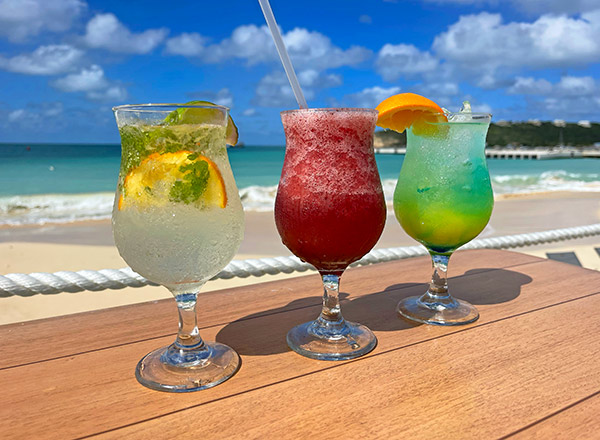 Their rum punch is a unique take on Anguilla's signature drink. Made with sweet blue grenadine, its electric blue and green color is eye-catching.
Their Duberry Daiquiri is well-known for packing a healthy dose of fresh blueberries and raspberries. These tasty treats make up the base of this summery frozen cocktail.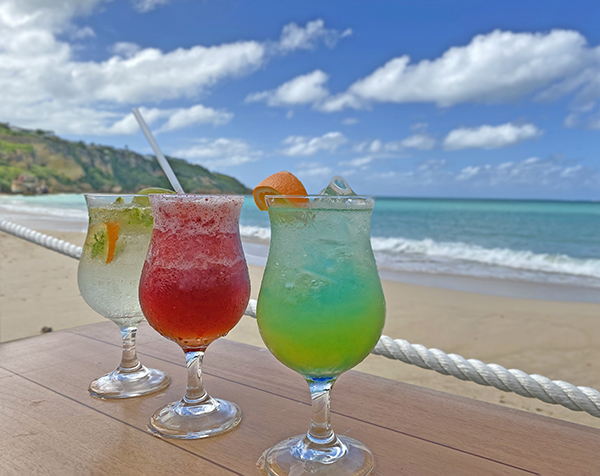 Last but not least, The River is a refreshing mix of cucumber & lime infused Vodka with fresh mint, citrus juices and club soda. It's the perfect cocktail for a sunny Sandy Ground afternoon.
After a day of sun and fun? Waves keeps on rolling into the night...
Sun Down at Waves
Set on the far south side of Sandy Ground, Waves completes Sandy Ground's nightlife strip. Now, the beach bustles from tip to tip!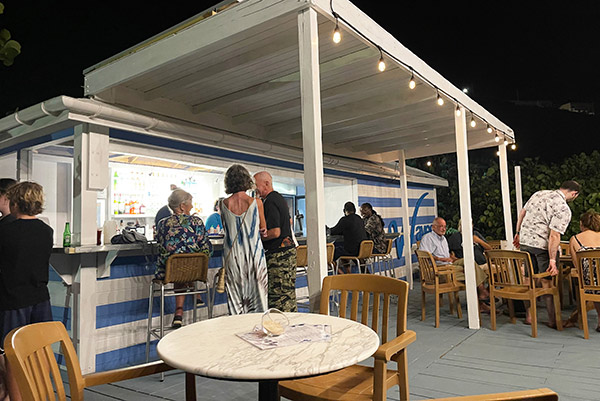 Come night fall, easy-listening music and a distinct relaxed atmosphere fills the air. Patrons fill the spacious patio, chatting, dancing, drinking and soaking up the restaurant's special feel.
You couldn't ask for a more picturesque setting with the bar's twinkling lights and the lights of Sandy Ground's boats bobbing in the distance.
Good Times & High Tides on Sandy Ground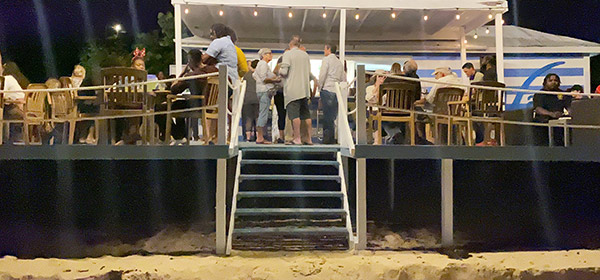 Whether for lunch or dinner, by day or by night, the saying is true...
Happiness comes in Waves!
Directions, Hours & Contact
Directions: Waves has moved to the old location of Mariners. Take a left at the intersection right before Roy's as you enter Sandy Ground. Follow the signs through the gate and down the sandy path. You can't miss it.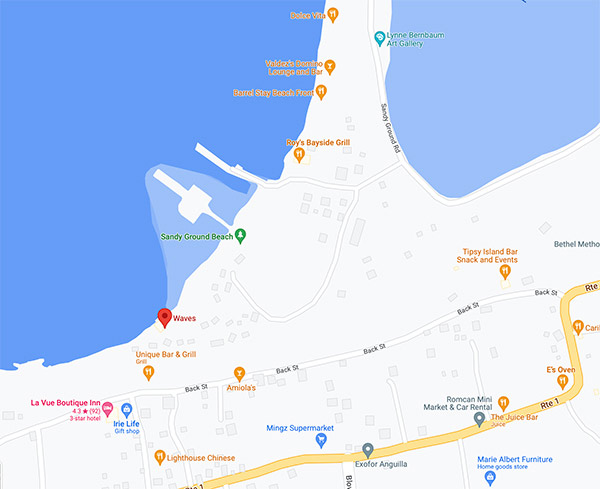 Menu: Click here.
*Special Note: All prices include GST.
Hours: Open daily for lunch and dinner. Closed Wednesday.
Tel.: 264-729-3185