Waves...
Beachy-Chic & Live Music Beats on Meads Bay
By: Louise Fayet
Waves is the talk of the island!
Set on the sands of Anguilla's pristine Meads Bay, it doesn't get sweeter than this...
Welcome to Waves!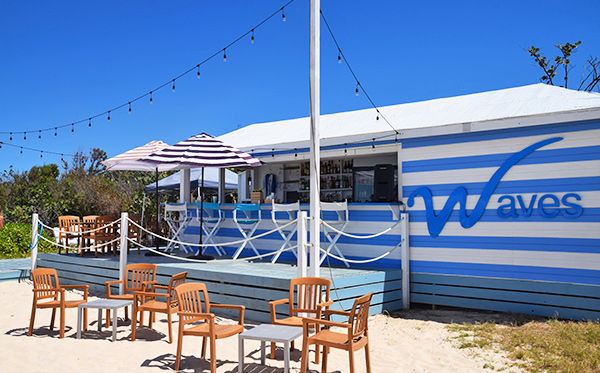 Wood-clad and painted blue and white, Waves blends right into the colors that define Meads Bay (its vibrant blue sea and bright-white sands). Shady striped umbrellas, twinkling lights, and a built up bar area complete with nautical ropes and tall folding chairs all lend a beachy-chic vibe to this sweet spot.
The Bar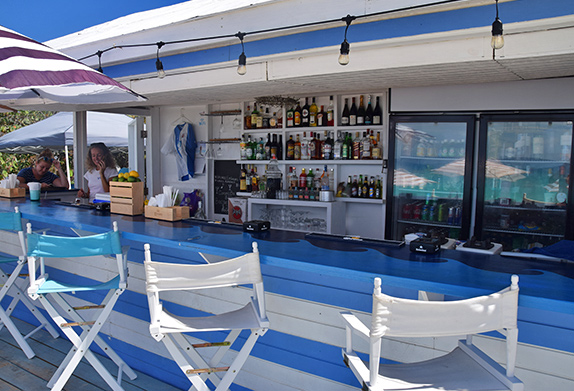 Turn 180° in the opposite direction? You are greeted with this view of Meads Bay blue...
Daytime View at Waves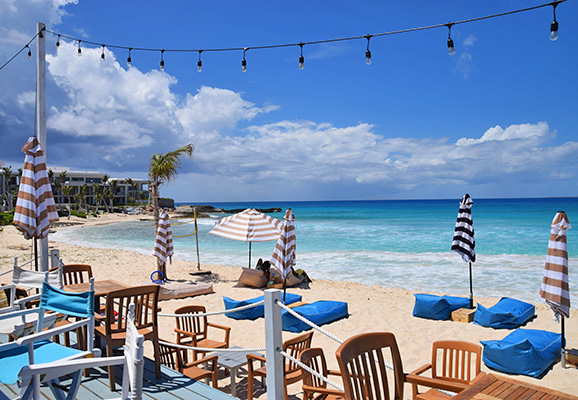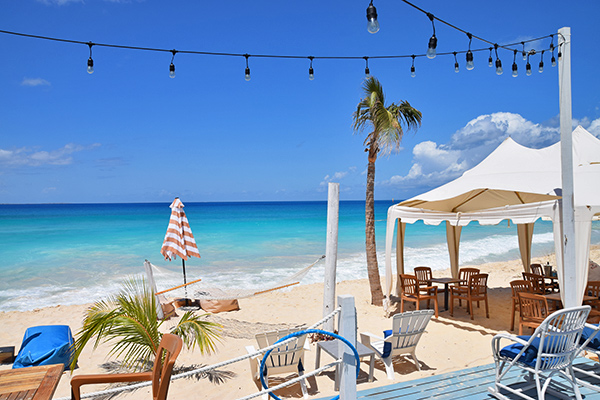 Waves has you at "hello!"
The Food
We decided to see what all of the hype was about and headed down to Meads Bay for an evening meal. It was a Tuesday, which is also pancake day at Waves.
If you love sweets, you are in for a treat on Tuesdays at Waves. A stack of homemade, fluffy pancakes are topped with your choice of Nutella, bananas, bacon, apples, honey, cinnamon & syrup.
Nutella Pancakes with Whipped Cream

Decadent and rich, the Nutella pancakes are sinfully sweet and delicious!
Waves' regular menu features a terrific line up of beachy finger food. One of the must-tries? The loaded fries...
English-Style Loaded Fries

A heaping bowl of hand-cut fries are topped with just about anything you can imagine. Selections include the "classic" with sour cream and spring onions, "curried" with chicken or vegetable curry and a poppadom chutney, triple cheese and chilli con carne. We went with the "English" loaded fries with baked beans, shreds of cheddar cheese and a sunny side up egg.
Next, we sampled the "Small Bites" part of the menu. "Beef sliders or homemade bruschetta? Beef sliders or homemade bruschetta?" we deliberated. The beef sliders won this round!
Juicy Beef Sliders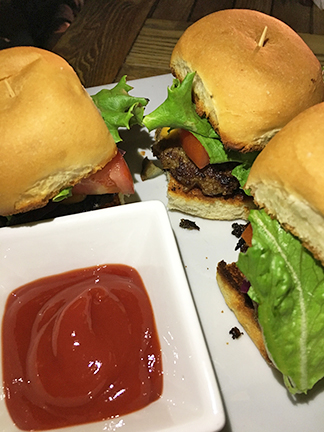 Three homemade beef sliders are popped onto soft, fluffy buns, topped with onion, lettuce and tomato and your choice of cheddar, blue or Swiss cheese.
If you are looking for healthier eats, Waves fits that bill, too. They have a large selection of "loaded salads" including Caesar, Greek, beets & apple and a sweet fruity salad. Updates to come on Waves' salads as we work on the healthy part of our diet. ;-)
So satisfied with the tasty eats and the terrific atmosphere, we found ourselves back the very next day...
There is no better way to kick off a picture-perfect afternoon at Waves than with their rum punch. They have re-invented this classic Anguilla cocktail! Shining bright green, this rum punch is made with homemade blueberry syrup.
Blueberry Rum Punch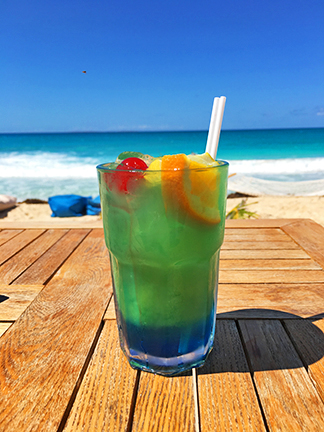 For lunch? An order of wings with a sweet barbecue dip.
Huge and Crispy Wings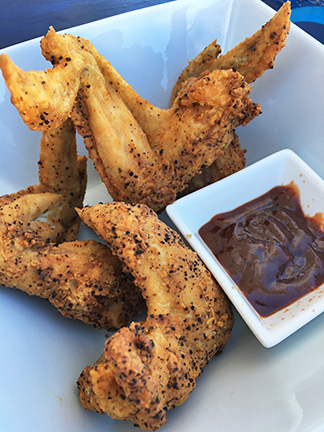 Quite possibly the largest wings we've ever seen, they are equal part crisp and light!
After a quick bite, it is time to take in Waves' unbeatable atmosphere...
Winding Down at Waves
As you sip and munch up on the deck at Waves, their eye-catching hammocks, beach umbrellas and oh-so-comfy bean bag beach chairs start calling your name. The hardest decision you will make all day? Deciding between the hammocks...
Heavenly Hammocks

And those bean bag beach chairs...
Bean Bag Beach Chairs

The best solution? Going back and forth!
Hammock Heaven

Sinking into Relaxation Mode

Drinks and meals can all be ordered to your bean bag beach chair and/or hammock.
Raspberry Daiquiri to Beat the Heat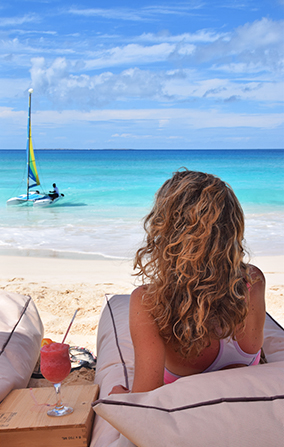 If lazing the day away isn't your speed, Waves has a host of activities including cornhole, volleyball, kayaks and plenty of toys for the kids, making it a top spot for a family day at the beach.
Entertainment doesn't stop there. Waves has one of the best music line ups on the island, with the loyally-loved Bankie Banx and Omari Banks playing regularly. For their weekly live music line up visit Waves on Facebook.
A "must do," through and through, Waves, we'll see you again soon!
Directions, Hours & Contact
NOTE: Waves is cash only.
Directions: Located at the former Bamboo Beer Box.
Hours: Open daily for lunch and dinner.
Tel.: 264-729-3185