Leon's at Malliouhana...
Classy Beach Days on Meads Bay
By: Louise Fayet
You may remember Malliouhana's old "Pirate Ship" restaurant where children would splash and play all day in the mini amusement park while parents enjoyed an elegant beachside lunch. The restaurant and water playground closed years ago to great dismay. We have missed it every day... that is, until now!
Finally, the beloved beach spot is BACK! Welcome to...
Leon's at Malliouhana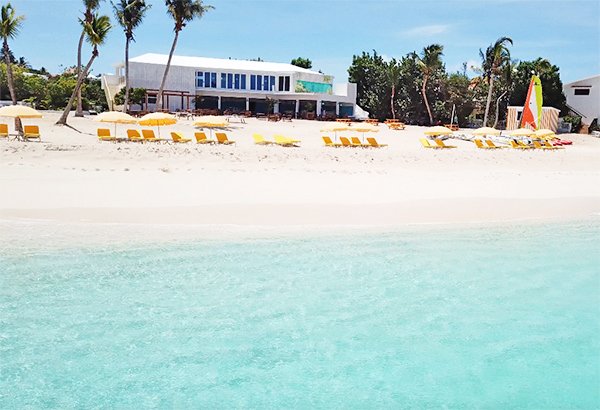 Right on Meads Bay, between Malliouhana's hotel and Carimar, Leon's has one of the best settings on the beach.
Meads Bay View from Leon's

Swaying coconut trees and classic yellow Malliouhana beach umbrellas line the sand. The setting is picture-perfect and 100% relaxing.
Step Inside Leon's
The restaurant is named after the founder of Malliouhana, Mr. Leon Roydon. It is painted white with bright splashes of blues and yellows right above the ordering window.
Ordering Window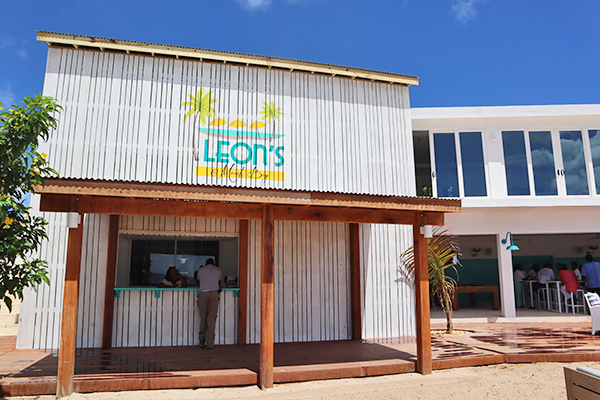 Place your order at the window and you are given a vibrantly colored conch shell with your number on it.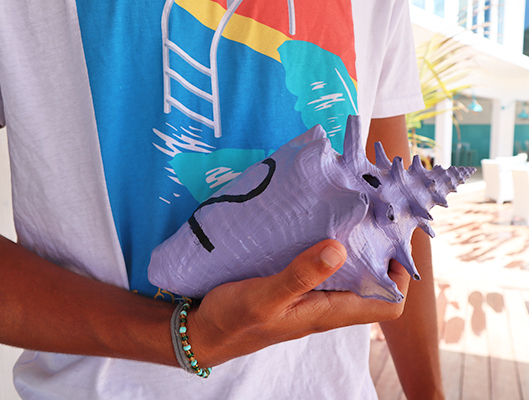 Make your way to the inside deck if you want to sit at the high tables with bar stools, or to play a round of table tennis or pool while you wait for your food.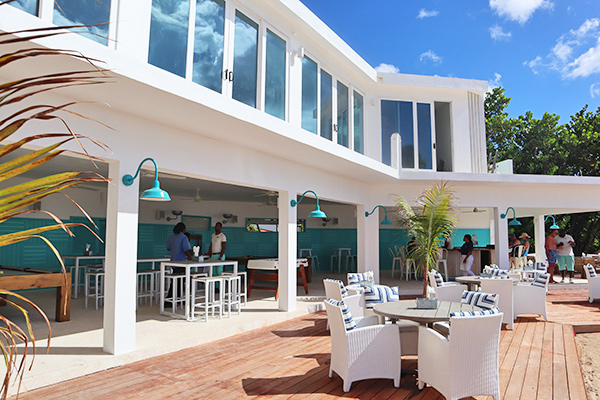 More seating is at the bar...
Bar at Leon's

Or settle into one of the comfortable lounge chaises right on the sand!
Toes-in-The-Sand Lounging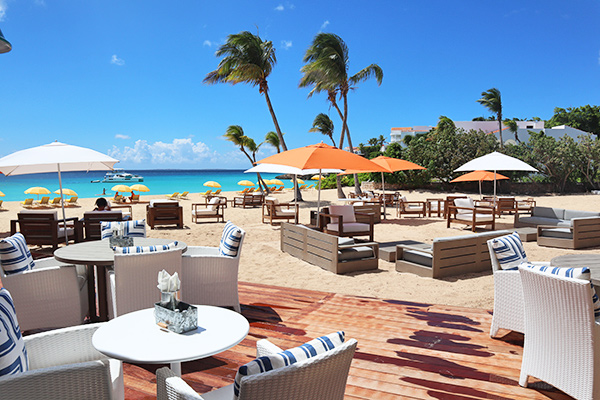 Meet Chef Micky & Patricio
I knew that the food was going to be fantastic! Why? A familiar face was behind the magic.
You may recognize Chef Patricio. He is Cafe Celeste's Executive Sous Chef. Born in Argentina, Chef Patricio honed his skills in Madrid and France where he worked for many-a-Michelin starred restaurant. I fell in love with his cooking at Cafe Celeste and knew that his beach classics would be just as phenomenal.
Chef Micky & Patricio

At his side is Chef Micky. Chef Micky knows his way around the kitchen! Born and raised in Anguilla, Chef Micky began his career in dining at La Sirena. He later honed his skills overseas. Today, he brings his talents to Leon's beautiful beachfront setting.
Beachy Cocktails
While we waited for lunch, I asked the bartender to fix me one of her favorite cocktails. She suggested the Coconuts cocktail. Out came a branding stamp with "Leon's Beach Bar & Grill" on it.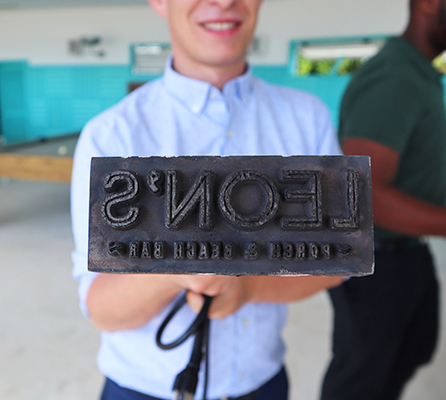 Right off of a coconut tree, the bartender preps and brands your very own coconut for your cocktail. Made with fresh coconut water, the mix of Mount Gay, coconut rum, ginger liqueur, B&B and lime is refreshing.
The Most Photogenic Cocktail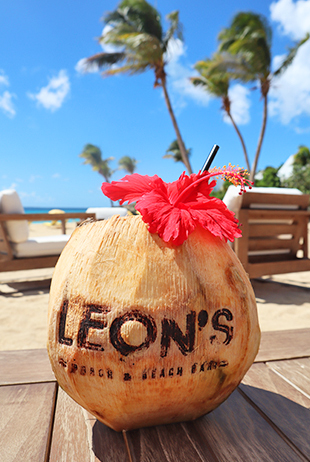 What else is on the cocktail menu?
The "Passion Fruit Punch" is a sweet mixture of Mount Gay Eclipse, Captain Morgan, passion fruit, banana, lime juice and grenadine. The "Anguillian Sunrise" is a pretty ombré of pink and orange. It is made with Aperol, Plantation Pineapple Rum, grapefruit juice, cinnamon-ginger syrup, lemon and prosecco.
The Passion Fruit Punch & Anguillian Sunrise

With our cooling cocktails in hand, we sat back and relaxed in the shade. The wait for food was not long!...
Lunch at Leon's
The menu at Leon's is unique. It begins with "Fresh" items of black bean salad, local greens in a lime dressing and Caribbean cabbage slaw.
Black Bean Salad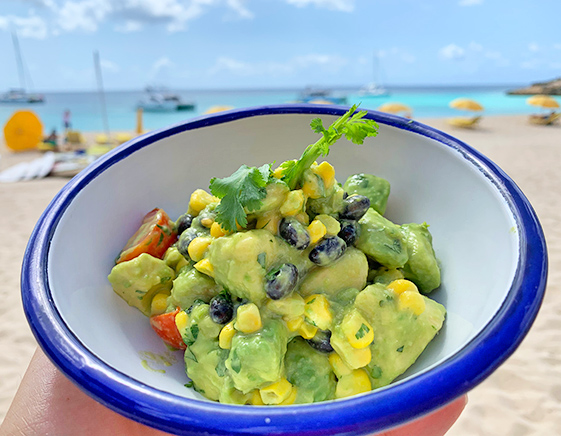 The menu then moves into "Today's Ceviches." First, choose your protein. Options include shrimp, octopus, salmon, local conch and a local catch - which was Mahi that day. You can also mix your proteins. Then, choose your dressing - classic lime & cilantro, coconut & jalapeno or pineapple & habanero.
With too many tempting choices, I told Chef Patricio to surprise us! Once again he did...
Octopus Ceviche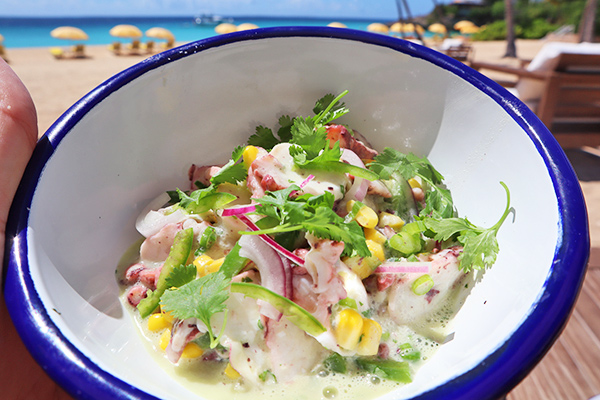 Sliced chunks of octopus are tossed with corn, red onions and flakes of cilantro. Chef prepared this ceviche with the coconut & jalapeno dressing.
Octopus Ceviche with Tortilla Chips

What a spectacular combination! The tender bits of octopus soak up the juices of the coconut. Jalapeno adds a gentle heat, which is nicely balanced against the sweet corn.
We also tried the salmon ceviche in a pineapple & habanero dressing.
Salmon Ceviche

The flavors of pineapple and salmon were, surprisingly, a winning combination.
The menu then flows into "Snacks & Sides." Menu items include mango red bean salsa & chips, crispy conch, rice & peas, Johnny cakes, fries and...
Spicy Rum Glazed Wings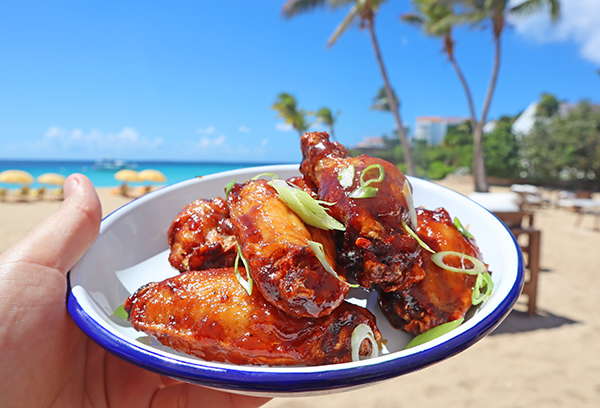 Sweet and savory wings are brushed with a spicy rum glaze and garnished with scallions. These wings do not need extra dipping sauce!
Next on the menu, the "Jerk Grill" section. Here you will find my all time favorite from Leon's...
Johnny Cake Jerk Burger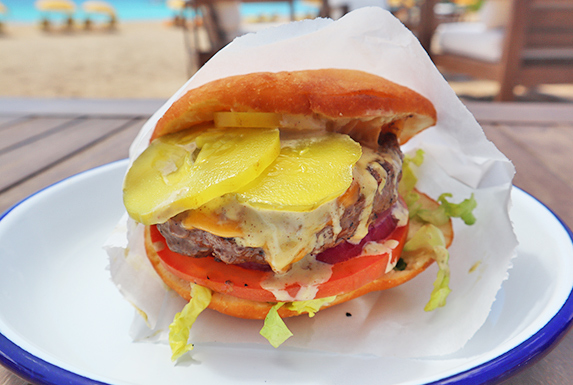 This is one of the TOP burgers on-island.
A grilled patty of jerk beef is lathered in a jerk mayo sauce and topped with pickles, tomato and lettuce. It is all hugged by a warm, fried Johnny cake. The first bite of this burger made my heart melt. It was too good to share. We had to order a second!
Side of Housemade Fries

Another favorite from the "Jerk Grill" section...
The Ribs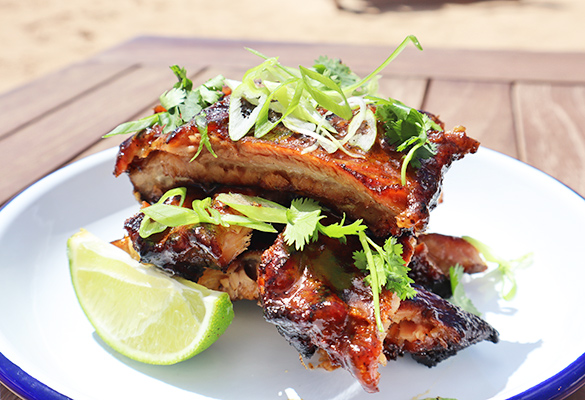 These ribs had my mouth watering from first sight. Glazed and cooked to perfection they fall off of the bone with the slightest touch. Extremely flavorful and savory, add a dab of the burger's jerk mayo to really spice them up.
Other options from the "Jerk Grill" include a local catch, grilled shrimp, chicken and beef.
Sweet Endings at Leon's
When it comes to dessert? Prepare to have your tastebuds blown all over again! Leon's serves up a mean "Ice-Cream 'Wich." Choose your flavor of homemade ice-cream (vanilla, chocolate, passion fruit or mango). Then add your toppings (all homemade hot fudge, chocolate chips, caramel, strawberry sauce and crushed nuts).
The best part of this ice cream sandwich is that it comes inside a Johnny Cake!
Vanilla Ice-Cream 'Wich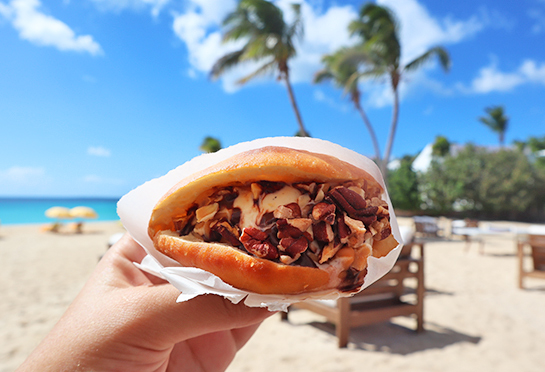 We went with the homemade vanilla ice-cream, with hot fudge, caramel and crushed nuts. A decadent way to end an idyllic Anguilla beach day.
Malliouhana has done a stand-out job. The team has modernized this Anguilla favorite, pushing it to new heights. With a stellar location, reasonable prices and so many stand-out cocktails and dishes, Leon's is sure to be one of the most popular beach restaurants in Anguilla - yet again.
Directions, Hours & Contact
Hours:Open Wednesdays-Sundays for Lunch and Dinner. Closed Mondays and Tuesdays.
Tel: 264-497-6111
Menu: Click here