Celeste...
Malliouhana's Restaurant is BACK!
For decades, Malliouhana's restaurant set the pace for high-end cuisine in the Caribbean. The restaurant opened in 1984 under the two-starred Michelin chef, Michel Rostang. Chef Rostang brought an unprecedented level of French-Caribbean fusion to the region. If you wanted the best, you came to Malliouhana.
Today, that superior standard of cuisine has returned to Anguilla's Grand Dame.
Malliouhana's Fine Dining Restaurant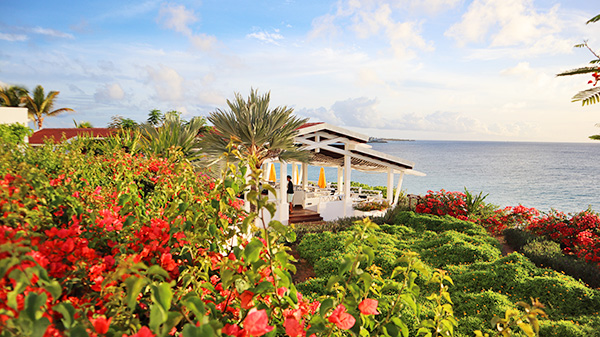 "Celeste," Malliouhana's signature restaurant sits high on its elegant perch, gazing out to Meads Bay. Its white and blue nautical color scheme remains, as it did when it was "The Restaurant at Malliouhana".
Celeste

Meads Bay's waves lap gently below as its lights twinkle beyond. A most romantic dining scene is set. For the full Malliouhana experience, book a table for 6pm. You won't want to miss this magical sunset...
Meads Bay Sunset Views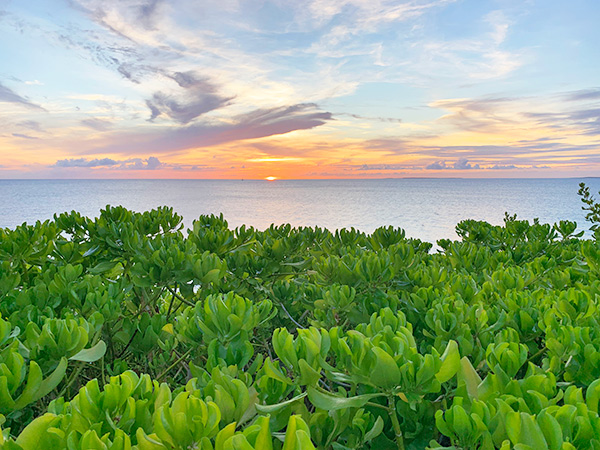 Dinner at Celeste
Dinner begins with Celeste's warm, accommodating and professional staff. They always make sure everyone is well taken care of.
Seating at Celeste

As you arrive, you are kindly escorted to your table on the terrace with a full view of Meads Bay and its stunning sunset.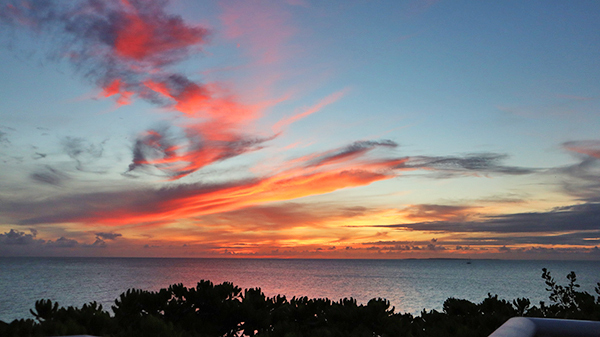 To best settle in for a night of exquisite cuisine?
Begin with one of Malliouhana's signature cocktails.
The Under The Cabana is a Grey Goose lover's dream. Made with Grey Goose, Hendrick's gin, St. Germain, cucumber and black pepper, then finished with fresh lemon, it is a cool kiss on a warm day.
The Malli Rum Punch is a classic. A combination of Mount Gay Rum, coconut rum, Disaronno, pineapple and orange juice is topped with a Myers rum float.
Malliouhana Sunset Cocktails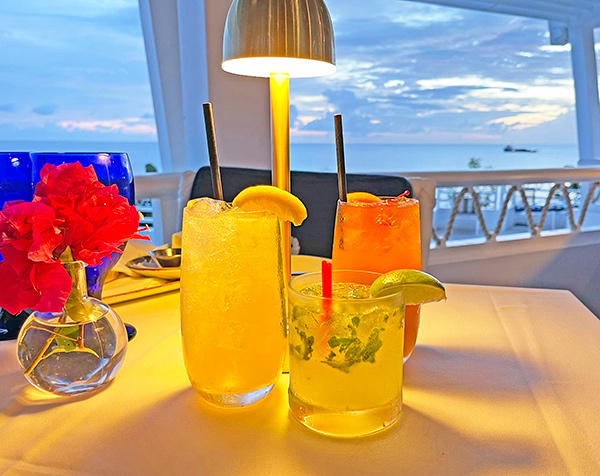 Another top choice is the Soleil Mojito. Made with Bacardi white, fresh lime, stingy thyme and champagne, you cannot go wrong with this cocktail!
As you sip, warm house-made rolls and focaccia bread are placed before you.
Celeste's menu is tight. Inspired and thoroughly thought-through, Malliouhana's team focuses on conceptualizing and executing sophisticated dishes to perfection.
Appetizers include seared scallops with crispy bacon and warm vinaigrette, local pumpkin & coconut soup, charred cauliflower and a variety of salads. When it comes to starters, the lobster bisque is highly recommended.
Lobster Bisque

The creamy soup is loaded with chunks of lobster, topped with a drizzle of herb oil and served with a side of crispy shallots. This bisque is packed with flavor. You will want to lick the bowl clean!
Next from the starters...
Blackened Shrimps

Three big, tasty shrimps are blackened to perfection and served over a mix of green mango, pink grapefruit and cilantro, and topped with lime dressing.
We also can't get enough of the...
Conch Salad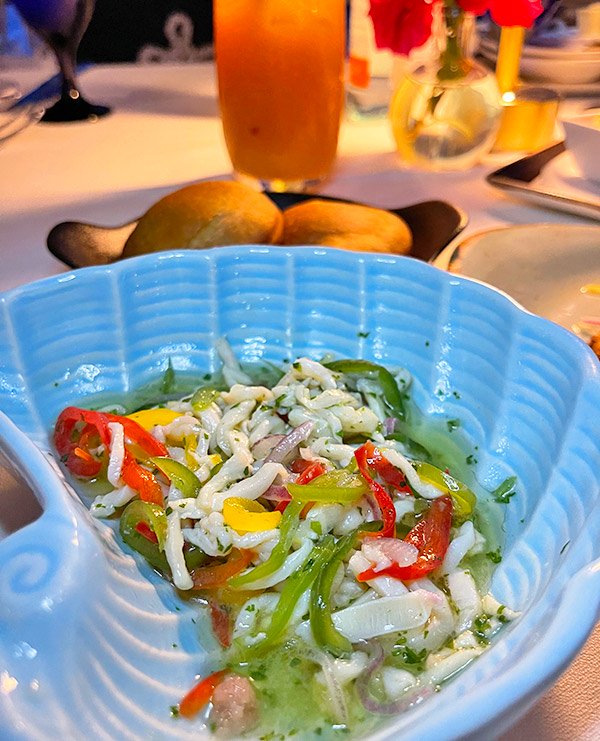 A generous portion of shredded conch is flavored with peppers, jalapeño, fresh lime, cilantro, and served with toasty warm Johnny cakes. Each bite is refreshing delight!
Next are a selection of exceptional entrées.
Malliouhana's dinner menu features a juicy snapper fillet...
Pan Seared Red Snapper Fillet

The snapper fillet is cooked and prepared skin on. Crispy on the outside, soft and flakey on the inside, this fish is heavenly. It is served on a creole sauce, then garnished with fennel and lemon slaw.
For the pasta lovers...
Anguilla Lobster Linguine

Served in a photogenic seashell bowl, this dish is as delicious as it looks. Generous pieces of lobster are tossed in a chili, basil, garlic and tomato sauce to make a most refreshing and flavorful lobster linguine.
Another seafood option...
Charred Spanish Octopus

Perfectly charred octopus tentacle is served on a garlic puree, with roasted potatoes, tomato confit and a zesty chimichurri.
Sweet Endings at Celeste...
Finally, dinner at Malliouhana is not complete without a sweet treat and a digestif. With a plethora of extraordinary sweet treats on the menu, choosing "just one" is no easy task.
Chocolate Molten Cake & Warm Johnny Cake Donuts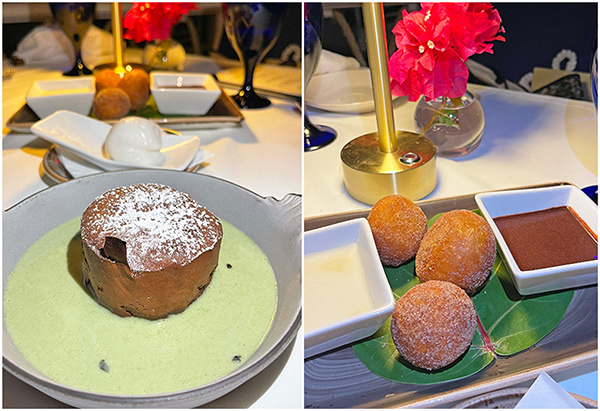 For something shareable and fun, the sugar covered Johnny Cake Donuts are a "must." Dip them in the dark chocolate sauce or rum creme, or both!
If you have more space, the Warm Chocolate Cake has forever been a favorite. Served in a pistachio sauce with a scoop of raspberry sorbet, it is sure to impress all chocolate lovers!
Malliouhana's restaurant has always been a stylish and sumptuous setting. The property's new culinary team is the missing piece. The key ingredient. The magic touch. They surpass expectations at every turn.
It is safe to say, the original Malliouhana is back!
Brunch at Celeste
When the sun rises, Celeste delights all over again. Mornings here just may be the most scenic way to start your day in Anguilla.
The restaurant's three-level dining area offers stunning views of Meads Bay. Feast out on the terrace right by the sea, or sip your coffee inside, gazing out to infinite Meads Bay blue below.
Morning Inside Celeste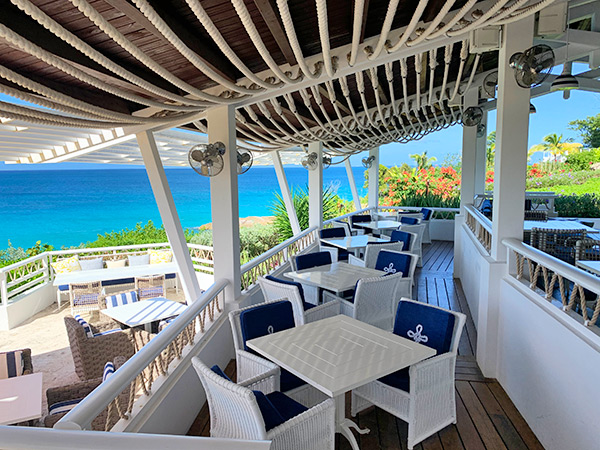 Celeste offers a buffet style breakfast with a wide selection of fruit, cereals and fluffy pastries. But, we recommend ordering à la carte. This is where brunch becomes one of kind.
The Most Important Meal of The Day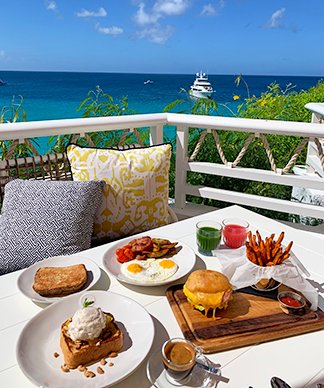 Our favorites? From "The Classics" section of the menu, the "Farm Eggs"...
Farm Eggs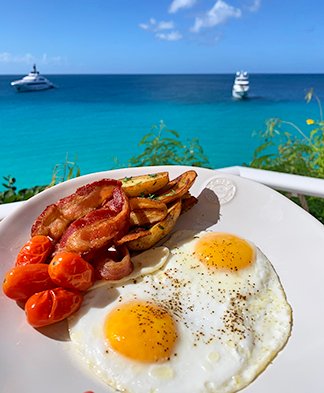 Your choice of sausage or bacon is sided with breakfast potatoes, roasted tomatoes, white or wheat toast and two sunny side up eggs. Everything is cooked to absolute perfection!
Next, from the "Island Breakfast" section, the "Johnny Cake Sandwich" is a "must have"...
Johnny Cake Sandwich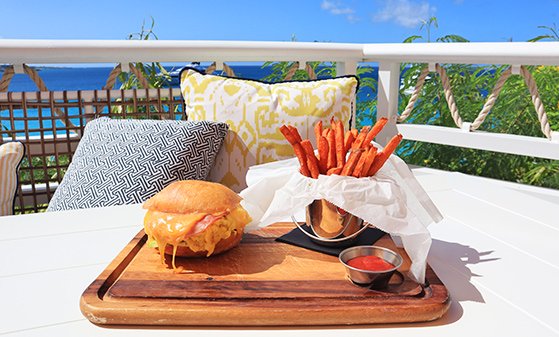 Scrambled eggs, breakfast ham, melted cheese, avocado, wilted spinach and roasted tomatoes are sandwiched in a fluffy fried Johnny cake.
So Much Cheese!

Served with a side of sweet potato fries and tangy ketchup, this sandwich is a work of art!
Next, from the "Batter & Oats" section, the French Toast...
A generous scoop of coconut ice-cream is placed a-top a slice of thick and fluffy French Toast. To top it off? Cubes of mango, nuts and a delicious syrup.
Rounding out breakfast options is a smoked salmon bagel with fluffy cream cheese, fresh horseradish, dill remoulade and capers..
Smoked Salmon? Yes, Please!

The Crab and Avacado toast is a fresh take on a classic...
Zesty Crab with Citrus Mustard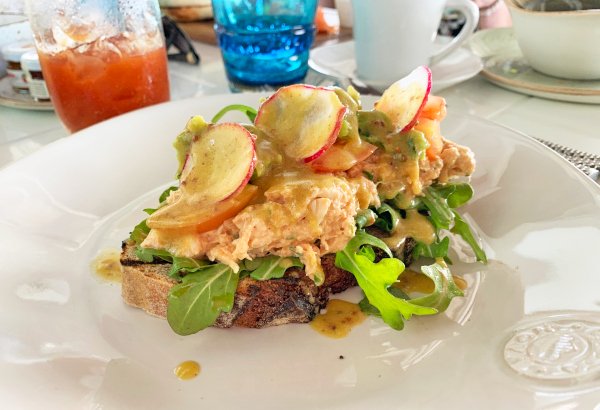 Fresh crab is whipped up into a zesty spread with citrus and spicy mustard. It is served on country bread with arugula.
Finally, classic poached eggs on smashed avocado and toast...
Smashed Avocado Toast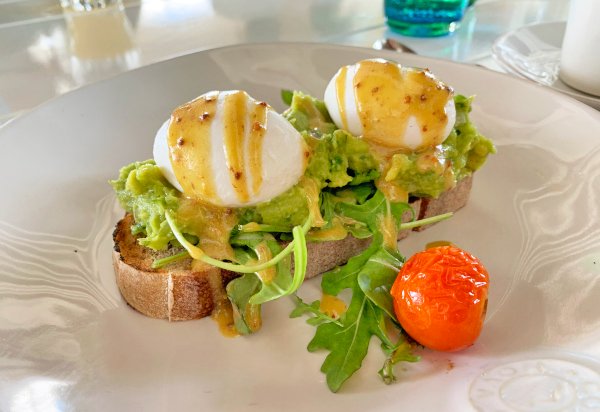 Celeste's breakfast menu also offers classic coffees and teas, a variety of freshly squeezed juices and craft cocktails like the "Bloody Mali", a mix of citrus infused rum and housemade Bloody Mary in a Caribbean spice rimmed glass.
Malliouhana proves the rule: breakfast is the most important meal of the day :-)
Hours: Open daily: Breakfast, dinner.
Directions: At Malliouhana resort.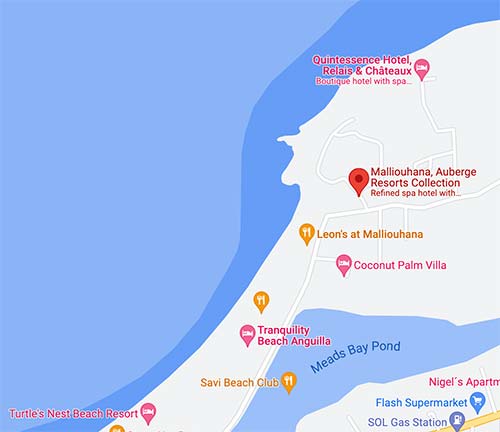 Tel: 497-6111
Menu: Click here