Cafe Celeste...
Malliouhana's Restaurant is BACK!
For decades, Malliouhana's restaurant set the pace for high-end cuisine in the Caribbean. The restaurant opened in 1984 under the two-starred Michelin chef, Michel Rostang. Chef Rostang brought an unprecedented level of French-Caribbean fusion to the region. If you wanted the best, you came to Malliouhana.
Today, that superior standard of cuisine has returned to Anguilla's Grand Dame.
Cafe Celeste at Malliouhana

"Cafe Celeste," Malliouhana's signature restaurant sits high on its elegant perch, gazing out to Meads Bay. Its white and blue nautical color scheme remains, as it did when it was "The Restaurant at Malliouhana".
Inside Cafe Celeste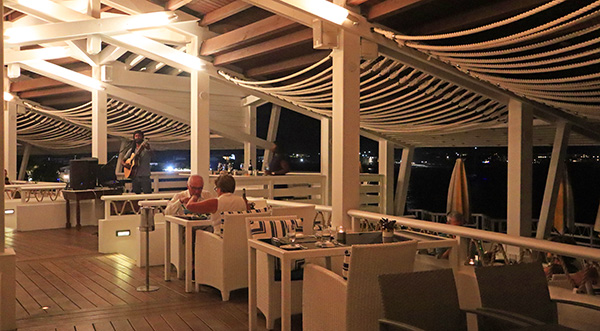 Meads Bay's waves lap gently below as its lights twinkle beyond. A most romantic dining scene is set!
Meet Chef Jusman So
Chef Jusman So boasts an impressive resume. Prior to arriving in Anguilla, Chef Jusman took Southeast Asia by storm. Named "Best Rising Chef" in Singapore and having established one of the country's most popular restaurants, Sage, Chef Jusman is a famous name in the region.
Meet Chef Jusman So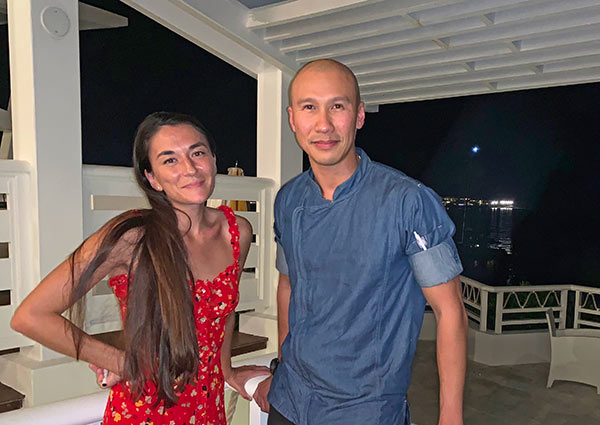 His specialty? Reinventing classic French dishes.
Almost fateful, Chef Jusman and Malliouhana are simply "meant to be."
Dinner at Cafe Celeste
Scotch & Spice and Malli Sunset Cocktails

To best settle in for a night of Chef's exquisite French cuisine?
Begin with one of Malliouhana's signature cocktails.
Scotch & Spice is a delight for those who prefer a drink with a bite.
By contrast, the Malli Sunset is a cool kiss on a warm day.
A combination of vodka and prosecco, it is topped with Thai basil grown in Malliouhana's herb garden.
As you sip, fresh-baked French bread and a mortar and pestle are set before you.
Fragrant, tangy pesto sits inside, begging to be ground and slathered over crisp baguette.
An innovative twist on "the bread basket," and a promising peek at the meal ahead.
French Bread & Pesto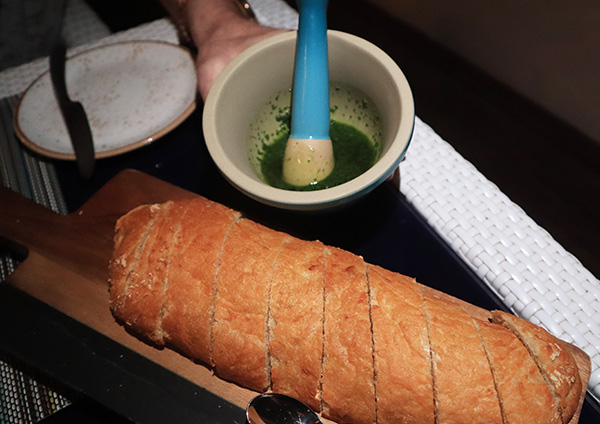 Cafe Celeste's menu is tight. Inspired and thoroughly thought-through, Chef focuses on conceptualizing and executing sophisticated dishes to perfection.
Appetizers include a variety of soups, salads and shared plates. Soup au Pistou, Eggplant Caponata, Artichoke Barigoule and Baked Brie Tart are a few of the dishes that make up Chef's starters.
The Baked Brie Tart is highly recommended.
Baked Brie Tart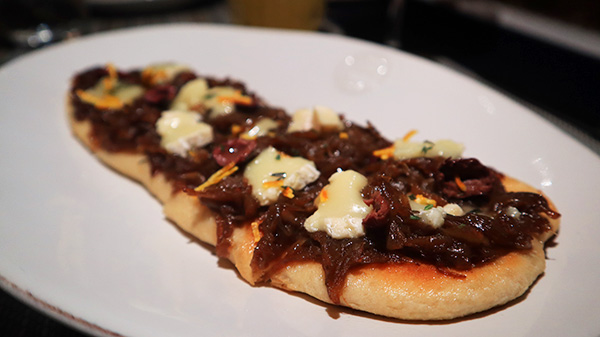 Pastry is topped with confit onion, anchovies, olives, candied orange and melted brie. Almost a marmalade, the savory-sweet confit dissolves in your mouth. Carefully cooked over low heat for several hours, Chef's confit onion shines.
Next are a selection of entrées defined by their sauces. Dishes include Branzino with glazed salsify and beurre blanc, a Beef Tenderloin with brandy and green peppercorn sauce and Seared Scallops with romesco sauce and salt cod brandade.
The minute my Dad saw "salt cod brandade" on the menu, his heart was sold.
Seared Scallops with Citrus Endive Salad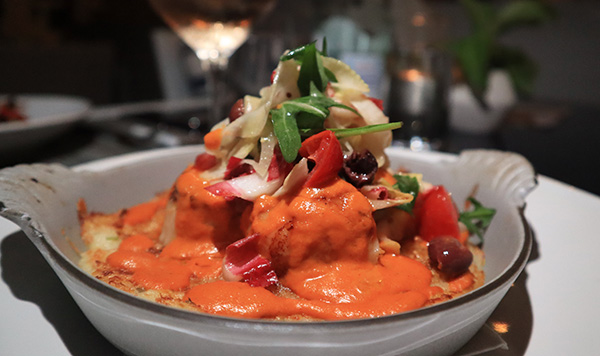 Meaty scallops are seared with citrus and placed on a bed of salt cod brandade. The dish is topped with an endive salad and a rich romesco sauce. Lightly spiced and deeply creamy, Chef's sauces are impeccable and perfectly paired to their main.
Another favorite? The Preserved Fennel & Lemon Risotto.
Preserved Fennel & Lemon Risotto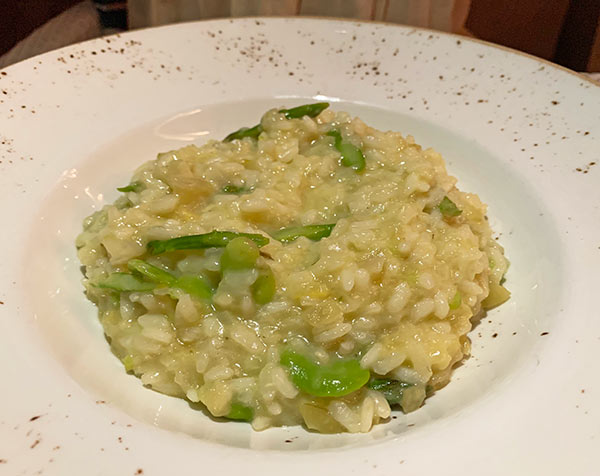 Fennel and lemon are a winning combination, while the slices of asparagus and fava beans bring varied texture to the savory dish. All light flavors, they offset hearty risotto seamlessly.
Last but not least, the star of the show...
Citrus Rosemary Lamb Chops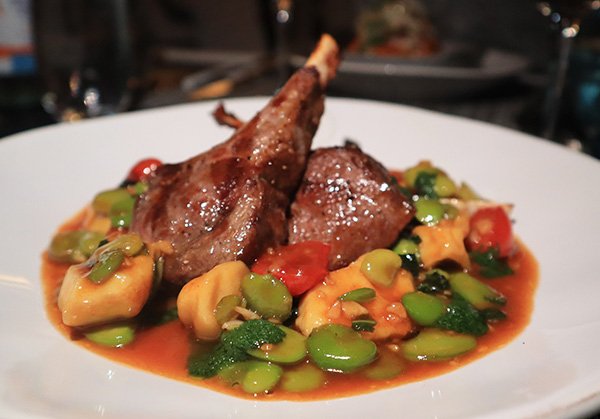 Lamb chops are cooked to your preference and bathed in a sauce of lamb demi glaze with essence of cherry tomato and a touch of butter. Ricotta gnocchi deepens the richness of the dish. The robust textures and flavors are contrasted by welcomed bursts of fresh cherry tomato and hints of basil. Brilliantly conceived and executed, this dish goes down as one of my personal top three favorites of all time. Never have I ever eaten with such gusto!
Tip: Ask for more bread. You will need it to soak up every last ounce of Chef's sauces.
Finally, dinner at Malliouhana is not complete without a sweet treat and a digestif.
Warm Valrhona Chocolate Tart

Desserts include Goat Cheese Crème Brûlée, Rhubarb Semifreddo, Warm Valrhona Chocolate Tart, and last but not least, a nod to Michel Rostang's Malliouhana...
The Rum Baba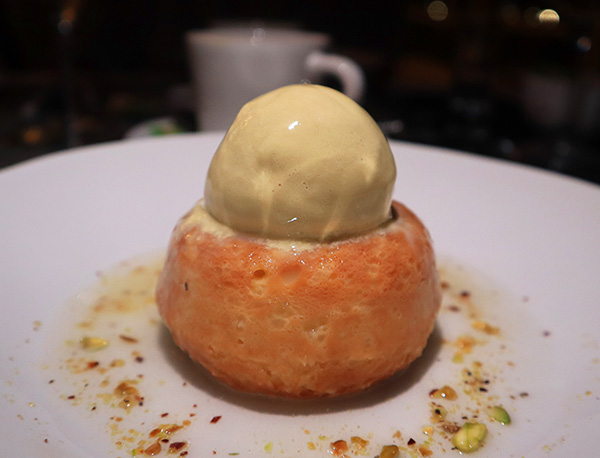 Chef Jusman fills his bouncy bundt-like cakes with pistachio ice cream, finished with crystalized orange and a shot of white rum at your table. A classic dessert, the Rum Baba makes for a fitting end to a meal at Malliouhana.
Malliouhana's restaurant has always been a stylish and sumptuous setting. Chef Jusman is the missing piece. He is the key ingredient. The magic touch. He surpasses expectations at every turn. In his hands, it is safe to say the original Malliouhana is back!