A Classic Anguilla New Year's Eve Celebration
"What are your plans for New Year's Eve?" Around the middle of December, that question is only topped by... "What are you wearing for New Year's Eve?"
The Top Spot to Celebrate New Year's Eve in Anguilla?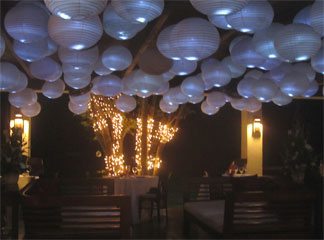 From the New Year's Eve dress to the New Year's Eve party, it is one of the biggest nights of the year. In Anguilla, people ring in the New Year with fervor too!
...Especially since New Year's Eve is one of the hottest times to be in Anguilla, and no, I'm not talking temperature-wise.
The Holiday Week, spanning from Christmas-New Years, is Anguilla's busiest time of year.
So, Anguilla New Year's Eve parties are not in short supply.
A Little Known Fact... Anguilla New Year's Eve is actually called Old Year's Night. Anguillians celebrate saying good-bye to the old year!
Where to Celebrate Anguilla New Year's Eve, or Old Year's Night?
With many parties and Anguilla restaurants to choose from, the selection is vast!
Most years, our family doesn't go all out for New Years. We clink glasses at midnight at home, wish each other Happy New Year!, and are usually in bed by 1 AM. Not much of a party, and certainly no fancy dresses.
But, this year, we decided to go for it!
Once we decided to go all out, the question came up (again)... Where to go?
Generally, I'm not one for parties and celebrations. I tend to not get excited about events, big evenings, and so-called ultra-special nights. But, the photos I had seen of Anguilla New Year's Eve party at da'Vida compelled me to celebrate!
It looked classic, classy, women wearing Venetian masks, men wearing black Bowler-type hats. A true Old Year's party as people would have done years ago.
There was no question: da'Vida for Anguilla New Years Eve it was!
da'Vida's Classic Old Year's Night Party
Upon stepping foot in da'Vida's grand dining room, we knew we had made the right choice...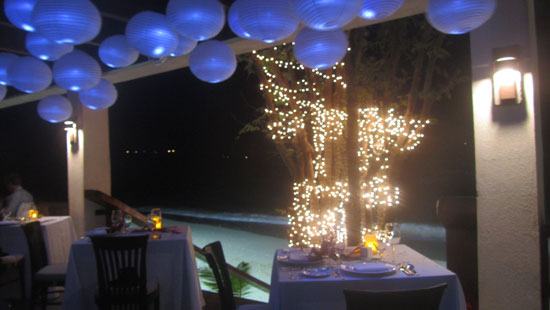 The photos had not lied.
da'Vida's setting is breathtaking any day of the week. That night, it was enchanting.
Trees were delicately lit with strings of sparkling, white lights.
Exotic balloons imported from Bali hung from the ceiling.
Just beyond the restaurant's borders, Crocus's calm waters were illuminated, shining a soft sea-green.
The waves lapped gently.
da'Vida's dining room glowed a special New Year's Eve glow.
da'Vida's Anguilla New Year's Eve Dining Room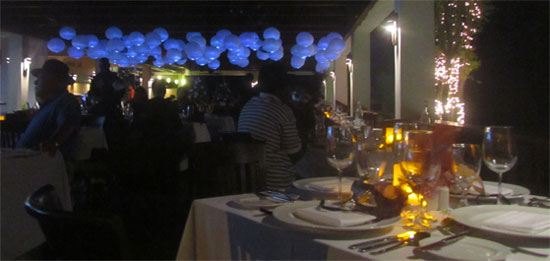 Our Old Year's hostess showed us to our table.
It was set in a classic New Year's style...

Confetti, beaded necklaces and colorful "noise makers" adorned the tables. On the plates lay our Venetian masks and my Dad's black hat.
The tables sparkled!
Yuki was the first to put on her mask, tied not with an elastic, but with a soft, gentle ribbon.
Yuki's Anguilla New Year Mask

My Dad put on his New Year's hat.
Dad's Anguilla New Year's Hat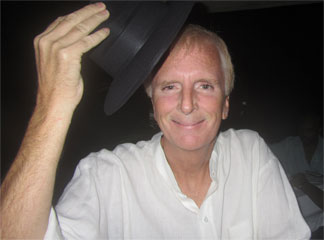 Mom Wearing New Year's Eve Beads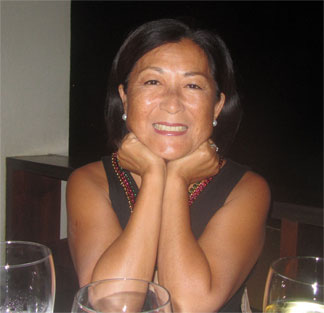 On New Year's, da'Vida offers a fixed menu of Asian inspired dishes, fused with traditional Caribbean spices and tastes. It is a five course meal...
My Mom Sipping Mexican Lentil Soup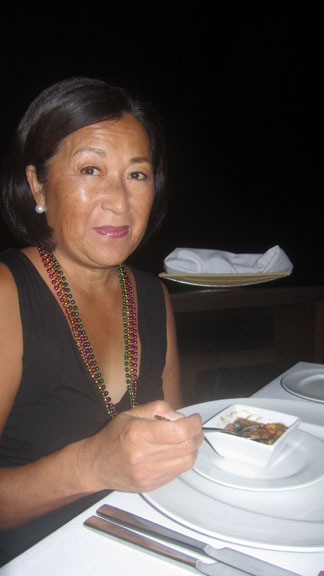 Course 1
Mexican lentil soup with spicy chorizo sausage
Course 2
Seafood with a "tropical fruit experience"
Crab salad with mango mint salad
Sea scallop ceviche with coconut vinaigrette
Jerked shrimp with passion fruit, cucumer salad
Course 3
Oven roasted black grouper with Anise infused lobster cream, coconut jasmine rise and lobster oil
Course 4
Spicy beef medallion with morel mushroom sauce and sunchoke mash on callaloo raft
Course 5
Pumpkin cheese cake with brandy caramel
Coconut nutmeg mousse
Crispy chocolate ganache ouff
French vanilla ice cream
Pineaple cake with pineapple ginger sauce
An exciting meal lay ahead!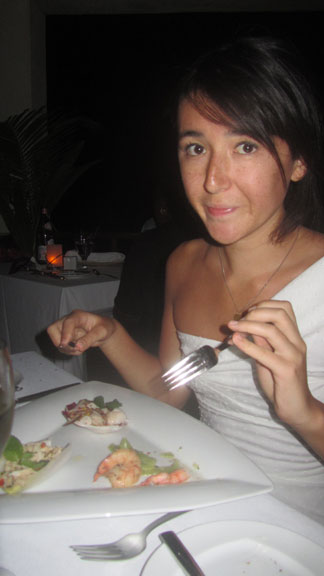 Well, except for Yuki.
We were afraid she would have to sit the third course out.
She has a severe allergy to fish.
We warned our waiter of her condition.
His solution was simple.
"The chef can prepare a separate meal, she will certainly have a third course!"
da'Vida's five star service at its best.
The food was innovative, different, always divine.
The crab with mint was unique and delicious, only topped by da'Vida's specialty...
Beef!
From their steak to their spicy beef medallion, da'Vida always has the best beef.
As we enjoyed our courses, we listened to the jazz band play, watched guests danced.
And then, as always, came back to watching the sea, and enjoying our family Anguilla New Year's Eve party, in a setting that was everything we hoped it would be.
There was one course left...
With fair sized portions (for a five course meal!), by the time dessert came, we were just about full...
Last Bites of the Old Year's Dessert ;-)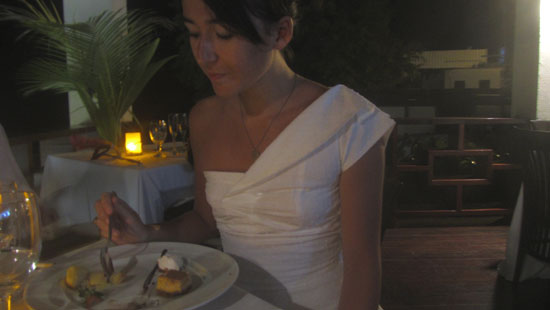 ... And ready to sleep.
Everyone stayed on 'till midnight to enjoy the traditional, age-old midnight cheer with a spectacular fireworks display over Crocus Bay!...
"HAPPY NEW YEAR!"
The party continued into the night down at da'Vida's Bayside Grill.
We wanted to continue, but my Dad was falling asleep at the table. He was at home and in bed as quickly as we could say Happy New Year!
We continued on without my Dad at Pumphouse and Elvis' in Sandy Ground. The street was jammed and hopping, a real "party" atmosphere. Fireworks, drinks, dancing, cheering, people shoulder to shoulder.
Be sure to make Sandy Ground part of your after-dinner party, no matter where you start from.
The after-Sandy Ground tradition is to carry on Old Year's Night well past 4 AM and watch the sun rise from Bankie Banx's Dune Preserve. Bankie has an open bar and breakfast of quiches and croissants.
It had been a full Old Year's Night, and New Year's Morning. Without a doubt though, da'Vida's Anguilla New Year's Eve party was truly the highlight. Elegant atmosphere, world-class food, an illuminated sea-side, all to the accompaniment of a live jazz band and dancing.
A classy, classic celebration, in the fashion of elegant New Year's Eve parties held years ago, there is no better way to ring in the New Year, and say good-bye to the Old Year, than at da'Vida.