Best Caribbean Restaurants...
da'Vida's Bayside Grill
Adding To Perfection!
What do I miss most about the best Caribbean island every time I'm away?
Four words: the best Caribbean restaurants.
One of our very top favorites?
And they have added a whole new experience, Bayside Bar & Grill.
Restaurants in the American countryside or busy cities can be cozy and peaceful, or bustling and all the rage, but no matter what, the experience just isn't the same. How could it be?
There is nothing like luxurious seaside relaxation at da'Vida on Crocus Bay, secluded, your body at ease, and your mind as free as a bird.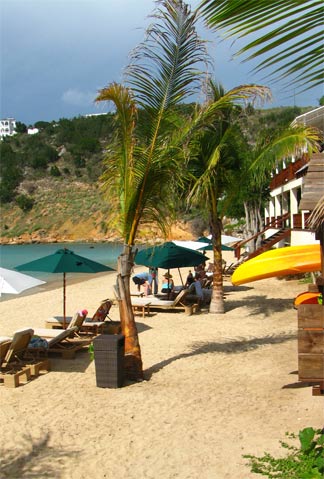 When da'Vida first opened, we knew it was going to be far more than "just another" Caribbean restaurant.
Plans were in the works for something much bigger, much more different. The part we were most excited about? Endless beach days on Crocus Bay.
We couldn't wait for the beach bar to open back then (before da'Vida's Bayside Grill opened).
Well, the wait is over. The Bayside Bar & Grill is here.
The beach bar and an "official" long, lazy beach day arrived in an e-mail from dear ol' Dad, rubbing it in a little. His emailed arrived when I was living up in cold New York in the dead of winter.
Check out these photos. Wish you were here! ;-)
Love,
Dad
"Really lamenting our absence," I chuckled to myself. The laughing ceased when I opened the photos. The Bayside Bar & Grill is sensational...
Celebrating Bayside's Opening!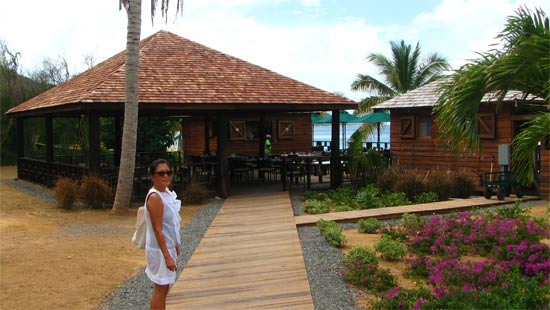 My Dad's email should have read like this...
When you think about Caribbean restaurants, what does your mind tend to wander to? Mine imagines a perfect beach, a low-slung, wooden, informal beach bar, lounge chairs, sunshine, delicious BBQ...
Wait, I'm describing the latest addition to what may already be the perfect Caribbean restaurant.
... Because, clearly, that's what his email was really about. He wasn't just haphazardly sharing some family photos! It's OK, Dad. I forgive you. :-)
Putting all jealousy aside, I picked up the phone. I needed to hear about the experience first hand.
The island was stirring after its fall "hibernation." Anticipating a crowd for da'Vida's celebration, they got there early.
David Lloyd, Vida and Clyde

They were greeted by two familiar faces, Vida and her husband Clyde, a wonderfully warm and inviting couple. They caught up with Vida and Clyde, and were promptly introduced to David Lloyd, the man on the left, Vida's charming brother, with whom she owns da'Vida.
Clyde gave my Dad the skinny on the prompt construction and setting up of such a beautiful establishment, done with all of the taste and flavor of da'Vida's dining room.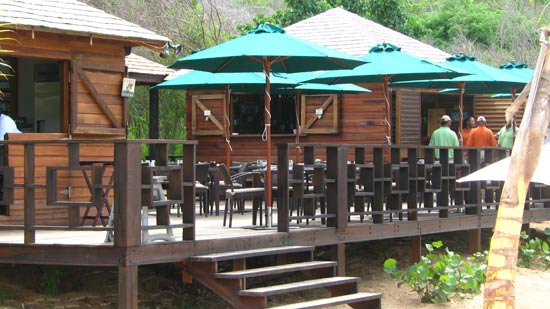 Whatever you want to do, you can do it on a beach day at da'Vida. You can eat on the fine deck, or have an order to your beach chair. Go for a swim, have a drink, take out a kayak and explore Crocus Bay. If you would rather do the exploring from under the water's surface, they have snorkeling equipment too!
After chatting comes exploring. Off Dad went...
Reggae Band Plays Jimmy Buffett & Other Favorites

da'Vida on Crocus Bay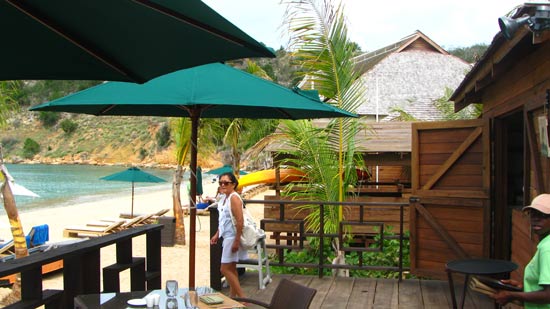 What a Location!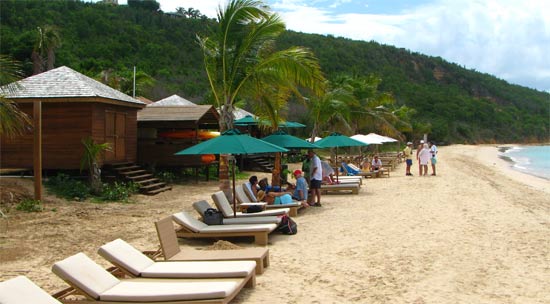 On his way back to the beach bar he even ran into...
Jim Williams!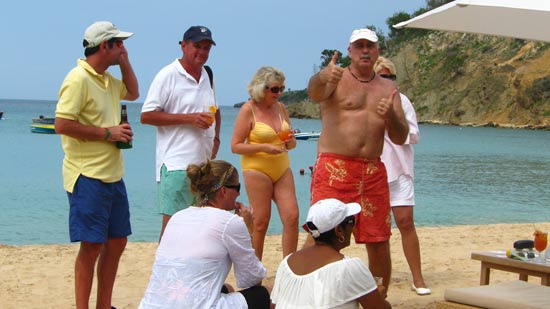 He and his wife Meredith are family friends from back in 2003 and 2004. They are such kind people. We always look forward to running into them and catching up! As time marched forward, the parking lot filled, just as my Dad was finishing up his discovering.
Last stop?
The Kitchen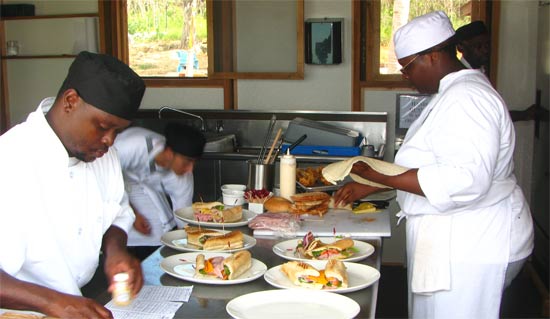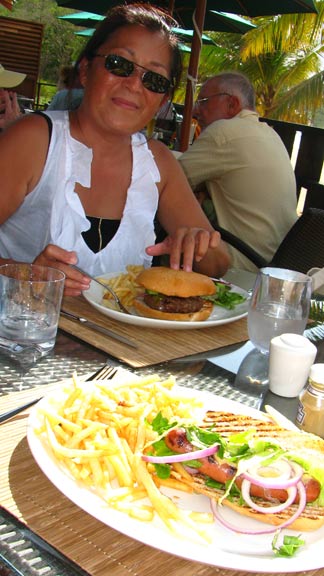 The kitchen was getting busy.
Not wanting to delay the orders, Dad snapped a quick photo, stepped back out, and put in his order right away!
What's on the menu?
Salads (grilled chicken, mahi mahi, and more), hot dogs, burgers, sandwiches, wraps, grilled fish, steak, lobster, crayfish, chicken and ribs.
Pizzas (cheese, margherita, vegetarian, chicken caesar, shrimp caesar), pasta (vegetable, chicken, seafood served with cream or tomato sauce), and sides of Johnny Cake, garlic break, cole slaw, rice, pasta salad and french fries.
They have a full bar and even a dessert menu: warm brownie with vanilla ice cream, carrot cake, apple tart and ice cream and sorbets.
Not just the traditional chicken and ribs!
My Mom loved the juicy hamburger with the freshest tomato, lettuce and onion.
And, my Dad went on and on about the tasty "dog" in a grilled bun, focaccia style.
Different, but delicious as always, he raved.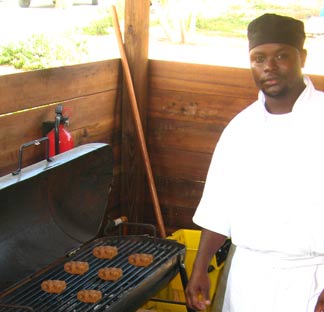 Just recounting the story and looking at the photos is making my mouth water!
I guess my Dad must have been really passionate about the lunch.
He sought out the chef, Van, to thank him personally!
He caught him just as he was firing up the grill for another round of burgers.
... He didn't get far before my Dad showed up!
"A talented man," my Dad said.
Without taking more of his time, he let Van get back to his busy day.
That is where my Dad's photo-email came to an end. "No more pictures?" I thought with a frown. Maybe this email wasn't intended to make me feel jealous after all. Maybe it was meant to brighten my day!
Between the photo-taking and the photo-sending were two or three rum punches, floats on the sea, a couple more hot dogs, and hours roasting in the warm, Caribbean sun before it started sinking in the sky, almost touching the horizon...
Beach Activities at da'Vida
One of our favorite Anguilla activities at da'Vida post-rum punch and burger when the seas are still?
Kayak to the quiet cove next door, Little Bay!
The first time we kayaked over, we had a little launching struggle, but after that it was smooth sailing... err... kayaking!
Cooling off in the clear, azure waters at Little Bay at the end of the 20 minute ride was the ultimate reward.
If you time your take off to be later in the afternoon, you will arrive at Little Bay to discover that it's all your own. The only sounds? The water lapping at your kayak.
We were lucky enough to have left Crocus Bay just before the sun started getting low in the sky. When we arrived in Little Bay, the sun was lower, glowing a warm hue, bathing the sea in a special pre-sunset shade of orange. It was one of the most magical sights on any of our Anguilla vacations.
My Dad found it to be a bit of a long paddle, so sure to bring a water bottle.
Sitting On The Dock of the Bay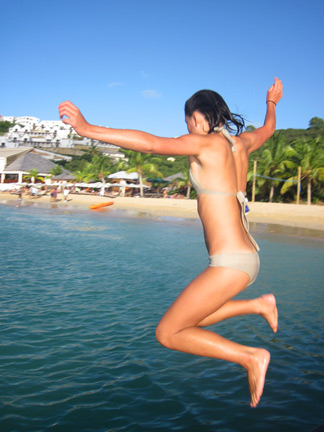 Want to enjoy Crocus Bay's clear blue waters without a slightly strenuous kayak session?
da'Vida has thought of you, too!
Clyde, Vida and David recently installed a floating dock on Crocus Bay's calm shores.
A day at da'Vida isn't complete without jumping off the dock over and over again.
It sure is an exhilarating run-and-jump... As you run to jump, the dock sways.
The dock is low to the water, so Yuki (who won't jump off the high wharf at Sandy Ground with me) always accompanies me on a jump off of da'Vida's wharf.
Dad is a fan of the wharf, too...
Dad's Dock Jump!

Followed By A Long Float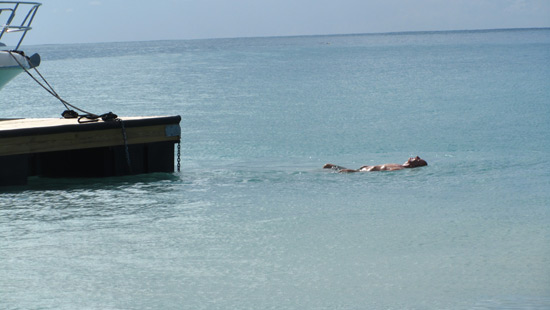 We spotted some people diving, but it might still be a bit shallow. The water is just over 5' at the end of the dock.
Another perk of the floating dock? Crocus Bay's shoreline can be lined with pebbles that makes getting in and out of the water a bit trying. The dock really cuts that problem right in half.
If you visit da'Vida by boat, you can pull your boat right up to the floating dock and walk to shore! No need for a small dinghy.
Run-and-Jump with A Docked Boat in Background

While my Dad, Yuki and I love using the wharf to practice our cannon-balls, many more just prefer to sit peacefuly in the sun, undisturbed, rocked by the gentle motion of the sea.
From the relaxing water sports, to the soothing tunes, to the food and drink, to the location itself, the Bayside Bar & Grill is our #1 choice for an Anguilla beach day.
Update 2016: da'Vida's pier is more beautiful than ever! In late 2015, they finished their full-length wharf. From soaking up the sun, to spotting sea life, to diving and doing back flips, it's our favorite spot to enjoy the sea and a cool rum punch!
Backflip Acrobatics at da'Vida's Pier
Manta Ray Spotted from the Pier!
da'Vida's Bayside Bar & Grill on Sunday Afternoon Beach Party
Every day is a great day to be here, but Sunday is the best!
By nature, Sundays are always laid-back. If you're seeking a bit of a livlier vibe, head to da'Vida on Sunday for their beach party.
Food, sun, sand, clear seas, and live music all afternoon. da'Vida has it all on Sundays.
Large Parties at Crocus Bay
A note if you are planning a large gathering in Anguilla...
da'Vida can accommodate you!
On a day in late January, we visited da'Vida to find a full buffet and at least a hundred beach chairs lining the bay. da'Vida was a beach-day site for a convention of lawyers and judges from the States in Anguilla on a day trip from St. Maarten.
da'Vida had prepared a full lunch, organized the beach, and set up a separate bar for them. It was a party!
The best part? We could enjoy the buzz without feeling overwhelmed. We were able to relax and enjoy our beach day, too. Crocus Bay did not feel crowded, despite the "crowd."
They had also staffed-up and made sure that each and every guest (both in and out of the large party) was attended to and given the same impeccable service da'Vida is known for.
A "Crowded" Day at da'Vida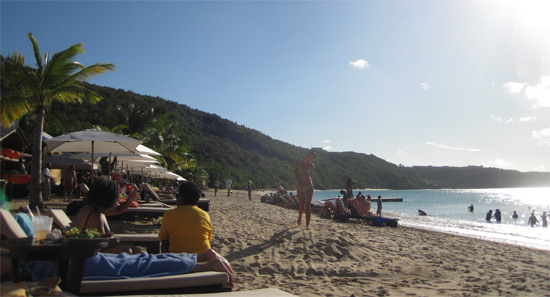 Combine the luxury of da'Vida's main restaurant and the "Caribbean beach cool" of the Bayside Bar & Grill, and you have one of the Caribbean's best restaurants.