Best Caribbean Restaurants...
da'Vida's Bayside Grill
What do we miss most about the best Caribbean island any time we're away?
Four words: the best Caribbean restaurants. Anguilla is home to some of the region's best. And da'Vida Anguilla restaurant has long topped our list of favorites for tapas and dinner. Its Bayside Grill, next door to its main restaurant, is one of the island's top spots for lunch.
da'Vida's Bayside Grill on Crocus Bay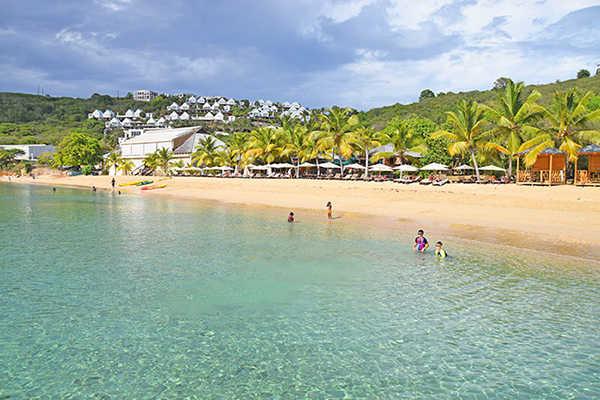 Set on serene Crocus Bay, da'Vida's gentle waters make it the perfect spot for a relaxed day at the beach. Take its A+ setting, add excellent and efficient service, tasty eats and cool drinks all at a reasonable price and you have beach afternoon perfection.
Da'Vida Love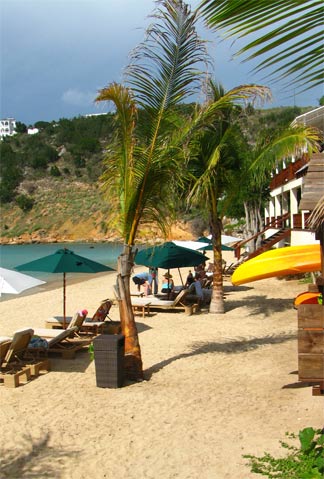 When da'Vida first opened many years ago, we knew it was going to be far more than "just another" Caribbean restaurant. Original plans had been in the works for something much bigger, much different.
Whatever the outcome, the part we were most excited about? Endless beach days on Crocus Bay.
Finally, THE day arrived.
The beach bar and an "official" long, lazy beach day arrived in an e-mail from dear ol' Dad, rubbing it in a little. His email arrived when I was living up in cold New York in the dead of winter.
Check out these photos. Wish you were here! ;-)
Love,
Dad
Celebrating Bayside's Opening!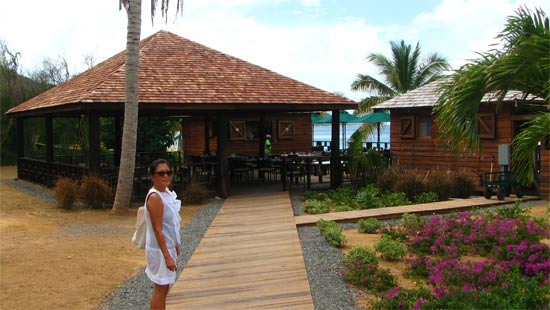 David Lloyd, Vida and Clyde

Reggae Band Plays Jimmy Buffett & Other Favorites

da'Vida on Crocus Bay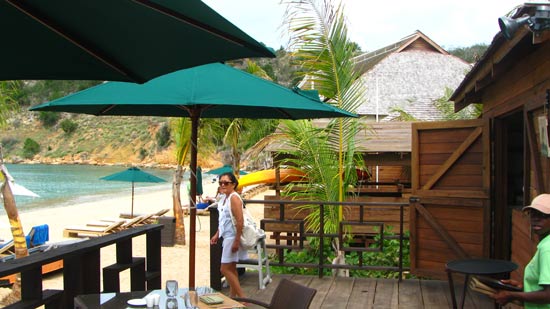 What a Location!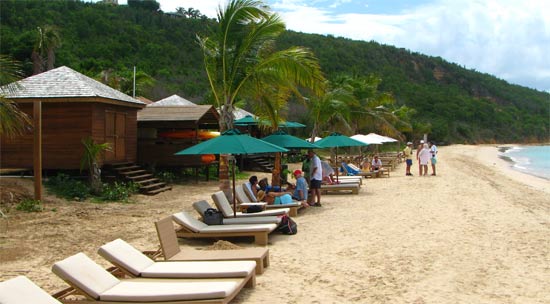 Putting all jealousy aside, I picked up the phone. I needed to hear about the experience first hand. It was love at first sight!
They were greeted by two familiar faces, Vida and her husband Clyde, a wonderfully warm and inviting couple. They caught up with Vida and Clyde, and were promptly introduced to David Lloyd, the man on the left, Vida's charming brother, with whom she owns da'Vida.
Clyde gave my Dad the skinny on the prompt construction and setting up of such a beautiful establishment, done with all of the taste and flavor of da'Vida's dining room.
"Whatever you want to do, you can do it on a beach day at da'Vida. You can eat on the fine deck, or have an order to your beach chair. Go for a swim, have a drink, take out a kayak and explore Crocus Bay. If you would rather do the exploring from under the water's surface, there's snorkeling equipment, too," they enthusiastically explained.
Whether snoozing, floating or jumping off the dock over and over again...
Dad's Dock Jump!

Followed By A Long Float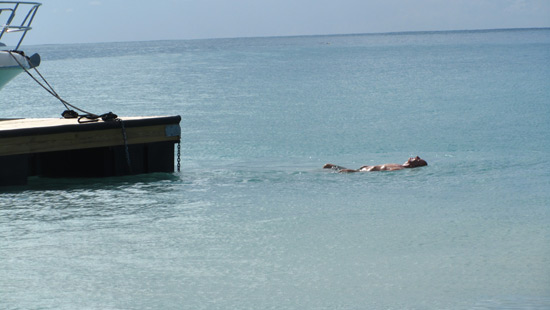 ... da'Vida delivered the most picture-perfect and tasty beach day!
Since that day, our family have had countless memorable days at da'Vida's Bayside Grill...
Smooth Afternoon Vibes
Afternoons at da'Vida's Bayside Grill begin either inside their covered restaurant or out on the beach. For extra-relaxing days, opt for a spot out on the beach in one of da'Vida's luxurious lounge chaises. Lunch and drinks are served right to your chair.
Approaching da'Vida's Bayside Grill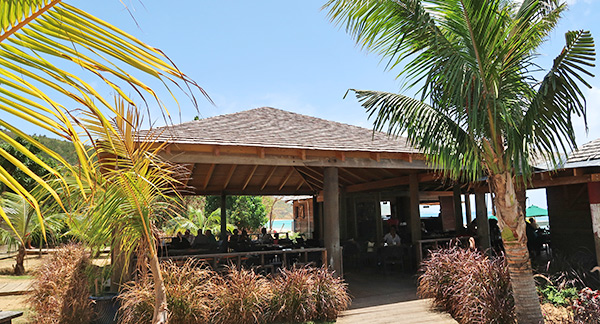 From there? You can't start an afternoon at da'Vida's Bayside Grill without a beachy drink, and nothing screams "the beach" more than a rum punch and Piña Colada!
Piña Colada & Rum Punch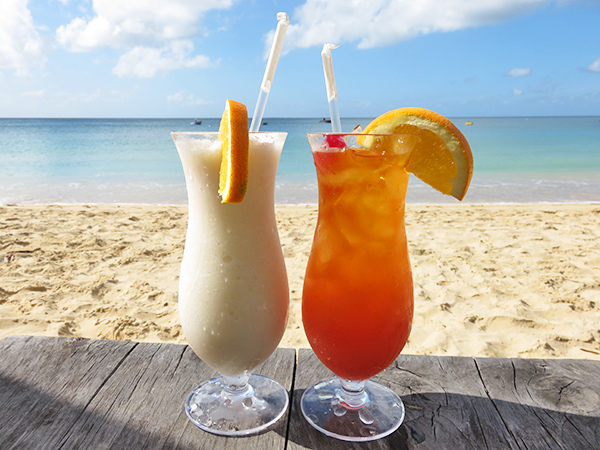 ... and maybe a glass of rosé for good measure. ;-)
Rum Punch & Rosé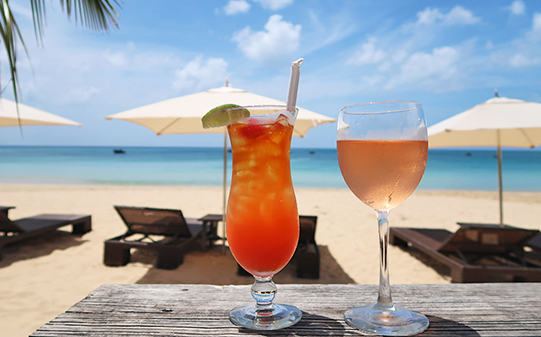 After a few sips and a few dips in Crocus Bay...
Crocus Bay Beach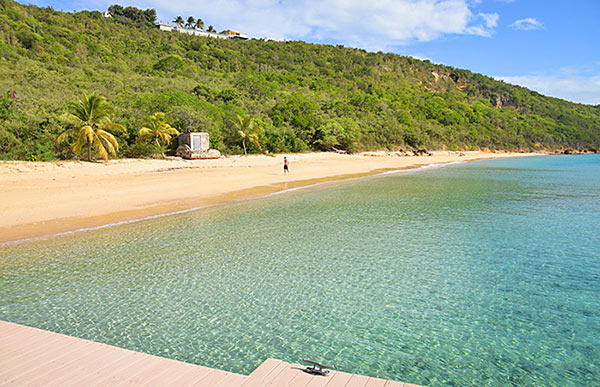 Your stomach begins to rumble and da'Vida's large and varied menu answers. This is not the traditional chicken and ribs menu! Da'Vida's Bayside Grill serves up...
Salads (grilled chicken, mahi mahi, and more)
Hot dogs, burgers, sandwiches, wraps
Grilled fish, steak, lobster, crayfish, chicken and ribs
Pizzas (cheese, margherita, vegetarian, chicken caesar, shrimp caesar)
Pasta (vegetable, chicken, seafood served with cream or tomato sauce)
Sides of Johnny Cake, garlic bread, cole slaw, rice, pasta salad and french fries
They have a full bar and even a dessert menu: warm brownie with vanilla ice cream, carrot cake, apple tart and ice cream and sorbets.
My Mom has long loved the juicy hamburger with tomato, lettuce and onion. My Dad always goes on and on about the tasty "dog" in a grilled bun, focaccia style. "Different, but delicious," he will rave. The grilled mahi mahi meal is oh-so-satisfying if you're in the mood for seafood.
The Grilled Mahi Mahi Meal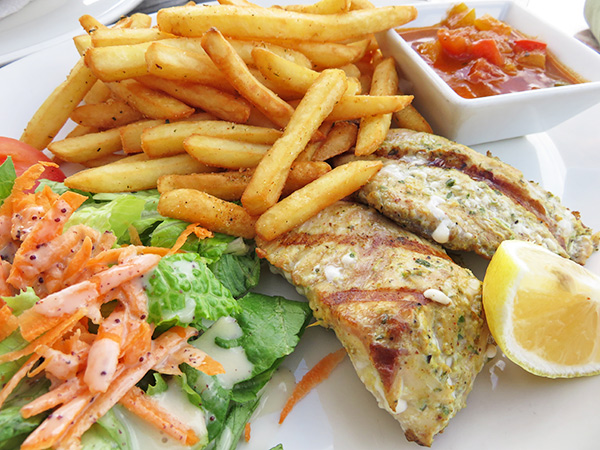 The pizzas are my personal favorite, especially the...
Chicken Caesar Pizza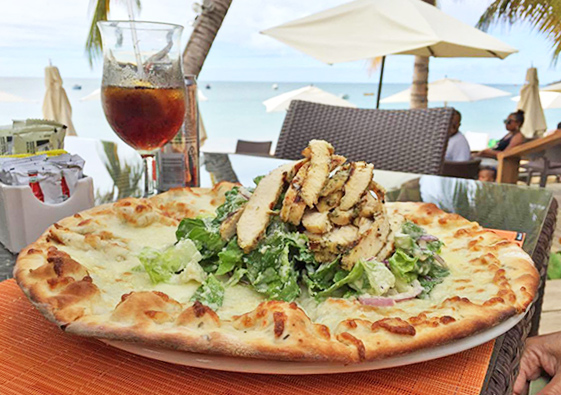 A "white pizza" (no tomato sauce), it is topped with da'Vida's rich chicken Caesar salad. With a hefty sprinkling of parmesan, each bite is savory Caesar-pizza delight.
The creamy pasta is Louise's choice when lunching at da'Vida.
Chicken Pasta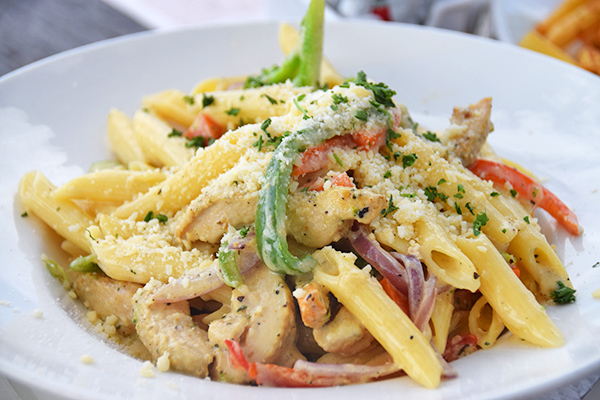 Thin strips of bell peppers, onions, broccoli and chicken breast are tossed with the penne pasta. To add to perfection? Parsley and parmesan cheese, sprinkled all over.
Other pasta options include veggie or seafood...
Seafood Pasta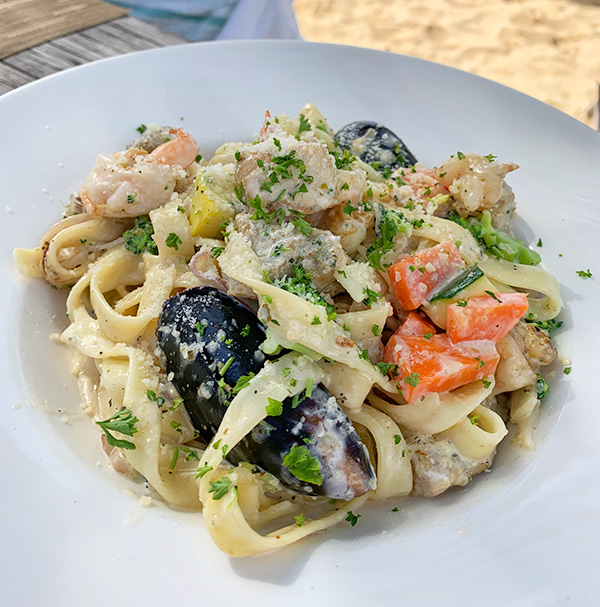 The dish is rich with yummy chunks of veggies and a variety of seafood like shrimp, fish, and even mussels! It is served in your choice of cream or tomato sauce.
Love seafood? Another top pick is the seafood wrap...
The Seafood Wrap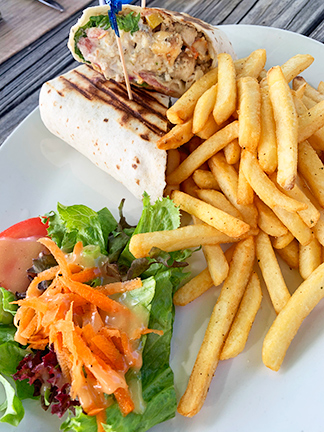 Fish and shrimp with tomato, lettuce and a delicious tartar sauce are all tightly wrapped and grilled! The dish is served with crispy French fries and a side salad.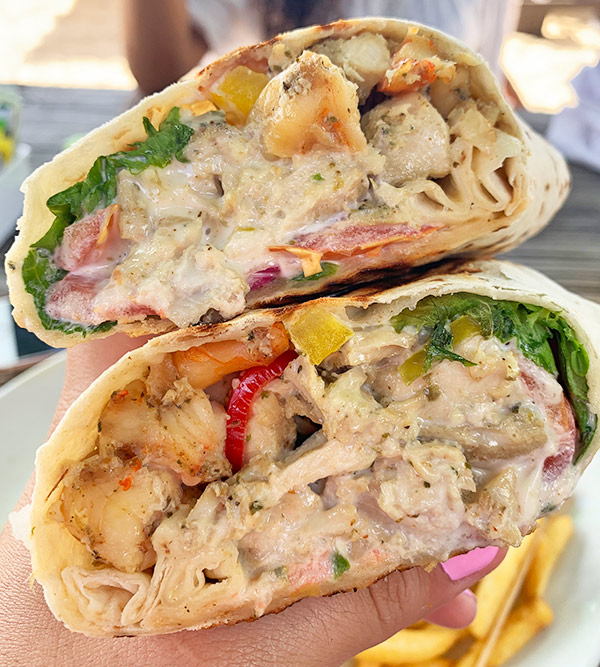 Water Fun & Live Music in The Sun at da'Vida's Bayside Grill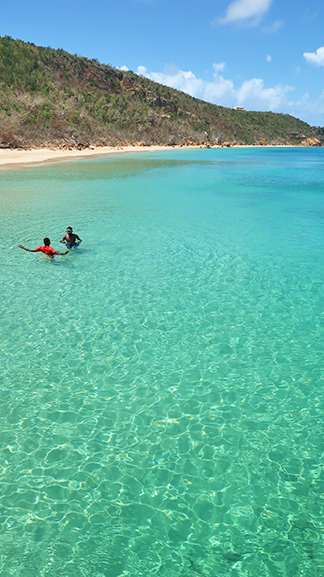 After lunch?
It's back into the sea!
da'Vida's Bayside Grill offers a number of ways to enjoy Crocus Bay's clear, calm waters.
SUPs, kayaks, snorkel equipment.
They carry them all and rent them for a reasonable cost.
The SUPs and kayaks are especially popular.
One of Anguilla's gems, Little Bay beach, lies just next door to Crocus Bay.
It is a popular kayaking destination from da'Vida on a calm afternoon.
The first time we kayaked over, we had a little launching struggle, but after that it was smooth sailing... err... kayaking!
Cooling off in the clear, azure waters at Little Bay at the end of the 20 minute ride is the ultimate reward.
Kayaking to Little Bay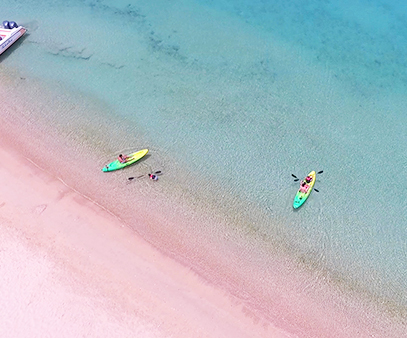 Tip: Little Bay is a popular destination with boaters. If you time your take off to be later in the afternoon, you will arrive at Little Bay to discover that it's all your own. The only sounds? The water lapping at your kayak.
On our first kayak over, we were lucky enough to have left Crocus Bay just before the sun started getting low in the sky. When we arrived in Little Bay, the sun was lower, glowing a warm hue, bathing the sea in a special pre-sunset shade of orange. It was one of the most magical sights on any of our Anguilla vacations.
My Dad found it to be a bit of a long paddle (particularly the paddle back), so be sure to bring a water bottle.
Beach Set Up at Crocus Bay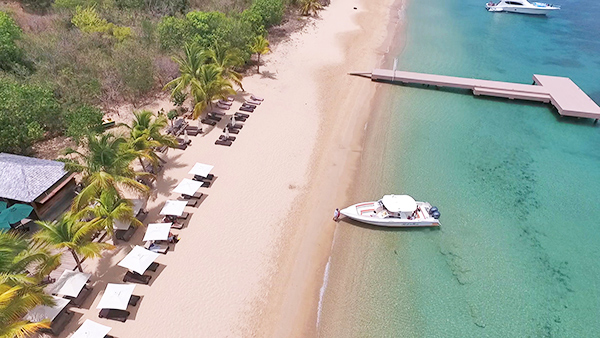 If you would prefer to enjoy Crocus Bay's clear blue waters without a slightly strenuous kayak session, da'Vida has you covered. Their pier to the west of the beach is immaculate (see photo above).
Fun for running and jumping, snoozing and sunning, it also offers interesting snorkeling below. It's not uncommon to spot crayfish and starfish. If you get lucky, you may even spot a frequent visitor to Anguilla in the winter months...
Special Perk for Boaters: If you visit da'Vida by boat, you can pull your boat right up to the floating dock and walk to shore! No need for a small dinghy.
Another perk of the floating dock? Crocus Bay's shoreline can be lined with pebbles that makes getting in and out of the water a bit trying. The dock removes that problem entirely.
Last but not least, if you visit da'Vida's Bayside Grill on Sunday a special live music treat awaits you.
By nature, Sundays are always laid-back. If you're seeking a bit of a livelier vibe, head to da'Vida on Sunday for their beach party. Food, sun, sand, clear seas, and live music all afternoon. da'Vida has it all on Sundays.
Every day is a great day to be here, but Sunday's afternoon beach party may be the best!
---
A Note on Large Parties at Crocus Bay
Last but not least, if you are planning a large gathering in Anguilla...
da'Vida can accommodate you!
On a day in late January, we visited da'Vida to find a full buffet and at least a hundred beach chairs lining the bay. da'Vida was a beach-day site for a convention of lawyers and judges from the States in Anguilla on a day trip from St. Maarten.
da'Vida had prepared a full lunch, organized the beach, and set up a separate bar for them. It was a party!
A "Crowded" Day at da'Vida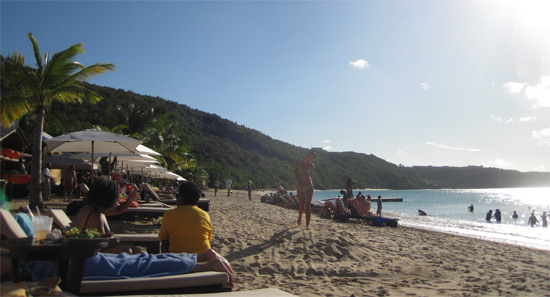 The best part? We could enjoy the buzz without feeling overwhelmed. We were able to relax and enjoy our beach day, too. Crocus Bay did not feel crowded, despite the "crowd."
They had also staffed-up and made sure that each and every guest (both in and out of the large party) was attended to and given the same impeccable service da'Vida is known for.
If you are planning a group event in Anguilla, da'Vida's Bayside Grill makes a terrific site.
da'Vida's Bayside Grill is open daily for lunch, closed Monday and Tuesday
Directions: Da'Vida is located on Crocus Bay, just 2 minutes from The Valley.
Menu: Click here
Tel.: 1-264-498-5433