Anguilla Restaurants:
SandBar's Savory Seaside Sunsets
SandBar is a one of a kind Anguilla restaurant that follows a simple recipe for savory success. The key ingredients?
1) Terrific eating with an original concept
2) Beach-side setting
3) ... all at a high-value price.
Welcome to SandBar

Born out of a passion for Anguilla's sandy beaches, food, and enjoying both with the people you love, SandBar has been an instant hit since it opened. Today, owners Alicia and Darren Banks push the experience to new heights!
A personal favorite, we have our "SandBar" routine down pat...
Step 1: Sunset Cocktails
Right on Sandy Ground beach, SandBar exudes an elegant and cool, trendy beach charm.
Inside SandBar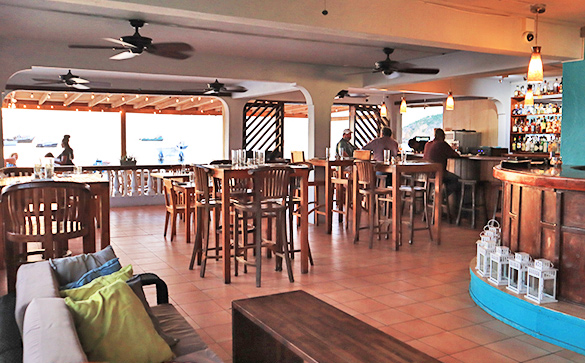 Its deck gives a front row view of Sandy Ground's especially vivid sunset views.
Sunsets on Sandy Ground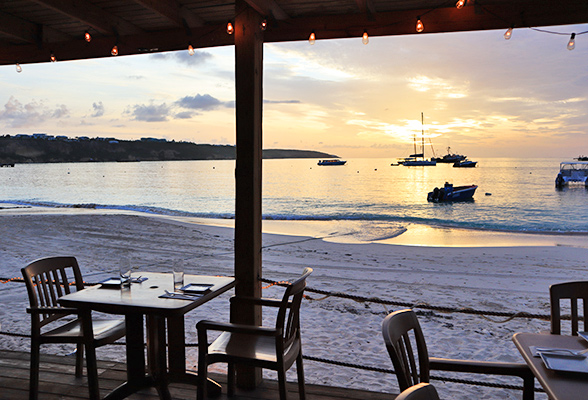 The view, of course, is best enjoyed with a cool SandBar cocktail. SandBar's cocktail list is one of the best, a favorite drink being the signature "SandBar."
SandBar Sunset Cocktails

This rum punch has a twist. It is blended and served frozen. Wholly refreshing, its colors often even match Anguilla's sunset skies.
Step 2: Savory SandBar Tapas
After the sun goes down? It's time to order.
SandBar specializes in tapas. The concept is straightforward, the variety fun, the idea simple: order as many small plates as your stomach will allow. (By the end of the meal, the table virtually disappears, hidden by all of the tapas plates!)
Dinner at SandBar always begins with the must order SandBar fries.
SandBar Fries

These are not your average fries! Double battered and triple fried, they are oversized and oh-so-soft on the inside. Dusted in chili powder, these addictive fries come with a side of chili aioli.
Next up on the "must order" list? Tuna Poki.
Tuna Poki

Sizable chunks of tuna are mixed with a creamy chili-laced dressing. Packing a whole lot of flavor, the dish is topped with green onions and sesame seeds, and served with a side of crispy wontons. This dish will forever be a favorite.
An unexpected favorite is...
Zucchini Carpaccio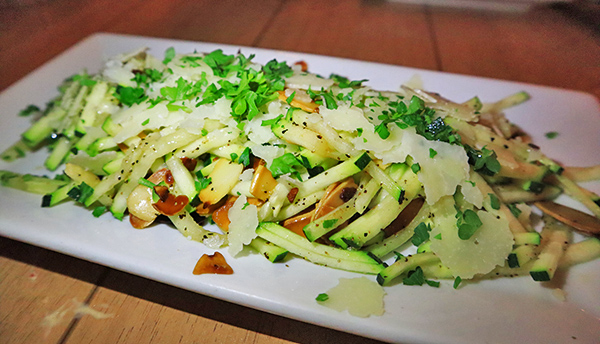 Call me crazy, but never did I ever believe a zucchini-based dish would be a "menu favorite." SandBar's zucchini carpaccio is the exception. Julienne-style sliced zucchini is lightly sautéed and topped with large slices of pecorino romano cheese. The toasted almonds and ground pepper round out the combination of complementing flavors. This dish is equal part delicious and healthy.
Balancing out the "healthy factor," are the Carib beer battered fish bites.
Fish Bites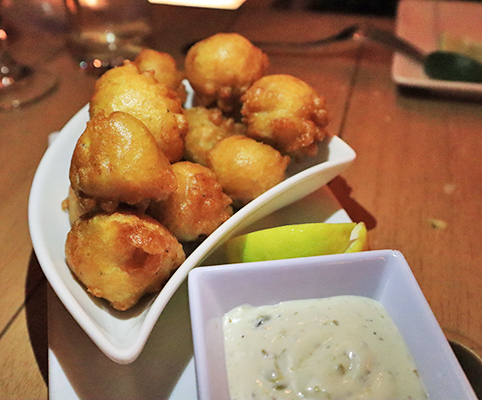 Chunks of white fish are enveloped with a fluffy-light batter and fried to gold-brown perfection. The bites go best dipped in the lemon caper aioli.
Last, but certainly not least on our "must order" list are the irresistible sautéed prawns.
Sautéed Prawns
(Served with Baguette)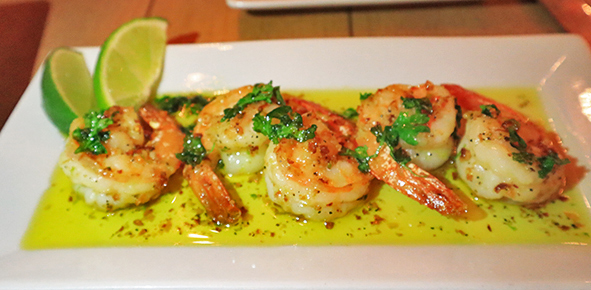 Soaked in a cilantro, garlic and lime sauce, this light dish is delicious down to last "lick." When the prawns are all gone, the warmed baguette soaks up every last drop of that fresh sauce.
To fully finish your SandBar experience dessert is a MUST. My favorite?
Warm Johnny Cake Sundae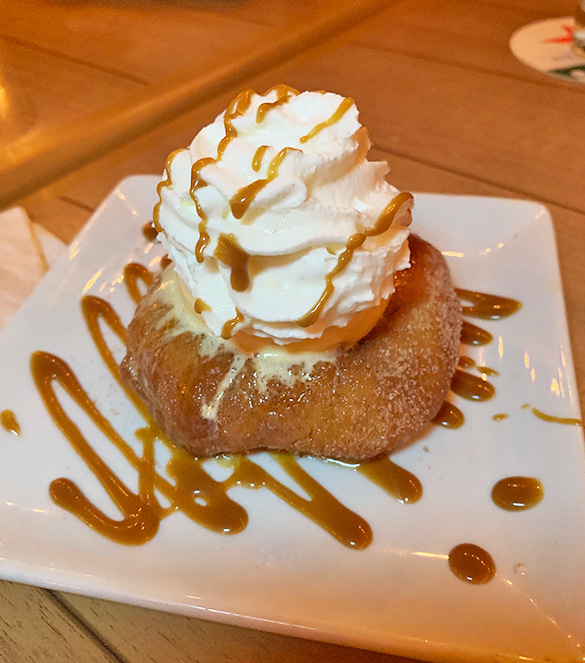 A delicious doughnut-like Johnny cake is covered in sugar and topped with ice-cream and whipped cream. So good, you may need a second order!
... and that is all just scratching the surface of SandBar's excellent dishes!
Step 3: Repeat!
With friendly and efficient service, and at a high-value price, it is never long before you find yourself returning to this comfortable yet elegant spot.
From sunset to views, to cocktails so cool, to so many tapas dishes that are "must-do's"... SandBar, we love you!
Directions, Hours & Contact
Directions: SandBar is right on Sandy Ground beach.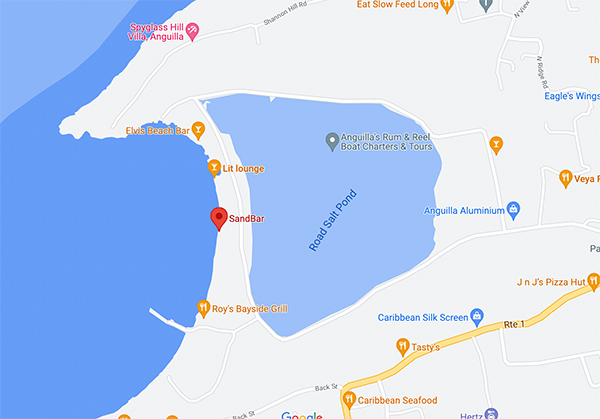 Hours: Tuesday-Saturday dinner from 5:30pm. Happy hour at 4:30-6:30pm (drinks only). Live music with Vere Musiq every Thursday, 7-10pm
Tel: 264-498-0171
Menu: Click here