SandBar's Savory Seaside Sunsets:
Unique Anguilla Restaurants
Update 2017: Excellent news from everyone's favorite tapas spot on the beach! SandBar is now open for dinner AND lunch! Lunch is served Tuesday-Saturday. More on lunch at SandBar here.

Update 2014: SandBar changes ownership and re-opens as Anguilla's most popular tapas restaurant. More on the new SandBar here.
SandBar At A Glance
SandBar is one of the most popular, affordable restaurants on the island. On the beach and serving a variety of tasty tapas dishes, and innovative drinks, SandBar is one of our favorites, too.
More on SandBar, below...
SandBar is a one of a kind spot, an Anguilla restaurant that follows a simple recipe for success.
The key ingredients?
#1) Great eating with original concept
#2) Beach-side setting
#3) Affordable
Born out of a passion for Anguilla's sandy beaches, food, and enjoying both with the people you love, SandBar was an instant hit.
It's busy even on the quietest of nights.
What's the story?
Denise Carr is a former Executive Chef at CuisinArt, having worked at many prestigious locations around the world. She decided to leave the Anguilla resort restaurant scene behind and focus on owning her efforts.
With her husband Joash Proctor, they have applied Denise's culinary expertise to an Anguilla restaurant vision all their own...
A casual, low-cost seaside setting where friends and family can hang out, nibbling on "tasty tapas" and sipping on "cool cocktails." This appetizer-only concept is an "Anguilla first."
SandBar

At a reasonable price point, SandBar has become popular with tourists and locals alike.
Right on Sandy Ground beach, SandBar is a trendy beach bar, exuding a cool elegance of beach charm.
Opening at 5:00 PM, you can enjoy a tranquil evening seaside or evening, munching Denise's creations till well past sun-down. My recommendation? Catch the final ray of the day's sun while having an early dinner. Sandy Ground's sunset are so special.
Inside SandBar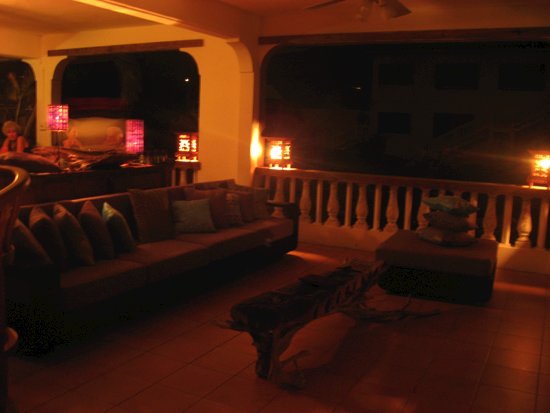 SandBar is one of our favorite casual after-dark eateries.
The concept is straightforward, the variety fun: We order as many small plates as our stomachs will allow.
(By the end of the meal, the table virtually disppears, hidden by all of our empty plates!)
Our favorites?
Tuna tartar with cucumber, pork wontons, panko crusted shrimp, melted brie brioche with sweet local tomato salad, and minted meat balls with yogurt and cucumber sauce.
My personal favorite? Saltfish and creamy potatoes with sweet spring onions.
Dad Chowing Down on Saltfish and Creamy Potatoes with Sweet Spring Onions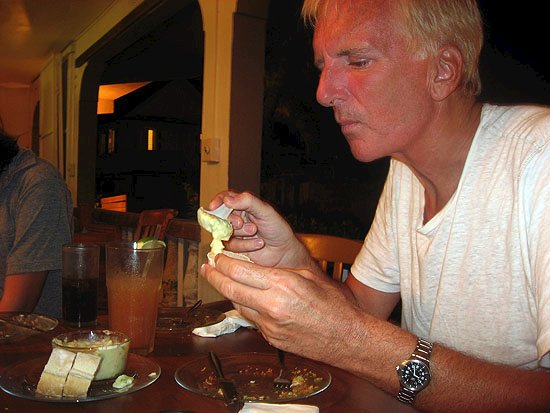 I always embarrass myself (and the rest of our family) when we order the saltfish and creamy potatoes. Everyone cringes as the dish dwindles. They know my next move...
Licking the bowl in search of the final taste of saltfish and mashed potato!
Denise's culinary talents are remarkable. She honed her tapas skills where the tapas were well made at CuisinArt. Making SandBar into a tapas-only restaurant was a brilliant stroke. Eating a variety of small, original dishes at a great price is a winning concept.
Joash is the warmest, most inviting host. He remembers everybody and greets them by name, always with a big smile.
Together, Joash and Denise are a remarkable team.
SandBar is no hidden secret as a result of its strong word of mouth.
That is the drawback. ;-)
It is high on everybody's dining list. You might have to wait for a table.
Update 2014
By: Kristin Bourne

A new sign marks the way
to the restaurant entrance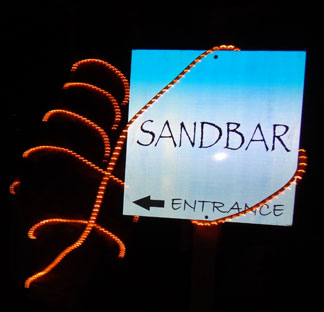 For those familiar with SandBar's previous owners… with the smiling, hospitable, cocktail master Joash and his hard-working, talented chef wife, Denise, we congratulate them on their success with SandBar, will miss them and wish them well on their new endeavors.
We welcome the new owners, Darren and Alicia and thank them for carrying on with one of Sandy Ground's hot spots complete with delicious cocktails and versatile and fun tapas.
Upon visiting the revised SandBar restaurant, here's the report.
I visited on a Friday night, a couple of weeks after the reopening. I had my friend and a 6 year old "taste-tester" with me.
It was a rarely quiet evening with the beachfront tables happily occupied, so we sat just inside at a table by the bar.
We had been pleasantly greeted by one of the employees at the new entrance.
New entrance?
Yes! Same building, same parking lot but now you exit the parking lot at the left side to get to the restaurant. There is a sign showing the way.
The new entrance to SandBar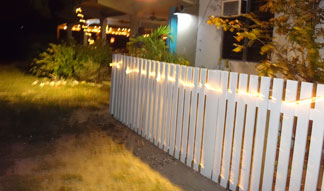 The new entrance brings you in to the area that was the "back bar" for the original SandBar. The seating in that section of the restaurant serves as a waiting area.
What else is new?
From my recollection of the previous, the visible changes are not to the maximum but enough that you can see differences.
The "back bar" near the waiting area now has a flat screen television above it.
There are tiny little white lights about the place making it glow more from a distance.
Once inside, the walls are painted a darker turquoise and there are bistro-style chalk boards on the walls.
The beachfront deck is completely roped off at the perimeter.
The feel of the restaurant was a little more formal to me. Not that attire or patrons varied greatly vs. the prior, it was just a vibe… perhaps the lighting was a bit dimmer and that, combined with the flow of traffic in and out, the newly trained staff and darker walls made it feel that way for me.
Inside the dining room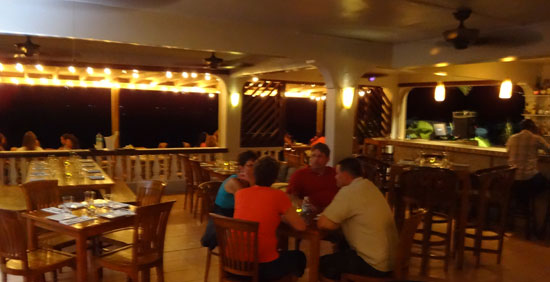 The menu provides slight nostalgia leaving the famous SandBar Fries with spicy aioli in place. They are priced at $8 (all prices in US).
New SandBar menu additions
Some new additions to the menu include Sandy Edamame $7, Arugula & Watermelon Salad and SandBar Salad both $9, Zucchini Carpaccio $9, Mahi Mahi Fra Diavolo $13 and Sweet & Savory Wings $12.
Fortunately, a SandBar favorite is reinvented on the revised menu… the Tuna Poki with Crispy Wontons will satisfy the tastebuds of those looking for Tuna Tartar.
During my visit, I had a glass of white wine which arrived to the table promptly and was chilled properly.
I selected the Tuna Poki and tasted a couple others…
I liked the Tuna Poki which is prevalent in Hawaiian dining. The tuna pieces were randomly sized, larger than most tartars and tossed in a more opaque sauce that offered a little heat and topped with sesame seeds. I like spicy food and was a little surprised by the level of heat, but it worked for me. The Tuna Poki was served with 5 wontons.
SandBar's Tuna Poki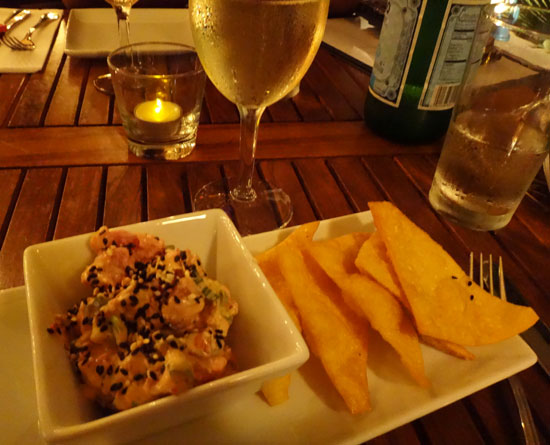 Also arriving at my table, the Mahi Mahi Fra Diavolo. It was a pretty display and consisted of two pieces of sautéed mahi covered in the vibrant orangish-red Fra Diavolo sauce.
I liked the temperature of the fish and the taste of the combination was very decent to me considering I tend not to adore a red sauce with seafood.
Of course we did the must-order SandBar fries. They weren't exactly the same as the predecessors but they were served the same way… in a cup, dusted with what I have always presumed is chili powder, and served with a dab of great-tasting aioli. The guilty pleasure on the menu…
Until you get to dessert!
A new dessert menu
This update should be excellent news for all of the sweet tooths out there, wanting to end their tapas evening on a sweet note.
There now is a printed dessert menu. The desserts are $9.
As encouraged by my 6 year old table mate, we ordered the Chocolate Baby Cake with Vanilla Ice Cream & Chocolate Sauce. It was petite and a nice sweet bite to share and end the evening with since we started the evening with an amazing sunset!
One thing hasn't changed... the amazing sunsets from SandBar!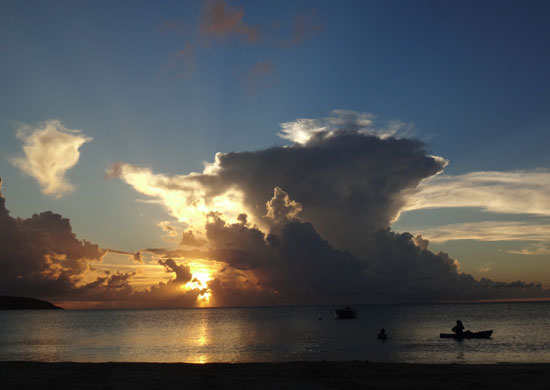 The remainder of the dessert menu includes other flavor varieties of the baby cake: Blonde with Vanilla & Dulce de Leche Ice Cream, Chocolate & Raspberry with Vanilla & Raspberry Ice Cream and Chocolate & Peanut Butter with Vanilla & Hazelnut Ice Cream.
Additionally, there is a Mango Crisp with Vanilla Ice Cream and coffee, espresso and cappuccino round out the finale options.
Don't be shy, go on in… meet the new owners and continue to enjoy the sunset, the pretty restaurant, the tapas, the cocktails and all that SandBar has to offer. I know I'm glad it's there!
Directions, Hours & Contact
Directions: SandBar is right on Sandy Ground beach.
SandBar
Good for fun nights of different plates of innovative food and drinks.
Hours: Monday-Saturday dinner from 5:30pm. Lunch in-season only.
Tel: 264-498-0171