SandBar for lunch? Oh yes!
Update 2019: SandBar is currently open dinner only.
By: Kristin Bourne
Anguilla's popular tapas dinner restaurant, SandBar is open for lunch! They now offer a regular lunch menu on a seasonal basis, 5 days a week.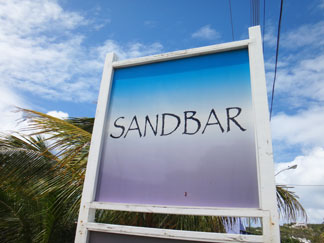 What you should know right away is that the SandBar lunch menu is different from the dinner menu except for a few of the dinner favorites like the SandBar fries and Zucchini Carpaccio.
This is great news for SandBar fans because now you have a reason to get to this island favorite more often and for two different experiences, lunch and dinner.
There are many stars of the SandBar lunch menu! It's not easy to choose where to begin so let's just get started...
Superb lunch location
Lunch time is a glorious time to be at SandBar. Sandy Ground is beautiful, especially if you like calm water and boats.
From SandBar's location, there's great boat watching and sea gazing while you watch from the shade of their interior while feasting on a nice variety of delectable options, cool cocktail in-hand.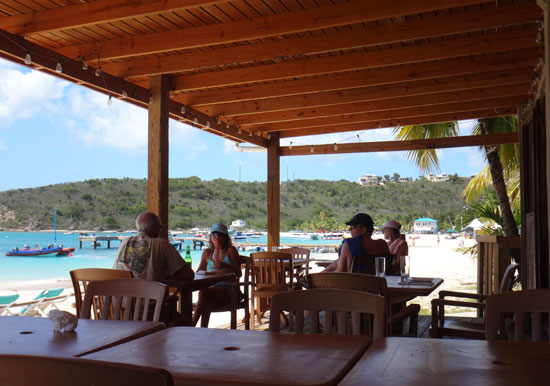 If you want to make an afternoon of your lunch and include some beach time, they have loungers set up and the beach out front is flat and soft. The water is crystal clear turquoise and shallow (gradually getting deeper). Invigorating and relaxing all at the same time and a treat in and of itself.
For those who work in Anguilla, it's great for your lunch break. It can serve as a nice, quick getaway with service that is attentive to your time restraints if you point them out. If you want to be leisurely, that's wonderful too! I found the lunch service with Kisette and company to be hospitable and attentive.
The Lunch Menu
The drink menu is the same as it is at dinner and includes their signature drink, "The SandBar", a perfect blend of tart and sweet, rum and fruit, blended into a smooth frozen drink. It's so good they'll let you taste it at lunch if you're curious about it.
There's plenty of liquor to choose from if you don't want something off of the menu.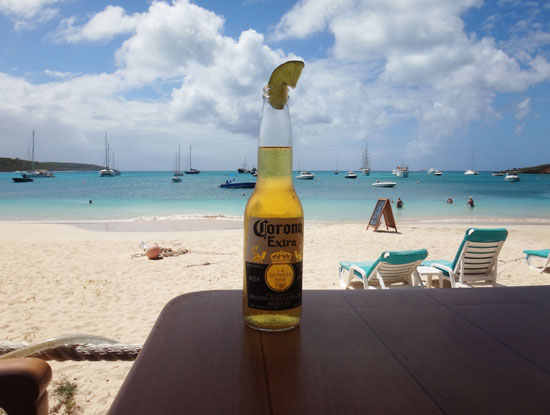 White, red, rose and bubbles are offered by the glass or the bottle. Glasses start at $7 US.
Beer selections are Heineken, Coors Light, Corona, Guinness, Red Stripe, Carib, Presidente and Somersby Apple Cider. They're all either $3 or $4 US. As a local on a budget, I appreciate SandBar not price-gouging on beer. Other spots on the island have these same options priced up to double of what SandBar charges.
Thanks, SandBar!
Now for the food.
Salads, appetizers, sandwiches, burgers and pizzas make up the SandBar lunch menu.
There's a wedge salad and a Caesar Salad that you can add grilled chicken or grilled shrimp to.
I tried the Caprese Salad and I am so happy that I did. It may be one of my favorites of all time…
The Caprese Salad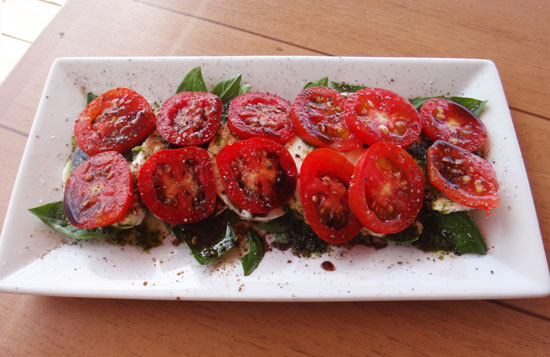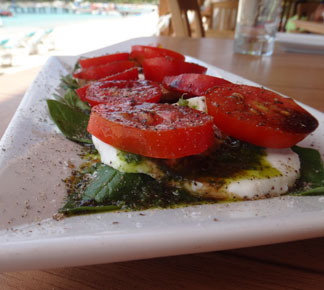 SandBar uses local tomatoes, local basil and fresh mozzarella. It's not only served with the customary olive oil and balsamic vinegar but they add a touch of chimichurri.
That extra touch, with a generous portion of all ingredients made it a huge delight for my taste buds. It is so fresh, full of flavor and the tomatoes are bright red, as good tomatoes should be. It's $13 US and it's worth it.
The rest of that section of the lunch menu includes the popular Thai Shrimp Salad, Zucchini Carpaccio, Mussels, White Bean Dip and Spicy Sandy Edamame. They range in price from $8 to $21 US for the mussels which are, "perfect for two".
White Bean Dip w/ toasted pita, pickled onion and French Provence olives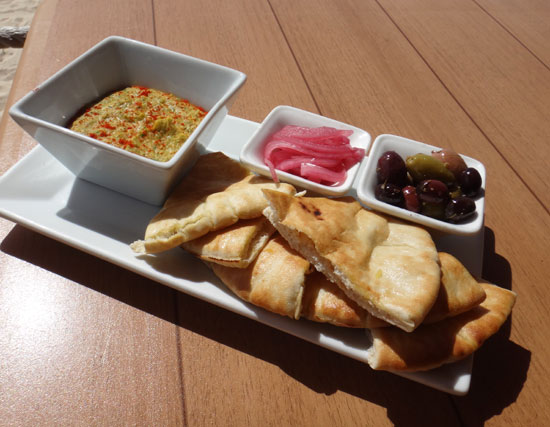 Pizzas are also on the menu! Cheese, Pepperoni, Margherita, Vegetarian, BBQ Chicken and the Pizza Special of the Day. Their prices go from $10 to $15 US.
Sandwiches are served with your choice of SandBar fries, Caesar Salad or a Tossed Wedge Salad. There's a Pulled Pork Sandwich, Bacon Chicken Ranch Sandwich, BLT, Reuben Sandwich and a Fish Sandwich.
I indulged on the Fish Sandwich and given its components, I found it just right. It's tempura battered mahi mahi on a warm ciabatta roll with spicy aioli with lettuce and tomato.
The Fish Sandwich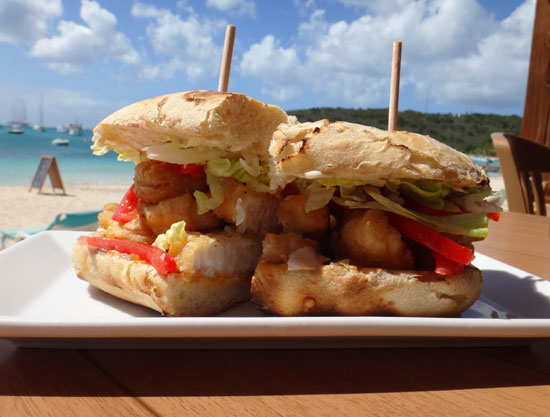 I grew up in the South and appreciate fried food however, tempura can sometimes be a bit much, but not in this case. The fish had terrific, mild flavor and wasn't greasy. The tempura batter was light yet with that rewarding crispiness. The ratio is spot on. The accompaniments complimented the sandwich perfectly.
Now, have a look at The SandBar burger. 1/3 lb beef with lettuce, tomato and onion. The one pictured has bacon and cheese added.
The SandBar Burger w/ bacon and cheese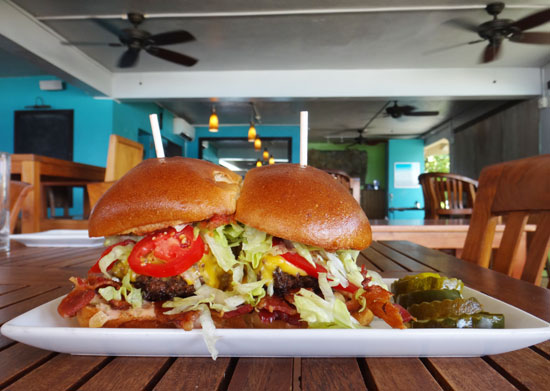 Gorgeous to the burger lovers, no doubt.
They've been a hit so far for lunch at SandBar.
The Lake Tahoe Burger is complete with swiss cheese, bacon and 1000 island dressing.
The sandwiches and your chosen side run between $14 and $17 US.
You may have a hard time trying to decide what to eat for lunch at SandBar. I did.
Dessert to daydream about
No matter how great the options sound and how full you may accidentally get, you must allow some room for their Johnny Cake Sundae.
Mind you, their other dessert options are perfectly lovely. I've enjoyed the Mango Crisp before and I have friends who love the Chocolate Baby Cake but if I had not been told about the immense pleasure of the Johnny Cake Sundae, I would have never known how completely amazing it is.
If the picture looks good to you, you will have your mind blown when you actually dig in to it. For those who appreciate warm with cold and the indulgent taste of a hot Krispy Kreme original donut, you must have this.
The Johnny Cake Sundae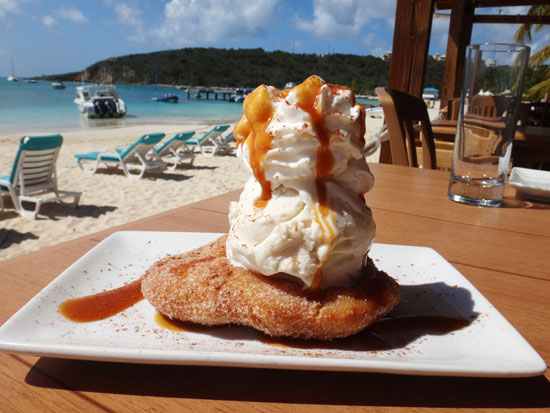 I would normally share a dessert but not this one. Not only did its taste surprise me, it also stayed in great form considering I was eating it mid-day, in the open, warm air of the Caribbean. It did not turn in to a runny mess as I ate it with a knife and fork. It seemed a bit magical to me as far as desserts go.
The desserts are $9 US. There's also a nice selection of dessert drinks from coffee with Bailey's to Frangelico and the incredible homemade banana rum shot should also be considered.
The homemade banana rum is so good, it's sold in a hand-painted bottle as a souvenir.
Take some homemade Banana Rum with you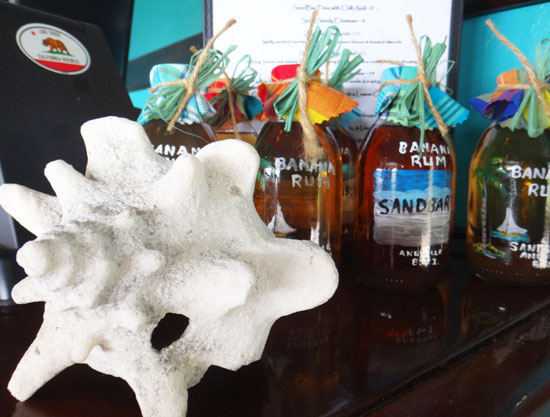 Timing, Hours and Notes
Lunch is served Tuesday through Saturday. It starts at 11:30am and goes until around 2:30pm.
This season lunch stops on Apr. 8, 2017. Lunch will then pick back up again in January of 2018 and run through the spring making it a nice bonus for those visiting Anguilla during peak season months.
Dinner at SandBar remains unchanged and is available in peak and off season.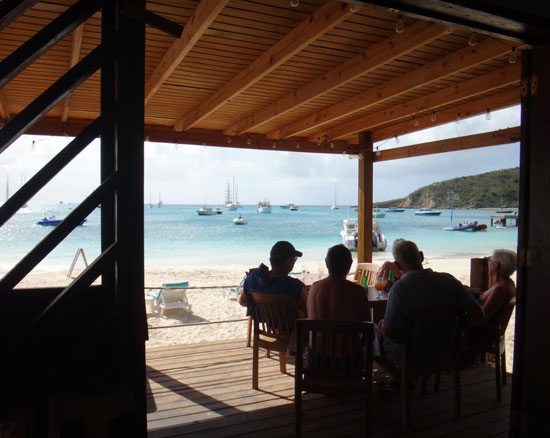 Tip: The water view from SandBar is to the west. If you arrive for an early lunch and sit nearest to the beach, you will have shade. As the afternoon comes the sun will slowly start to hit the deck near the beaches edge on a sunny day. Note that Kisette and the staff are on top of making sure you don't roast in the sun and are happy to move your table back if you choose. Otherwise, they will let you know about that front row of potentially sunny seats. There's plenty of room for everyone and there's a view from all of the tables.
All in all, SandBar has excellent beginnings and endings. The in-between is filled with great views, food and service. The entire experience makes for a happy and delicious afternoon on a special beach in Anguilla.