Anguilla Carnival
Welcome to our guide for Anguilla Carnival!
Anguilla Carnival is the island's biggest holiday, and is widely known and celebrated through the island (even more than Christmas!). While the words "Anguilla Carnival" (also called Anguilla Summer Festival) stir vivid images of sequined costumes and street parades for Anguillians, many travelers to Anguilla don't know all of the "ins and outs" of Carnival.
Sandy Ground on August Monday, The Peak of Anguilla Carnival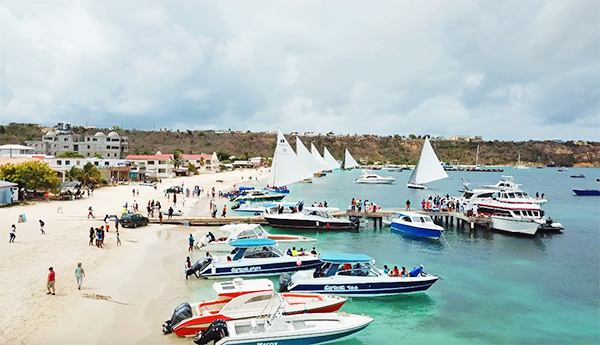 Carnival (aka Summer Festival) runs from end of July through the first week of August. This period is chock FULL of events! NOTE: This is the biggest holiday in Anguilla. All government buildings and most shops (including grocery stores) close.
Get your highlighter ready to pick your can't-miss Carnival events!
Run Down Of Anguilla Carnival Events in July
Come end of July, there is a Carnival event almost every day and night on the island.
Carnival Event Line Up For 2022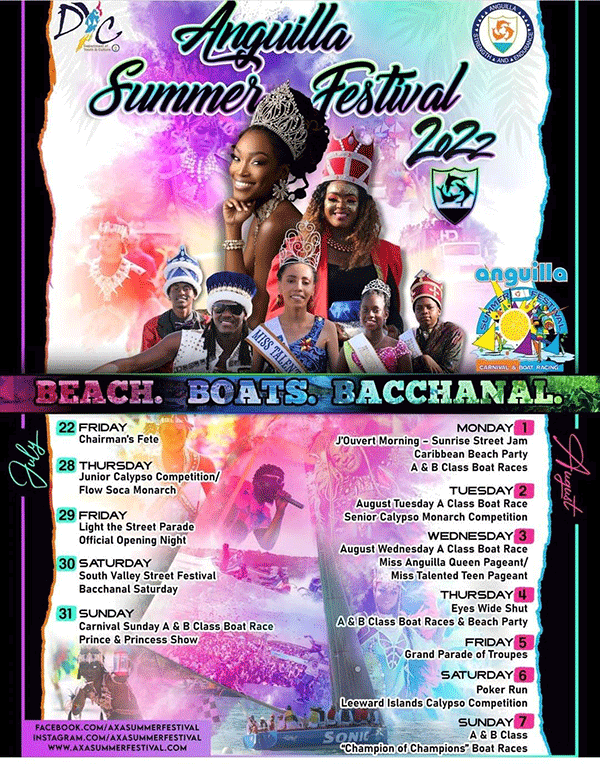 Let's start in July...
Jul. 22nd


- Chairsman's Fete

Jul. 28th


- Junior Calypso/'Flow' Soca Monarch Competitions

Jul. 29th


- Anguilla Summer Festival Kick-Off
Official Opening Night & Street Light Parade
Opening Night Fireworks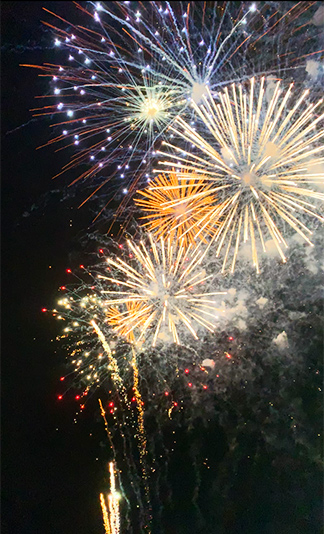 Carnival really starts with the "Official Opening Night" kick-off evening. Entry is free and it usually starts around 7pm and ends around mid-night. The opening night is full of fireworks and musical performances, which takes place in The Valley.
The Valley is the place to be for most of the pageants and contests, more specifically the Landsome Bowl. After the opening ceremonies, the Prince & Princess Show follows.
The Prince & Princess Show is a competition that displays the talents of Anguilla's youth. The competitors are made up of couples representing their respective Primary Schools. Competing in the categories of speech, talent, and evening wear.
After Carnival kick off?
Jul. 30th


- South Valley Street Festival and "Bacchanal Saturday"

Jul. 31st


- A Class and B Class Boat Races/Prince and Princess Show
The South Valley Street Festival is similar to the North Valley Festival, plenty of live music, booths selling souvenirs and local food. Happening later in the evening, around 9pm is "Bacchanal Saturday." Local bands compete for a cash prize on this night.
Carnival Events in August
Now let's talk about August, where the most popular events take place...
Aug. 1st


- August Monday Caribbean Beach Party

- J'Ourvert Morning Sunrise Street Jam

- A Class and B Class Boat Races

Aug. 2nd


- August Tuesday A Class Boat Race

- Senior Calypso Monarch Competition

Aug. 3rd


- August Wednesday A Class Boat Race

- Miss Anguilla Pageant Show


- Miss Talented Teen Pageant Show


Aug. 4th


- Eyes Wide Shut Sunrise Jam

- A Class and B Class Boat Races and Beach Party

Aug. 5th


- Grand Parade of Troupes

Aug. 6th


- Poker Run Boat Party


- Leeward Islands Calypso Competition

Aug. 7th


- A Class and B Class "Champion of Champion" Boat Races
Sail boat races mark many of the days of Carnival.
UFO Gliding Around In Sandy Ground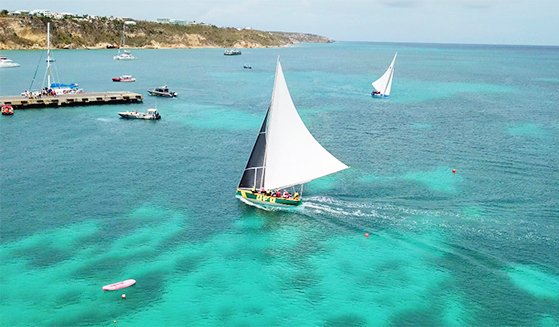 The biggest day of them all is...
August Monday
August Monday is always the first Monday of August. Every other event in the Anguilla Summer Festival line-up is planned around August Monday. It is the focus of Anguilla Carnival.
The first August Monday celebration was in 1940, and began as a boatrace celebration. It has evolved over the years, and has become one of the biggest beach parties in all of the Caribbean Carnival celebrations.
August Monday is a full day.
It all begins with Jouvert Morning Street Jam at 5AM. Roughly 6,000 people do the Jouvert Morning tradition each and every August Monday! It starts moving from The Valley towards its destination, Sandy Ground. They call this "Road March."
Anyone and everyone is invited to participate!
Only a Portion of the Jouvert Crowd Making Its Way Down to Sandy Ground
(Photo Credit: Pink Mako)

It is centered around local bands who are competing for the title of "Road March Champion." Each band has its own float, usually a large, decorated truck, with a booming sound system.
These bands, aboard their floats, lead the way down to Sandy Ground. Anyone can show up, follow the trucks into Sandy Grond, and "do the march."
The loud speakers pound out the bands' new songs and energize the crowd. The bands play Calypso and Soca. You can't not, at the very least, tap your foot to the rhythmic beats!
There are nine judges who determine the "Road March Champion." They take into consideration everything from the crowd reaction to vocal clarity. The winning band walks away with a whopping $8000, which is announced the last day of Carnival.
A Jouvert Band Float and Their Loyal Fans Doing the Road March
(image courtesty of Pink Mako)

Once the Road March reaches Sandy Ground around 11am, the fun goes on.
August Monday Beach Party
Down on Sandy Ground and for the remainder of the day and night, there is plenty of people, music, food, beverages, and dancing to last you until next year!
Tip: Most people driving to Sandy Ground should have their car in place well before 1PM as parking will be tricky to find due to volume. In fact, many people will team up earlier in the morning and park one car at Sandy Ground and take a separate car to get to the Valley for the start of Jouvert to do the Road March down to Sandy Ground.
To get ready for the August Monday Sandy Ground scene, imagine lots of people. Now multiply that by 10. Now multiply it by 10 again! You are likely still low-balling it. It is estimated that there are 8,000-9,000 people on Sandy Ground during this time.
See what I mean?...
Sandy Ground Crowds for August Monday Beach Party!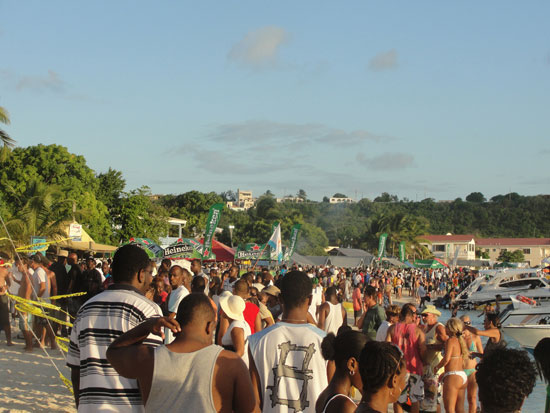 There are even more people on "party boats" that are docked off Sandy Ground, and along the shoreline. On the beach, people walk, mingle, eat, dance, drink, and cool off in the water. All day long!
Crowds grow more quickly once the music starts. Several bands from all over the Caribbean as well as some of Anguilla's talented musicians, hit the stage.
So, what is all the partying for?
August Monday Boat Race
The main Anguilla attraction on August Monday is the famous "August Monday Boatrace," which sets off from Sandy Ground at 12PM. It is a complete round the island boat race, and lasts most of the afternoon. This is the first qualifying boatrace. This race determines which boats can compete in the "Champion of Champions" race held on the final Sunday of Carnival week.
Anguillians are passionate about the August Monday boatraces. Most Anguillians have a boat that they are affiliated with. Some even track the boats from land in their cars, binoculars in hand, shouting, groaning and cheering on their boat.
You can even get tickets for "party boats" that follow the race from the sea!
Party Boat on Anguilla Day, June 1st

Anguilla boatracing is Anguilla's lifeblood, after all. The style of boats and type of racing is interesting, and a story for another day.
Back in 2002, I remember my Dad preferred getting caught up in the boatracing excitement to the beach day party. And, my Dad has never even sailed a boat! The unbridled enthusiasm is contagious.
When the race is over? The party is still going on! The beach party doesn't stop until 1AM. Here local artists and artists from all over the world take the stage and perform from 12PM til 1AM, a full 12 hours of fun.
From Jouvert Morning at 5AM 'till the Beach Party at 1AM the next morning... How is that for a full day?
Post-August Monday Carnival Events
August Tuesday
- Class A Boat Race and Senior Calypso Show
Boats In Sandy Ground

Tuesday the boat race starts in Sandy Ground around 2pm and ends in Island Harbour.
Then in the evening Calypsonians sing for the title of Senior Calpyso Monarch. Calypso is rooted in the time of slavery when it was primarily a form of communication. Over the years it has become a form of creative and exuberant expression.
Calypso music may cover a variety of topics from our youth to domestic violence and politics. This genre is part of Anguillian culture and regional culture.
August Wednesday - Class A Boat Race and Miss Anguilla Queen Pageant
Another beautiful boat race...
Starting around 2pm, the boats take sail from Sandy Ground to Blowing Point and back.
Then in the evening, the Miss Anguilla Queen Pageant takes place. It is one of the more anticipated shows on the stage during Carnival week. Here contestants battle for the Miss Anguilla crown.
Miss Anguilla 2016, Carencia Rouse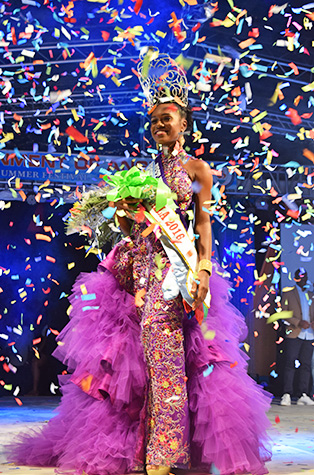 August Thursday
- Eyes Wide Shut, August Thursday Class A & B Boat Race and Beach Party
The annual Eyes Wide Shut party has become one of the most talked about parties on the island. The biggest soca stars around the world take to the stage! It begins in the morning at 1AM and ends at 11AM and takes place in the Sandy Ground field.
Afterwards? A boat race and beach party on...
Meads Bay, August Thursday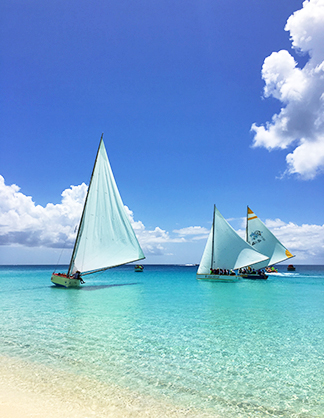 On August Thursday Meads Bay is the place to be.
The August Thursday boatrace leaves from Meads Bay.
What to do on Meads Bay while the boats are away?
Food stalls are set up, grills are blazing, and ice cream trucks are scooping island flavors including Tamarind and Soursop, or good ol' Vanilla, if you prefer.
If the sun is as hot as it should be in August, ice cream is a good way to beat the heat. Of course, you can take a dip in dazzling Meads Bay too. Click here to read a review of Meads Bay by Jennifer from Miami, an Anguilla-Beaches Lover!
Grande Parade of Troupes
August Friday
- Grand Parade of Troupes
August Friday is awaited by many. It is the second and final "Road March of Carnival!"
This Carnival attraction is all about vibrant, flamboyant colors displayed on the troupes as they dance and celebrate down The Valley streets. It is a great family event.
Grande Parade Of Troupes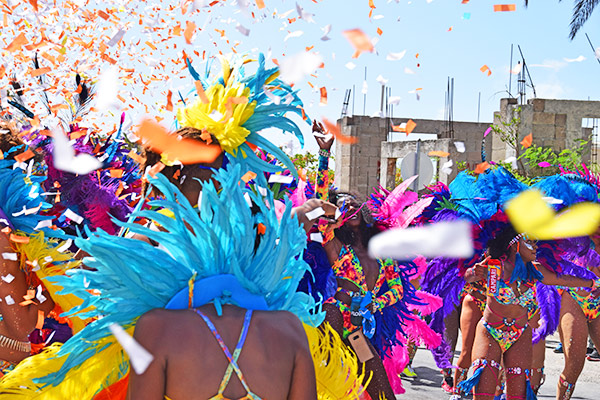 The streets are alive with dancing, and local music is heard for miles. Anyone is welcome to watch, or even join in the dancing.
The troupes are formed from different villages on the island of Anguilla. They are also judged (by nine judges), as this is a competition.
Colorful Costumes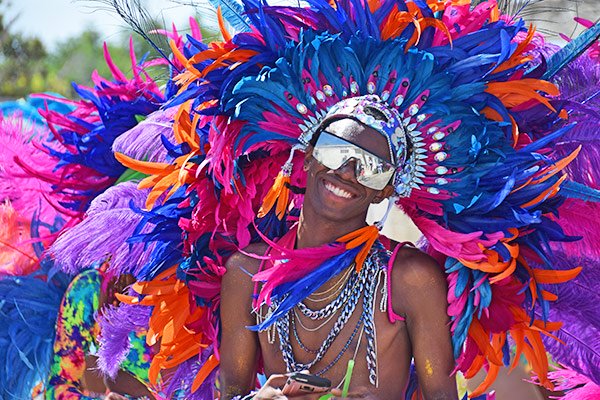 The beautiful, highly detailed costumes are judged on color, and the troupes on their performance.
Kids Love The Parade!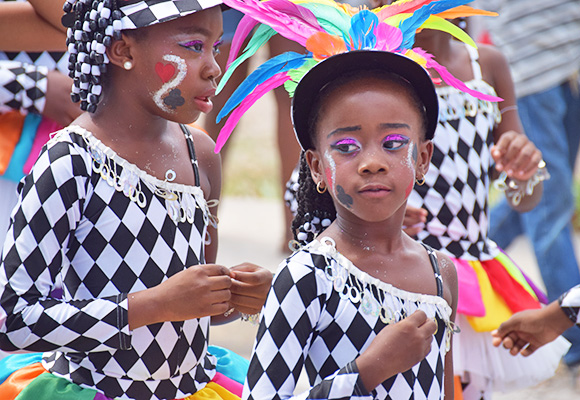 It is the most colorful day of Carnival. Imagine Anguilla, also known as "Rainbow City," getting even more colorful!
August Saturday
- Anguilla Poker Run and Leewards Island Calypso Competition
Another highly talked about event is the annual Poker Run.
Boats at Crocus Bay For Poker Run

Boats from around the Caribbean enter the chance to win a GRAND cash prize of $8,000. Stopping at multiple beaches around Anguilla, people party, eat, drink and play poker.
Come night fall, the Leeward Island Calypso Competition takes place at the Landsome Bowl. I've mentioned how ingrained Calypso is in Anguillian culture, so this final competition is not to be missed.
Final Day of Carnival: Champion of Champions Boat Race
August Sunday
- Champion of Champions Boat Race
The very last day of Carnival brings together the avid racing boats lovers. Sunday the 11th is the Champion of Champions boatrace. This is where the winner from each race during Carnival week compete against each other to see who really is the Champion of Champions.
On Sunday, Sandy Ground is sure to be packed with people one last time for the year. Yet, it is more peaceful than August Monday, and a nice end to the Anguilla Summer Festival.
After Anguilla's August Carnival?
Anguilla returns to its quiet, serene self... Until next year's Anguilla Carnival!
And that's all she wrote!
This was an in depth "course" on Anguilla Carnival. There is only one way to get an "A"...
Experience Carnival! See you there!