Travel to Anguilla in August?
Here's Why...
August is perhaps the most exciting month to travel to Anguilla. This is their biggest holiday time, yes even more popular than Christmas!... Anguilla Carnival. The first week of August is called "August Week" and it's a solid week of parties, events and celebrations.
From beauty pageants to calypso contests, from boatracing to the big Carnival parade to parties everywhere, it's a unique week that you'll never experience anywhere else.
The parade was magnificent (photo from festival.ai)...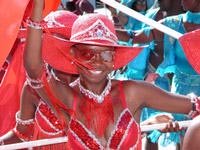 Many people dressed in flashy, bright, costumes with innumerable feathers, sequins, beads, shiny fabrics, rich colors and big, beautiful, headdresses.
As they pranced down the street to the reggae tunes, we couldn't help jumping and clapping and laughing and dancing, too! It was quite a show, unlike any parade we had ever seen! Travel to Anguilla just to see it!
But of all the events, it's the boat races that most captures everyone's attention on Anguilla. Anguillians from around the world travel to Anguilla, back home, just to be here for this.
Yes, I know you've never read about it in the sports pages of your local newspaper, but it's bigger than the World Series, the World Cup, and the Super Bowl, all rolled together... at least, here in Anguilla!
This is Anguilla's national sport! It all started decades ago, when Anguillians would sail home from fishing expeditions! They'd gather together and race home.
You know how competitive men can be, right? So of course this turned into a sport! As time went on, fishermen began using more modern boats to fish, but still crafted old-fashioned, wooden sailing boats for racing.
This is what makes Anguillian boat racing so unique... the history, the craftsmanship, the boats themselves. They have no decks! Instead of external ballast on the hull, there use heavy bags of sand, boulders, and sometimes even people, as ballast!. Towards the exciting end of the race, these objects (yes, sometimes even people!), get thrown off the boat to win the race!
Let's follow a race. Here are all the boats lined up at Sandy Ground, ready to go!
On Your Mark, Get Set...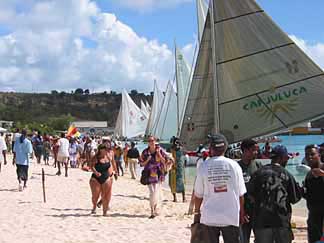 During August Week, there are several races. The boats travel from one beach to another, each race a different test depending on the winds and the water. One day was so windy we saw boats get blown into Sherrick's Bay -- one of them could hardly get out!
The winners of each race all race against each other in the grand finale...
And They're Off...

This race starts and ends at Sandy Ground. As you'll see in a minute, the real boating fans follow the boats. And for everyone else? Well, there's no party like the one on Sandy Ground! Everyone was dancing, everyone was eating. Everyone was having a great time! I'm not sure if anyone would notice if the boats didn't return!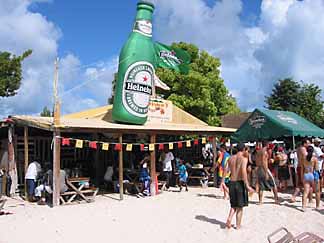 As you can see, Johnno's is in the middle of it all. Reggae is blaring. People are partying, with lots of boats from St. Martin, who travel to Anguilla for the day. It's a real happening!
Even though most spectators were down at the beach, there are some real boatracing fans who totally get into it...
They follow the boats around the island, either by boat or with their cars on land! They find the best vantage points, holler and yell about who's winning and who's making good moves and bad ones, and then they rush ahead to the next vantage point.
We have a lot of fun tagging along, as much fun watching the "watchers" as watching the race!
Back on the beach, everyone is just relaxing... until the boats come back into view. At this time everyone drops what they're doing to race over to the edge of the beach, and crowd onto the pier...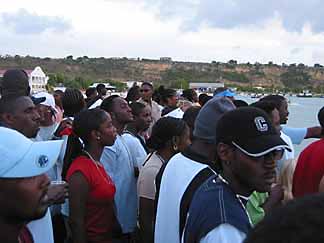 The excitement builds and builds until the leading boat hits the flag on a buoy.
However this year (2002), it was not that simple. The boat UFO tagged the flag first. But the another boat, Superstar, protested. They complained that UFO did not give way when it called "hardlee."
Hardlee occurs when two boats are on a collision coarse -- one has to give way when the other one calls it. This was a major controversy for ten days! Everybody was talking about it, everybody had their opinions, and everybody had their favorite boat!
Finally, the committee called it a tie! Try and imagine the Super Bowl being protested and then called a tie. Somehow, though, it seemed right in Anguilla... after all, it was the event that was important, not the result.
So if you're wondering what to do next August, think of something you'd never think of... travel to Anguilla for a truly unique experience. All the food, colors, boats, sun, and excitment!
Personally, I still prefer Christmas as a holiday, but there's nothing quite like Anguilla in August!