<![endif]-->
Anguilla Carnival...
Anguilla Summer Festival Schedule of Events
Below you will find the complete schedule of events for this year's Anguilla Summer Festival (A.K.A. Anguilla's Carnival). You will notice that some dates on this year's schedule (below) are clickable links. Click the links for full information on what happens on that particular day of Carnival.
Scroll through this page and you will also discover a catalogue of Summer Festival events for years passed.
For more information on Anguilla's Carnival, please click here.
You can find more details specific to Carnival happenings in the month of August by visiting this page about Anguilla activities in August.
Now, without further ado...
ARCHIVES: Previous Summer Festival Schedules
2016 Anguilla Summer Festival Schedule
Jul. 24: Miss "Tiny Tott" Pageant
Jul. 30: South Valley Community Street Fair
Aug. 1: August Monday
Aug. 4: August Thursday
Aug. 5: Grand Parade of Troupes
Full list of events coming soon.
2015 Anguilla Summer Festival Schedule
July 29th
August 1st
August 3rd
August 6th
August 7th
2014 Anguilla Summer Festival Schedule
Saturday, July 12th
Calypso Semi-Finals (Landsome Bowl, The Valley)
Saturday, July 19th
Sunday, July 20th
Sunday, July 27th
Miss Anguilla Swimsuit Competition
Miss Summer Swimsuit Pageant
Thursday,July 31st
Official Opening Fireworks Ceremony (Landsome Bowl, The Valley)
Lime Soca Monarch Competition (Landsome Bowl, The Valley )
Friday, August 1st
International Night (The Valley)
Saturday, August 2nd
South Valley Street Fair
Band Clash (Landsome Bowl, The Valley)
Sunday, August 3rd
Heineken Warm Up Boat Race (Sandy Ground)
Prince and Princess Pageant Show
Junior Calypso Show
Monday, August 4th
Jouvert (The Valley near CCB)
Caribbean Beach Party (Sandy Ground)
Lime Class A & B Boat Race (Sandy Ground)
Tuesday, August 5th
Class A Boat Rate (Island Harbour)
Scotia Bank Mr. and Miss. Teenage Pageant
Wednesday, August 6th
A Class Boat Race (Sandy Ground)
Female and Senior Calypso Monarch Competition
Thursday, August 7th
Lime Class A and B Boat Race (Meads Bay, Anguilla)
Miss Anguilla Pageant
Friday, August 8th
Saturday, August 9th
Valley Street Fair
18th Annual Lime Leeward Islands Calypso Monarch
Sunday, August 10th
Champion of Champions Boat Race (Sandy Ground)
2013 Anguilla Summer Festival Schedule
Sunday, July 14th
Friday, July 26th
Pump Yuh Flag
International Night - Mixed Culture
Thursday, August 1st
Friday, August 2nd
Junior Calypso Show
Soca Monarch
Saturday, August 3rd
South Valley Community Street Fair
Soca Band Clash
Sunday, August 4th
Warm Up A & B Class Boatrace (Sandy Ground)
Monday, August 5th (Public Holiday)
Jouvert Morning Street Jam
Caribbean Beach Party & Concert
August Monday B Class Boatrace (Sandy Ground)
August Monday A Class Boatrace (Sandy Ground)
Tuesday, August 6th
Island Harbour A Class Boatrace
Ms. Summer Swimsuit Pageant
Wednesday, August 7th
A Class Boatrace (Sandy Ground)
Calypso Monarch
Thursday, August 8th (Public Holiday)
August Thursday B Class Boatrace (Meads Bay)
August Thursday A Class Boatrace (Meads Bay)
Miss Anguilla Queens Pageant
Friday, August 9th (Public Holiday)
Saturday, August 10th
17th Annual Leeward Islands Calypso Monarch
Sunday, August 11th
Champion of Champions B Class Boatrace (Sandy Ground)
Champion of Champions A Class Boatrace (Sandy Ground)
August Monday on Sandy Ground, Anguilla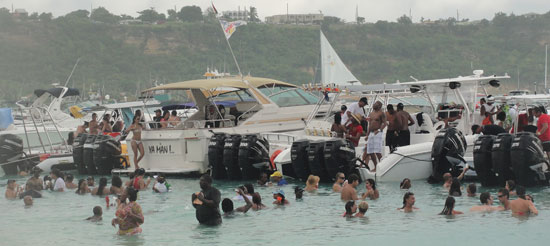 2012 Anguilla Summer Festival Schedule
Friday, July 27th
Opening Ceremonies
Female and Junior Calypso Shows
Saturday, July 28th
Chairman's Fete
Band Clash
Sunday, July 29th
Thursday, August 2nd
Soca Band Clash (Landsome Bowl, The Valley)
Heineken Boatrace (Sandy Ground)
Reggae Band Clash with Maxi Priest
Monday, August 6th (Public Holiday)
Jouvert
August Monday Boatrace (Sandy Ground)
Caribbean Beach Party and Concert
Island Harbour Boatrace
Swimsuit Pageant
Boatrace (Sandy Ground)
Calypso Monarch
Thursday, August 9th (Public Holiday)
August Thursday Boatrace (Meads Bay)
Queens Pageant
August Thursday on Meads Bay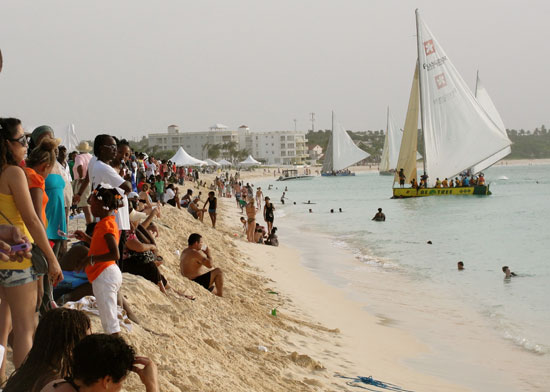 Friday, August 10th (Public Holiday)
Sunrise Street Jam
Leeward Island Calypso Competition
Champion of Champions Boatrace (Sandy Ground)
Grand Finale
2011 Anguilla Summer Festival Schedule
Friday, July 29th
Opening Ceremonies
Prince and Princess Show
Saturday, July 30th
Sunday, July 31st
Heineken Boatrace (Sandy Ground)
Soca Monarch
Monday, August 1st (Public Holiday)
Jouvert
August Monday Boatrace (Sandy Ground)
Caribbean Beach Party and Concert
Tuesday, August 2nd
Island Harbour Boatrace
Talented Teen Pageant
Wednesday, August 3rd
Calypso Monarch
Talented Teen Pageant
Thursday, August 4th (Public Holiday)
August Thursday Boatrace (Meads Bay)
Queens Pageant
Friday, August 5th (Public Holiday)
Saturday, August 6th
Leeward Island Calypso Competition
Sunday, August 7th
Champion of Champions Boatrace (Sandy Ground)
Grand Finale