Anguilla Music Focus...
Omari Banks
By: Kristin Bourne
Omari Banks is known for many things... his charm, his good looks, his beautiful singing voice, and his professional cricket career.
Initially known as a professional cricket player. He gained experience traveling the world and playing for large crowds.
Meet Omari Banks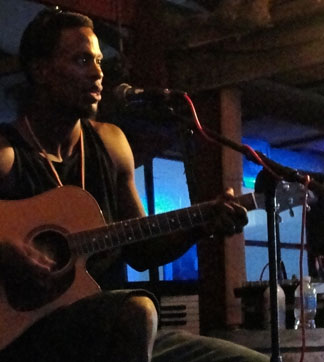 Growing up in Anguilla, the son of a well-known local musician Bankie Banx, music was a passion of Omari's as well.
Upon completing his professional cricket career, Omari began teaching physical eduction in Anguilla and spent time focusing on his music.
Naturally exposed to many musicians coming and going, Omari was able to benefit from the exposure to people such as Jamaica's Junior Jazz, this fueled his passion even further.
Of course, coming from a musical family comes with an automatic support system, in most cases.
The recipe is complete for Omari to begin his music career!
Omari with his band ELEVEN playing at Moonsplash 2013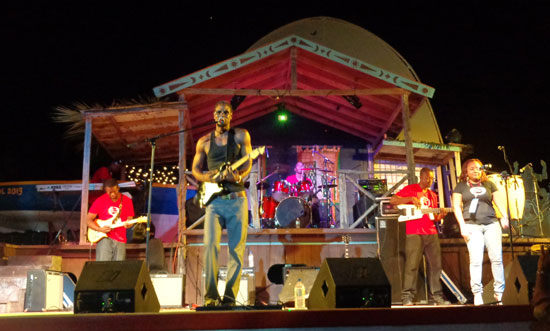 With Omari as lead vocal and guitar, he started his band 'Eleven' in 2010. They have become a popular live act in Anguilla...
Omari with his father, Bankie Banx, chiming in...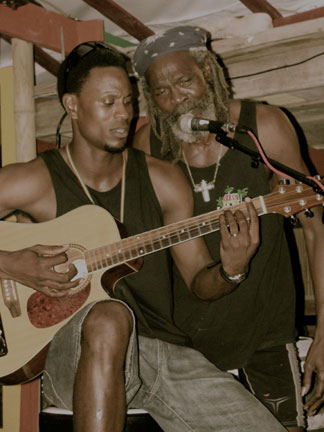 His voice is silky.
Most of the songs Omari plays he wrote and composed himself.
They range from "Jehovah's Message", a song that makes one feel that they should go forward as they feel is right and not worry so much about the opinions of others.
"O Africa" he wrote about how scientists and people of faith tend to agree that Africa is the cradle of humanity.
His song called "Somaiya" is named after his daughter and first-born and was written just after her birth.
"Puppy Love" is a sweet tribute to his wife and their relationship that blossomed when they were children.
Cover songs that Omari sings may range from artists such as Beres Hammond and Inner Circle to Frankie Valli.
He even performs Bankie Banx covers!
Omari describes his music as "reggae music". I think Omari's style allows for easy listening and he tells a story.
Omari performs solo at The Dune Perserve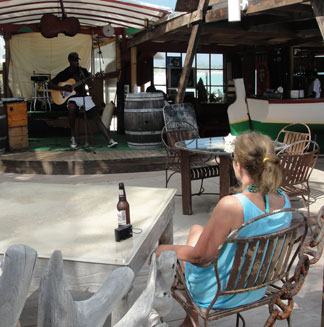 In 2013, Omari released his first album.
His first major video, for the song called 'Unafraid' can be seen at the bottom of this page (embedded from Omari Banks' official YouTube account).
Where to see Omari Banks...
Currently Omari can be seen performing live at The Dune Preserve on Friday nights, da'Vida Bayside Grill on Sundays, Smokey's on Wednesdays and Veya Restaurant on Mondays.
He's also become a featured artist at his father's well-known music extravaganza called Moonsplash.
When you visit Anguilla next, if you can't make it for Moonsplash, make sure to confirm where you can find Omari singing and have a listen. Either with his band or solo acoustic, his voice will make you feel really glad you did!
Contact Info: To book Omari Banks, click here.