Veya Anguilla Restaurant...
Comfortable and Cool,
in a Canopy Under the Night Sky
When it comes to choosing an Anguilla restaurant for an evening meal, the first suggestion usually goes.
You can't have a bad meal in Anguilla. Most restaurants over-deliver on all three key dining aspects, five-star food, service and atmosphere.
But, we do have a couple of unspoken rules:
We prefer restaurants by the ocean
My Dad likes to smoke at the table
The former celebrates Anguilla's idyllic location, the latter allows my Dad to indulge in a weakness he only gives into when dining out in Anguilla.
As a result a couple of restaurants have flown under our radar.
The greatest restaurant gone overlooked by our family due to our "rules"?
Veya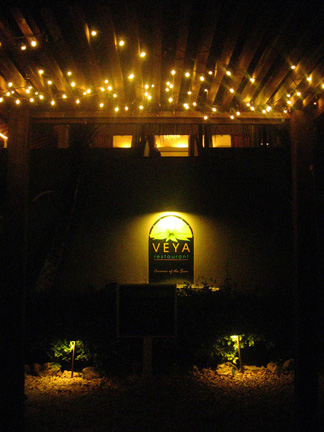 It is true that you won't hear the sea from your table set on Veya's wide, wood porch. It is true that you won't be able to enjoy a cigarette table-side, with your rum punch or glass of wine. But this restaurant more than makes up for those two "short-comings" (if you consider those drawbacks).
Veya is run by Carrie and Jerry Bogar, who left their lives (and a very successful restaurant) in Pennsylvania for Anguilla. Three children in tow, the couple relocated to Anguilla to do what they do best, and do it in a place they love.
As fate would have it, my sister became friends with their eldest son, Scout. On several occasions he invited Yuki and her friends to Veya for birthday parties and end of term celebrations.
Now and then, I would be invited to tag along. I jumped at the chance, eager to set foot inside the ever-elegant, magical, tropical tree house.
Our experiences with friends at Veya were utterly enjoyable. We couldn't let our family miss out on Veya.
Inside Veya
At Veya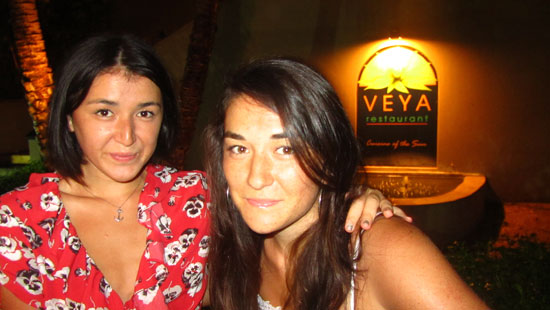 Set in a lush Anguilla garden, complete with shimmering Koi pond, lies the lofty building, simply adorned with luxurious drapes and twinkling lights.
The restaurant glows, illuminating the landscaped garden, and the still night. It is located on the second floor of the Veya building, the Veya Cafe is downstairs.
Jerry greeted us at the top of the stairs, while Carrie was whipping up culinary innovations in the kitchen.
There is no in-door seating at Veya. "Inside" is a bar and lounge area, the dining happens outside on a covered porch.
After being seated outside, our night began inside, at the bar.
Rum punch in Dad's hand, we accompanied him to the bar for his cigarette.
Veya Bar with Our Friend Kristin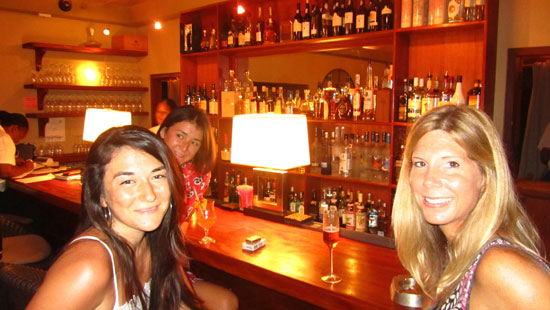 The bar/lounge is picture-perfect, so nicely lit, with an elegant chandelier and soft corner booths for sipping drinks and listening to live music on Tuesdays and Thursdays.
Our choice of beverage? Veya Sparklers! Prosecco with your choice of blackberry, peach or raspberry liqueur. Light, and refreshing. Perfect on a warm Anguilla night.
After indulging in the bar atmosphere we returned to our table to take to the menu, just in time for a basket of piping hot Johnny Cakes and banana bread.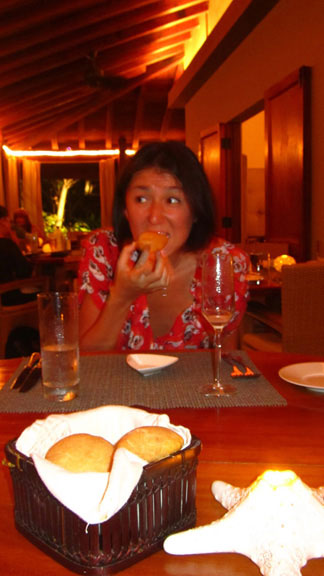 If you are familiar with
Veya Cafe
, then you know that their baked goods are some of the best on the island.
Moist and warm, and made with the freshest ingredients...
See Yuki gingerly bitting the corner of the sizzling hot Johnny Cake in the photo to the right?
We neglected our better judgment and sacrificed patience for pain as we burned our tongues.
But boy, was it worth it.
After all, you know what they say...
A cold Johnny Cake is a left-on-the-plate Johnny Cake!
... They do say that, right?
We couldn't resist ordering another basket!
As we finished our Sparklers and nibbled on Veya's delectable baked treats, we looked over the menu.
I admit that I am a bit of a simpleton when it comes to food.
I like chicken, pork, beef and seafood.
I know you can bake, grill or fry it.
I know you can rub it with rosemary or drizzle it with sesame oil, but that's just about the extent of my knowledge.
I don't know much about "reductions," oils, glazes or more modern combinations. Some restaurants in New York (WD-50, for example) do serve "duck breast with apple, cheddar, kimchee-cous cous." The combinations can be mind-blowing!
Veya's menu is similar, crafted for true foodies. For instance, many rave over the "Vanilla Cured Duck Breast in Guavaberry Sauce served with Sweet Yams and Spiced Pecans."
I had been dreaming of the aromatic blend of Middle-Eastern spices in the "Moroccan Shrimp Cigars" that I had tasted months earlier. So, I went with the cigars and the layered salad.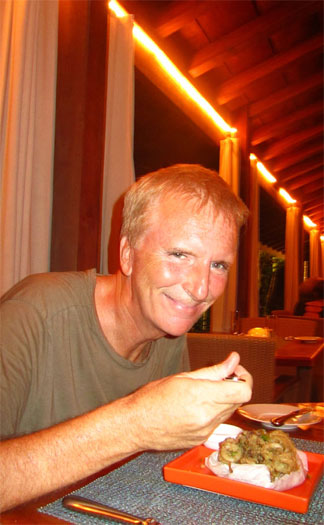 Yuki followed my lead, and Kristin tried the skirt steak lettuce wraps.
My Dad's choices for the evening?
"Vietnamese style crispy calamari with nuoc cham" and "five spiced roast pork tenderloin in a carrot sauce with raita and pickled onion."
Yuki and my Dad are authorities on calamari.
Everywhere we go, if there is calamari on the menu they order it!
I knew it was a winner when my Dad started grumbling at my sister, like a dog protecting his bone.
Yuki kept putting her paws in his appetizer...
Once... twice... three times!
"I just want a sample Dad," she would smile.
It was a hit!
I can't recommend Veya's "layered salad" highly enough, especially if you like avocado.
Served in an ice-cream style dish, the bowl is lined with roasted corn, and filled with black beans, avocado and shrimp.
Cool and light, you can taste every fresh ingredient with each bite.
Appetizers at Veya
As for the shrimp cigars... They were just as I had remembered. A flakey, soft pastry shell envelops perfectly spiced shrimp.
Conversation from my Dad's side of the table was low.
Normally Mr. Chatterbox, we knew his silence meant one thing. The meal was on his mind. As he polished off the last bites of pork, he spoke his first words since his meal began, "Oustanding!"
Moroccan Shrimp Cigars & Roast Pork Tenderloin
I contemplated my favorite dessert from previous Veya vists, the hazelnut mousse bars whose sweetness is so nicely contrasted with "espresso creme anglaise." But, we were all at capacity.
Without room for dessert, it was back to the bar to finish final sips of wine and espressos, for Dad's last cigarette, and our favorite part of the evening, a late night chat with Carrie and Jerry, and their manager, one of our old friends, Markie.
A Night of New Traditions at Veya With Carrie, Jerry and Markie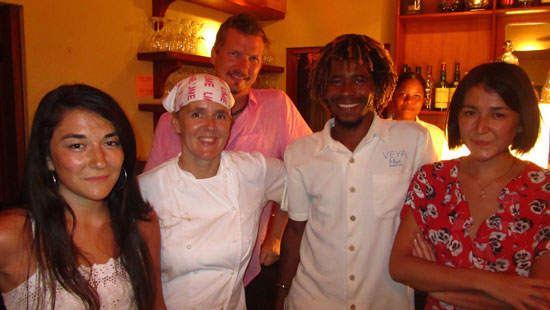 From the bread basket, right to the battle for the last bite of hazelnut mousse bar, Veya is a culinary experience, a night of fine cuisine for the true foodie, and even non-foodie, just appreciators of great eating.
But, dining in Anguilla is about so much more than just getting the food right.
It is about atmosphere, too. And Veya delivers. Veya has created its own unique environment, so comfortable and cool, in its understated luxurious setting, with quiet songs gently coming through the speakers.
Beyond food and atmosphere, the service is superb. The hosts and servers are friendly and attentive, making you feel right at home.
If you have the chance, talk to Carrie and Jerry. They are two of the most genuine and genuinely interesting and down to earth people, with three of the smartest and curious children. Chatting with them at the end of the meal is a real treat.
My Favorite Photo With Carrie & The Lobsters!

The Veya setting is just so special, you don't have a moment to miss the beach.
We left perhaps a little ashamed of our prejudice against restaurants not by the sea. Veya surpassed our expectations, and taught us to live without them, to not judge an Anguilla restaurant by its beach, food, or serivce.
After all, it is the whole experience that counts, the blend of food, wine and good hospitality. And Veya offers just that, from a canopy that glimmers and sparkles in the night sky above an enchanting Anguilla garden.
Directions, Hours & Contact
Directions: Veya is located just before you reach the bottom of the hill that goes down to Sandy Ground. It's on your right, if you're coming from the round-about.
Veya
Good for innovative cuisine in a unique, magical setting.
Hours: Veya is open for dinner Monday-Saturday 6-10pm.
Tel: 264-498-8392