Veya Anguilla Restaurant...
Comfortable and Cool,
in a Canopy Under the Night Sky
You simply can't have a bad meal in Anguilla. Most restaurants over-deliver on all three key dining aspects, five-star food, service and atmosphere.
Veya does exactly that. From innovative cuisine, to personable and well-timed service, to a magical "treehouse-esque" atmosphere, it is one of the top dining experiences in Anguilla.
Veya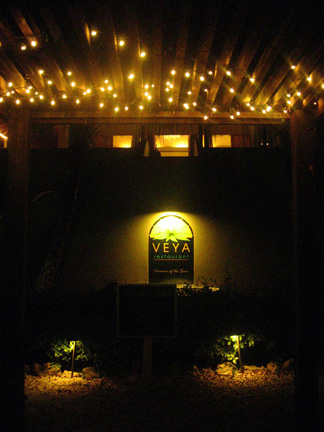 Veya is run by Carrie and Jerry Bogar, who left their lives (and a very successful restaurant) in Pennsylvania for Anguilla. Three children in tow, the couple relocated to Anguilla to do what they do best, and do it in a place they love.
As fate would have it, my sister became friends with their eldest son, Scout. On several occasions he invited Yuki and her friends to Veya for birthday parties and end of term celebrations.
Now and then, I would be invited to tag along. I always jumped at the chance, eager to set foot inside the ever-elegant, magical, tropical tree house. Our experiences with friends at Veya were utterly enjoyable. So enjoyable, we couldn't let our family miss out on Veya.
Inside Veya
Family Dinner at Veya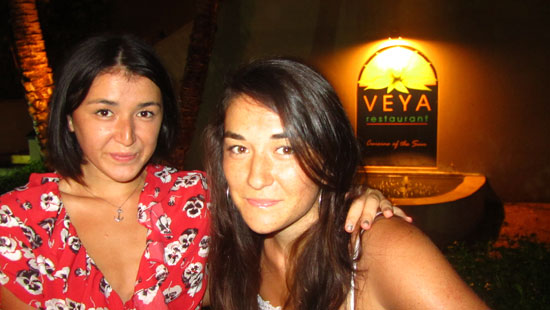 Set in a lush Anguilla garden, complete with shimmering Koi pond, lies the lofty building, simply adorned with luxurious drapes and twinkling lights.
Veya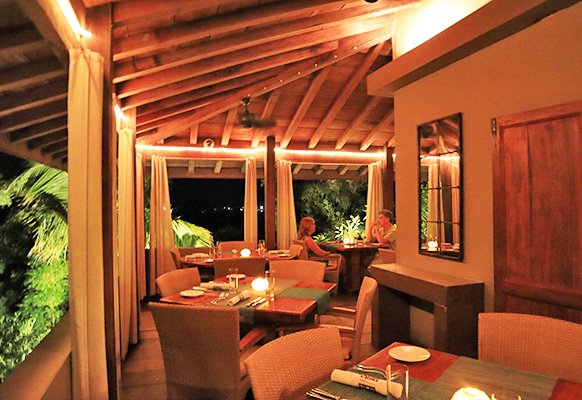 The restaurant glows, illuminating the landscaped garden, and the still night. It is located on the second floor of the Veya building (their cool cocktail lounge, Meze is downstairs).
Jerry greets you at the top of the stairs, while Carrie whips up culinary innovations in the kitchen.
There is no in-door seating at Veya. "Inside" is Veya's bar area. Dining happens outside on the intimate and covered wrap-around porch.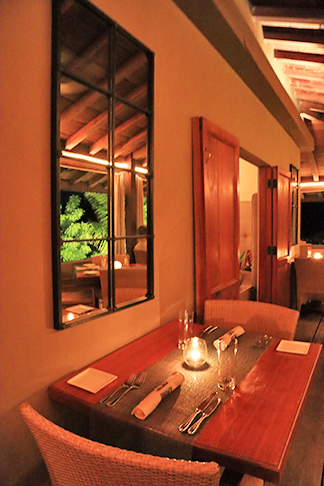 The best kind of evenings, though, begin inside, at the bar.
Veya Bar with Our Friend Kristin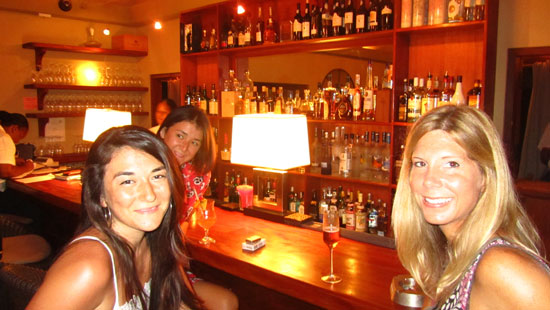 The bar/lounge is picture-perfect, so nicely lit, with an elegant chandelier and soft corner booths for sipping drinks and listening to the live music, which happens nightly.
Our choice of beverage? Veya Sparklers! Prosecco with your choice of blackberry, peach or raspberry liqueur. Light, and refreshing. Perfect on a warm Anguilla night.
After indulging in the bar atmosphere? It is back to the table to peruse the menu with a serving of piping hot Johnny Cakes and banana bread.
Veya's Hot Johnny Cakes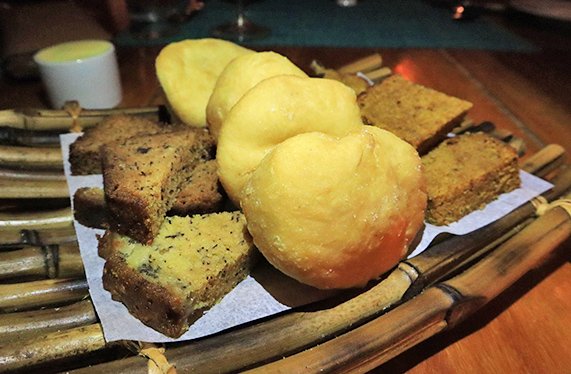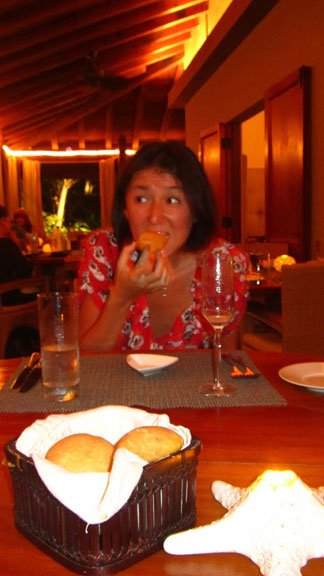 If you had been to
Veya Cafe
, then you know that Veya's baked goods are some of the best on the island.
Moist and warm, and made with the freshest ingredients...
See Yuki gingerly bitting the corner of the sizzling hot Johnny Cake in the photo to the right?
Time and time again, we neglect our better judgment and sacrifice patience for pain as we burn our tongues.
But boy, is it worth it.
After all, you know what they say...
A cold Johnny Cake is a left-on-the-plate Johnny Cake!
... They do say that, right?
We can never resist ordering another basket!
Along with these baked goodies, Carrie always serves up an amuse bouche. The steaming hot carrot and ginger soup is a favorite.
Amuse Bouche Soup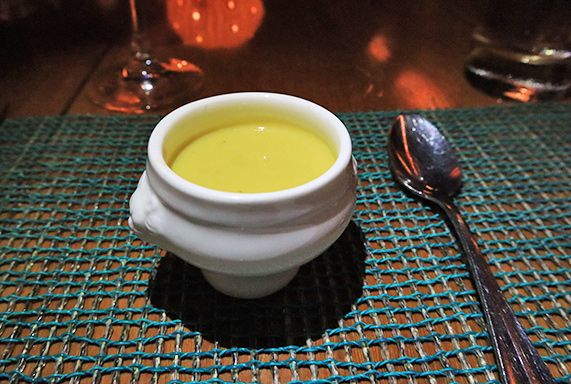 Appetites whetted, the next question is, "What's on the menu?"
Appetizers at Veya
When it comes to "best appetizers in Anguilla," I always dream of the aromatic blend of Middle-Eastern spices in Chef Carrie's "Moroccan Shrimp Cigars."
A flakey, soft pastry shell envelops perfectly spiced shrimp.
Shrimp Cigars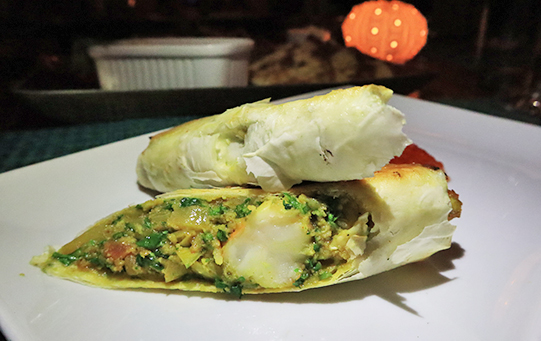 The spicy local papaya jam served on the side is the cherry on top.
Shrimp Cigars with Local Spicy Papaya Jam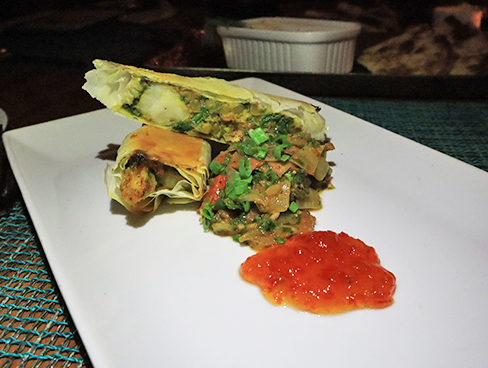 These slices of heaven are Yuki's favorite, too.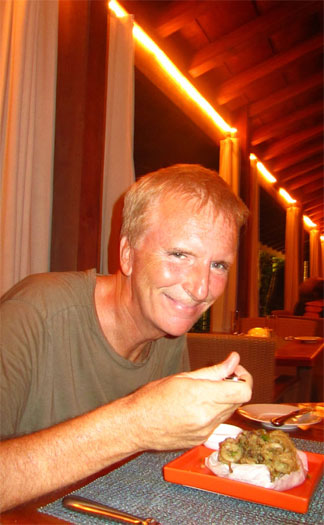 My Dad's favorite?
"Vietnamese style crispy calamari with nuoc cham."
Yuki and my Dad are authorities on calamari.
Everywhere we go, if there is calamari on the menu they order it!
Of all the calamari Yuki and my Dad have sampled, this is one plate of calamari My Dad refuses to share.
When it comes to salads, I can't recommend Veya's "layered salad" highly enough, especially if you like avocado.
Served in a picturesque ice-cream style dish, the bowl is lined with roasted corn, and filled with black beans, avocado and shrimp.
Cool and light, you can taste every fresh ingredient with each bite.
Last but not least, the steak wraps deserve a mention.
Steak Wraps

Thin slices of sumptuous grilled steak are topped with pickled red onion and cilantro and avocado mousse. All wrapped in fresh lettuce, it is a light and flavorful appetizer.
Entrées at Veya
As our family moves into entrées at Veya, conversation from my Dad's side of the table always gets low. Normally Mr. Chatterbox, his silence means one thing. The meal is on his mind. The only words he usually speaks? "Outstanding!"
The succulent rack of lamb is a favorite at Veya...
Rack of Lamb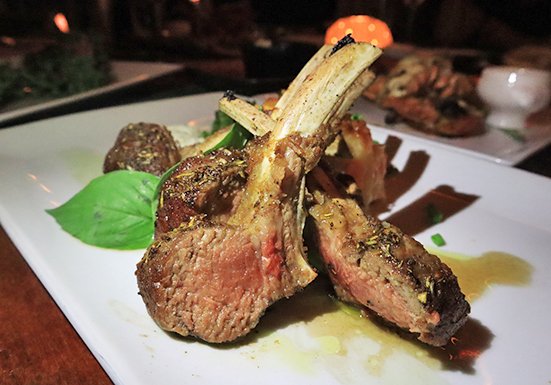 The gentlest cuts of lamb, they are cooked to perfection and served with a refreshing side of tzatziki. The sides are equally mind-blowing: truffled asparagus and sweet potato gratin with a cooling mint sauce. All flavors blend and complement each other perfectly.
Truffled Asparagus & Sweet Potato Gratin

Another option for an entrée, and an excellent deal on one of Anguilla's most popular delicacies, is Veya's $5 crayfish night. Every Wednesday Chef Carrie grills serves up BBQ crayfish for just $5 a piece!
Veya's Crayfish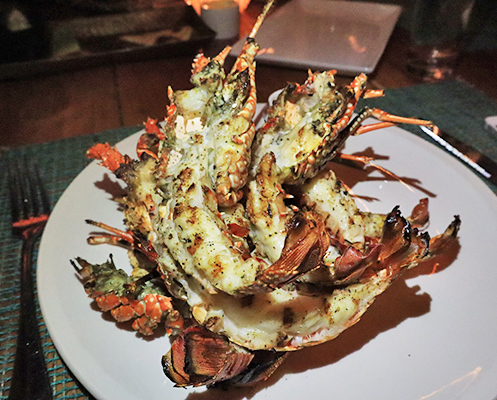 Served with $5 sides of truffled asparagus and French fries with a lemon aioli (sides vary weekly), it is one of the single best deals in Anguilla.
As entrées come to an end, dessert and the most special part of the evening begins. This phase of the evening starts with the hazelnut mousse bars. They have long been a favorite. Their sweetness so nicely contrasts with "espresso creme anglaise."
After dessert, it is back to the bar for final sips of wine and espressos and our favorite part of the evening, a late night chat with Carrie and Jerry.
A Night of New Traditions at Veya

Final Thoughts
From the bread basket, right to the battle for the last bite of hazelnut mousse bar, Veya is a culinary experience, a night of fine cuisine for the true foodie, and even non-foodie, just appreciators of great eating.
But, dining in Anguilla is about so much more than just getting the food right.
It is about atmosphere, too. And Veya delivers. Veya has created its own unique environment, so comfortable and cool, in its understated luxurious setting, with quiet songs gently coming through the speakers.
Beyond food and atmosphere, the service is superb. The hosts and servers are friendly and attentive, making you feel right at home.
If you have the chance, talk to Carrie and Jerry. They are two of the most genuine and genuinely interesting and down to earth people, with three of the smartest and curious children. Chatting with them at the end of the meal is a real treat.
My Favorite Photo With Carrie & The Lobsters!

After all, it is the whole experience that counts, the blend of food, wine and good hospitality. And Veya offers just that, from a canopy that glimmers and sparkles in the night sky above an enchanting Anguilla garden.
Directions, Hours & Contact
Directions: Veya is located just before you reach the bottom of the hill that goes down to Sandy Ground. It's on your right, if you're coming from the round-about.
Hours: Veya is open for dinner Monday-Saturday 6-10pm.
Tel: 264-498-8392
Menu: Click here