Meze...
A Mediterranean Love Affair
#1 on TripAdvisor. New York Times featured in their piece, 36 Hours in Anguilla. Frequented by all of the A-Listers and regularly at capacity, Veya is one of the best and busiest restaurants in Anguilla.
So, what inspired owners Carrie and Jerry Bogar to open a second restaurant?
This story begins oceans away, in the Mediterranean...
A Love For Mediterranean Cuisine

"They have always had a dream of opening a Mediterranean spot," Carrie and Jerry's son, Scout, a good friend of ours, started.
"It all became serious, though, after our trip to Spain."
From Madrid...
Carrie & Jerry in Madrid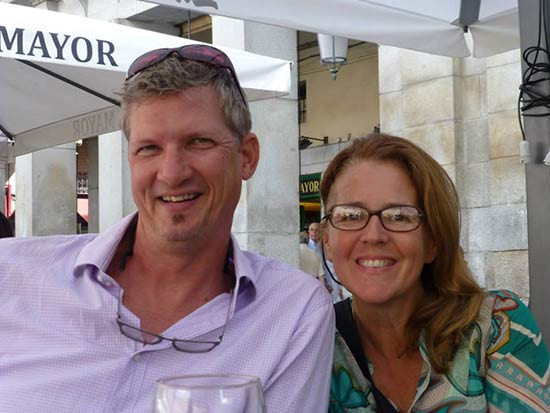 ... across to Barcelona, up to San Sebastian, Bilbao and then on to the rest of Basque Country, down to Spain's center in Avila and eventually all the way to Cordoba and Ronda...
Carrie & Jerry in Ronda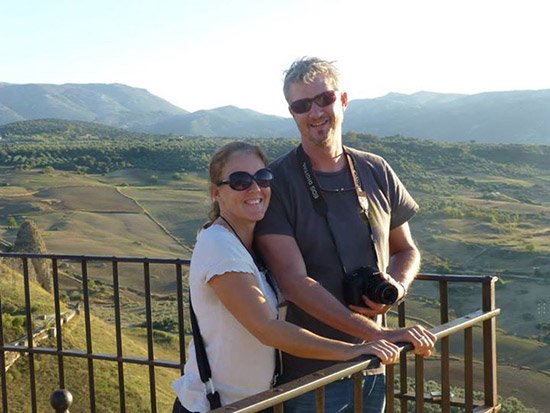 ... and even down to Granada, just across from Morocco, the Bogars tasted Spain from coast to coast to coast!
30+ days, 20+ hotels later and it was decided. Meze would soon be born.
Inside Meze
With lights twinkling, and multicolored votives shimmering off of the etched-mirrored tables, Meze is a Moroccan-Mediterranean dream.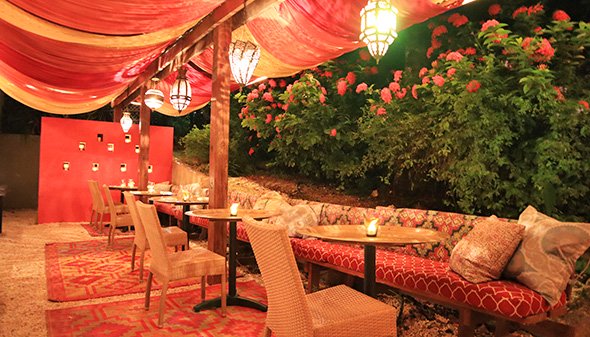 Drapes of deep reds, golds and oranges billow above. Antique lanterns dazzle the eye. Couches are lined with intricate pillows. The ottomans are deep and plush.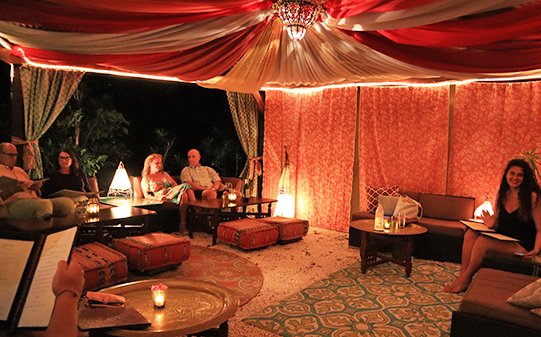 Tucked just underneath Veya, you feel worlds away.
A southern Spanish influence is evident. And, the menu matches the decor.
Mediterranean Sips & Bites
True to its sign, the focus here is "plates for sharing."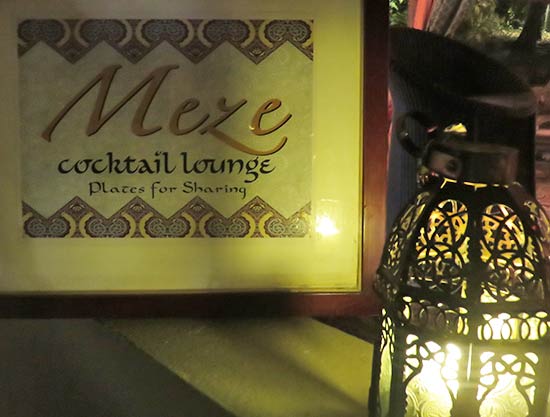 Bird of Paradise & Hibiscus Mule

First things first? Cocktails! Meze's cocktails are some of the very best on-island.
All cocktails are priced at $14.
There is something on the menu for every palate.
Our personal favorite? The Bird Of Paradise.
A mixture of passion fruit, guava, lime and grey goose, this cocktail is full of fruity flavor!
For lovers of the Moscow Mule, try the Hibiscus Mule.
Meze puts a tropical twist on the classic Moscow Mule by adding Hibiscus aqua fresca.
The menu also offers a variety of mocktails, beers and wine.
Cocktails in-hand, what's on Meze's food menu?
The menu starts with a charcuterie platter, a cheese platter and then the most popular and all-time best seller...
Tzatziki & Grilled Flat Bread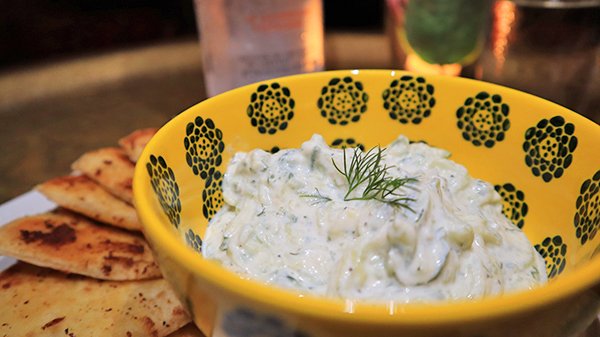 Greek yogurt is combined with cool cucumber and a touch of dill making for an unforgettable dip that is both refreshing and rich. Atop warm, house-prepared grilled flat-bread, this plate disappears quickly.
Next up...
Grilled Skirt Steak with Guacamole & Pickled Onions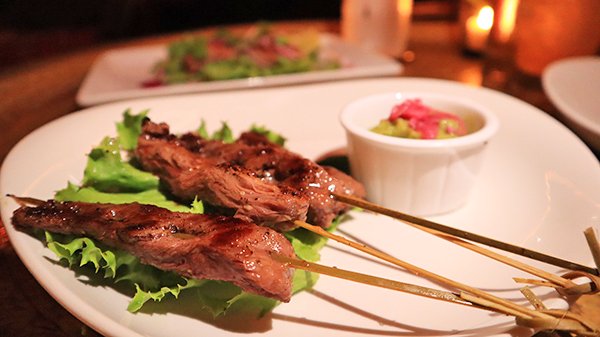 Tender grilled steak skewers are served with a side of creamy guacamole topped with sweet pickled onions.
The next platter is my personal favorite...
Shrimp Lettuce Wraps

Fresh, crisp leaves of lettuce overflow with chunks of shrimp packed with flavor from the Moroccan-spiced salsa. So scrumptious, we even ordered a second serving!
Also on the menu, and rich in Moroccan flavor, is the grilled lamb kebab.
Grilled lamb patties are finished with lime, red onion and mint, and served with grilled flatbread.
Sweets at Meze
Now for our favorite way to end dinner... with the dessert menu.
Meze offers a variety of dessert cocktails. Do not miss the Dark n' Fluffy!
Dark n' Fluffy Dessert Cocktail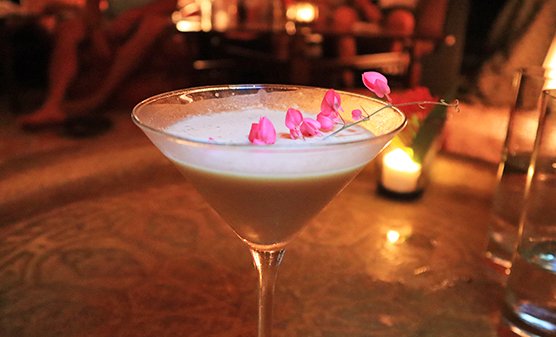 Served in a martini glass, this decadent liquid dessert is made with marshmallow vodka, chocolate liqueur and a splash of cream. It is a dessert in and of itself.
For best results, pair it with one of Anguilla's top desserts...
Meze's Key Lime Pie In A Jar

This dessert should be called "Three Layers of Heaven in a Jar!" Rich and creamy key lime custard is topped with a biscuit crumble and finished with puffy, fluffy toasted marshmallows. It is dessert perfection!
Another favorite for chocolate lovers?
Chocolate Hazelnut Mousse Bars with Espresso Creme Anglaise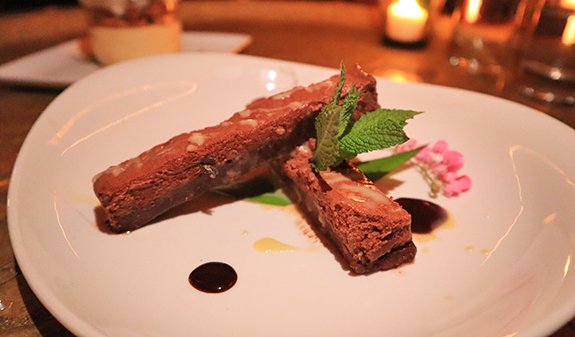 The rich and moist chocolate, almost brownie-like bars pair perfectly with the fresh mint leaves.
The Bogars have indeed brought a heavenly piece of gourmet Mediterranean dining to Anguilla. With high quality ingredients and Carrie's special touch as chef, and a flawless presentation and ambiance, the experience is divine.
At roughly $12-25 per shared plate, the price is well worth it and made more affordable if you can bring yourself to actually share. ;-)
Whether for a pre-dinner snack or dinner in and of itself, it is safe to say that Carrie and Jerry have done it again!
Map, Contact & Hours
Directions: Located just underneath Veya.
Hours: Open in the evening Monday-Saturday 6-10pm.
Tel: 264-498-8392