<![endif]-->
Meze...
A Mediterranean Love Affair
#1 on TripAdvisor. New York Times featured in their piece, 36 Hours in Anguilla. Frequented by all of the A-Listers and regularly at capacity, Veya is one of the best and busiest restaurants in Anguilla.
So, what inspired owners Carrie and Jerry Bogar to open a second restaurant?
This story begins oceans away, in the Mediterranean...
A Love For Mediterranean Cuisine

"They have always had a dream of opening a Mediterranean spot," Carrie and Jerry's son, Scout, a good friend of ours, started.
"It all became serious, though, after our trip to Spain."
From Madrid...
Carrie & Jerry in Madrid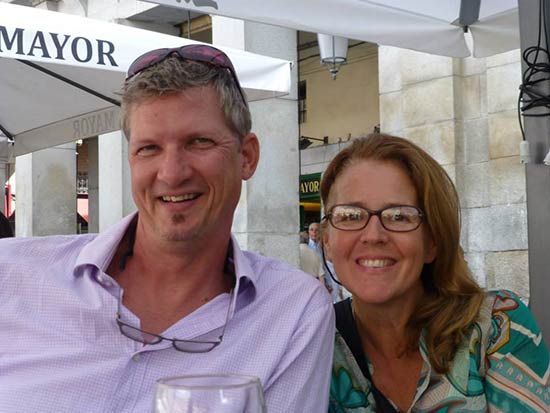 ... across to Barcelona, up to San Sebastian, Bilbao and then on to the rest of Basque Country, down to Spain's center in Avila and eventually all the way to Cordoba...
The Bogar Kids Running Through Cordoba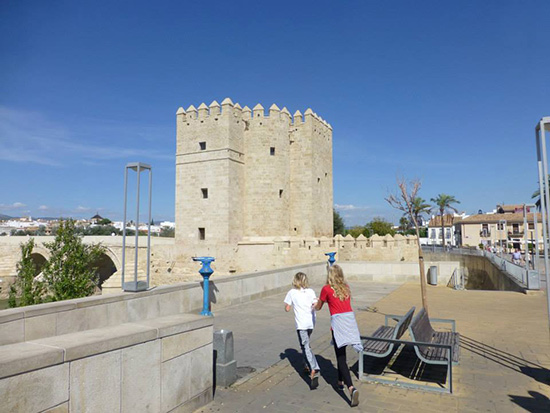 ... Ronda...
Carrie & Jerry in Ronda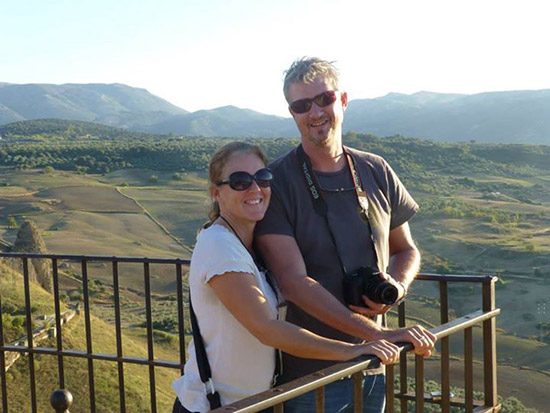 ... and even down to Granada, just across from Morocco, the Bogars tasted Spain from coast to coast to coast!
30+ days, 20+ hotels later and it was decided. Meze would soon be born.
Inside Meze
With lights twinkling, and multicolored votives shimmering off of the etched-mirrored tables, the space has been transformed into a Mediterranean lounge.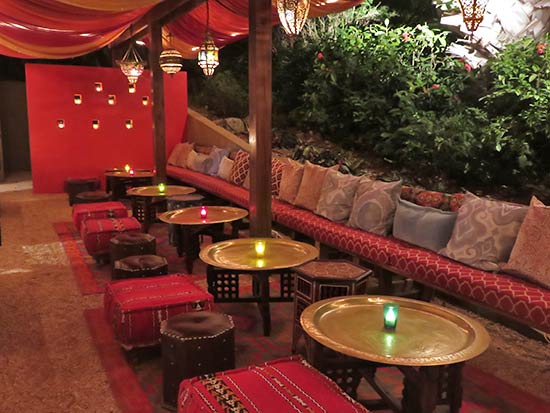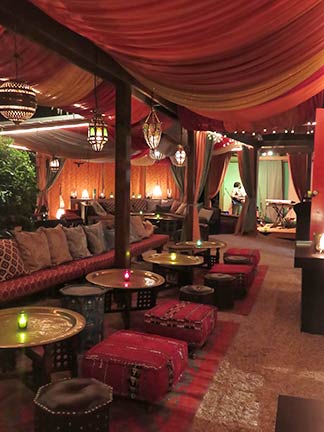 Drapes of deep reds, golds and oranges billow above.
Antique lanterns dazzle the eye.
The seating options are many.
The couches lined with intricate pillows, the ottomans deep and plush.
Tucked just underneath Veya, you feel worlds away.
A southern Spanish influence is evident.
And, the menu matches the decor.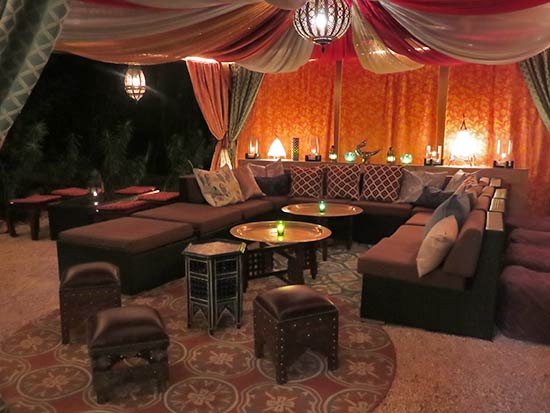 Mediterranean Sips & Bites
True to its sign, the focus here is "plates for sharing." Each one is inspired by a different country along the Mediterranean coastline.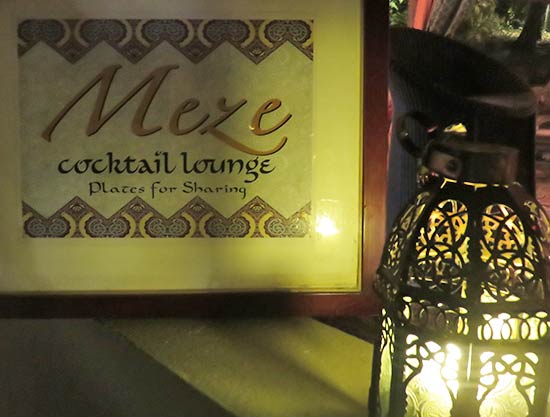 "Antipasti" (Italy), which features mozzarella balls and rosemary Marcona almonds.
"Spain," complete with manchego and fruit paste, jamon and blistered peppers.
"Charcuterie" (France), with 5 types of cured meats, cornichons and dijon mustard.
"Mediterranean" (a mix of Greek and Turkish influences), with baba ghanoush, hummus, feta and tzatziki.
A staple cheese plate, of course.
And, being that we are in Anguilla, a "Caribbean" plate, with conch fritters, saltfish and pigeon pea dip.
Together with Scout, we analyzed and carefully deliberated over each plate, ultimately deciding on "Spain" and "Mediterranean" (though we will indeed return for the "Caribbean!").
Together with Scout at Meze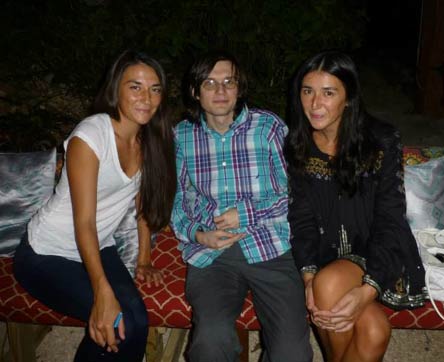 While waiting in anticipation of our first plate, we reached our "5 A Day" with a healthy glass of white wine Sangria (also available in red and rosé).
"Spain"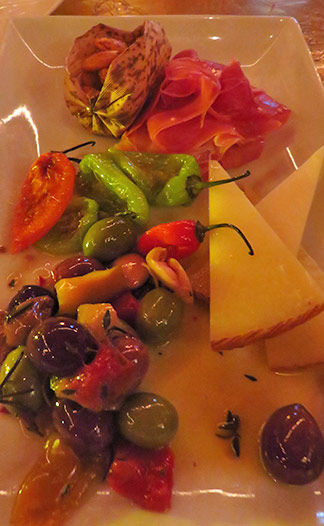 Topped off with Ting instead of seltzer water, it is a tasty Caribbean twist on a classic Sangria!
"Spain" was up first...
We didn't know where to begin!
The manchego, imported special by the Bogars to the island, is some of the finest gourmet cheese you will find in Anguilla.
With fruit paste (served on the side), it brought back warm memories of terrace-side dinners on our own trip to Spain.
The jamon was equally impressive, shaved thin with its signature savory flavor.
Together with peppers, olives and baguette, the plate disappeared quickly.
We held on to the Marcona almonds, tossed with smoked paprika, to nibble as we awaited the next dish.
Jerry would later tell us that the Mediterranean outsells every other plate 4-to-1 and it's not hard to see why.
The Mediterranean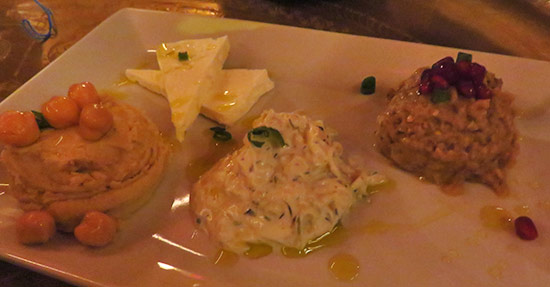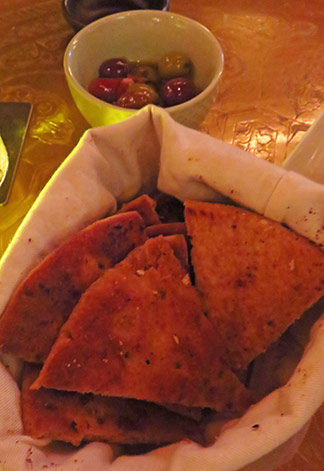 Chickpeas are whipped to perfection, making for a silky hummus with just enough "bite" to it, topped with full chickpeas.
The baba ghanoush, too, delights with its gentle hint of eggplant.
Drizzled in olive oil, the feta goes fast.
And finally, the star of the show...
The tzatziki.
Greek yogurt (a premium yogurt selected by Carrie) is combined with cool cucumber and a bold kick of garlic, making for an unforgettable dip that is both refreshing and rich.
Atop warm, house-prepared flat bread (made on a griddle), we ordered a second dish!
Sweets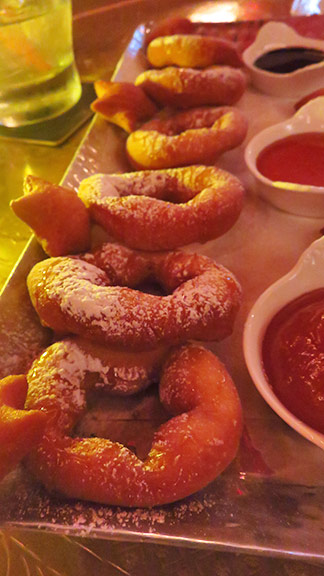 We could have gone for the Caribbean plate that night, but we were pacing ourselves for dessert.
Anyone who has ever eaten at Veya knows...
Veya's Johnny Cakes are the best Johnny Cakes on island.
Light and fluffy on the inside, fried to perfection on the outside.
And now, they can be had for dessert!
Dusted with powdered sugar and served with a trio of dips (honey, fruit butter, and chocolate), it is an indulgent combination.
The presentation catches the eye, too, with the centers cut out in star-shapes, the "star Johnny cakes" making for an extra fluffy bite.
The Bogars have indeed brought a heavenly piece of gourmet Mediterranean dining to Anguilla.
Each plate has been carefully thought out. The classic mini-dishes that make up each plate complement each other perfectly. With high quality ingredients and Carrie's special touch as chef, and a flawless presentation and ambiance, the experience is divine.
At roughly $25-30 per shared plate, the price is steep, but well worth it and made more affordable if you can bring yourself to actually share. ;-)
Whether for a pre-dinner snack or dinner in and of itself, it is safe to say that Carrie and Jerry have done it again!
Map, Contact & Hours
Directions: Located just underneath Veya.
Hours: Open in the evening Monday-Saturday 6-10pm.
Tel: 264-498-8392