Anguilla Travel Tips:
Try Veya Café
Veya Cafe has closed.
Finding Anguilla travel tips on Anguilla-Beaches.Com is not a strange or rare occurrence! ;-)
But sometimes, certain beaches, restaurants, and shops deserve an extra-special, personal favorite, "Anguilla travel tips" highlight...
The café at Veya is such an exception!
Veya Café, Sandy Ground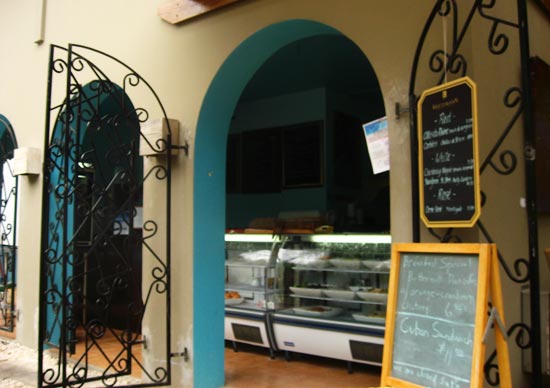 Veya Café is downstairs from Veya, the five-star restaurant that many refer to as the island's best restaurant. All of these years and I am embarrassed to say that we have never dined at the famous Veya. It's at the top of my list for our next meal out! What do you say, Dad? He! He!
While I cannot confirm if Veya is in fact Anguilla's best restaurant, if their café is any indication, that statement just may be the absolute truth! I can say, with unbridled enthusiasm, Veya Café is one of the island's best casual, daytime eateries.
It has won my heart...
First and foremost: they serve some of the tastiest gourmet treats!
Their Full Counters Make Any Gourmand's Mouth Melt!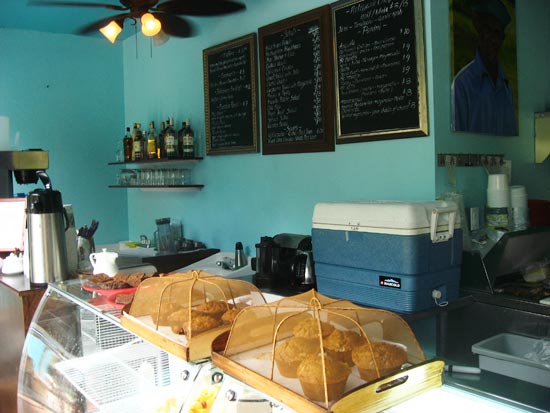 My first Veya delicacy was one of their spiced muffins, devoured on a hectic morning at the Anguilla sailing school. When we volunteered teaching Starfish, from time to time my Mom would bring me and Yuki breakfast to get us through the day (what a sweet Mom!). The muffins were delicious, but the johnny cakes were my favorite.
*Anguilla travel tip: Veya Café makes the best johnny cakes on the island
Muffins, johnny cakes, coffee... Still, I had never stepped foot in their establishment!
Finally, it was my friend Sam who brought me for lunch. When I told him that I had never dined at the coffee shop, a look of disbelief washed over his face. He insisted that we go. So, off we went!
The verdict?
Well, let me just say the next week I had to bring my Mom back for lunch.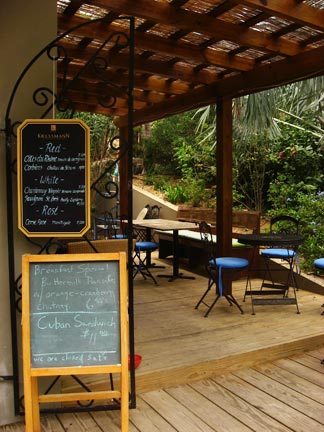 My Dad would love the food at Veya, but the atmosphere is ideal for a long lunch with Moms and friends!
The ambiance is quiet and calm.
Veya is set inland, with a lush, rainforest feel.
Charming, wrought iron tables and chairs adorn the intimate, tropical caf&eacute, with colorful art lining the walls.
We were greeted by Neal, who runs Veya Café. He is a warm guy, with such a cool, calm demeanor!
His personality really matches the tranquil aura that surrounds Veya.
In no rush, he waited patiently while we considered our choices...
Breakfast menu includes...
Muffins (pumpkin streusel, banana nut, cappucino chip, etc.)
Croissants (butter, almond, chocolate, fruit)
"Fisherman's Breakfast" (saltfish, johnny cakes)
Breakfast paninis...

"Dog Island" - Eggs, veggies, pepper jack, sausage
"Prickly Pear" - Eggs, veggies, cheese
"Scrub Island" - Eggs, veggies, cheddar, bacon
"Sandy Island" - Eggs, veggies, swiss, ham.
Lunch menu includes...
Salads (Asian sweet potato, Southwestern blackbean, Chinatown chicken, shrimp & pasta, Anguilla potato salad, etc.)
Soups (icy gazpacho, Cuban black bean, sweet corn chowder, spiced pea soup)
Rotisserie Chicken (jerk, tandoori, garlic herb)
Panini...

"Anguilla" - Rotisserie chicken, blue cheese, caramelized onion, red pepper
"St. Barths" - Ham, swiss, tarragon mayonnaise
"Saba" - Roast beef, horseradish, provolone
"St. Martin" - Turkey, provolone, bacon
"St. Kitts" - Four cheese (cheddar, mozzarella, provolone, swiss)
"Montserrat" - Roasted portabellas, mozarella, pesto
"Dominica" - Grilled vegetables, your choice of cheese
The options were endless, but I already knew what I was having!
The "Saba" panini (roast beef, horseradish, provolone) I tried with Sam developed a craving in me for days. My Mom suggested we split it and an order of Anguilla potato salad and Southwestern blackbean salad. My mouth was watering!
Neal laughed when I told him the order, "Saba panini again? Do you want me to switch it up a little for you? Hotter horseradish?" I shook my head. I couldn't take a chance and stray from perfection!
Neal Preparing Lunch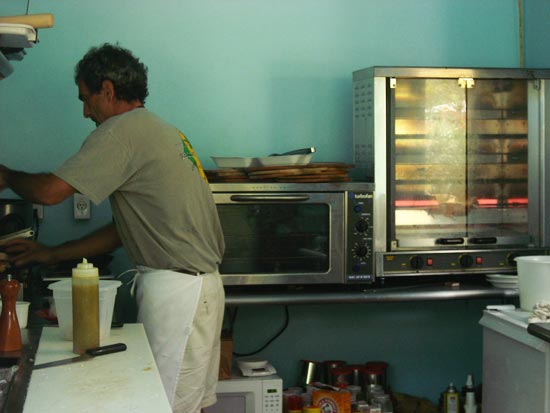 As Neal put his talents to work, my Mom and I sat in the soothing setting, catching a cool breeze, just talking and observing the gardens and the calming pond.
A little while later, Neal approached us, hands full...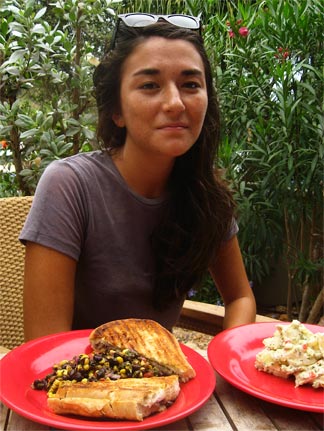 Everything looked fresh and delicious.
I was about to dig in when my Mom pulled out the camera.
I strained a smile, tummy rumbling, just dying to be fed!
A click and a flash, and then, eating ensued...
Our senses couldn't have been happier.
I thought I knew paninis, coming from Montreal, a city with a high number of Italians and small Italian restaurants and coffee shops. Their paninis have nothing on Veya's!
These are beyond any I have tried in Montreal or even in Italy.
The bread is big and rustic, coated in a mild garlic sauce and pressed, with only the freshest, tastiest ingredients inside. And, you know where I stand on the ingredients.
Choose the Saba panini if you love roast beef. When I went with Sam, he had the Anguilla panini. It was tasty and, funny enough, it did taste like Anguilla! I wonder if Saba is reminiscent of horseradish and provolone? Hmmm...
Another Anguilla travel tip? Take an order or two of the potato salad. It's creamy, without being heavy and too filling. In total, our lunch came to roughly $30 USD.
My Mom fell in love with Veya café, too...
Particularly Their Macaroons!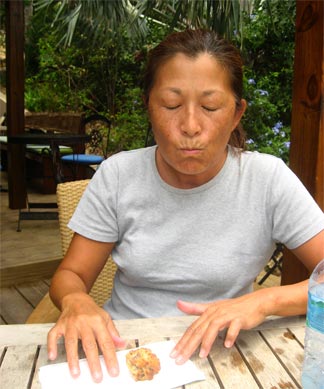 We will be back for many afternoons of chatting, relaxing, and munching!