Veya For Lunch...
A Vegetarian Menu "Must-Do"
For All Lovers of Fresh & Tasty Food!
Update 2018: Veya is now open for dinner only.
By: Louise Fayet
Creative combinations of flavors made with the freshest of produce, it is no surprise that Veya's vegetarian and vegan lunch menu has quickly become Anguilla's "must do" for those who crave tasty, healthy food. (Not a vegetarian? Veya meats all appetites' desires!)
Step Inside Veya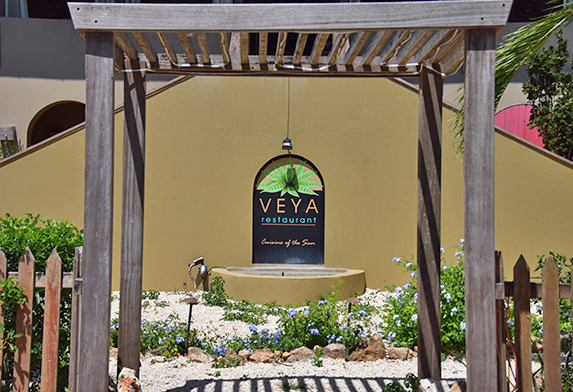 Set in idyllically-calm gardens, Veya's setting is most serene. Like stepping into a tropical oasis, Veya's full Pomserrat tree provides a sweet aroma as you walk down the peaceful entrance path. The gentle sound of the koi pond's water fountain lulls you into a state of relaxation as you watch the sun's rays reflect off of of the kois' shimmering scales.
Blissfully calm, the curtains billow as the restaurant's perch in the trees catches the breeze...
Inside Veya

Veya is often described as a "tree house" and from first step inside during the day, you understand why. The gentle tradewinds blow in from Sandy Ground, rustling the leaves of surrounding trees that stand eye to eye with the elevated dining room.
View of Sandy Ground Village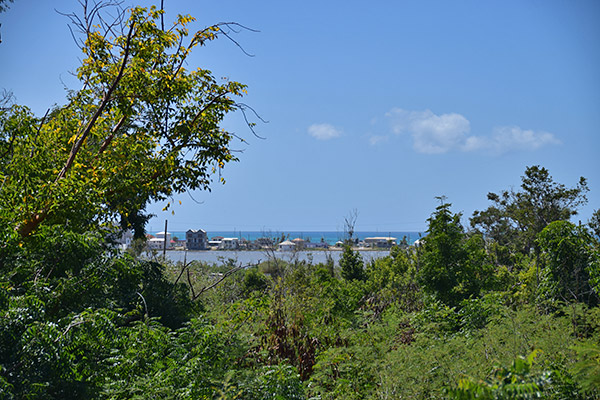 Serene Lunch Setting

It sure is a treat to dine in Veya during the daytime!
Historically, Veya has only been open for dinner. Following Hurricane Irma, Chef Carrie was inspired to try a brand new concept.
After the hurricane, Chef Carrie started cooking up a storm for vegan friends looking for tasty options.
Inspired by the new abundance of fresh vegetables and vegetation, a love affair with vegan cooking began.
And so, Veya's health-centric lunch menu was born.
As you sit among the canopy of trees, keep your eyes peeled. With the new vegetation has come a few new visitors...
Can you spot the Iguana?

All-Natural Fruit Infusion
Veya's "cuisine of the sun" for lunch begins with drinks. Brand new to the drink menu is "kombucha." Fermented by Carrie herself, this tea-like drink comes in different flavors depending on the day. Each drink takes weeks to ferment and brew. On our visit, Chef Carrie brought out three flavors: ginger with peach, pineapple and orange with spice.
My dining companion (Jibri) and I were so impressed by the production process and eagerly waited to try them. Little did we know, our taste buds were in for a ride. My favorite? The orange with spice. Sweet yet tangy, each sip is better than the next. Jibri gulped down the pineapple, which had small chunks of pineapple.
Complete with probiotics to help the digestive system, it is perhaps one of the healthiest types of alcohol. Found only at Veya, it is highly recommended.
Also on the drink menu is iced green tea, homemade lemonade with agave syrup and a variety of super juices...
Fresh & Colorful Juices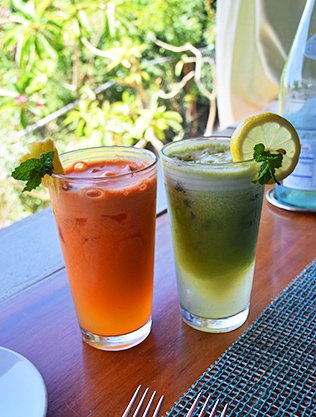 I went with the "Get Up" with pineapple, orange, carrot and apple. Jibri was tempted by the "Cool Breeze." True to its name, the juice features apple, pineapple, cucumber, lime and mint. The freshest of flavors! Perfectly complemented, the combination of flavors are brilliant.
Appetites whetted with an all-natural fruit infusion, it's time for lunch...
Creative "Cuisine of The Sun" for Lunch
Chef Carrie's lunch menu features an eclectic mix of dishes, drawing inspiration from the Caribbean, corners of the US, India and Thailand.
The menu opens with a variety of soups and salads including an Indian spiced yellow lentil soup with coconut and Tom Kha Gai with mushrooms, tofu and lemongrass and a Caribbean classic, pumkin-ginger bisque. Salads include Burmese tea leaf, southwestern cous cous, cold sesame noodles and a vegan Caesar with cashew "parmesan" cheese. 100% vegan, we are putting the Caesar salad on our "to try" list.
Next up are Chef Carrie's sandwiches. These include Banh Mi with tofu, a chicken salad on multi grain and...
Housemade Veggie Burger

One of the most popular choices on Veya's lunch menu, Veya's veggie burger is made of a mix of quinoa and black bean. The robust patty is popped onto a Brioche Bun with lettuce, red onion, tomato, a generous spread of guacamole - and the extra-special touch? The BBQ sauce, which lends a sweet hint to each bite.
Best Veggie Burger on The Island

The veggie burger comes with a side of homemade vegan mayonnaise and air-fried potato wedges. Chef Carrie explained that they are made with just one spoon of oil!
Jibri "ooh-ed" and "ahh-ed" through each bite, "hands down, best veggie burger I've ever had." Nutritious & delicious!
While Jibri had gone with a Veya sandwich for lunch, I opted for an "entree." Veya's lunch menu entrees include black bean and sweet potato enchiladas, Korean glazed tofu with Kim Chi cole slaw and...
Pad Thai

Rice noodles are mixed with plenty of veggies, including eggplant, red peppers, zucchini, snow peas and carrots. Tofu rounds out the protein part of the dish, and the addition of peanuts gives the dish a satisfying crunch. The entire creation is coated in a bittersweet tamarind sauce.
An explosion of flavor, Chef Carrie's Pad Thai is sure to delight every Thai lover's appetite!
NOTE: Craving meat? Just ask Chef Carrie and they will "meat" your craving.
Stomachs ready to pop, we knew it would be a crime to not order the...
Scrumptious Key Lime Pie in a Jar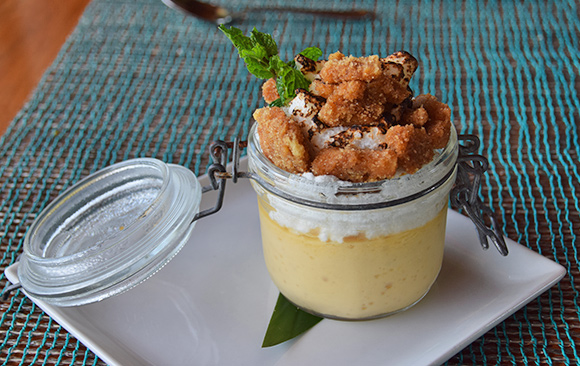 Mouthwatering lime custard is topped with whipped cream and sugary graham crackers. We tackled that sweet treat in record time.
The perfect way to cool down on a warm Anguilla day, it is almost too pretty eat.
A "must do" if you are vegetarian and vegan, Veya's lunch menu delights ALL appetites. Huge kudos to Chef Carrie for bringing healthy & creative cuisine to Anguilla's shores!
Veya's lunch has ended for the off-season. Stay tuned for next season's lunch schedule.