Fine Wine & Aged Rum Tastings
at Malliouhana's Classic Sunset Bar
Rum and wine tastings are not currently available. This page will be updated if/when wine & rum tastings resume.
Synonymous with true haute-cuisine, and with a caliber of wines and liquors to match, Malliouhana has long set the standard for levels of fine drink and dining in the Caribbean.
Since Malliouhana's original opening in the 1980s, dining experiences started with signature cocktails right here at the bar, today known as "Sunset Bar" (aptly named, one of our favorite spots to capture Anguilla's stunning sunsets)...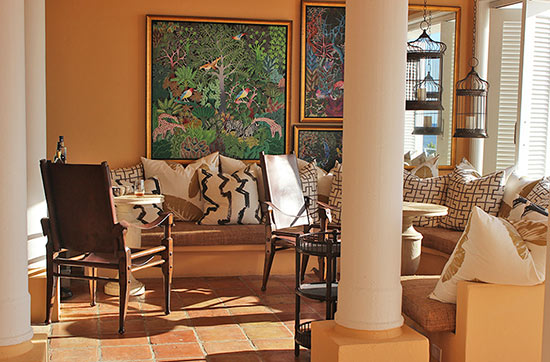 Painted light tangarines, with white-washed shutters opening up to vistas of Meads Bay and the open ocean ahead...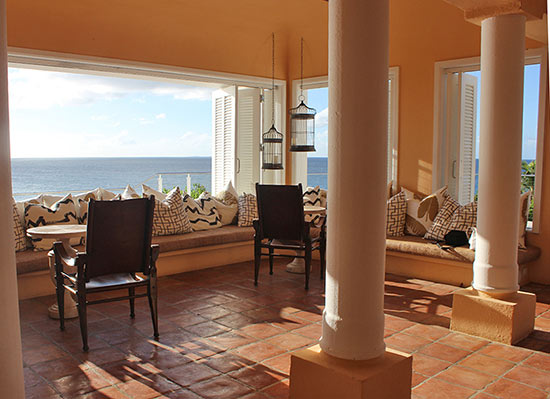 ... the setting is breathtaking.
Malliouhana's signature arches lend a loftiness and open-air feel to the warm fixtures, exotic adornments and overall intimate feel.
The marble-top bar, with studded leather stools, creates a classic-luxurious feel. You swear you might have bumped into Humphrey Bogart and Katharine Hepburn right here.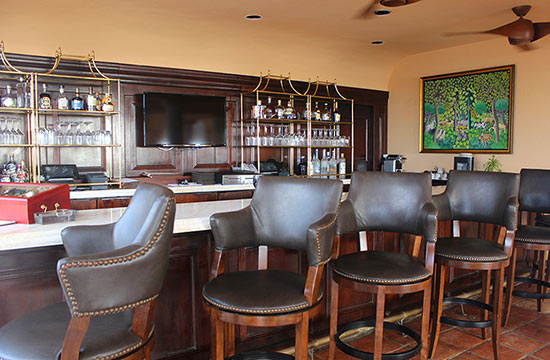 Best of all?
This unique setting is where one of the most indulgent resort activities takes place, Malliouhana's rum and wine tastings.
Fine Wines

With a best-in-class reputation, known for its specially-curated list of wines and liquors back in the day, Malliouhana, an Auberge Resort has been restoring that reputation since re-opening the resort in late 2014.
In perhaps the most vibrant corner of the bar, the location is secluded and more tucked away.
Before the evening began, we took a quick peek at what was in store. Beautifully displayed, these were the bottles that lay ahead for the evening...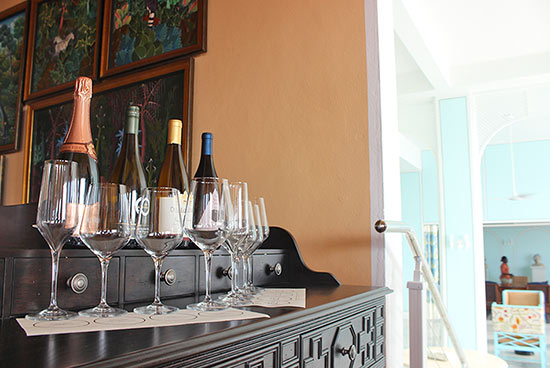 Roederer Estates, Rose Brut, NV, Anderson Valley, California
Kim Crawford, Sauvignon Blanc, 2014, Marlborough, New Zealand
De Loach, Chardonnay, 2012, Russian River, California
Rodney Strong, Pinot Noir, 2012, Russian River, California
Introducing Sommelier, Mr. Albert Lake
Albert Lake has long been known as the only man to talk with in Anguilla if you are serious about wine and fine liquors. With 20+ years of experience behind him, he has walked many a vineyard and tasted just about every type of wine under the sun.
With decades spent honing his skills in France, and with yearly trips to California's finest wineries, his breadth of knowledge is impressive.
While opening the first bottle, the Pinot Noir, he recounted the story of Malliouhana's grand beginnings.
"These wines and the reputation Malliouhana established goes all the way back, before the hotel opened in the 80s even. It begins with the original owner, Mr. Roydon," he started. "He originally intended to build a hotel in Africa, but fell captive to Anguilla when introduced to the island on a trip over from St. Martin."
The Wine Cellar at Malliouhana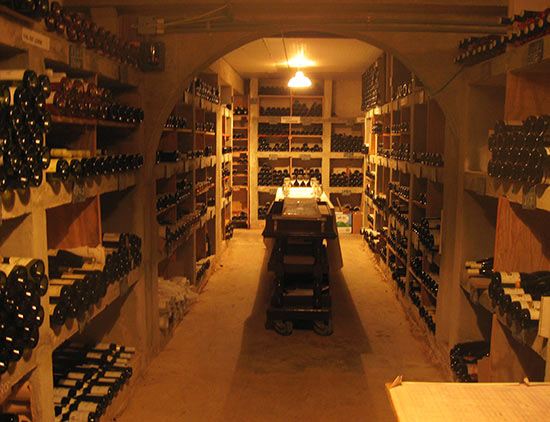 "Spending most of his days on the French Mediterranean coast and St. Martin, when Malliouhana was born, with it he brought family friends the Rostangs to establish the cuisine and, being a wine collector himself, a wide wine collection."
From vineyards that produced a mere 100 bottles, to those nearly one hundred years old, the collection was vast and varied. Roydon's fine tastes are evidenced today at Malliouhana, an Auberge Resort, with over 140 different types of wines making up their wine list.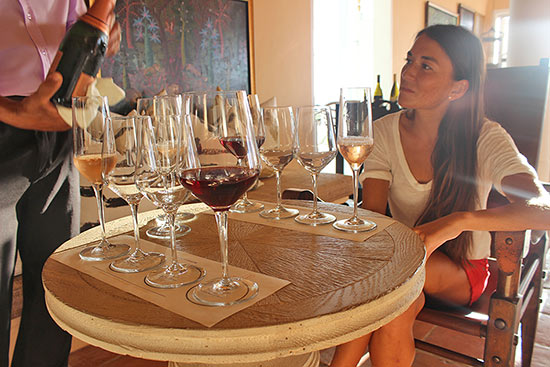 Our first taste was the Rose Brut. "We will let the Pinot Noir breathe," Albert explained.
Albert highlighted the difference between this, a sparkling wine, and champagne. "This is not a champagne," he smiled, "champagnes only come from that particular region in France. This is a sparkling wine, a rose, with a mix of red and white grapes," he continued.
First? We examined the color, looking for any sediments.
Second? What scents can be identified? A mix of a Pinot Noir and a Chardonnay, with it were most subtle essence of berries.
Then, it was time to coat our palate with the gentle wine and identify the feel. Dry, light and refreshing.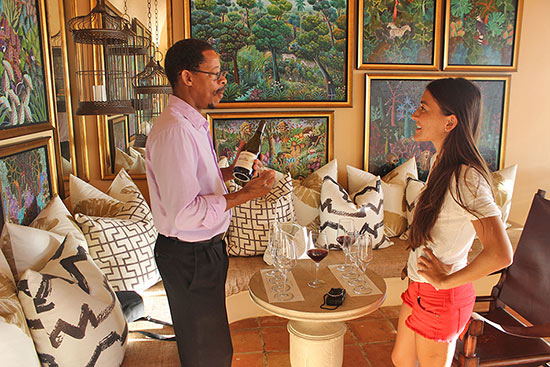 We moved through the list of wines, starting on the second in line, a Sauvignon Blanc. With a sharper, citrus scent, but a crisp, light taste, each step of the way Albert walked us through a true process for identifying the different flavors and feels to each type of wine.
The Chardonnay, by contrast was richer, thicker, with almost a hint of banana. "This would complement a richer dish, snapper in a cream sauce, for instance, whereas the Sauvignon Blanc pairs well with a simply grilled snapper," Albert suggested.
Finally, the full-bodied Pinot Noir. "With red wines, every part of the grape is preserved, unlike in white wines," Albert commented. "The pulp, the skin, everything, and thus, the production period is much longer." Aged for two years, this particular bottle was from the Russian River area in California, an area Albert returns to yearly.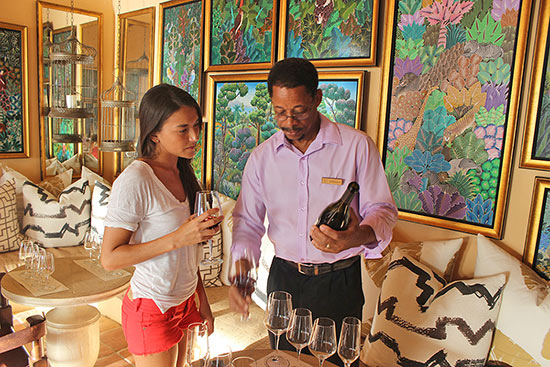 "Naturally, there are varieties within any family of wine. With Sauvignon Blancs, you have different sub-types, including Sancerres. After that, each bottle will be unique. Wine producers work hard to perfect the quality of their grapes, varying irrigation, bottling methods and so forth. And then of course, there are elements that are beyond control, like sunlight, rain, clouds and simply where their vineyard is located. If it's on a hill, for example, or if it's in a valley, that all affects the quality of grape."
Together with Albert in Malliouhana's Wine Cellar c. 2010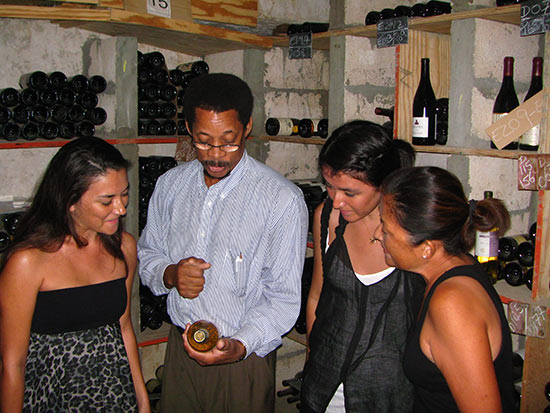 "It's an interesting science," Albert concluded.
Thinking back to when we first met Albert in 2010, one thing is clear. His passion for wine has only grown stronger over the years. An impeccable host, wine tasting with Albert is an experience not to be missed.
The Aged Rums
After a brief repose and taking in the surroundings...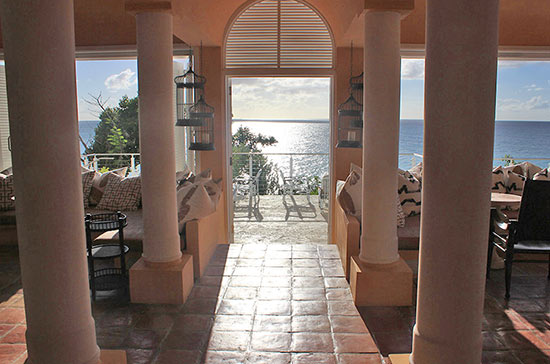 ... Albert offered us a taste of the aged rums.
Malliouhana has indeed curated an incredible collection of rare rums from the Caribbean and surrounding areas. That night's rums, included...
Clément, Martinique, Silver Rum
Barbancourt 15 Year Old, Haiti, Old Rum
Zacapa 23 Year Old, Guatemala, Extra Old Rum
Mount Gay 1703, Barbados, Ultra Old Rum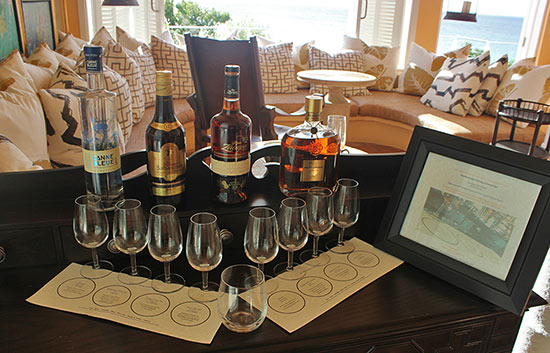 With an equally elegant presentation, the rums were well varied. White, dark, some aged 20+ years and others created special for celebrations. "Lasting longer than wines, rums age well over the years once they are popped," Albert explained as he poured a splash of 23-year old Guatemalan Zacapa.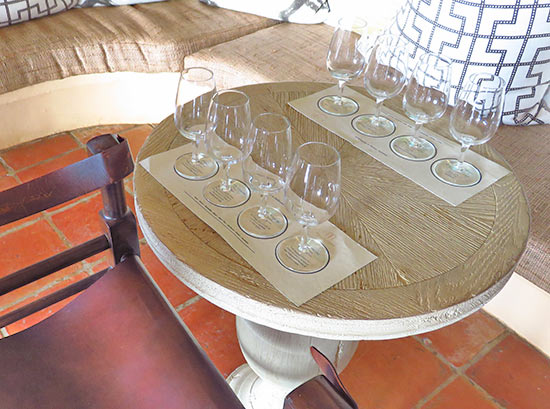 The favorite was a 15 year old Haitian rum, the Barbancourt. Brewed in oak barrels, it is defined by a sweet hint of butterscotch. The Martinique rum was an interesting diversion, "the French prepare their rums more along the lines of wine, producing the rum from sugar cane as opposed to molasses," Albert explained.
With Albert guiding us, it was a true country-by-country tour of some of the finest, most interesting rums.
At $55 per person per tasting (wine or rum), it is a high-value way to experience a variety of rums or wines, expertly curated and shared with pure passion, all thanks to Albert.
Hours & Contact
Hours: Wine and rum tastings take place Tuesdays & Saturdays at 5:30pm.
Tel.: 264-497-6111 to book ahead.