Anguilla's Valley Street Festival
Eat, Drink and Be Merry
Romaro Richardson is Anguilla-Beaches.com's 18 year old intern, with a passion for photography. He is a recent-grad of Anguilla's "Albena Lake Hodge Comprehensive School" and current student at AniArt Academy.
In this article he shares his experience at Anguilla's Valley Street Festival...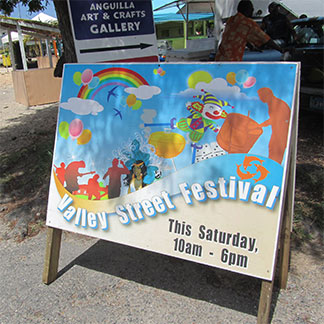 The Valley Street Festival happens on occasion, so keep an eye open on our Anguilla events page for updates. In The Valley in Anguilla, musicians take the stage, food vendors serve Anguillian favorites, artisans sell locally made crafts, and all come to enjoy the afternoon's festivities...
On another breezy and sunny Saturday 'morn, just after spending a few hours at AniArt Academy working on an art exercise, I decided to borrow the studio's DSLR to see what photos I could conjure up over the weekend. On my way back home I began to ponder settings that would make for great photos.
The Aspiring Photographer, Romaro Richardson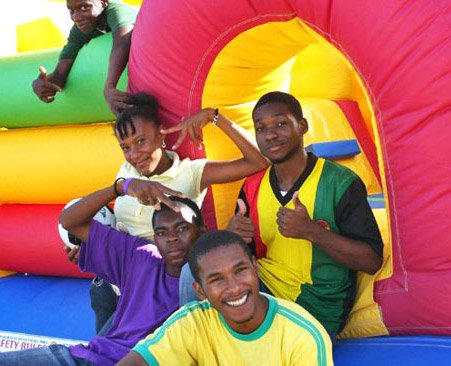 (I'm giving the "thumbs up!")
Then it hit me...
Earlier in the week Nori had told me that Anguilla's Valley Street Festival would be held on this very Saturday, today. Not only would I be able to find live music there but food too (nothing can compete with my affection for food!), as well as many other activities, including dominoes.
The Music
The "Guiro"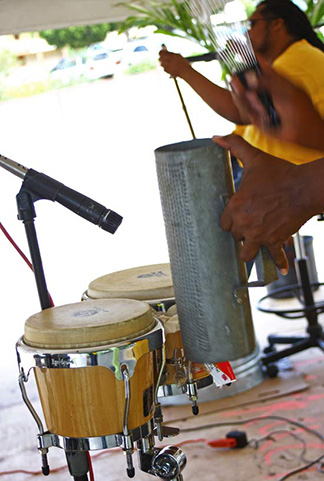 So after a quick change of clothes, backing up of photos, and formatting of the CF card for the camera, I made my way down to the location of the festival.
It is usually held at "The People's Market" in the Valley.
As I drew closer to the area the reverberating melodic tones of string band music began to fill my ears, slowly trickling down to my feet, which began doing a swift tap-tap.
You just can't help it when faced with the sweet scraping sound coming from a locally made "guiro."
I followed that sound until I was at center stage.
Locally Made Instrument: A "Ban' Pan"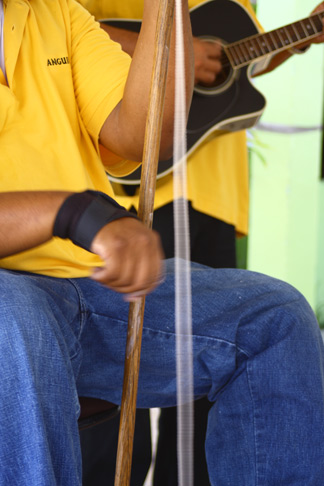 I whipped out the Canon 40D and began my photography onslaught, shooting every high priority target on site!
The string band that played the groovy folk songs for the event was called "Anguilla Time".
The mixture of string, percussion, and wind instruments tied in with fun yet slightly awkward lyrics really became the festival's focal point.
Vendors, once finished serving customers, broke out into a folk dance to accompany the music.
The sight added to the fun and laughter of the festivities.
The Food
After gathering the shots I wanted from the stage, I made my way to one of the many food stalls for a little Anguillian style negotiating.
For sale were a variety of fried fish, from the local's prime choice of Jacks, to Snappers, and Ol' Wives (and yes I am still talking about fish! ;-)).
A Fish Fry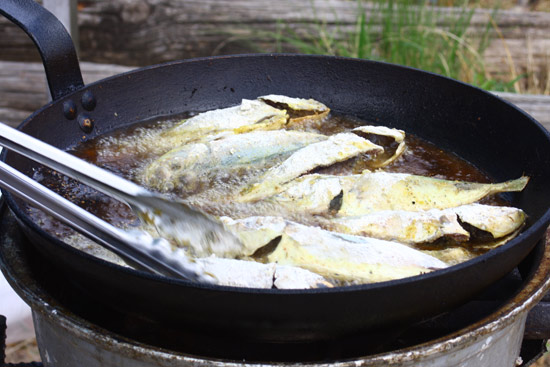 The fish was best enjoyed with a fried or baked "Johnny cake" on the side. They were freshly prepared right before your eyes in old school Anguillian fashion!
Preparation of Johnny Cakes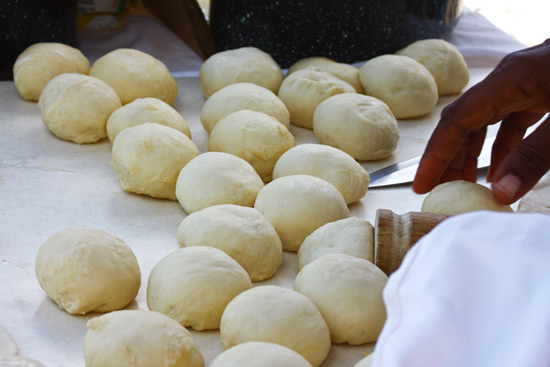 Baked Johnny Cakes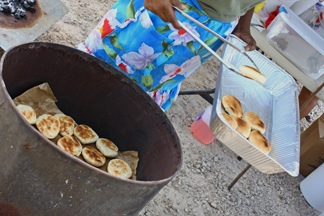 The Johnny cakes were made in a variety of ways...
Cooked on a car rim filled with coals, in a fabricated metal oven enclosed by coals, and on a modern propane cooker.
No matter the method, the Johnny cakes were all finger-licking good.
Fried Johnny Cakes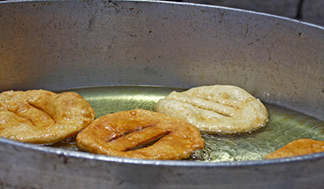 They are so good in fact that you will be tempted take a bite out of your friend's unfinished portion...
That, or pick up the art of Anguillian negotiating to enjoy more of the remarkable taste at a lower price! ;-)
Partakers in the festivities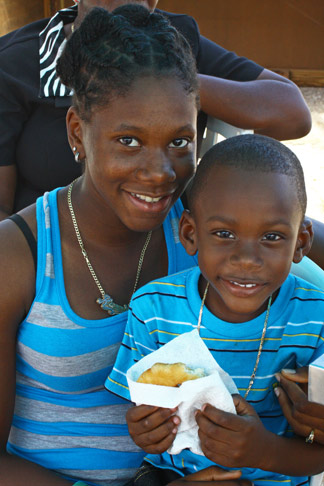 I almost forgot to mention the drinks.
There is nothing better to wash down the fried goodness of an Ol' Wife (my favorite) and Johnny cake than some locally made Mauby, Sea Moss, Lenseed, or Soursop blend or any other local beverage available.
I almost settled for some coconut water, but ended up choosing the Soursop blend, which was refreshing and had a a hint of nutmeg flavor.
If you are in search of dessert, you can find numerous baked goods.
My personal favorite is "Bread Pudding".
You can also find some Coconut jelly.
And, if the Tropical Treats' van is parked in The Valley, you will find a variety of their locally made milky and sweet ice cream treats.
Coconut Vendor at the Festival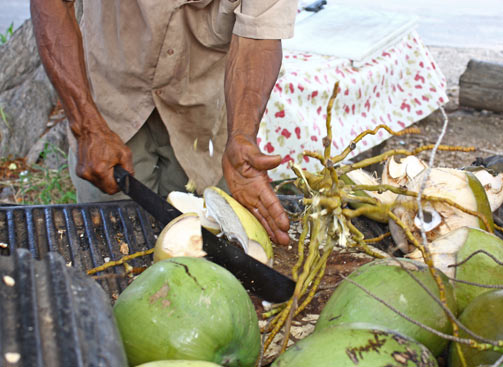 The Art Work
Arts and Craft At The Valley Street Festival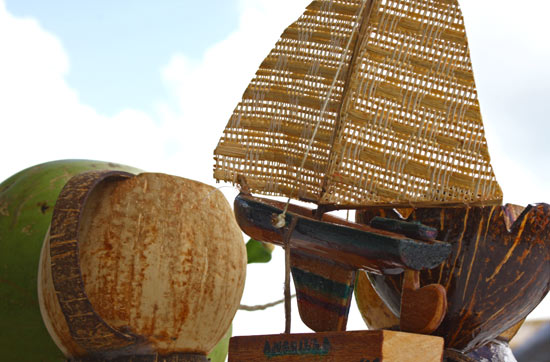 Last but by no means least, I went scoping out the various arts & crafts from local artists.
Dolls and Jewelry At The Valley Street Festival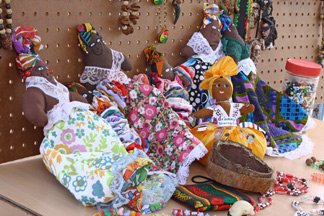 From small-scale model sail boats to cotton dolls, straw hats to sea shell bracelets, you will find a nice variety of artistic items that truly reflect the creative minds of the anguillian locals.
Do be sure to grab something before you leave for a keepsake, a token of the memories this festival will leave with you.
Reflection
Final Look At The Valley Street Festival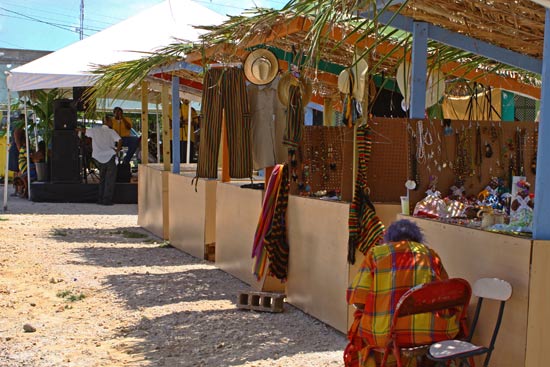 I had a great time at Anguilla's Valley Street Festival!
Not only was I able to be around good food, and folklore music for an afternoon, but was also able to be a witness to many of the customs and practices that are heavily rooted in Anguilla's society, culture and history.
I will definitely be at Anguilla's next Valley Street Festival!