Anguilla Music Focus...
DJ Kue
Meet DJ Kue!

From luxurious beachfront weddings...
To some of the island's most happening parties...
To gatherings that are all about family fun...
To DJ competitions with big name sponsors such as Digicel...
DJ Kue is a name that is hot on everyone's tongues here in Anguilla.
Meet DJ Kue
"Officially" Hugh Francis. If you ask around for "Hugh" in Anguilla, however, you will get mostly blank stares. Hugh is the DJ known as Kue.
Our family has known Kue for years. By day, you can find the always warm and charming Kue at Paramount Pharmacy. Come night, his passion awakens and DJing begins!
Me & DJ Kue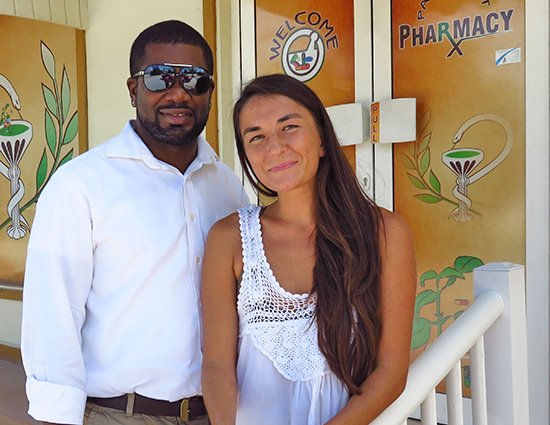 Kue is originally from St. Kitts where his love for music and DJing developed. It was all thanks to his brother, Bevis Hutchinson. "We're going back a long time now," DJ Kue smiled as he told me his story. "Back then, back in the 80's, we're talking cassette deck days, Bevis was the first person in our village, Village of St. Paul's, who had a sound system."
Every weekend, Kue's brother would host neighborhood parties. People from around their village and from the surrounding villages would come out for nights of dancing and dubbing on the mic to various instrumentals that his brother made. "Whenever Bevis would take a break, he would let me play a little something to keep the crowd dancing," Kue said.
DJ Kue with DJ Swat, DJ Webby D and DJ Spicebwoy Dick

As the years went by, Kue was introduced to other regional DJs, including Tony Matterhorn, Magic Fingers, Ronnie Rascal, DJ Yardie, DJ Swat, and Anguilla's own, DJ Sugar. "They taught me everything I know about mixing, scratching, chanting and hyping a crowd. They gave me opportunities to work with them - and equipment I'd always dreamt about, which is everything when you're starting out."
DJ Kue's Sweet Beats
In 2006, Kue moved to Anguilla to work with First Caribbean International Bank. He quickly fell in love with the charm and laid-back nature of Anguilla.
Home to a thriving music scene, and with an up and coming dance and DJ scene, DJ Kue is part of that very movement. Since he landed in Anguilla, he's been making waves.
DJ Kue's Set at Anguilla's Carnival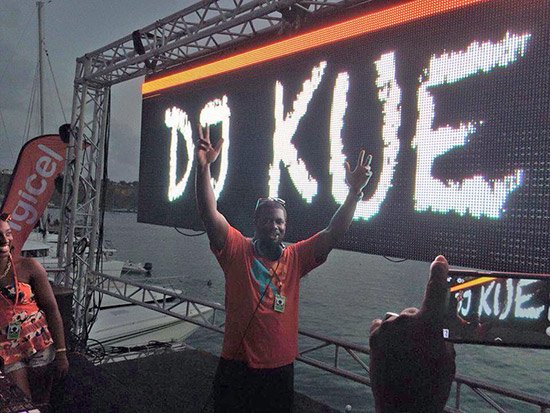 He is a man of great contrasts. He is known for spinning at some of the wildest parties at Anguilla's Carnival.
DJ Kue's Setting a Wedding Mood at Four Seasons Anguilla

And then? He's #1 pick for more subdued and elegant events, such as luxurious weddings at five-star resorts and a regular favorite at Anguilla's St. Gerard's Garden Party. Even at the Garden Party, DJ Kue gets kids and parents alike out on the dance floor...
What do you normally catch Kue playing?
DJ Kue Playing at Cap Juluca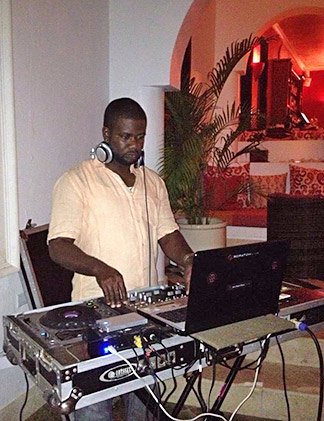 "I started out playing what I love... soca, reggae and dancehall. As I started taking DJing more seriously, I realized there was a lot more to the craft than just those three genres. The people you meet are always expanding your knowledge."
"Thanks to my clients and their requests, latin, hip hop, house and zouk, are some of my new loves. Really, though, whatever you want to hear - just request it and I'll spin it!"
On top of a vast knowledge of music, Kue is fully outfitted with some of the top line equipment, including...
Numark CDN-88 Mixer
2 American Audio 15 inch Powered Speakers
Pioneer DDJ-SZ Player
2 Yorkville Powered Subwoofers
2 JBL Powered Double 15 inch
1 EV 12 inch Powered top
2 12 Channel mixers
Yamaha and Behringer
1 Drive rack
LED lights
... and even a smoke machine!
Catch DJ Kue at Parties & Events
A warm soul who really knows how to bring the party, you can catch DJ Kue regularly at Dad's Bar & Grill, Pumphouse and Foods 95.
DJ Kue also performs at events, including weddings. If you are interested in hiring DJ Kue, you can reach him at...