Anguilla Flights...
See Anguilla From The Sky
Click here to read about our air tour of Anguilla
Update: My parents take a flight from Anguilla to St. Maarten with Anguilla Air Services
Update: Yuki and I take St. Maarten to Anguilla flights aboard Anguilla Air Services
Like most travelers to Anguilla, we love criss crossing the island in our Jeep, exploring every dirt path, and lava-rock trail.
If we are not scorching under the sun in a truck, touring the island by sea is the next best thing (or even better!).
Touring Anguilla by land and sea are old family favorite ways to learn about Anguilla. But, leave it to my Dad to shake things up!
One afternoon he thought, "How about something new?... How about Anguilla from the air?"
Why had we not thought of that before?
Seeking an air tour of Anguilla, we unearthed a service that can be hard to find... Anguilla flights. Not every airline flies to Anguilla, after all. Anguilla isn't on Continental's drop-down menu!
Making sure they are a reliable airline is hurdle #2. (Especially since American Eagle has cut most of their flights from Puerto Rico!)
And then, of course, there is that question of safety.
Truth be told, we eventually gave up on using the
Anguilla airport
and flew into St. Maarten.
Traveling from Montreal direct to St. Maarten and catching the Anguilla ferry system from there was just more efficient. We missed landing in the quaint Anguilla airport, and the ease of going straight to our villa without having to go through the extra customs in St. Maarten, but still, this was easier.
Even when traveling to other Caribbean islands like St. Barts and Saba, flying via St. Maarten was quicker and more economical than flying out of Anguilla.
But a recent discovery of a hidden gem of an airline changed that all for our family!
Anguilla Air Services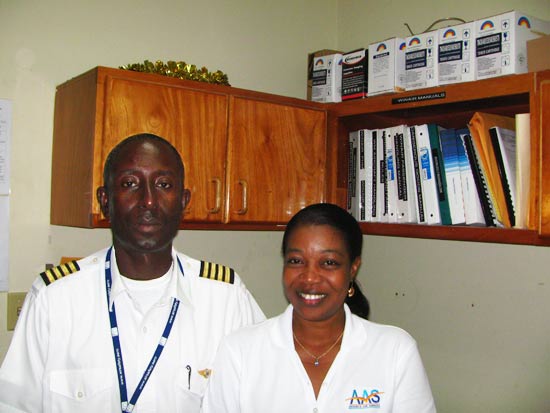 Meet Carl and Nanette Thomas.
Carl Thomas has a passion for planes.
By the age of 18 he was already flying for one of the Caribbean's most popular airlines at the time, Tyden Air. At a young age, and on his own, he traveled from Anguilla to St. Thomas to study. He worked hard and studied hard. His efforts paid off, and in 1986 he got his pilot's license.
He sure was a young pilot impatient to pursue his passion! "I had women walking off the plane saying I was too young, asking me if my mother knew where I was," he laughed.
He flew with different airlines, and helped form different flight companies over the years, until finally starting his own Anguilla flights company... Anguilla Air Services.
Anguilla Air Services In The Anguilla Airport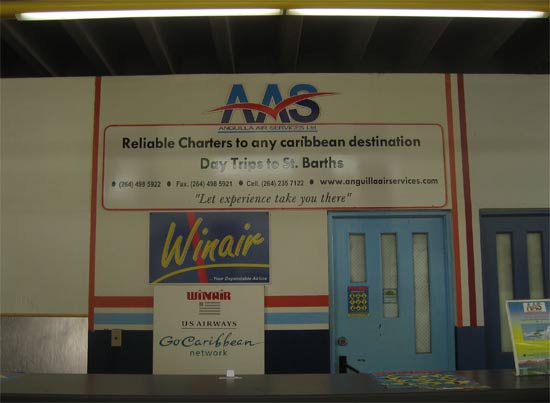 The Airplanes
Captain Thomas has three airplanes in his fleet.
The Britten Norman Islander and The TSI0-520 VB, Turbocharged Aircraft!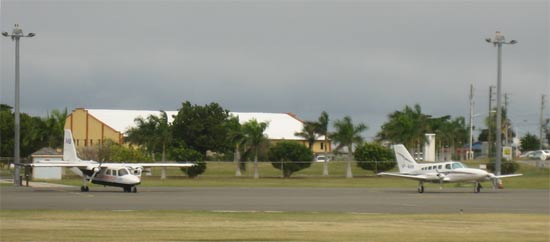 They have two Britten Norman Islanders and one TSI0-520 VB Turbocharged Aircraft.
A Closer Peak at The TSI0-520 VB

The Britten Norman Islanders (with the high wings) are used for shorter runs, the TSI0-520 VB is extremely fast and used for longer hauls.
Britten Norman Islanders are made on the Isle of Wight. Captain Thomas actually wanted to fly one of his Britten Norman Islanders back to Anguilla over the Arctic Circle. The insurance company said that was a no-go, so he had to take a lengthier route instead. The new route included stops in Greenland and in Canada... Over the ocean in a 9 seater!
Carl's stories of Anguilla flight adventures don't end there! He also picked up the turbocharged aircraft in Maine, and flew it all the way down the East coast to Anguilla. Captain Thomas isn't a man who scares easily, but he also isn't a man who takes chances or challenges safety.
He believes in careful and diligent routine maintenance...
The Maintenance
This Anguilla airline adheres to the strictest international maintenance requirements. Of all the flights to Anguilla or within the Caribbean for that matter, you are never so safe as you are aboard one of Captain Thomas' planes.
I was curious about how planes are kept in perfect shape. Lucky us! One of his aircrafts was in maintenance the day we dropped by for an aerial tour of Anguilla Air Services.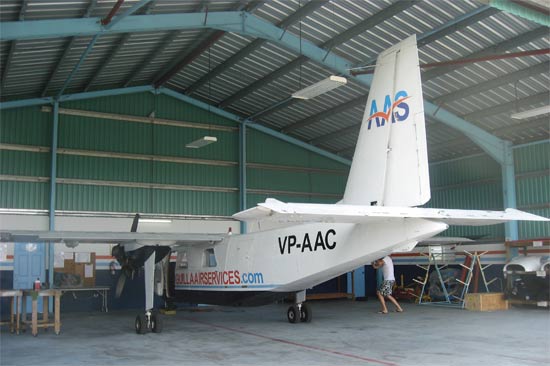 The Plane With The Missing Nose!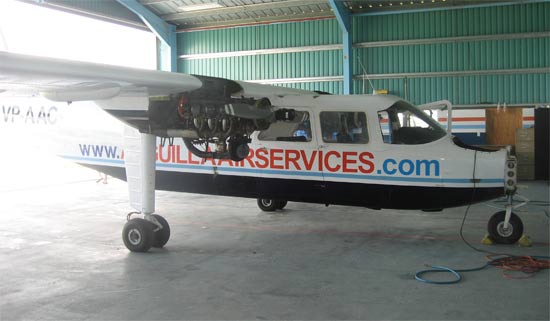 Carl and his crew take apart the planes piece by piece, inspecting every gear, every nut, every bolt. Once they have taken the plane apart, inspected it thoroughly, it all gets put back together again with a fine attention to detail.
Carl ensures that the planes are safe, but so do Caribbean flight regulations. "They may be even more rigorous than the FAA," he joked. The planes have to be in top working order according to strict outlines, and the pilots must undergo regular physical and flight examinations.
Safety is not a joking matter. "I have a family, the people I fly have families... It's our top priority," Carl said.
Taking The Anguilla Flights Apart


Before we returned to the tarmac we got a chance to meet their top flight engineer, Raj.
Raj Fixing The Anguilla Flights
Anguilla Flights
So we know who flies the planes, we know which planes they fly, and with which safety precautions...
But, where do they fly?
Anguilla Air Services offers a number of Anguilla flights. They fly to and from St. Maarten, St. Kitts, Nevis, Antigua, Barbuda, St. Barts, Tortola, Virgin Gorda, Saba and The Grenadines.
The regular scheduled flights to Anguilla/St. Maarten are only $80/person each way.
Costs To Other Islands...

Anguilla/St. Barts: $175/person (min. of four people)
Private Charter Between Anguilla/St. Maarten: $440 (for the entire airplane - 9 people)
Private Charter Between Anguilla/St. Barts: $780 (for the entire airplane - 9 people)
Anguilla/Antigua: $1550
Anguilla/St. Kitts: $835
Anguilla/Nevis: $885
Anguilla/Montserrat: $1450
Anguilla/Tortola: $1400
Anguilla/Virgin Gorda: $1275
Rates for other islands can be requested.
Anguilla Air Services' rates makes flying out of Anguilla more affordable than catching flights to nearby islands from St. Maarten, not to mention all of the time you save!
When we flew to St. Barts and to Saba, flying out of Anguilla just didn't make sense on other airlines. You had to connect in St. Maarten, there were extra costs, and layover time. Anguilla Air Services eliminates all of the waiting, and those heavy fees. With Anguilla Air Services you fly from Anguilla direct, no lay overs, no stops, no extra costs.
This time my family and I were not interested in a day trip to St. Barts or to Saba though, we were interested in another kind of service Anguilla Air Services offers, another kind of Anguilla flight... We wanted to see Anguilla from a different perspective...
We wanted to see Anguilla from the sky.
We were about to embark on an air tour of Anguilla! Air tours are one of Anguilla Air Services' most popular feature. It is $450 to hire the entire plane for a half hour, and $800 for an hour.
My Dad and Carl Thomas on the Tarmac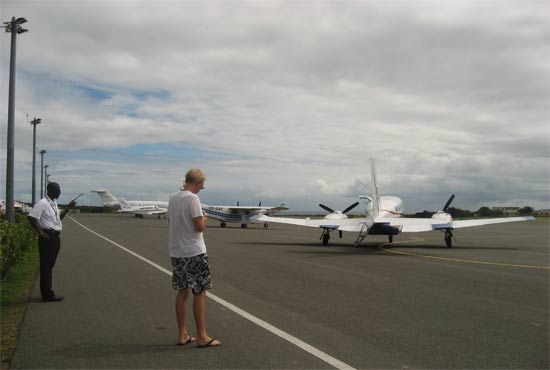 We waited on the tarmac for the Anguilla flight to land and unload its passengers so we could board and take off. Within moments...
Coming in For Landing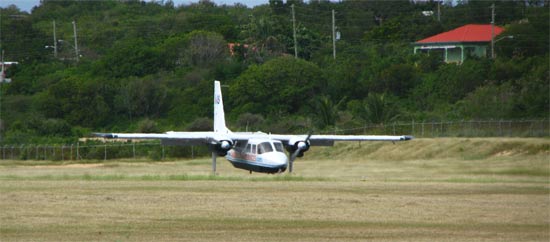 Anguilla Air Services has four pilots: Captain Carl Thomas, Captain Kirtis France, Captain David Lloyd (co-owner of da'Vida), and Captain Kyle Brooks.
Today, we would be in the care of Captain France, who has been a pilot for many years, trained in Fort Lauderdale.
My Dad hopped in the back, meanwhile I would be riding in the co-pilot seat!
Up Front With Captain Thomas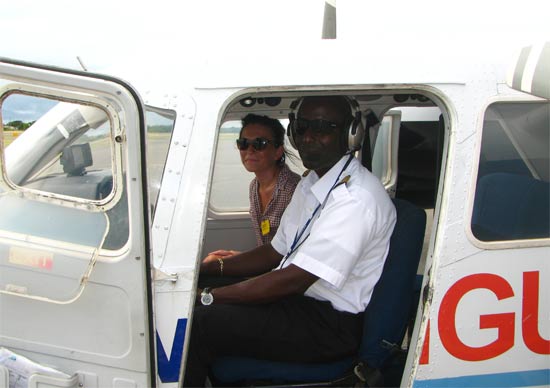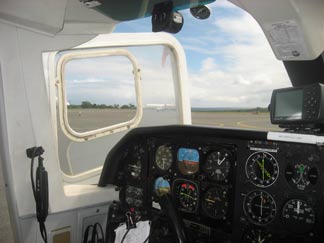 Carl Thomas made sure we were well taken care of, instilling every sense of security and safety. Knowing how much care and time Carl puts into ensuring the safety of his passengers, I was hardly shaken sitting up front in such a tiny plane.
Captain Thomas handed the controls over to Captain France. We buckled our seat belts, and started taxiing towards the runway...
Staring down the long runway ahead, I wasn't even nervous! Well, sort of...
Let's Go!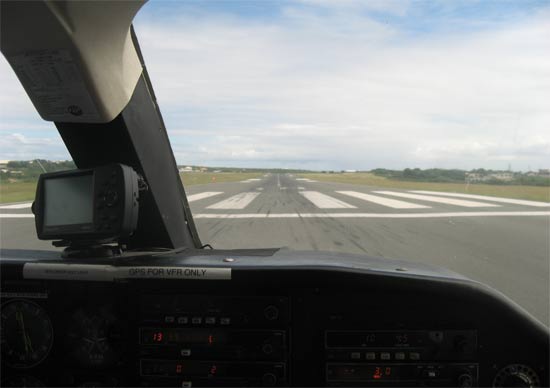 Up, Up, and Away!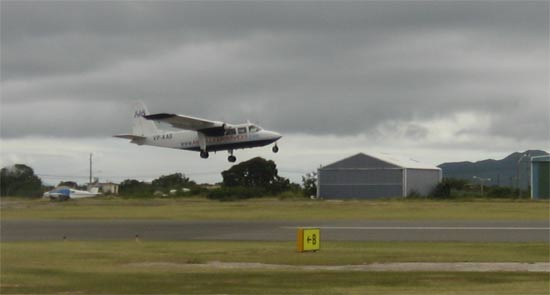 Within minutes Captain France reached a comfortable cruising altitude.
Tip For Photographers: If there are photographers in your group make you sure you get the top wing planes. Sit in the co-pilot seat (on the right side of the plane) and ask your captain to go west, so you are on the beach side to capture the best photos. We didn't think about that on our tour. We were on the right side of the plane, ready to snap away, but we headed east first, so our cameras had better views of St. Maarten and the open sea.
We had more difficulty seeing Anguilla, but still got some great shots...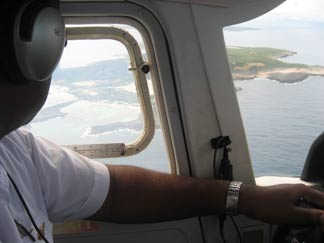 Seeing Anguilla from way up high in the sky provided a unique perspective.
Watching the waves roll in, seeing the sea shine a cocktail-cool shade of blue that looks like it would go down smooth, reminded me how truly beautiful Anguilla is.
It's not that I forgot of course, but the birds eye view brought a new found appreciation.
Little Harbour


East End of Anguilla


Little Bay and Crocus Bay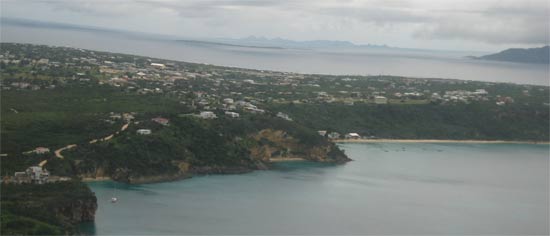 Rendezvous Bay

Maunday's Bay


Sandy Island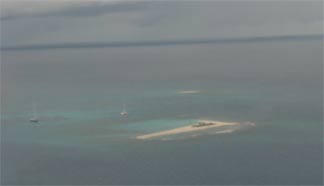 Throughout the Anguilla flight we noticed all of Anguilla's pretty coves and hidden bays.
By the time we touched back down at the Anguilla airport we had a long list of "must visits" and "must visit agains."
Especially, Scrub Island. We visited Scrub Island once before, but never made it right around the island to the hidden beaches that you can't see from Anguilla. They are truly spectacular, so secluded...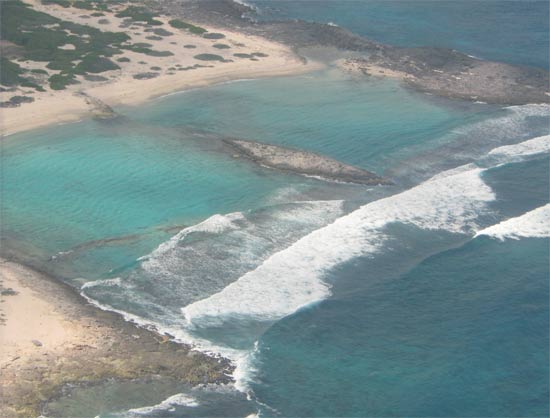 A half hour later the plane started banking north. I could see all of the cars below and remembered what it was like to be in their place, watching the planes come in low over Anguilla's main road to land in the airport. What a rush of excitement to be in the other seat!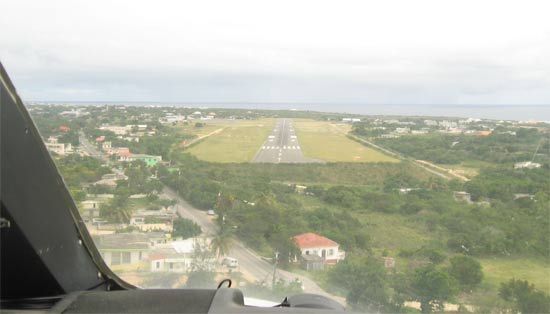 A smooth landing, a quick taxiing back to the tarmac, and our aerial tour was, sadly, over. We thanked Captain France dearly for the wonderful tour.
My Mom and Me with Captain France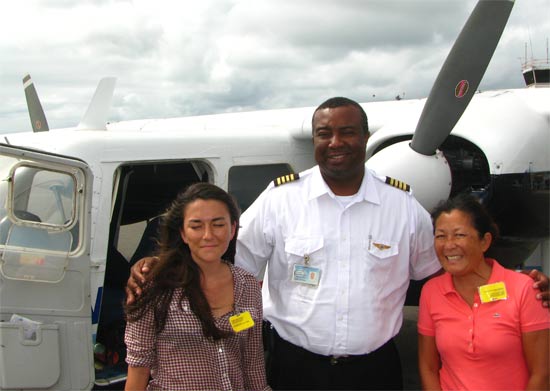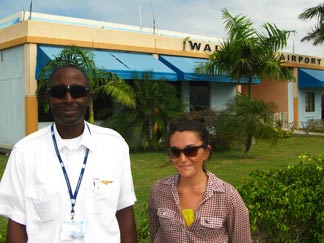 We met Captain Thomas back on the tarmac and expressed our deep gratitude.
The air tour of Anguilla rounds out our Anguilla tours...
We have seen the whole island by sea and by land, and now we have seen all of Anguilla from the sky, too.
An aerial tour of Anguilla is a must-do on any Anguilla vacation... A magnificent perspective and quite a unique adventure riding in the small Caribbean plane, and for an affordable price too.
Carl Thomas' company, Anguilla Air Services, completes the whole experience. Knowing his passion for planes and his desire to deliver a wonderful Anguilla flight, I was completely at ease, able to sit back, relax and enjoy the sights. And, once you are in the sky, you share Carl's passion too, developing a flavor for flying in these fun planes, marveling at the beauty below.
As we were saying our good-byes and getting ready to head home, we caught Captain France taking off once again to pick up the Anguilla-bound in St. Barts and Saba. Anguilla Air Services is going strong. Carl Thomas' vision is coming true with all of his hard work and dedication, and of course with the help of his lovely wife Nanette. Now...
The Sky's The Limit!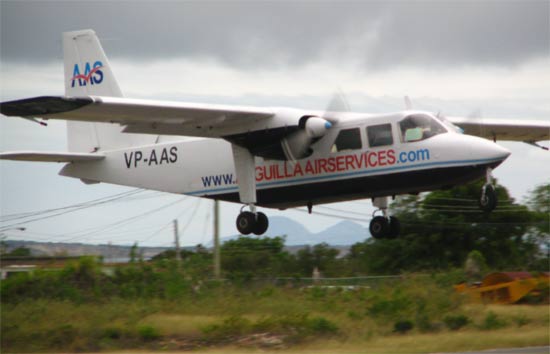 Interested in an Anguilla air tour or a charter to another island? Contact Captain Carl Thomas directly by filling in the form below...