Anguilla Ferry From St. Maarten and Marigot
As less experienced Anguilla travellers, we believed that flying direct to the Anguilla airport was the wisest way to get to Anguilla.
Somehow, Montreal-JFK, JFK-San Juan, San Juan-Anguilla was the most appealing route down.
We would roll out to the airport at 4:00 AM, only to touch down in AXA 18 hours later.
It was long, we thought, but it can always be worse, right?
Well, it could always be worse. And trust us, we did experience worse (ex., when massive snowfalls in Montreal or New York would push us back a day).
Solution? Get To Anguilla Via Ferry or Charter!
Sometime around 2005, we discovered the beauty of flying direct to St. Maarten's Princess Juliana Airport! No connections. No snowfalls at those connections. And no Homeland Security. It was bliss!
Our day still started at 4:00 AM, but we were in Anguilla by 2:00 PM. Time for the beach!
Tranquility Wrapped in Blue By 2pm!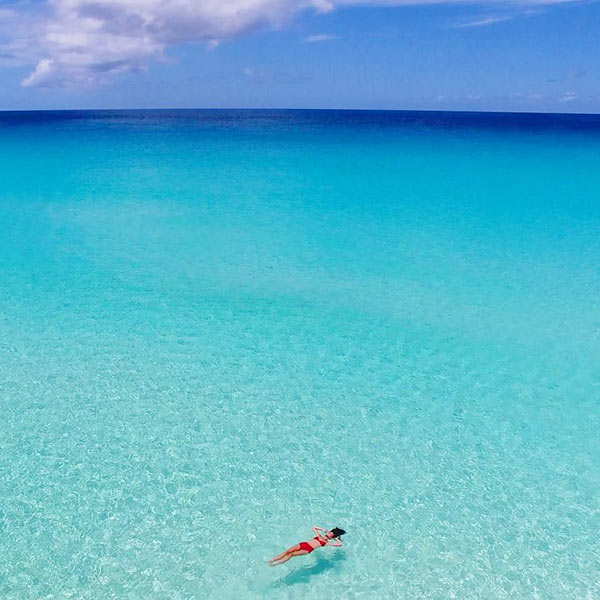 (Compare flights from your starting airport to both Anguilla's airport and St. Maarten's airport with our cheap flights to Anguilla tool. The Cheapest Flight-to-Anguilla Finder shows just how much money and how many hours can be saved by traveling to Anguilla via SXM.)
We worried, though. Would the ferries from St. Maarten "be there?" In fact, they're reliable and you have two choices...
from St. Maarten (Dutch side)
from Marigot (French side)
And it's not just one company that runs the ferries and charters, there are private charters as well. Calypso Charters is our top pick.
Blowing Point Terminal, Anguilla

If you prefer, you can also "hop" over to Anguilla from St. Maarten on a quick 8 minute flight aboard Anguilla Air Services.
Here are the two ways to travel by boat from St. Maarten (Dutch side)/St. Martin (French side) to Anguilla...
Note: St. Maarten/St. Martin is half Dutch, half French. The Princess Juliana International Airport is located on the Dutch side, with Anguilla's private dock being a 1 minute drive away. The public ferry to Anguilla (which leaves from Marigot) is on the French side of the island, a 10 minute drive away from Princess Juliana International Airport.
1) Anguilla Ferry (From Marigot, St. Martin)
The ferry to Anguilla is located on the French side of St. Martin in the port of Marigot. The advantage of taking the ferry is the reduced cost: $5 departure tax + $30 for the ferry.
You will have to catch a cab from Princess Juliana Airport to Marigot to catch the Anguilla ferry. This taxi ride costs $20 for 2 people.
The ferry to Anguilla is very reliable and only a short ride (20 minutes) across the channel.
Regular Ferry Schedule To Anguilla From St. Martin
9:30AM
10:30AM
12:00PM
1:30PM
3:00PM
4:30PM
5:15PM
6:00PM
Ferry Schedule To St. Martin From Anguilla
8:30AM
9:30AM
11:00AM
12:30PM
2:00PM
3:30PM
4:30PM
5:15PM
2) Anguilla Charter From St. Maarten (Dutch Side)
We call this our "Anguilla taxi." There are many Anguilla charters from St. Maarten (Dutch side) to Anguilla...
Calypso Charters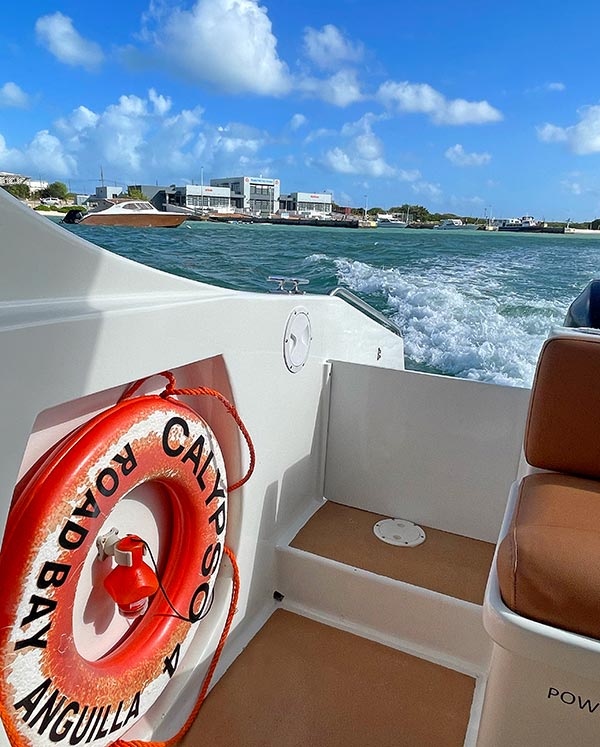 While the ferry from Marigot is public and runs on a pre-set schedule, charters from St. Maarten should generally be pre-booked. There are two choices...
1) You can book the entire boat for yourself, but it's expensive ($500+). The advantage is that you "own" the boat. The time is set exactly to when you want it. You also get to enjoy a Carib (or two) on the way over! If you don't "go private," you are bound by the boat's set schedule (see option 2).
2) You can call the boat operators (contact info above) and find out their schedules. While these boats offer private charters, they also offer semi-private scheduled charters that leave at a set time. The price is much more affordable (~$65 per person). The only drawback to this option is, depending other passengers on your semi-private charter, you may have to wait for their flight to arrive if they're delayed.
In both cases listed above, your boat operator will meet you inside Princess Juliana Airport (right where you step out of Arrivals) and bring you via taxi to the pier, just 30 seconds away.
With The A+ Calypso Crew in St. Maarten

We often fly to St. Maarten without booking a boat. When we arrive, we look for one of the boat reps and ask how soon they leave for Anguilla. If we don't see one (or if no boat leaves for an hour or more), we catch a cab to Marigot for the public ferry.
For those who like a "sure thing," call one of the companies above and book ahead. Be sure you understand where they'll meet you at the St. Maarten airport.
Finally, some hotels will arrange your boat from the airport. Check with them first when reserving your hotel room.
Returning to St. Maarten From Anguilla
What about when you are leaving Anguilla and returning to St. Martin/St. Maarten?
The process is exactly the same, with a couple of important factors to consider...
Boarding Calypso to Return to St. Maarten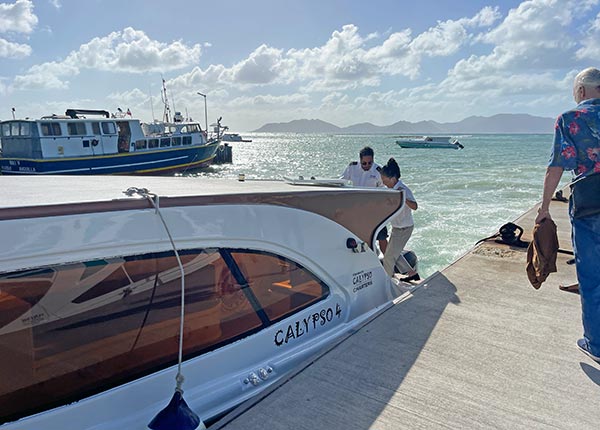 Departure Tax When Leaving Anguilla
Departure tax varies when leaving Anguilla. Two factors affect cost: 1) if you are going to St. Martin just for the day OR if you are leaving the island permanently, 2) if you are going to St. Martin OR St. Maarten. TIP: The tax can now be paid via Visa and Mastercard.
As of 2023, here are the cost of the fees...
Day Trips (if you are going to St. Martin or St. Maarten for the day)
Note: This is also the cost if you are a resident
To St. Martin
Adult = $11
Child (2-11) = $3
To St. Maarten
Adult - $19
Child (2-11 years old) - $11
Child (0-1 years old) - $8
Non-Residents Leaving Permanently
To St. Martin
Adult - $28
Child (5-11) - $15
Child (2-4) - $3
To St. Maarten
Adult - $36
Child (5-11 years old) - $23
Child (2-4 years old) - $11
Child (0-1 years old) - $8
After you pay your ferry fee and your departure tax, sit back and relax in the ferry terminal's beautiful lounge! They will call your boat's name when it is your time to leave.
Inside The Blowing Point Terminal

Chic & Comfy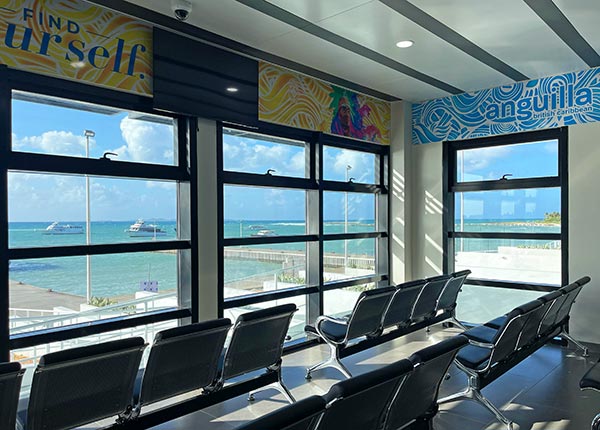 As per the info above, leaving to St. Maarten is more expensive than leaving to St. Martin.
Time to St. Maarten and St. Martin
The cost, though, is offset by the amount of time saved.
The charters arrive at Anguilla's dock in St. Maarten. It is just a 1-2 minute drive to Princess Juliana Airport. Here, immigration into St. Maarten is speedy and the price of your charter includes ground taxi. It is pre-arranged and waiting for you when you step out of immigration. It takes you from the pier to the airport.
It is a breeze!
Leaving Anguilla for St. Maarten

The public ferry can be a lengthier process. The lines are longer at immigration in St. Martin and the public ferry terminal is on St. Martin's French side, which is a 10 minute drive to the airport.
If time is of the essence, go via the charters to St. Maarten. Be sure to book in advance.
More on Anguilla Ferry and Boat Tours...
ARCHIVES:

Previous Boat Charter Articles

Sea Grape: Anguilla Boat Tours
Shawn Webster and his late brother Jeff Webster, were our two favorite Captains on Anguilla! We had a wonderful, entire, 'round the island boat tour trip with the brothers. They also used to run an Anguilla (water) taxi service. Sea Grape is now out of the water, but we hope to see Shaun back in the sea soon!

Chocolat Sail Boat Tours
Jacquie Ruan and her husband Rollins run this tasty catamaran ride! It is a must try on any (and every) Anguilla vacation.

Gotcha! Caribbean Charters
Garfield offers an excellent Anguilla boat tour service. You can do a Caribbean charter to any Anguilla off-island, to St. Barts, and St. Maarten. They do not offer a scheduled water taxi service to and from St. Maarten's airport, but you can arrange for a private charter.

Funtime Charters
Chris Cutler runs Funtime Charters. They really saved Yuki and my Dad one year during their lost passport fiasco. Oh, Dad!

Perks of Riding The Anguilla Ferry
The Anguilla ferry generally inspires sad thoughts of going home, leaving Anguilla, more traveling, flights, connections... But not when you take it for a day trip in St. Martin!