<![endif]-->
Anguilla Ferry From St. Maarten and Marigot
As less experienced Anguilla travellers, we believed that flying direct to the Anguilla airport was the wisest way to get to Anguilla.
Somehow, Montreal-JFK, JFK-San Juan, San Juan-Anguilla was the most appealing route down.
We would roll out to the airport at 4:00 AM, only to touch down in AXA 18 hours later.
It was long, we thought, but it can always be worse, right?
Well, it could always be worse. And trust us, we did experience worse (ex., when massive snowfalls in Montreal or New York would push us back a day).
Solution? Get To Anguilla Via Ferry or Charter!
Sometime around 2005, we discovered the beauty of flying direct to St. Maarten's Princess Juliana Airport! No connections. No snowfalls at those connections. And no Homeland Security. It was bliss!
Our day still started at 4:00 AM, but we were in Anguilla by 2:00 PM. Time for the beach!
(Compare flights from your starting airport to both Anguilla's airport and St. Maarten's airport with our cheap flights to Anguilla tool. The Cheapest Flight-to-Anguilla Finder shows just how much money and how many hours can be saved by traveling to Anguilla via SXM.)
We worried, though. Would the ferries from St. Maarten "be there?" In fact, they're reliable and you have two choices...
from St. Maarten (Dutch side)
from Marigot (French side)
And it's not just one company that runs the ferries and charters, as you can see...
Blowing Point Terminal, Anguilla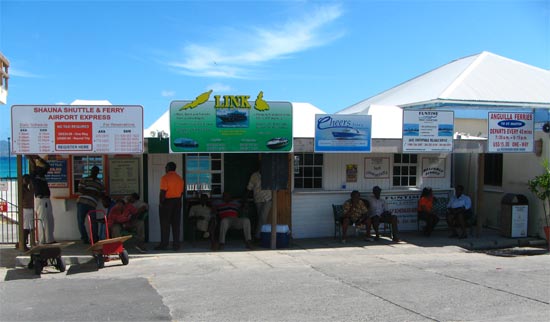 Finally, if you prefer, you can also "hop" over to Anguilla from St. Maarten on a quick 8 minute flight aboard Anguilla Air Services.
Here are the two ways to travel by boat from St. Maarten (Dutch side)/St. Martin (French side) to Anguilla...
Note: St. Maarten/St. Martin is half Dutch, half French. The Princess Juliana International Airport is located on the Dutch side, with Anguilla's private dock being a 1 minute drive away. The public ferry to Anguilla (which leaves from Marigot) is on the French side of the island, a 10 minute drive away from Princess Juliana International Airport.
1) Anguilla Ferry (From Marigot, St. Martin)
The ferry to Anguilla is located on the French side of St. Martin in the port of Marigot. The advantage of taking the ferry is the reduced cost: $5 departure tax + $20 for the ferry.
A Note On Costs
When Leaving Anguilla
Taxes vary when leaving Anguilla, depending on if you are coming back that same day and if you are going to the French or Dutch side of the island.
As of 2014, here are the costs...
Day Trips
To St. Maarten - $13
To St. Martin - $8
Leaving Permanently
To St. Maarten - $28
To St. Martin - $23
You will have to catch a cab from Princess Juliana Airport to Marigot to catch the Anguilla ferry. This taxi ride costs $18 for 2 people.
From Marigot, the ferry to Anguilla departs every 60 minutes. It is very reliable and only a short ride (20 minutes) across the channel.
Ferry To Anguilla Schedule
8:30AM
9:30AM
10:30AM
11:30AM
12:30PM
1:30PM
2:30PM
3:30PM
4:30PM
5:30PM
6:00PM (last ferry)
Ferry To St. Martin Schedule
7:30AM
8:30AM
9:30AM
10:30AM
11:30AM
12:30PM
1:30PM
2:30PM
3:30PM
4:30PM
5:30PM (last ferry)
2) Anguilla Charter From St. Maarten (Dutch Side)
We call this our "Anguilla taxi." There are many Anguilla charters from St. Maarten (dutch side) to Anguilla...
Link: 264 497 2231/3290
Gotcha: 264 497 2956
Funtime: 264 497 6812/264-497-6511/264-235-8106/264-235-7022
Cheers: 264 235 6205
M.V. Shauna VI: 264 476 6275/6534
Calypso Charters: 264 584 8504 Calypso is one of the most affordable charter companies and you save 10% more when you use your Anguilla Card to book with them!
While the ferry from Marigot is public and runs on a pre-set schedule, charters from St. Maarten must be pre-booked. There are two choices...
1) You can book the entire boat for yourself, but it's expensive ($400+). The advantage is that you "own" the boat. The time is set exactly to when you want it. You also get to enjoy a Carib (or two) on the way over! If you don't "go private," you are bound by the boat's set schedule (see option 2).
2) You can call the boat operators (above) and find out their schedules. While these boats offer private charters, they also offer semi-private scheduled charters that leave at a set time. The price is much more affordable (~$50-65 per person). The only drawback to this option is, depending other passengers on your semi-private charter, you may have to wait for their flight to arrive if they're delayed.
Update 2016: For charters departing from St. Maarten to Anguilla, there is now a 5% credit card fee. If you are paying in St. Maarten and paying via credit card, you will be charged an extra 5%. To avoid this fee, bring cash.
In both cases listed above, your boat operator will meet you inside Princess Juliana Airport (right where you step out of Arrivals) and bring you via taxi to the pier.
New Late Night Charters From SXM
Update: If you were planning on booking the Late Night Charter, the service has been temporarily suspended. Plans with immigration will be finalized during the week of December 7th, 2015. We will update this page again once the service has resumed.
Anguilla now has a boat that departs St. Maarten at 11:30pm (you MUST book in advance with either Funtime or GB Express). It leaves through Anguilla's new ferry terminal in St. Maarten just 2 minutes from Princess Juliana Airport. You can see its approximate location on the map below...
Anguilla's Pier in St. Maarten
This new 11:30pm boat is perfect for travelers arriving on the American flight that lands at 10:35pm. If you're on that flight and book this night boat, you will be met at the airport and brought from the airport to the dock.
You MUST book in advance!
The cost is $80 per person. To book, call 264-235-6205 (GB Express) or 1-866-334-0047 (Funtime)
Early Morning Boats To SXM
If you have an early morning flight out of Princess Juliana Airport (SXM) and need to leave Anguilla early, your best bet is to either hire a private charter or jump on one of the semi-private charters (~$80-90 - prices are higher for early morning semi-private charters) that head over through Anguilla's new pier on the Dutch side of St. Maarten...
Which boats go over in the early morning?
Calypso: 264-584-8504 (earliest departure is 7:30AM and costs $85 per person - MUST book in advance)
GB Express: 264-584-6205 (earliest departure is 7:00AM and costs $75 per person - MUST book in advance)
Funtime: 264-497-6511
We often fly to St. Maarten without booking. When we arrive, we look for one of the boat reps and ask how soon they leave for Anguilla. If we don't see one (or if no boat leaves for an hour or more), we catch a cab to Marigot for the public ferry.
For those who like a "sure thing," call one of the companies above and book ahead. Be sure you understand where they'll meet you at the St. Maarten airport.
Finally, some hotels will arrange your boat from the airport. Check with them first when reserving your hotel room.
In the past we always traveled on and recommended Funtime. However, since their prices increased and customer reviews started slipping, we tend to use Link when we pre-book.
The Link

Chartering A Boat To SXM
The process to SXM is the same as from it... Book ahead.
Mom & Kay

Franklyn Connor owns the Link boats and operates an efficient business! His boats are clean and comfortable and his staff is most accommodating and helpful.
He owns three boats...
The Link Cat...
The Link...
And, yes... Another Link.
We took "The Link" from Blowing Point, headed for Princess Juliana.
The price to the Dutch side is almost half of Funtime's, only $90/person round trip, $55 one way.
This is the same boat Yuki took to school in St. Maarten everyday (during her last year in high school). We knew they would be reliable and safe, too!
Somedays Yuki and her schoolmates got off the boat looking pretty green, but that was only on particularly stormy, rough-sea afternoons. The Link is large enough to deliver a smooth ride to St. Maarten's Dutch side.
Right on time, we were called to the dock...
Dad Boarding The Link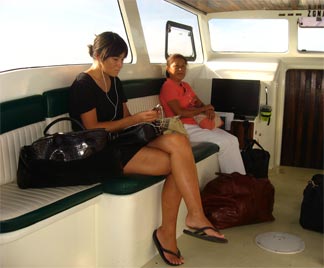 Inside, the Link is cushy and comfy.
The sheltered sides inside are lined with a comfortable bench, but my favorite spot is the bench at the back of the boat!
It's more exposed, letting the salt air weave through your hair while you bask in the sun.
Mmm, relaxation.
The Link slowed to a halt outside...
The Police Station in Simpson Bay, St. Maarten

They checked us in at the police station in Simpson Bay, and cleared us for entry into the Dutch side of the island. Our luggage was also taken care of. And from there?
That's as far as they go. They made sure we were well taken care of, safely putting us on the taxi straight to Princess Juliana Airport, only 3 minutes away.
It was all smooth sailing!
Coming home to Anguilla was just as easy... Upon exiting the airport, a kind man was waiting to bring us back to Simpson Bay's police station. Sylvester and Darren from The Link were there to take us home!
You can reach the people at The Link here: 264-497-2231, or 264-497-3290.
Third party reports confirm our own experience. The Link runs on time, as promised, and doesn't make you wait until the next jet from wherever gets in so that they can maximize the number of people on the boat.
This Anguilla ferry taxis you to and from the Dutch side of St. Maarten with maximum efficiency and minimal cost. Highly recommended.
More on Anguilla Ferry and Boat Tours...
Gotcha! Caribbean Charters
Garfield offers an excellent Anguilla boat tour service. You can do a Caribbean charter to any Anguilla off-island, to St. Barts, and St. Maarten. They do not offer a scheduled water taxi service to and from St. Maarten's airport, but you can arrange for a private charter.
Sea Grape: Anguilla Boat Tours
Shaun Webster and his late brother Jeff Webster, were our two favorite Captains on Anguilla! We had a wonderful, entire, 'round the island boat tour trip with the brothers. They also used to run an Anguilla (water) taxi service. Sea Grape is now out of the water, but we hope to see Shaun back in the sea soon!
Chocolat Sail Boat Tours
Jacquie Ruan and her husband Rollins run this tasty catamaran ride! It is a must try on any (and every) Anguilla vacation.
Funtime Charters
Chris Cutler runs Funtime Charters. They really saved Yuki and my Dad one year during their lost passport fiasco. Oh, Dad!
Perks of Riding The Anguilla Ferry
The Anguilla ferry generally inspires sad thoughts of going home, leaving Anguilla, more traveling, flights, connections... But not when you take it for a day trip in St. Martin!