Anguilla Taxi or Anguilla Ferry?
Wake up at 3 AM to catch your 6:00 flight to New York.
Mull around Kennedy Airport for two hours while waiting for your connecting flight to St. Maarten
Out of the airport, tired and with luggage, into the blast of tropical heat.
That would be our itinerary for our March 2005 trip to Anguilla, a trip made several years ago (when we didn't know better ;-)). And whether you are arriving from Canada, the U.S., or Europe, yours will be similar. And after such a long trip, you will face "the choice..."
Sit in a cab in traffic and crawl over to the french side, bumper to bumper. Wait for the Anguilla ferry and then crowd aboard with everyone else... and all your luggage (which gets dumped to the front of the boat so you have to worry about it).
Or...
Take advantage of our family's discovery, the easiest and most relaxed way of getting to Anguilla.
We knew we'd land in St. Maarten at 3:00 PM (saving 7 hours instead of flying into Anguilla, perhaps even saving an overnight stay in San Juan depending on your flight schedule).
The question was, what would be the best way to get from St. Maarten to Anguilla, knowing we'd be tired and carrying luggage?
That's when we remembered our good friend, Shaun Webster, founder of Sea Grape tours!
My Dad called Shaun. Could he provide us a with a private "Anguilla taxi" boat ride?
"Sure Evoy family. My pleasure!"
We were all set! Instead of dreading the "ferry trek," we were looking forward to ice cold drinks from the Sea Grape's cooler, warm, happy tunes from the stereo, and of course Shaun's beaming and welcoming personality, as well as catching up on Anguilla stories and gossip!
We awoke before the crack of dawn (3AM) in the bitter cold of Montreal, and 11 hours later were enveloped in the heat and sun of St. Maarten (saving the bad connection through San Juan to Anguilla). Despite the great weather, we were tired and cranky.
And then we saw Jeff Webster's smiling face. Jeff is Shaun's brother and a really fun and funny guy. He grabbed our bags and led us to the Sea Grape, docked a mere 5 minute walk away.
Before you know it, we were sitting in the boat, chatting with Shaun, while Jeff took care of the departure formalities for us.
Naturally, my Dad wanted to take a photo -- here is the first of 4,234,618 photos he took during our March 2005 trip!
Shaun gave us a warm welcome, was it ever nice to see him again! Our moods were lightening up already. Jimmy Buffett played on the stereo.
My Mom relaxed immediately with a Carib. We all had ice-cold drinks and fell into happy chatter with the Websters.
The motor started, and the "Anguilla taxi" was well on its way. We were in heaven! Here's the view ahead as Shaun navigated out of the harbor...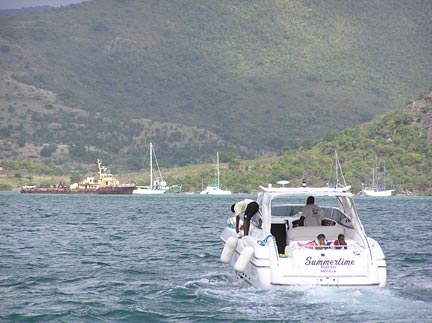 We knew then that this was the best way to Anguilla. Fly into St. Maarten directly. This saves time and money since there are so many more flights to Princess Julianna than AXA, and you save one connecting flight.
The downside to this option had, in our mind, been the hassle of getting to Anguilla (hot, long taxi and ferry rides). Not any more.
Shaun provided us with such a blissful Anguilla taxi ride. He made the most difficult part of any long-distance vacation, the arrival, such a pleasure.
He charged us $300. Considering the money saved coming into St. Maarten, as well as the time, aggravation and cost of taxi-and-ferry alternative, we thought it was a bargain.
If this sounds like your cup of Ting, let Shaun know when you're arriving. It's the best way to "come home to Anguilla."
Update 2014:
The Sea Grape is closed! For the time being Shawn and Jeff have taken their boat out of the water. The good news? St. Maarten has completed a NEW bridge that makes the taxi time from Princess Juliana Airport to Marigot (where you catch the Anguilla public ferry) much smoother. Travel time now is only 10 minutes, no traffic! So, taking the Anguilla ferry is more appealing than ever. Naturally, the "taxi" direct from the Dutch side is still, generally, more efficient.
More on Anguilla boat charters who can bring you to AXA from SXM
.