Tasty Anguilla Tours
Welcome Aboard Chocolat!
Update 2018: Chocolat is no longer in operation. Updates to come as to if/when they will re-open.
What do "Anguilla tours" and chocolate have in common? Well, the tour that we took has a boat named Chocolat and both are relaxing, tasty, and fulfilling.
How are they different? Chocolate won't burn your feet! (You'll see what I mean, soon.)
Ready for a day of real R&R... discovery and great eating? Aren't we all? Come along then!
Our "delicious discovery" commenced in March of 2004. Claire Devener, publisher of Anguilla Life magazine, had recently raved to my Dad about a fabulous day-on-the-sea tour by Rollins Ruan. He and his 35 foot catamaran, Chocolat, take you out to Sandy Island and Prickly Pear, stopping for snorkeling and some fine onboard eating.
Not many Anguilla tours can promise you great eating, right? Right. But Rollins happens to be married to Jacquie Ruan, she of Ripples restaurant fame.
So, my Dad, being my Dad, thought we'd give it a whirl. We'd never gone on any "structured" Anguilla tours, but what the heck! "Why not?"
So we booked a day about a month before we left and went for it! (They can fill up, especially in-season), so it's a good idea to book ahead. Use the form below to contact them (forms avoid e-mail spambots).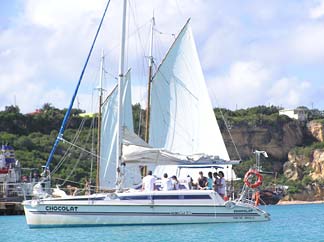 We showed up at the site bright and early (or so it seemed, being on vacation).
I could spot the boat in the distance. It was majestic... sitting proudly moored out in Sandy Ground's harbor.
I couldn't wait to hop on and get moving!
But, first things first. A smaller motor-boat took us over to the bigger one where all the other passengers were waiting along a tall man with a great smile, the captain...
Captain Rollins Ruan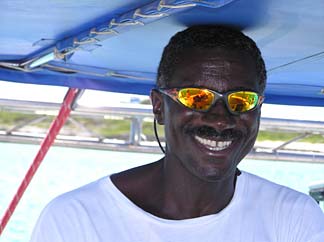 Rollins' first priority is our safety. So, he laid down all the "dos and don'ts," in a friendly, lively manner. Then we were quickly on our way.
(A little side note. Are you like my sister, Yuki, not a very good swimmer? Never boated? Don't like the seas, like my Mom? Capt. Ruan makes sure you'll have every bit as good a time as those with the most seaworthy legs. If ever there was a time to get over that, this is it.)
Now for the big question... where to???
First Stop: Prickly Pear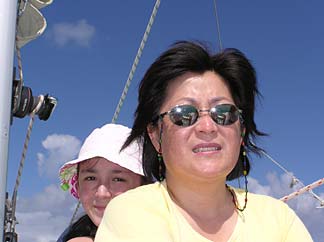 The ride over was gentle. We were practically gliding across the water. I love boats, so I was having a spectacular time.
And, to my surprise, my Mom was too - and she's normally terrified when out to sea. Even Yuki was totally relaxed and enjoying it. (By the time we returned, they didn't want to leave the boat!)
This is where the good captain dropped the anchor.
Great choice.


Looking towards the shore, the water had that inviting shade of turquoise which I couldn't pass up. I had to jump right in!
My sister eased her way in a little more carefully, helped by the ever-patient Captain. Many of the other passengers headed in the opposite direction, for what my Dad confirmed was excellent snorkeling.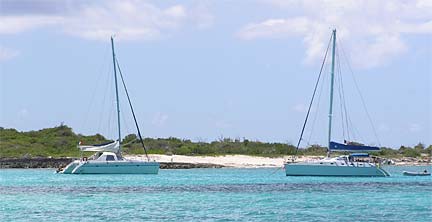 Prickly Pear is supposed to be pretty unvisited. But you can see that a place as stellar as this is hard to keep a secret. But don't worry -- these were the only visitors. Just enough to keep you company.
I would tell you how long we spent on the island if I was keeping track. Time really is irrelevant when you're in such a blissful state.
But, time did pass, and our bellies reminded us of that. As I mentioned, Captain Rollins' wife Jacquie had prepared food that was about 8 cuts above normal "boat food"...
(This is where the good captain works his hardest, preparing lunch and feeding everyone. He stepped aside for a second, so my Dad could take this pic.)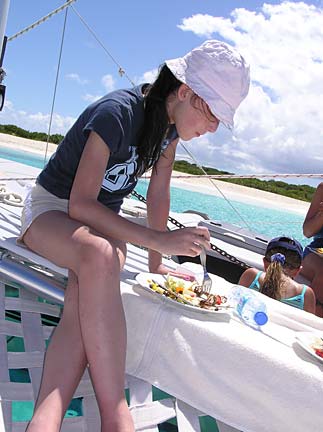 Now, if you've ever eaten at Ripples, you know the food is great (article on Ripples coming soon). So we knew that we were in for a treat.
My sister's favorite restaurant is Ripples, so you can imagine her delight! Actually, I think that was the only thing that "sold" her on the idea of a sailing Anguilla tour. ;-)
In any event, Jacquie lived up to our high expectations. And, as you can see, my sister gobbled like a turkey.
Rollins said that we were very lucky... that HE didn't make the meals. Ha! Ha!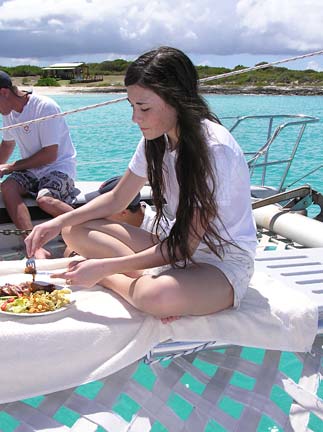 Normally, I wouldn't bore you with "boat food" stories, but...
First off, there was a fresh, crisp garden salad.
Second, a creamy, tasty pasta salad.
And then, one of my sister's favorites... BBQ chicken. A seasoned sauce, tender meat cooked perfectly, almost falling off the bone. We really enjoyed that unexpectedly great lunch.
And my sister was in a tremendous mood!
Once we had some food in our tummies, and had thrown the chicken bones overboard (where tons of fish came up fighting over them!), we were on our way to...
Stop #2: Sandy Island
(Click here to see a short video.)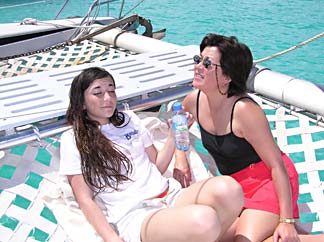 By this point my family and I were just enjoying life...
soaking up the sun
lazing on the netting
doing absolutely nothing at all
hoping the day would never end.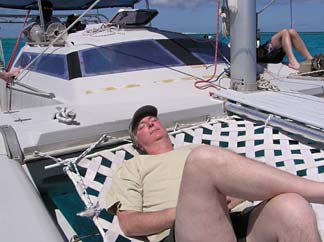 My sister, mom and I continued to do what we did so well... nuttin'!
But see my Dad there?
Well, it's not natural for him not to move for more than 15 minutes.
So he soon left his spot in the sun to check out the snorkeling action.
Many others swam in the opposite direction, towards shore, where there's a little restaurant and bar.
And I must say, it was tempting to "Robinson Crusoe" it over to Sandy Island. But in the end, we put it to a vote, and...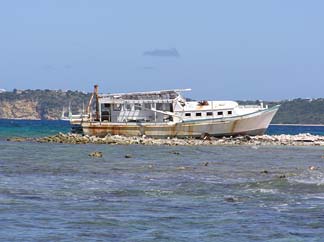 My Mom, Yuki and I chose to bask in the sun. While doing so, we noticed quite a large, shipwrecked boat. It had been there for quite a while, judging by the rust.
Captain Rollins explained that it was the S.S. Minnow. Ha! Ha. ;-)
Then he explained that a hurricane had literally plucked it from Sandy Ground and dumped it here. The boat was apparently so badly damaged that it was not worth salvaging.
It was fun to imagine being shipwrecked on such an island... as long as there was a nice little restaurant and a good hotel of course! Ha! Ha!
All too soon, it was time for one last stop. One which I wasn't looking forward to, our last one.
We lifted anchor and headed towards Sandy Ground, our point origin and our ultimate destination.
Along the last leg of this best of Anguilla tours, we were treated to some fine views...
Isaac's Cliff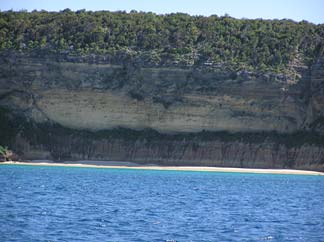 Meads Bay


Long Bay


And keep your eyes peeled! We even saw a sea turtle.
But then...

Road Bay came back into view... the bay that would really end the day...
Of course, I knew it wouldn't last forever. We had reached...
The Last Stop
Sandy Ground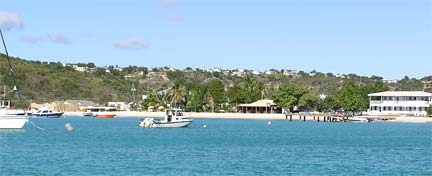 The trip began there, and it ended there as well. Too bad. It went by so fast. Yet it seemed like we had experienced so much.
All too soon, Captain Rollins was helping us off the boat. We thanked him for such a "life memory day" of eating, swimming, snorkeling, and discovery.
One thing my Dad didn't thank anyone for...
Sunburned feet. He could hardly walk by the next morning. Yup, he had slathered sun block everywhere except on the top of his feet. (For the next 3 days, my Mom and we 2 girls tried not to laugh every time he said "Ouch" when he stood up! Ha! Ha! Oops.)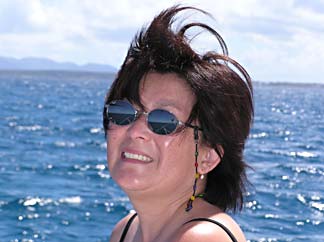 Anguilla tours?
Normally my Dad would scoff. And my Mom would be terrified to be on the open seas -- see how terrified she looks?
Instead, this trip will always be remembered by our family.
Book ahead...
As of 2018 Chocolat is no longer in operation.