Yuki's Favorite Anguilla Dining Spot
Update 2018: Ripples is currently closed. Updates to come.
Ripples At A Glance
A colorful, relaxed restaurant in Sandy Ground village, Ripples has a British pub-style atmosphere.
With good food and a fun host (Jacquie Ruan, the owner), it's a choice spot to celebrate holidays like Thanksgiving, Christmas and Halloween.
More on Ripples, below...
My sister Yuki, is hard to please. We call her "L'il Miss Brand." She wants "la crème de la crème" in clothing, shoes, accessories, and dining... even Anguilla dining.
And, this all started when she was only 13!
If it isn't expensive, and if it doesn't have a famous name on it, she figures it can't be much good.
I guess it's a phase that "she'll grow out of" (but hasn't yet!), but it's a pretty severe case of "phase-itis."
She's also a very picky eater.
So put "picky" and "brand-ee" together, and you might expect her favorite restaurant to be the private dining room at Temenos... eating with the rich and famous... caviar at $1,000 per teaspoon.
But, nope. Her favorite Anguilla dining is, surprise!...
Ripples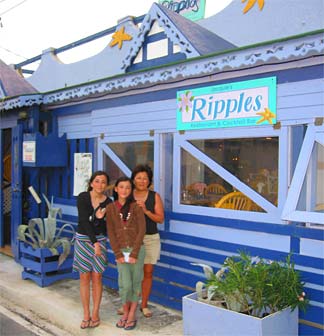 We were still coming down from the high of a wonderful experience aboard Chocolat. We had thoroughly enjoyed the picnic that the captain's wife, Jacquie, had prepared for that outing.
Jacquie also happens to own and run Ripples restaurant in Sandy Ground! This popular Anguilla dining spot was long overdue on our "must visit" list. So off we went.
A friendly waitress seated us, handed out menus, and took our order for drinks. Yuki settled right in...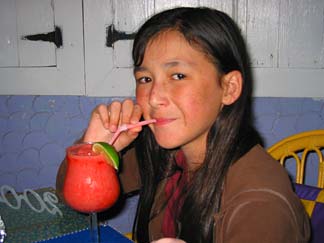 ... sipping a strawberry daiquiri (extra rum, ha!)
The night was already off to a great start.
Yuki brightened even more as she scanned the menu.
To her delight, Ripples offered two of her favorites...
Spaghetti & meat sauce and fish & chips.
Decision, decisions.
The Atmosphere
We ordered, then sipped our drinks as we soaked in the delightfully cozy atmosphere. Jacquie (in red) was minding the bar...
Jacquie is a friendly, outgoing person.
We chatted and complimented her on preparing "fine Anguilla dining" for so many aboard Chocolat.
And of course, we told how we enjoyed ourselves silly on the all-day boat tour.
Jacquie then told us quite a bit about herself and Ripples.
They have a wide variety of special dishes, according to the day... the roast turkey dinner and Cordon Bleu Chicken are on our "to try when we come back" list. On other days, you'll choose from beef, pork, fish or lamb specials.
Something for everyone. Are you a vegetarian? You're in luck. They also have fresh veggie dishes!
And Ripples is a favorite spot for "Happy Hour."
When we weren't chatting with Jacquie, it was fun to watch her, full of energy, bustling about, greeting customers and laughing with other patrons.
The Food
And then, in what seemed like no time, the food arrived...
My Dad and I had ordered the fish & chips (you can see his in the foreground).
They are out of this world! Crunchy batter, but not stiff, enveloping soft, fresh fish that melts in your mouth.
We were all enjoying our meals...
But Yuki was having the time of her life. She loves spaghetti & meat sauce... but she'll almost always say "I've had better."
Not this time.
The spaghetti was just the way she liked it. Done to perfection, with a lightly-spiced sauce that tickled her taste buds and made her smile.
"Yum", "Delicious"!
We all love Ripples. But three of us are easy to please! (And my Dad's extra-pleased since this is not a $$$$$ eatery. It's low-to-mid price range -- but sh-h-h-h-h... don't tell Yuki!).
Ripples' Special Events... Thanksgiving in Anguilla
Ripples is a go-to spot in Anguilla to celebrate many holidays... Halloween, Thanksgiving and Christmas are all celebrated at Ripples. A good time is guaranteed!
One of the biggest hoildays in the States, Thanksgiving, is not typically celebrated in Anguilla. Places serving Thanksgiving dinner can be hard to come by.
Since there are plenty of Americans in the form of ex-pats and tourists on Anguilla, the always festive Jacquie (owner of Ripples) does a very nice job of accommodating those who are looking to celebrate it.
Jacquie goes all out for Halloween in Anguilla.
Here's a snippet of what she does at Thanksgiving at her Sandy Ground restaurant, Ripples...
There's Jacquie herself... she hosts a lovely Thanksgiving at Ripples.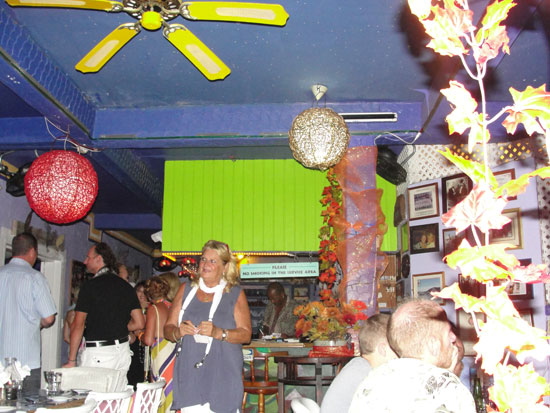 I (Kristin Bourne) met a couple of my friends for Thanksgiving dinner at Ripples and was that ever a good idea!
We made reservations in advance, a must, and settled in to a nice corner table with my friends and two children.
The restaurant was welcoming, with autumn decor in full effect.
The evening was one price for a 3-course meal. I never saw our bill to know the exact price per person but I estimate it was around $25 per person.
For starters, you could choose a
crabcake or pumpkin soup.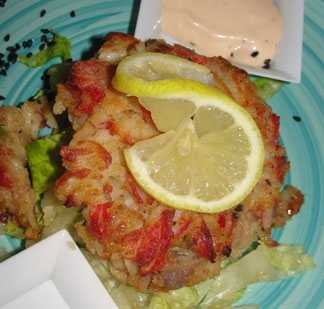 The Thanksgiving dinner is one of two options, traditional or Caribbean.
Everyone at my table chose the traditional route.
Here's why... Just listen to this: first you had a choice of pumpkin soup or crabcake.
Then you were served a hot plate of turkey, mashed potatoes, cranberry sauce, and stuffing.
This was all complimented with a variety of vegetables including brussel sprouts, green beans, squash, and two different types sweet potato.
The delicious gravy was just right for everything on the plate too.
The traditional main course...scrumptious!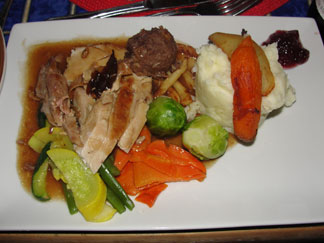 It doesn't stop there, we had pumpkin pie for dessert! We took it to go, we were so full.
While it was all good, my favorite was definitely the main course.
The turkey was tender and juicy, the vegetables were mouth-watering and the flavors were pulled together so nicely.
We added our own touch with a bottle of red and let the laughter and thankfulness flow.
The kids were happy coloring and making new friends.

Ripples even catered to the children, making them a cheese quesadilla on request.
They also had some activities for them after they tired of being at a table with adults.
Balloons, crayons, and even a football game on the TV for the big "kids" were all part of the night.
This really was a great spot for feeling at home while away from home during such a sweet holiday.
If you are planning to be in Anguilla in November on Thanksgiving and are interested in trying Ripples for your dinner, be sure to make your reservation! It sure is a full house for Thanksgiving!
Directions, Hours & Contact
Directions: Ripples is located in Sandy Ground village. Drive down to Sandy Ground and continue on the road that runs behind the beach. Ripples is on the beach-side of the street.
Ripples
Good for bar-style food and fun hospitality.
Hours: Everyday for dinner.
Tel: 264-497-3380