Halloween in Anguilla...
A Night of Ghouls and Goblins
For Children and Adults Alike!
Oscar The Grouch trick-or-treating in Anguilla?

Traditionally, Anguillians have not and do not celebrate Halloween.
By and large, children here do not dress up and go trick-or-treating, door to door all over the island.
But, over the years, the holiday's popularity has been growing on this beautiful island paradise.
Today, Anguilla celebrates Halloween in a spectacularly different way!
Anguillians, Trini's, the British, Americans, the Dutch... People from all over love celebrating Halloween in Anguilla at Sandy Ground.
Over the weekend closest to Halloween, Sandy Ground becomes stomping grounds for spooks, goblins, witches, vampires, monsters, princesses, and superheroes and all of their friends.
Princess catches her pirate,
Bumble Bee looking on...

The children zombies have their trick-or-treating fun starting around 6pm in Sandy Ground at Ripples.
The adult zombies then make their way back out of their graves for nightlife fun down on Sandy Ground where The Pumphouse throws quite the monster mash-up.
Skip down to Halloween in Anguilla for adults.
Halloween in Anguilla for the Kids!
Jacquie (owner of Ripples), fully outfitted as the head witch, leads the charge of young ghouls starting out at her restaurant and bar, Ripples.
The children, I mean "spooks," trick-or-treat the night away down on Sandy Ground...

Mom and Dad went down to check things out.
They said Jacquie hands out plenty of goodies and offers something for the adults too...
Witch Jacquie Giving Goodies to Her Ghouls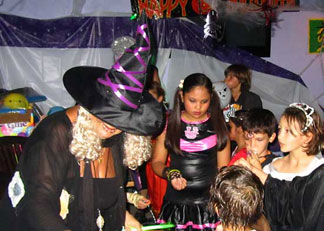 Ripples is now offering early bird dinner specials, which applies to Halloween night too!
Mom and Dad went on and on about how good the roast lamb with mint sauce was. Ooh, I'm sooo jealous!
Ripples also offers Sesame coated Wahoo with Orange and Ginger Marmalade, and Mediterranean quiche with veggie trimmings, each for only $14.
They are also doing a mini curry with a poppadom for $5 along side their other $5 deal: sliders! Just as Mom and Dad finished licking their lips, the kids took off down the road led by witch Jacquie...
Jacquie leading the crowd, with her eerie "oooooooooo-oooooooooooooo" from restaurant
to restaurant (she really gets into it! :-) )....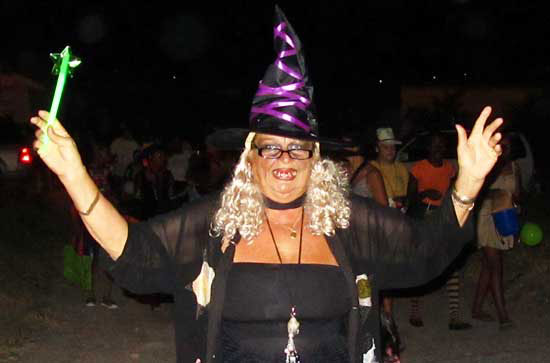 They hit every establishment... Dolce Vita, SandBar, Barrel Stay, Roy's, a historic Sandy Ground home (the home of Sir Emile), Pumphouse and Elvis'.
Their soul mission? Get candy!
The night ends at Ripples, the kids loaded with loot from all of the Sandy Ground establishments.
Jacquie and mom celebrating Halloween in Anguilla at Ripples

What a night!
Halloween on Sandy Ground is a full evening. It begins with the kids' activities of costumes, candies and thrills... Then, it's time to tuck in the wee ghouls, and the adults come out for treats and hopefully a few tricks too!
Halloween in Anguilla for the Grown-Ups!
Halloween at the Pumphouse...
just getting started.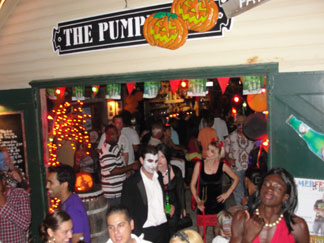 The Pumphouse carries the reputation for THE Halloween party for adults.
The little ghouls and goblins have already exhausted all of Sandy Ground right out of candy and apples and are at home sleeping...
This is when the adult spooks come out to trick, treat, have a cocktail or two and of course, plenty of laughs.
Halloween night at The Pumphouse is one of a kind. The crowd is lively, happy, scary, funny, and mysterious.
Old friends get to hang out together in costume, new friends are made. Witches are talking to fairies. Zombies are dancing with pilots. Some people do their best to remain incognito the entire night!
Even the DJ is dressed up and the music is phenomenal. It keeps the crowd in an upbeat and celebratory vibe until the wee hours, and the drinks keep on flowing from the bar.
Laurie, The Pumphouse's owner gives away prizes for costumes too!
Most recently first price went to Zombie Ken and Zombie Barbie.
Costume winners: Zombie Ken and Zombie Barbie
You should have seen them trying to dance!

There were some excellent runner-ups... An iPhone couple, a well-painted zombie couple, and a threesome of cute foxes.
Laurie himself was dressed as an actor from the adult film industry which made for plenty of doubled-over laughs as people realized what he was! Scary in its own right ;-)
A Flight attendant, a zombie on vacation, and Darth Maul... What a spread!
As the night winds down, some masks may make their way off. Make-up gets smeared. It's time to go home and call it a night. Halloween will come again next year and rest assured The Pumphouse will be ready once more for a great party.
Better start working on your costumes now, there is some stiff (and I mean zombie-stiff) competition!