Anguilla Boat Tours
Fun Time Charters
Saves The Day
Anguilla Beaches Archive Article
So there they were. Thirty-thousand feet above the air, without a worry in their mind...
My sister and Dad left for Anguilla, a week before my Mom and I. Being the lucky child that she is, Yuki got two weeks for Spring Break, where as I only got one.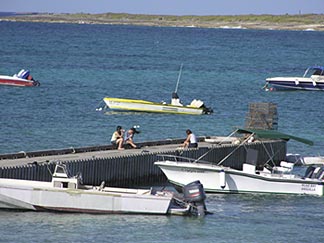 Trouble loomed, though, as they started "final approach" in the Caribbean.
They had flown from Montreal, through Miami, onto St. Maarten. The two of them had cleared U.S. Customs in Montreal. Now for the final routine customs passage into St. Maarten.
They stepped off the crowded jet, onto the black tarmac, surrounded by sunshine and heat.
Everything was perfect... until it hit them.
"Where are the passports?!"
Yes, my absent-minded Dad lost these ever-so-important documents. Airport security isn't the most relaxed thing I can think of, so naturally this didn't go over quite so well with the good men at St. Maarten customs.
There was only one thing they could do, "You'll have to get back onto the next flight to Miami." I can't think of one worse thing than having to deal with U.S. Homeland Security, without a passport, being a foreigner. My poor, poor Dad.
"NOOOOOOOO!"
Of course, when things got bad, my Dad called the problem-solver... my Mom! Panic, panic, panic. Luckily, the passports had been found in a terminal at the Montreal airport.
In twenty minutes she could get to the airport and fax them over. This wasn't good enough for the men at customs. "A plane leaves to Miami in 10 minutes. You're going to be on it."
So it was back to the American Airlines jumbo jet that they had just left. The men at customs escorted my Dad, and my sister (who was now in tears) back to the plane, when the pilot saw them and felt something was wrong.
"You look familiar." My Dad explained the story.
"So, your wife will be faxing your passports in 20 minutes? And they said they'd accept the fax. So the only reason you're back on my plane, is because it's leaving in 10 minutes? That's not right."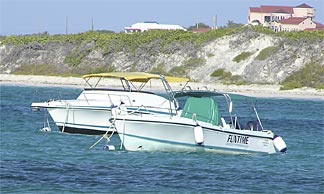 FINALLY! A voice of reason. The pilot made a simple phone call. My Dad was escorted back off the plane.
"We'll wait for the fax," said the Head of Customs. And the plane took off to Miami without Yuki and my Dad.
They gave him a fax number for my Mom. Wrong number. Three wrong numbers in all. And each time my Dad had to reach my Mom, he had to run 300 yards out to this "magic spot" on the runway to get any reception, over and over, in the hot weather and in his Montreal clothes.
Ninety minutes of this later, the Customs folks just gave up and let them through. But that was not good enough for my Dad. He went to a rent-a-car place just outside the Princess Julianna airport terminal. He asked if he could use their 1-800 fax line. In two minutes he had the fax, and they had figured out what the correct fax number should have been -- he was never given 10 digits!
My Dad returned to St. Maarten customs to show them the fax (they never did believe it was coming) and to give them their own fax number, correctly.
Now, my Dad had also been thinking ahead. How were they to get back to Anguilla?
They had planned to take the Anguilla ferry from the French side of the island, St. Martin. That had been the plan because Yuki wanted croissants.
My Dad prefers to charter a boat and just get to Anguilla, but Yuki wanted croissants! But now... change of plan.
They would have to go through the same ordeal at French customs. No thank you. He needed a boat, STAT, directly to friendly Anguilla.
He gave his Anguilla lifeline, an old friend Doug Burdon, a call. Doug knew of a good, organized boat charter on Anguilla. They have five boats, and are totally on the ball. Fun Time Charters could do the job.
While my Dad was running back and forth between St. Maarten Customs and his "magic spot" on the runway, a boat was speeding from Anguilla to pick them up. And there it was, just waiting for them!
Special, full boat charters to taxi you from St. Maarten to Anguilla cost you $350 for four people (they call it ("Platinum Service"), and $25 per additional person. No extra charge for emergencies! (If you book ahead, it's $55 per person, more than the other ferries.
Twenty minutes later, my sister and Dad were on safe ground in Anguilla.
Fun Time Charters (and my Mom) saved the day!