Anguilla Tennis Academy
On the road down to Blowing Point, the Anguilla Tennis Academy stands large, stark and white...
With Tamisha Richardson at The Anguilla Tennis Academy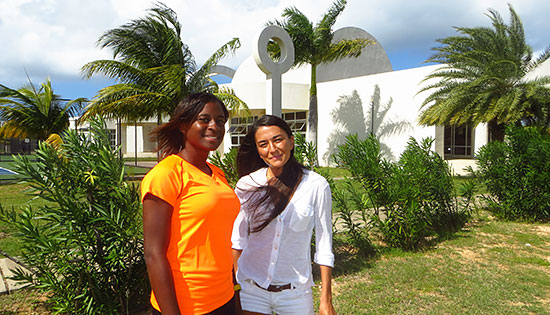 Open to locals and visitors alike, the Anguilla Tennis Academy offers a top-class facility for tennis enthusiasts, and those simply seeking things to do, on their trip to Anguilla.
Background

The Anguilla Tennis Academy was founded in 1996 by Mitch Lake, an active member of the community here in Anguilla.
It has grown significantly over the years, now having a profound impact on the island's youth.
Mitch Lake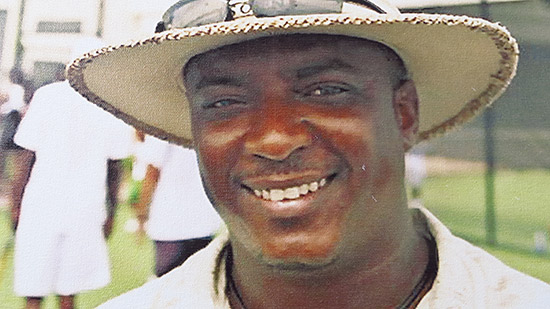 A man we know personally, a good family friend, Mitch is an incredibly devoted person who goes the extra mile for the youth of Anguilla who show exceptional skills and motivation, people with the potential to do incredible things. In short, he is inspiring.
Mitch's mission, when starting the Anguilla Tennis Academy, was to foster community ties by teaching youth all of the positive skills and values that come with learning a sport.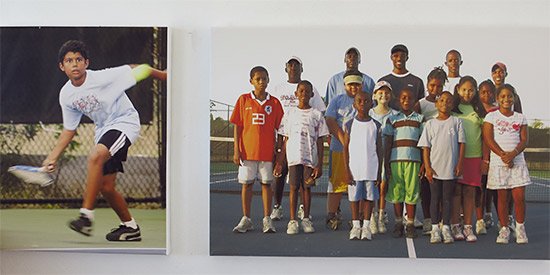 Since its inception, the school's impact has gone above and beyond. Regular tennis players here in Anguilla have been able to secure tennis scholarships to universities on account of the Anguilla Tennis Academy. The Academy really does change lives.
Who is else works hard behind the scenes at the Anguilla Tennis Academy?
Meet Tamisha Richardson. Day-to-day, Tamisha handles it all. On our recent visit to the Academy (where I would put my tennis skills to the test!), she greeted us kindly and showed us around the spectacular building...
Tamisha Richards at Work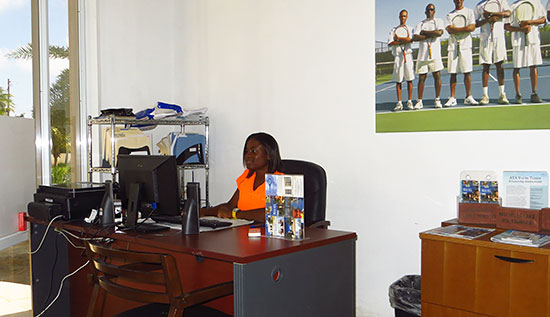 Facilities
Before hitting the courts, Tamisha showed us around the facilities at the Anguilla Tennis Academy, starting with the storage room. Neatly-kept, there are a variety of rackets and balls. They even have one of those machines that shoot out tennis balls for those who want to practice round after round. The facility is also well stocked with bottled water, Gatorade and Vitamin Water. All you have to bring is your tennis-wear! :-)
Neatly Kept Storage Room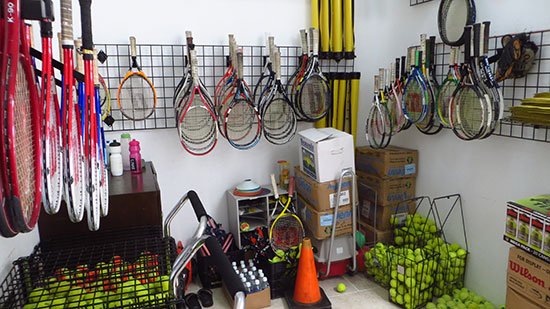 Moving beyond the storage area, Tamisha walked us through the rest of the enormous building. Large, spacious, white with high ceilings and remarkable architecture, the lobby is the perfect spot for unwinding after a game of tennis.
In the Lobby with Tamisha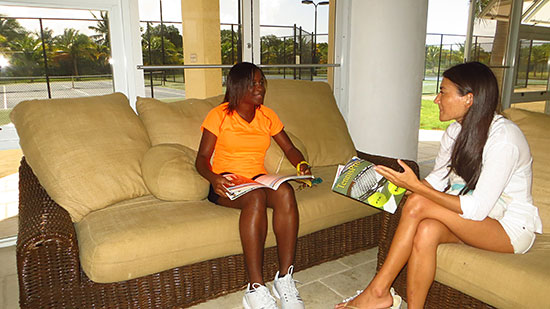 The lobby looks out at the courts and the swaying palms. With the blue sky overhead, and green grass all around, it is a refreshing view.
Naturally, this room is stocked with plenty of tennis literature. ;-)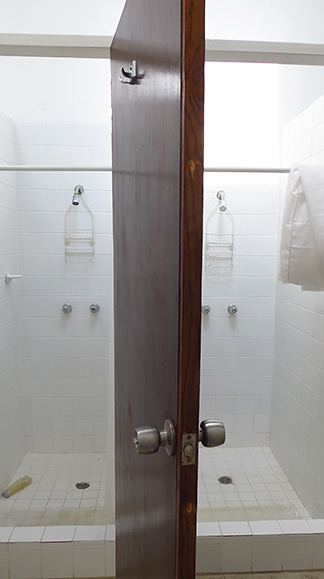 Next up on the tour?
Locker rooms.
The locker rooms are also quite comfortable and large.
Each locker room, for ladies and gentlemen, have private showers.
They are locked off by wooden doors.
Note: You will need these showers. The glaring sun gets hot here in Anguilla when you're on the tennis court!
In the same area, there is an over-sized powder-room type area, and there are toilets.
Everything is nicely kept, very clean and well maintained.
The men's room lays out exactly the same as the women's.
Beyond the lobby and the locker rooms is a large open space...
The Palm Court

This space is open and breezy, with curved architecture and beams overhead, white washed and concrete.
Surrounded by palms, it is aptly named the Palm Court.
It's a delightful use of space!
As we took it all in, Tamisha pointed out some of her favorite parts of the Tennis Academy.
Namely, the white structures that surround the building.
They make quite a nice touch, as they are sort of an abstract interpretation of tennis rackets (see photo below)!
As we walked through, that sweet signature Anguillian aroma surrounded us.
The trades blew gently.
Open to the blue, blue sky, not a rain cloud in sight, it's moments like these that make you realize (if you haven't already!) that Anguilla is so idyllic.
Anguilla's climate is truly well suited for tennis!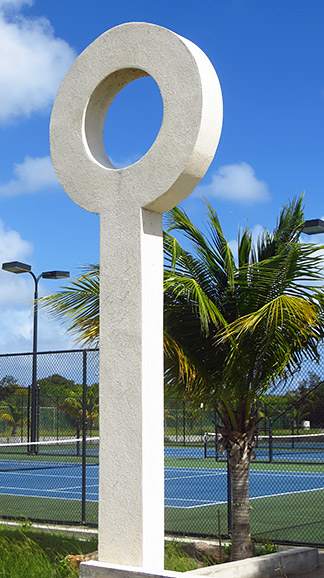 Seeing this building, and knowing what the Anguilla Tennis Academy was when it was established in 1996, really blows you away.
This building was completed in 2008.
... And, there are still renovations to come (including a whole backyard stadium!).
Prior to breaking ground, or even drawing up plans, Mitch held tennis camps at the tennis courts in James Ronald Webster's Park and around the island.
As the Academy grew, they expanded to also manage tennis programs at the island's top resorts, including those of CuisinArt and Viceroy.
It's truly amazing to see how far Mitch's vision has come!
This facility is really the visualization of a vision, dedication and hard, hard work.
Next up on the tour?...
The Academy's Six Courts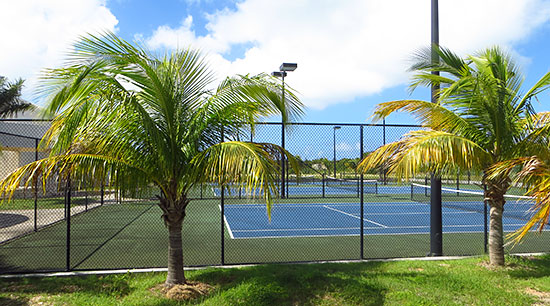 Kept in pristine condition, with palms planted throughout, each of their tennis courts are beautiful. And, they are usually booked up, too.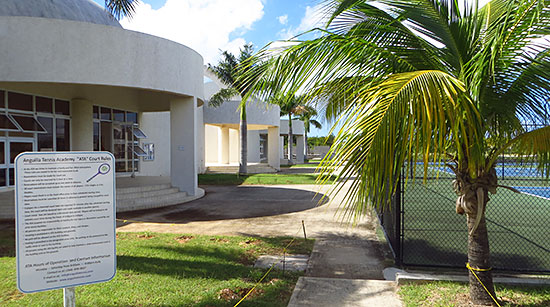 The Academy requires reservations for use of the courts. Courts can be used for 1 hour at a time. They require that you cancel at least 24 hours in advance, if you can't make it.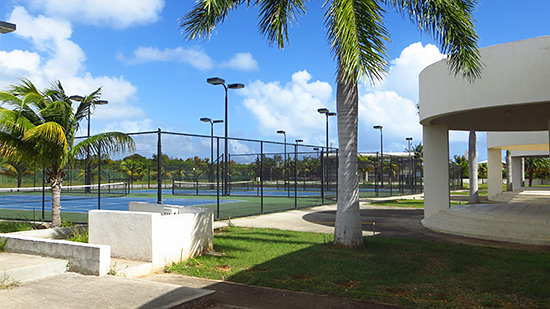 Last, but certainly not least, the facility also has a large basketball court, which you can feel free to use at anytime...
Practice!
Out and on the court, it was time to play...
Today's mission? Hit a ball.
I have not played tennis since sometime before 2000, and I was never good at it. So, Tamisha had her work cut out for her!
"Not to worry," Tamisha started, "you will get the hang of it quickly."
She explained the different techniques, how to hit the ball "front hand" and "back hand," and how to line up my body to anticipate the ball.
I was prepared for the worst! ;-)
Front Hand Technique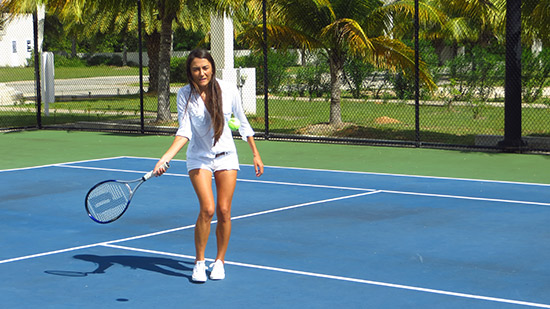 Sure enough, my "skills" (which I never had to begin with!) were rusty. But, Tamisha took is easy on me, lobbing me balls gently until I was able to actually hit a few. Once I was able to get my "front hand" down, we switched to working the "back hand" technique...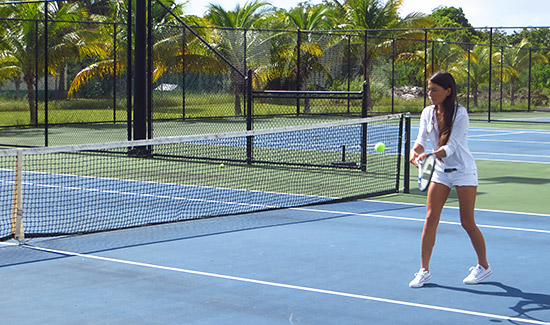 The back hand technique was quite different. With Tamisha's instruction to hold the racket in two hands, it became easy fast. I was amazed at how well that technique worked!
After hitting a few balls, we tried to have a little match back and forth. With so much experience under her belt, I was not keeping up at all. But, when I did bounce a ball back to her, it certainly felt rewarding.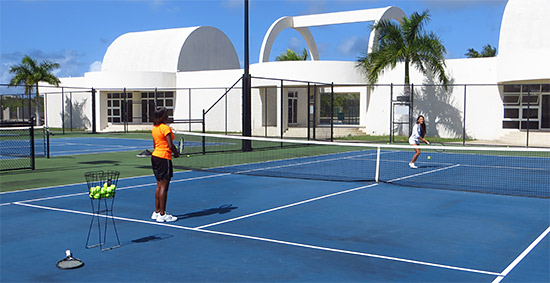 Watching me hit a few balls with Tamisha, my Dad impatiently said, "my turn!"
Far better than me, he made a much worthier partner, lobbing the ball back and forth. I watched, jealous, not able to do this kind of sport... yet.
Sweaty and hot, it was time to call it a day.
Thank YOU, Tamisha for your time and most of all, your patience! :-)
Services
So, what do they offer at the Anguilla Tennis Academy?
In addition to booking court time, the Anguilla Tennis Academy offers...
Annual family memberships, individual memberships, villa memberships
Private lessons, semi-private lessons, clinics, hitting partners
After school programs and summer programs
For full details and latest rates (which are very affordable!) see contact info below...
More on Anguilla Tennis Academy
Tel.: 264-498-0697 / 264-476-6122 / 718-285-7937
Email: info@anguillatennis.com
Website: Click here