Mermaid School International...
Slip on a Tail & Dive into Life as a Mermaid!
Update 2018: Mermaid School has closed.
By: Louise Fayet
Louise Fayet is Anguilla-Beaches.com's Summer 2016 intern from Albena Lake Hodge Comprehensive school. Here, Louise takes us under the sea with a NEW Anguilla activity... Mermaid School International!
Just when you thought you had seen it all, it is now possible to live the underwater dream in Anguilla... diving through Anguilla's crystal clear waters like a real life mermaid. All you have to do is join up with the Mermaid School International and slip on your tail!
Real Life Anguilla Mermaids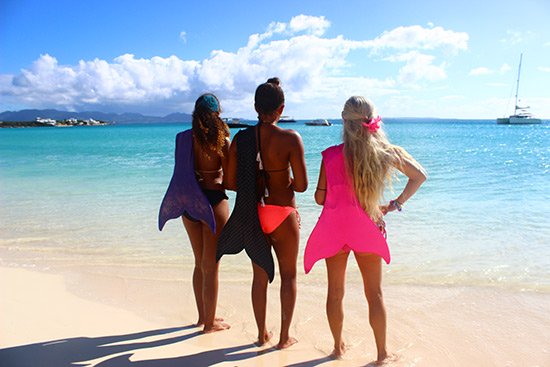 Meet Your Mermaid Instructor, Estelle Arlaud
The Mermaid School International was established in 2016 by Estelle Arlaud, your mermaid instructor. You could say that Estelle has been preparing for this her whole life.
Estelle Arlaud was born in Lyon, France and raised on the Mediterranean coast in St. Tropez where she developed a passion for the ocean. When she was 13, she moved to St. Martin. Throughout her 20s and 30s Estelle worked as a chef, a snorkel guide, a scuba diving instructor and even an underwater model. Her work took her from her home in St. Martin to Goa, Belize and even Thailand.
Estelle Arlaud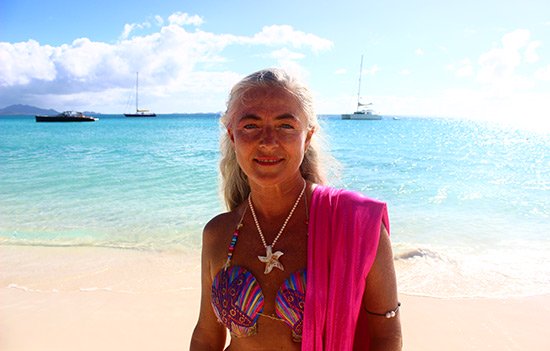 Throughout the years Estelle sure has traveled most of the world and has become known as a mermaid (since she is often found in the ocean!). Her love and admiration for the sea, and her years of working in and around the ocean inspired her to open and run her dream Mermaid School in her true home today - Anguilla.
Mermaids in Sandy Ground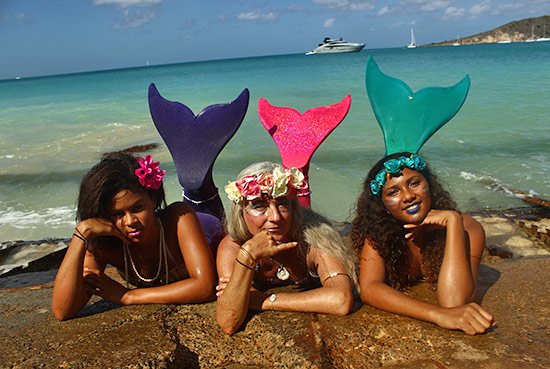 The school is based in Anguilla almost year-round, but Estelle also brings her passion for the sea and for mermaids to the islands of St. Martin and St. Barth, and in the summer to the Hamptons and France.
So, what's the Mermaid School International all about? Sharing Estelle's passion...
The Anguilla Mermaid Experience
First things first, Estelle gets you set up with a mermaid tail of your own.
Mermaid Tails


My color of choice? A shiny purple! But, any color works ;-)
A Note On Mermaid Costumes
If you want to get into full mermaid character, Estelle creates her own intricate mermaid accessories...
Intricate Mermaid Costumes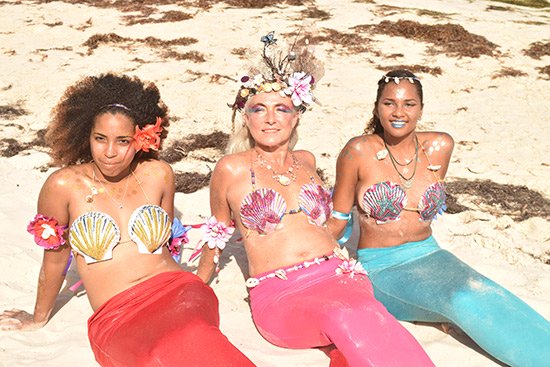 Painted mermaid tops, hand crafted head pieces, hand bands, necklaces and bracelets, and she offers face painting and temporary tattoos to further transform you into a real life mermaid.
Then, it's time to get in the water. I highly recommend that you go into the water before putting the tail on. Once in the water, slide your feet inside the monofin (the green fabric goes around your feet - see photo above). Feet together inside the fin, then roll the tail upwards. It feels like a glove for your feet and legs. Your two legs are transformed into a tail!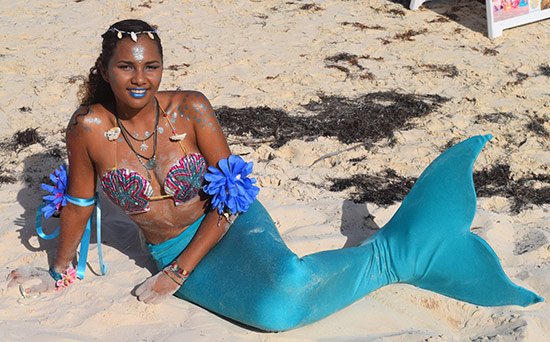 Naturally, Estelle is there to assist if you have any trouble.
The feeling takes some getting used to, but after a couple of minutes you forget that you had two legs and you begin to feel like a true Little Mermaid.
Floating on the Sea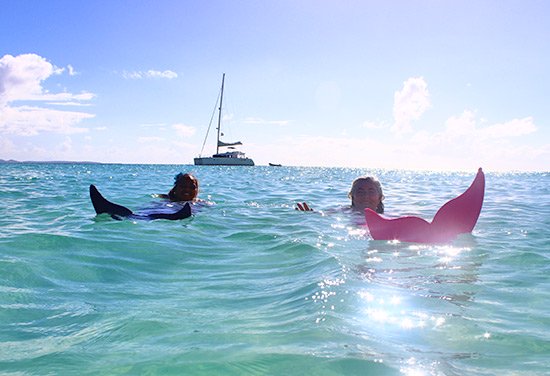 Once suited up, Estelle and her fellow mermaids take you out into the water to teach you mermaid swimming skills. The key is to move your body like a dolphin. Once you get that basic motion, the rest comes easy.
Estelle and her team then reveal more mermaid tricks... how to do front flips, back flips and splashes with your tail.
Splash, Splash, Splash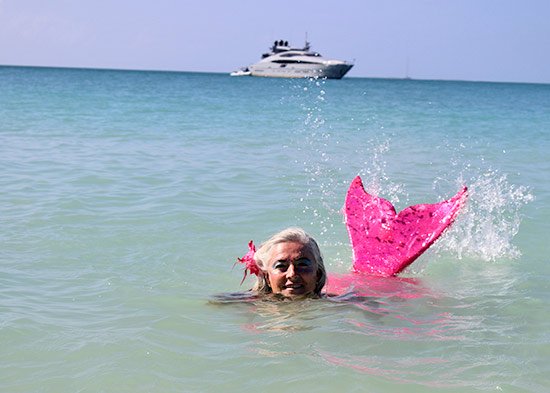 After splishing and splashing? It's time to explore the reefs, AKA your mermaid home. Estelle has plenty of masks and snorkels and guides you through reefs alive with stunning sea life.
A safe way to enjoy the water, it makes for a fun afternoon for kids of all ages!
Contact & More Information
Estelle offers classes at various beaches and hotels on a regular schedule. She offers a programs for kids every Tuesday (half or full day - with 2 camps) and can be found at Gwen's every Sunday.
You can also contact her directly for a private lesson. And, she can be hired her for events including birthday parties, weddings and photoshoots.
Telephone: 264-235-0467
Email: themermaidchef@hotmail.com
Website: Click here.