Shoal Bay Scuba...

For Snorkelers & Beach Lovers
If there is a man with a passion for the water that is as pure and deep as the sea itself, it is Shoal Bay Scuba's Matthew Billington. A man so at home in the blue, he should have been born with gills. Originally from the UK, "I came for a month and stayed 26 years," Matthew tells me with a smile one afternoon as we sit salty after a day at sea on his dive boat, Lady Lou.
Shoal Bay Scuba's Sweet Lady Lou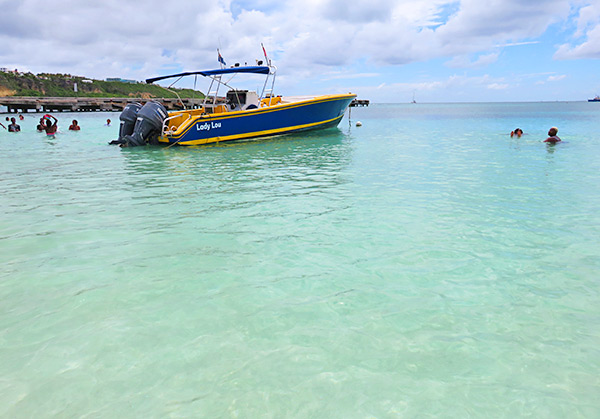 Every now and then Matthew and I chat diving and Anguilla's underwater beauty. I have always shied away from learning to dive. Something about the dark unknown that lies in the ocean's depths sends a chill down my spine. "What about snorkeling?" Matthew would suggest. "I'm a bit of a nervous snorkeler, too," I always laugh.
Offering top-rate Anguilla diving excursions, Matthew and his Shoal Bay Scuba crew know the reefs like the back of their hands. That knowledge and passion translates into excellent tours of all kinds, including snorkeling and offshore cay exploration.
Setting Out From Sandy Ground on Lady Lou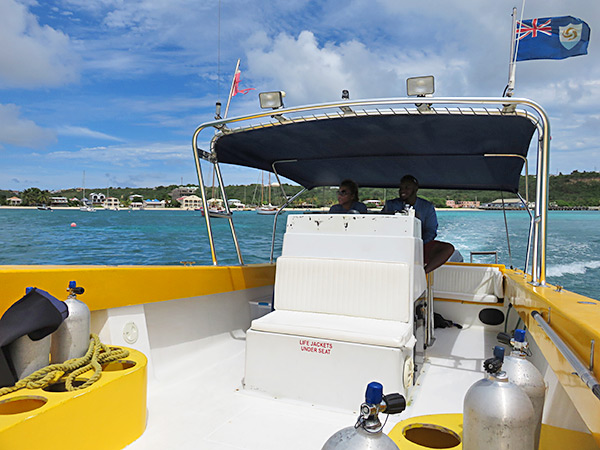 If you are traveling with your family or if you are a nervous snorkeler, there is no safer crew on the water. Shoal Bay Scuba doesn't take children under the age of 2, women who are more than 5 months pregnant and there's no drinking and diving or snorkeling allowed. Safety is a priority and the crew's judgement is unwaveringly clear. You are in safe hands with Shoal Bay Scuba.
That priority on safety calmed my nerves as we set off from Sandy Ground one day to the mysterious and somewhat infamous...
Remote Desert Island, Dog Island
Rapid, strong currents, high waves and a healthy population of sharks mark the waters that surround the rarely visited Dog Island. "That's why we only take experienced divers here," Matthew explained as we plotted the day's course. If you're looking for pleasant in-shore snorkeling, you won't find much of it at Dog Island.
For the adventure and what is arguably Anguilla's most breathtaking beach, though, it is worth the journey.
Approaching Dog Island From Its South Side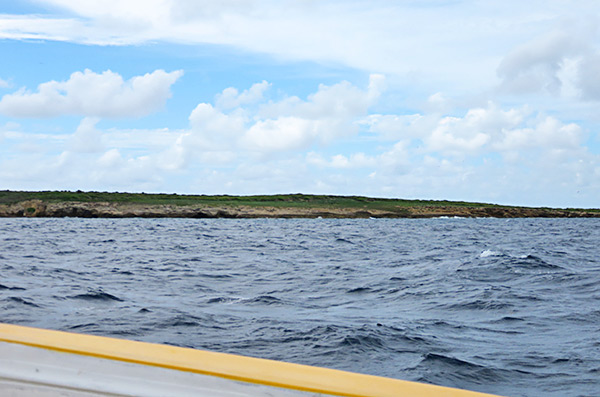 With the exception of Sombrero, Dog Island is Anguilla's furthest out offshore cay. It is 12 miles from Sandy Ground, set just beyond Prickly Pear. As you pass Prickly Pear, the water roughens and the sea deepens, turning a dark shade of blue. Lush green hillside lines the strip of rock as you make the approach from the island's south side.
Captain Najee rounded the island's southwestern corner and like night turning day, this majestic view immediately lay before us...
Arriving at Dog Island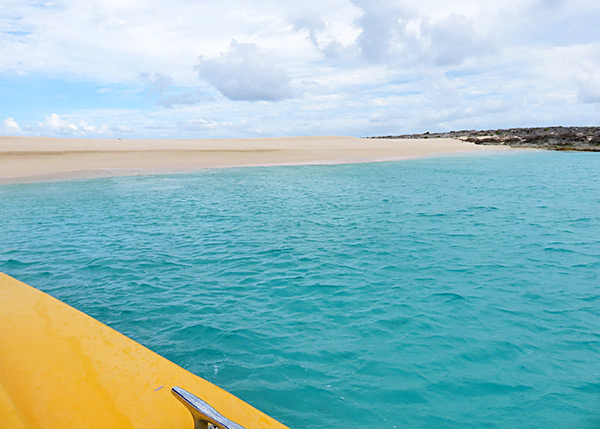 Rich green land fades to light grey volcanic rock, dark blue sea turns to an almost icy, electric azure and high banks of endless white sand stretch for as far as the eye can see.
Dog Island's main beach is perhaps the most fascinating stretch of sand I have seen yet in Anguilla. All light blue water and white sand, the starkness of the colors is almost surreal.
In rough weather, boats cannot come in-shore. You can tell that these shorelines take a heavy beating from the waves. The drop off from the beach's sand to the water's edge is dramatic.
There on a calmer day (for Dog Island), we hopped off as Captain Najee and First Mate Pinky secured the boat. Professionals of the highest level, they have been diving for over 12 years clocking a fair number of hours at Dog Island.
A strange feeling of total isolation overwhelms as you as you walk the sand, backing away from the boat...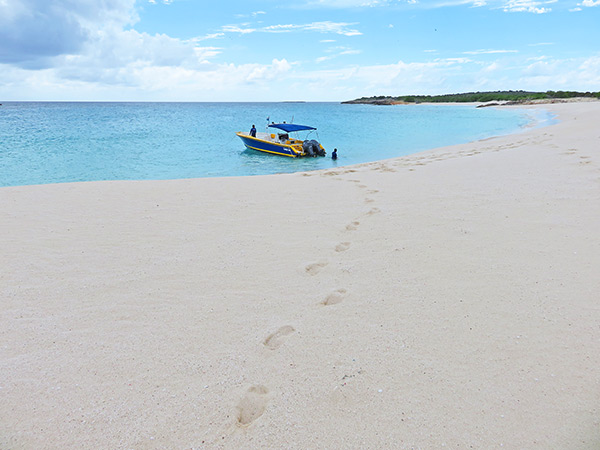 Retreating further...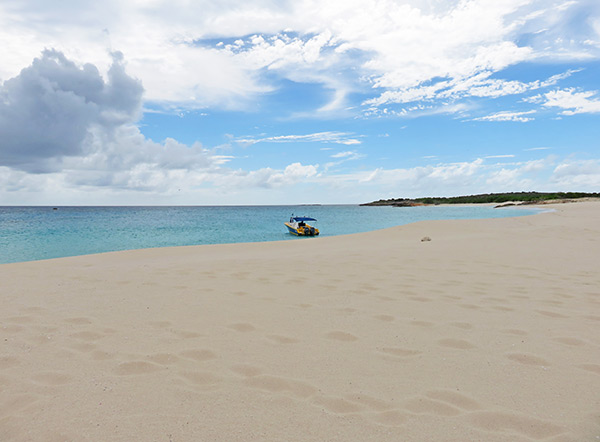 And further...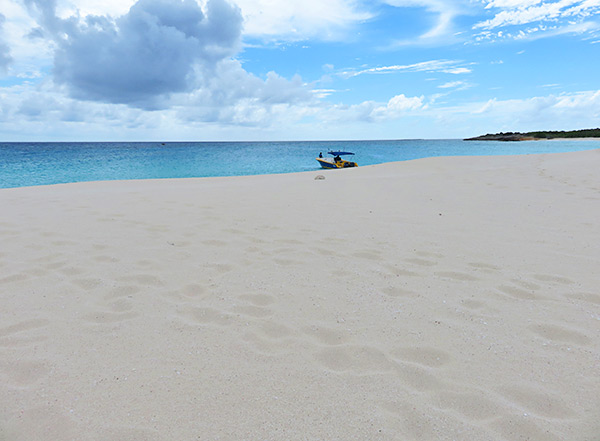 Until the boat disappears from view and the sea appears like a mirage in the distance.
About 510 acres (Wikipedia) in size, you won't find anything here except a small collection of pristine and empty beaches and one of Anguilla's healthiest nesting areas. More on Dog Island's bird colonies here.
With nothing but the birds' calls overhead and hundreds of feet of sand in all directions, a walk on Dog is all you need to remind you that Anguilla is in fact a desert island.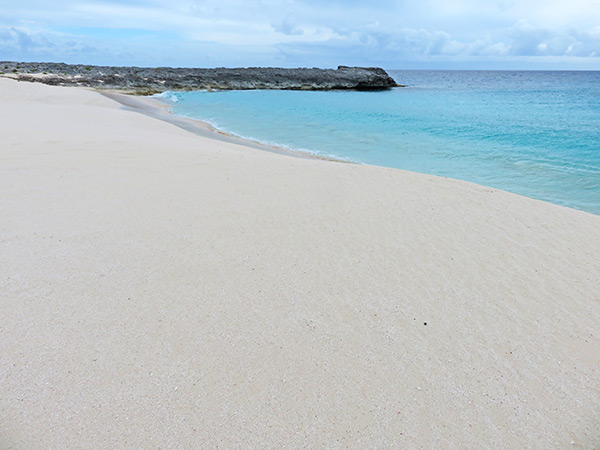 After indulging in that blue view, it was back to the boat...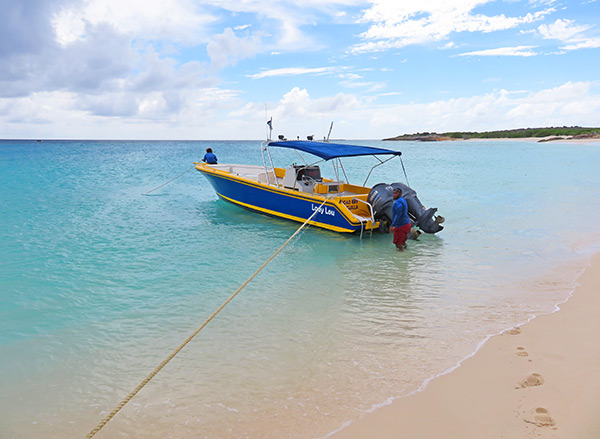 Little did I know, the sea was about to get hazardously rough. Matthew had explained that the waters to the north of Dog Island are some of the wildest in Anguilla, reaching as high as 20'. "If it's a big day, we won't go," Matthew promised.
As Lady Lou rounded the island's north side, Matthew's words came to life. Captain Najee moved us to the back of the boat, securing all belongings in the boat's central compartment. We were in for a wild ride.
"We wouldn't go if it wasn't safe," were the words I kept thinking as the boat climbed up and down and skipped along the capping waves. My shrieks and screams didn't rattle Captain Najee who navigated the waves like a seasoned professional, even cutting the engine and stalling the boat to time it with oncoming swells.
This is as close as you get to a roller coaster ride in Anguilla, and dare I add, this "real life theme park" is far more exhilarating!
Picture-Perfect Prickly Pear
Soon calm water came into view as we pulled into idyllic Prickly Pear. It's hard to believe the difference a couple of miles can make.
Perfectly tranquil, Captain Najee and First Mate Pinky backed the boat onto Prickly Pear's beach...
Welcome to Prickly Pear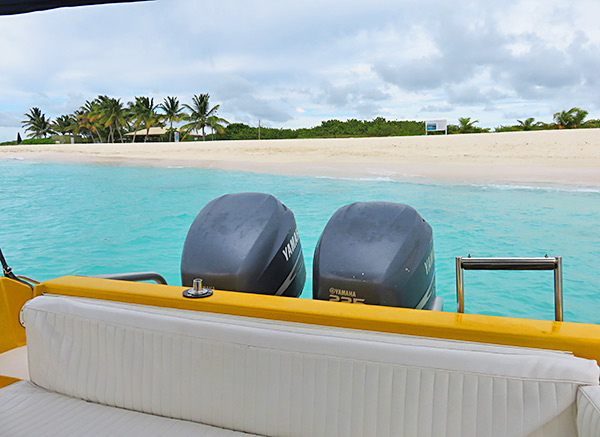 Anguilla's iconic Prickly Pear point, complete with gently swaying palm trees, is a scene straight off of a postcard. Its effect? Instant relaxation.
Prickly Pear's Palm Tree Point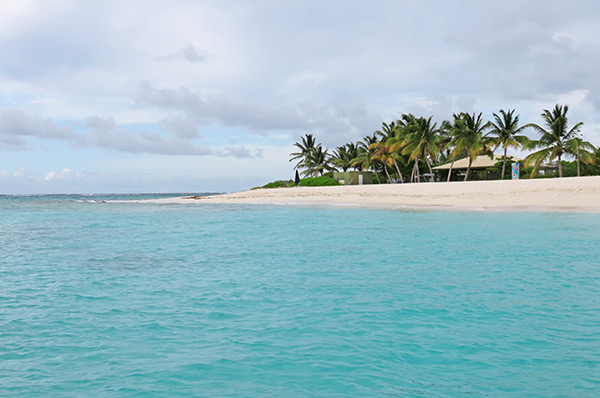 Contrary to popular belief, Prickly Pear isn't a snorkeling haven. Matthew's words rang true here again. We didn't see many fish, but we did see one fish, the most exciting fish I have ever seen...
Baby Shark at Prickly Pear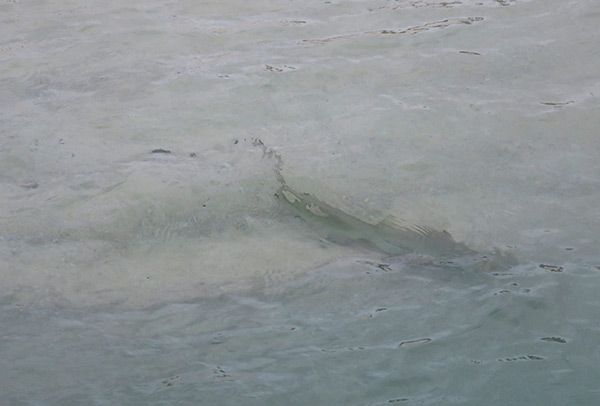 "A young lemon," Captain Najee said as the baby shark danced in the surf. Never have I ever seen a shark in Anguilla. I grabbed my camera as quick as I could, mesmerized by the beautiful juvenile shark. An exhilarating moment after an exciting Dog Island water ride, "what next?" I wondered.
Snorkeling Paradise, Little Bay
The sun riding low in the sky, there was time for just one more stop... the best of the three for snorkeling, Little Bay and Pelican Bay.
There must have been something in the sea that day. It could have been our later arrival (4pm) when there are less boats in the water and when the fish are more active. I like to think, though, it was the Shoal Bay Scuba effect. ;-)
Having been to Little Bay on several occasions, I was in awe, surprised by the number of fish spotted. From the moment I jumped in, what looked like a fair sized juvenile Striped Parrotfish was feeding on the the sea's floor.
Juvenile Striped Parrotfish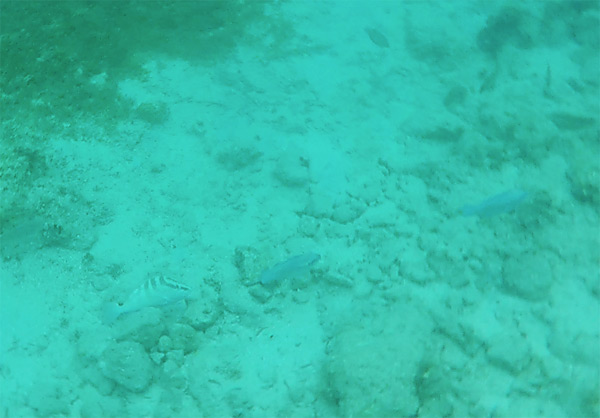 Beyond the grassy bottom of the middle of the bay, clouds of striped yellow Grunts came into sight.
Blue Paradise

Then Sergeant Majors, Blue Tangs and what looked like an Angelfish, marked by its royal blue edge.
Blue Tang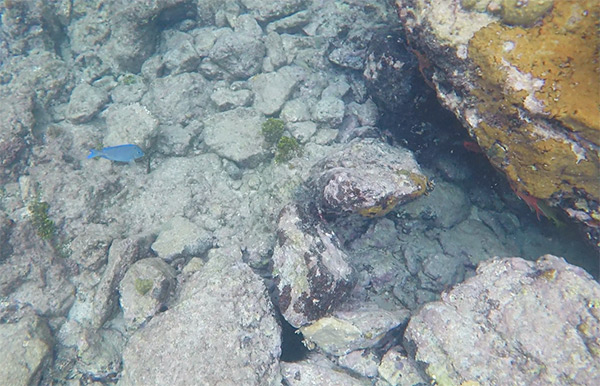 Angelfish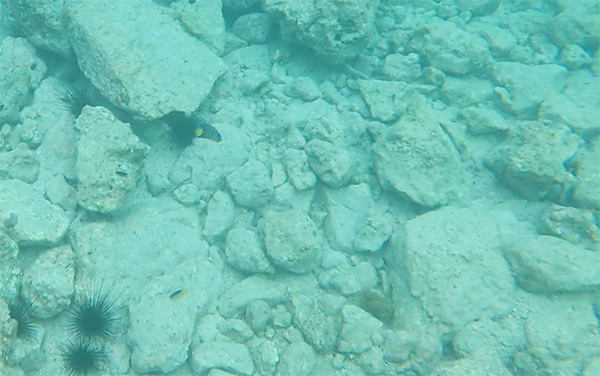 I dove down, abandoning the snorkel in an attempt to get as close as possible.
Yellow Grunts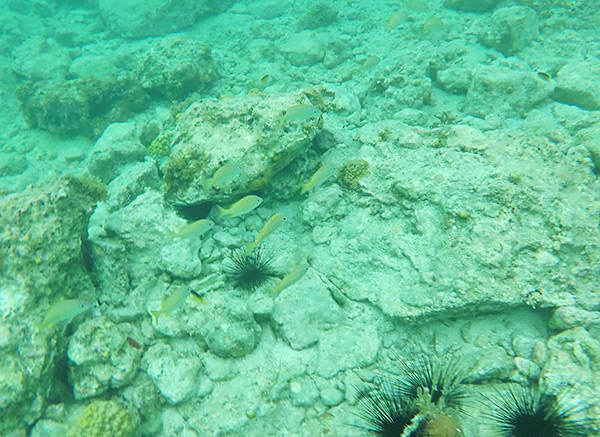 I am normally a bit of a nervous snorkeler, but that day at Little Bay was especially serene. Perhaps it was the adrenaline wearing off after a day on the high sea and a first shark encounter, or perhaps it was simply the captivating beauty of the colorful fish contrasted against Little Bay's defining cliff edges.
After swimming among the peaceful schools of fish, I took Captain Najee's advice to swim along the cliffs to see more.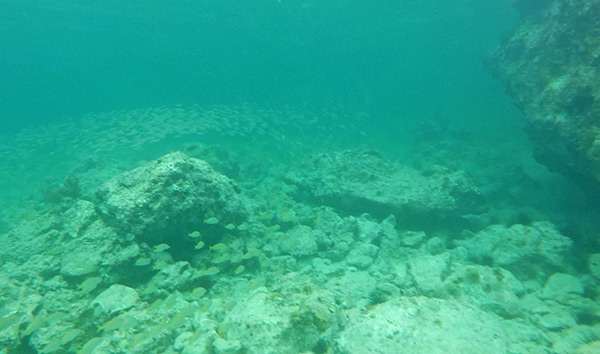 True to Captain Najee's words, the cliffs brought a colorful beauty into sight...
Magical Parrot Fish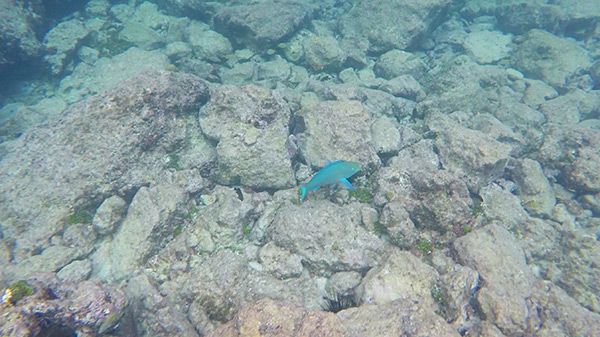 Like something out of an exotic aquarium, I thought of my uncle who was passionate about his rare collection.
Parrot Fish Closer Up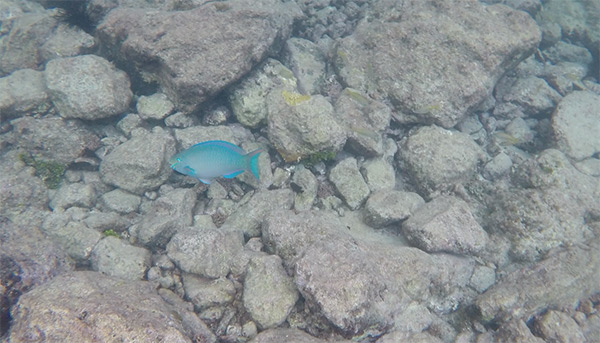 It felt like swimming in a fish tank of the largest kind.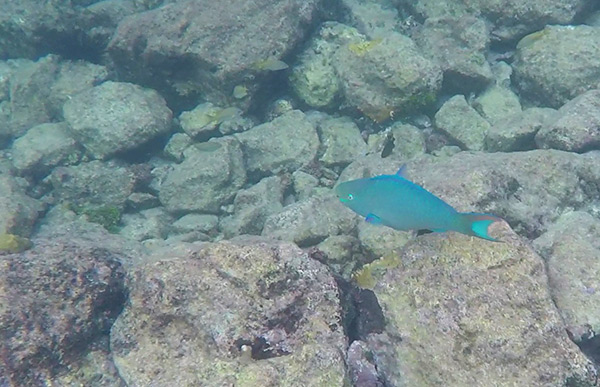 Hypnotized by its colors, I dove down to follow her as she swam up to smaller fish and navigated the sea fans.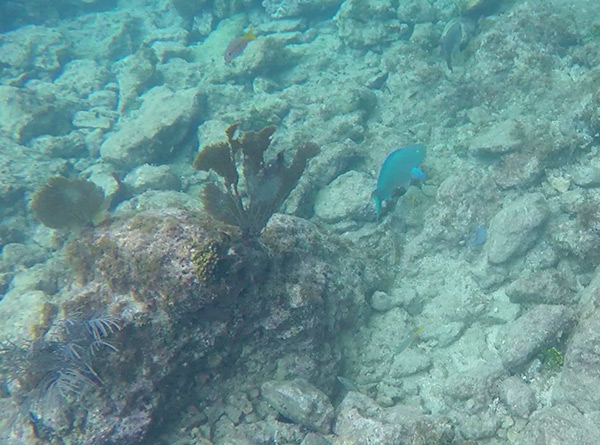 She let me follow her for some time before making a quick right, darting into a small cave in the cliff's side.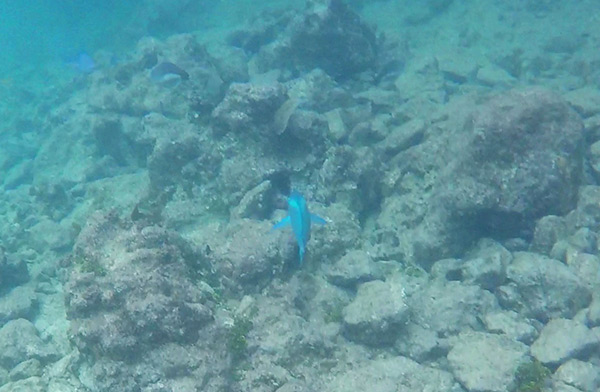 A sweet way to end an eventful day on the water. Snorkel gear off and the sun lower yet, Pelican Bay is on the list for next time.
As we made the gentle cruise back to Sandy Ground, a strange realization came over me. Not tired but out of breath from the repeated diving down to get a closer view, "I need oxygen under water," I thought. Somehow, after one day on the water with Matthew's crew and the wheels were turning, "Is it time to learn to dive?"
While I muster the courage, one thing is for sure. Matthew, Najee and Pinky are A+ guides for excellent snorkeling charters and days on the cays. Be warned, though. Their passion, their knowledge and the safe environment may convince you to learn to scuba dive!
With Matthew & Najee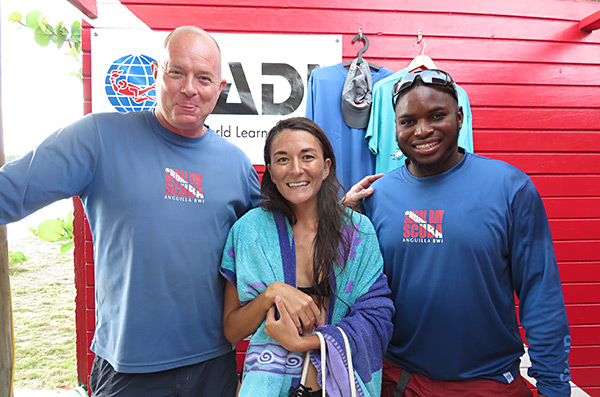 For the most immersive snorkeling experience that puts you in touch with the best of Anguilla's natural beauty, Matthew is the man to call.