Welcome to Anguilla's Favorite Salon...
Nails R Hair
Nails R Hair At A Glance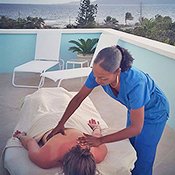 With a devoted local following, Nails R Hair has grown to be Anguilla's #1 beauty salon.
From detailed braids, to soothing pedicures, the warm-spirited team at Nails R Hair offers it all...
... and it's all available in your villa, too!
Owner Lisa Webster has brought affordable and quality beauty care to Anguilla.
More on Nails R Hair, below...
If you are in the know, there is only one place to go to spice up your style in Anguilla...
Nails R Hair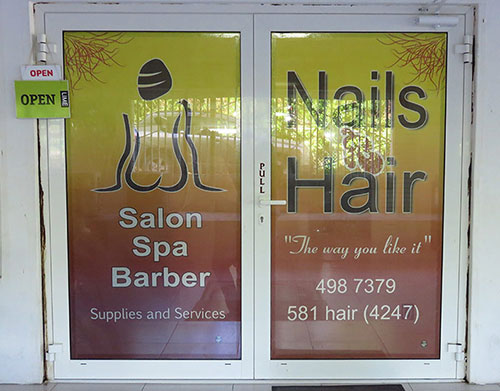 Set on the lower level of the Mason Complex in the heart of the island's capital, The Valley, Nails R Hair's setting couldn't be more unassuming. Through those doors (photo above) lies a hopping beauty center.
Step Inside Nails R Hair
Meet Lisa Webster

Referred to as Nails or Hair (or simply Lisa's, if you are a regular), it is owned by a woman our family has known for a long time, Lisa Webster.
Lisa is a popular villa manager in Anguilla.
If you know Lisa, you know she takes her hair and nails very seriously.
This is her passion!
... and it's her all-star team's passion, too!
From the moment you step inside, you are greeted by the warmest, happiest souls in Anguilla. All smiles and laughs and armed with a light-hearted spirit, Lisa's team makes the experience fun.
Lisa's A+ Team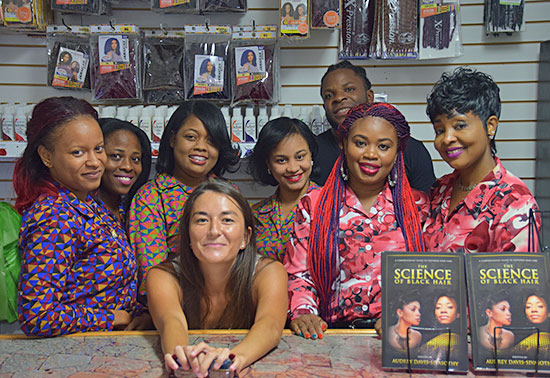 It is easy to see what keeps their loyal local following coming back!
Nails R Hair's Signature Treatments

Naturally, Lisa's team isn't just friendly and down to earth. Each person on Lisa's talented team has a different area of beauty expertise, including...
Manicures & pedicures
Acrylics
Facials
Massages
Waxing
Braids
Hair cuts & coloring
Click here for the full list of services.
Manicures & Pedicures
On a recent visit, I went with a pedicure...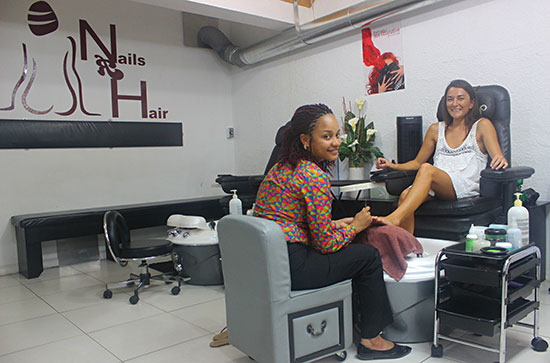 Anna takes good care of you as you sink into the plush leather massage chair. She strikes a soothingly-warm temperature and then on come the jets. Professional and kind, ask for Anna.
After a thorough scrub and scrape, it's time for the polish.
Infinite Polishes at Nails R Hair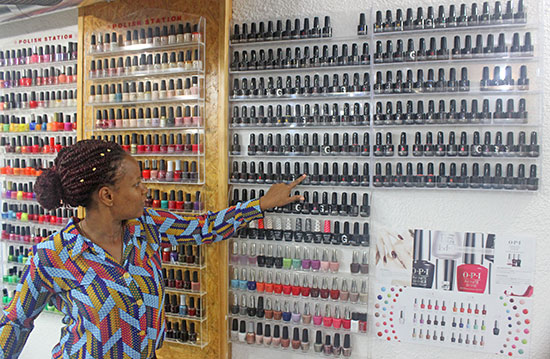 The selection is seemingly infinite! Dark colors, vibrant hues, barely-there tones, gel fill-ins and quality brands, including OPI. Lisa offers it all.
For only $45, it's an excellent deal.
As far as nails go? Your imagination is the limit!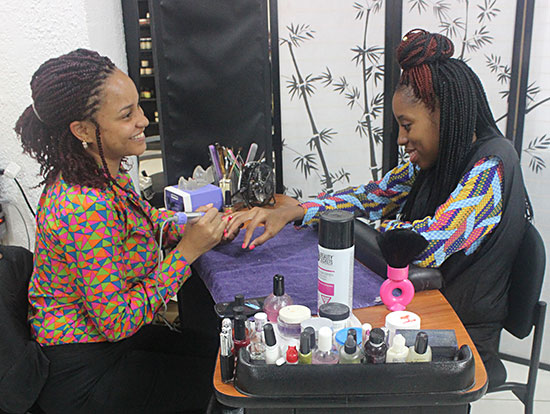 Basic manicures ($25), gel fill-ins and French manicures, full sets of acrylics ($35). And when it comes to acrylics? No style is impossible. The more colorful, the better. The more intricate, the better. They even do spray-on designs.
Soothing Massages
Quiet, private and tucked away at the back of the salon is the massage room.
The Massage Room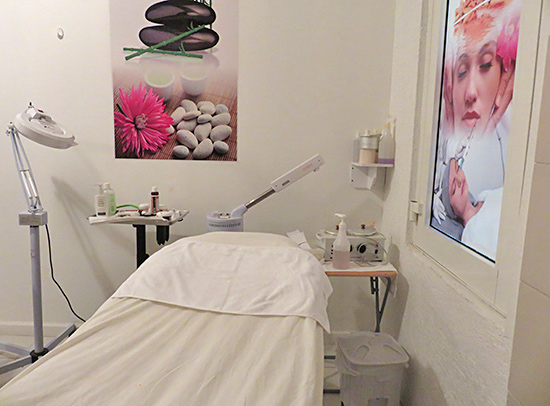 Nails R Hair's masseuse, Amo works out all of the knots in your back with her strong hands. A gentle character, Amo is kind and calm. She sets a relaxing tone.
For those seeking a calming escape at a reasonable rate, this is it.
(Waxings and facials are also offered in this room.)
Hair Treatments & Braids
Last, but certainly not least... when it comes to hair styles, Nails R Hair is known island-wide for their creations.
Working Magic!

When my sister and I were younger (and even today), "braids" were always on our brains. Unlike other Caribbean islands, corn row services are rarely offered on the beach in Anguilla. Where do you go instead? You guessed it...
Professional and creative, Lisa's girls offer braids and designs of all kinds (corn rows, weaves, etc.). The photos below show two of my favorite styles.
Trendy Side Braids

A Full Weave in a Funky Bun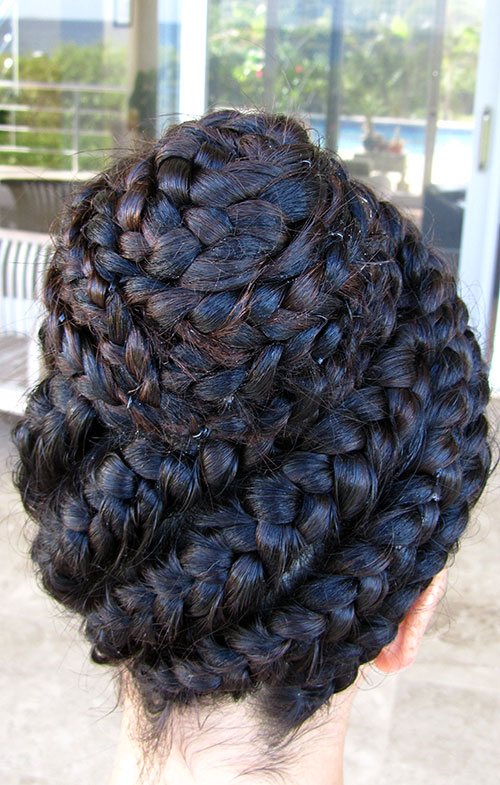 Be warned: A full weave is not for the faint of heart! Attention-grabbing and undeniably unique, these braids can take a couple of hours to put in place. Once they are in? They sure catch the eye.
In addition to classically Caribbean braids, Nails R Hair offers highlights, extensions, wash-and-rinse, flat iron / hot curling, dye jobs, trimmings and a barber for the men.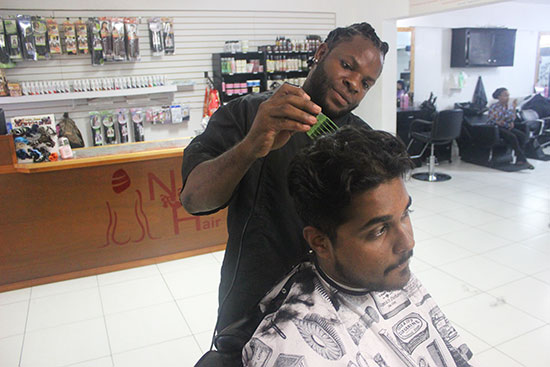 Nail R Hair Comes To You
Beyond the walls of the salon, all of Nails R Hair's services are available in the comfort of your villa.
Our pick? The pedicure...
In-Villa Pedicure (Complete with Jet Foot Tub!)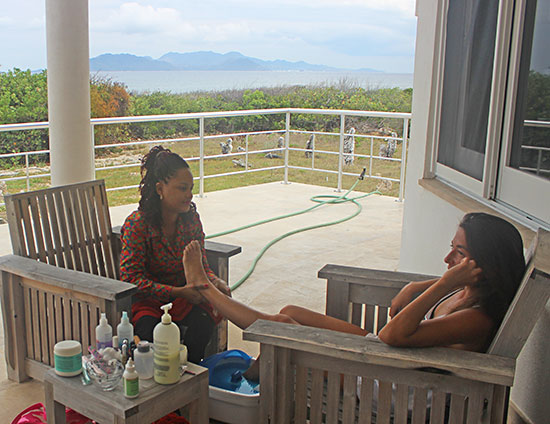 Anna arrives complete with her jet foot tub. After a few minutes of setting the temperature and preparing her lotions and oils, you are set for a half hour of relaxation, completely undisturbed.
Tip: Anna brings a selection of nail polish colors with her. If there is a specific color you would prefer, just request it ahead of time.
A special treat, I highly recommend this as a way to completely de-stress in privacy. Or, as a way to unwind if traveling with friends or extended family.
Braids, manicures and even massages...
Ahhhhh...
Now This is the Ultimate in Relaxation!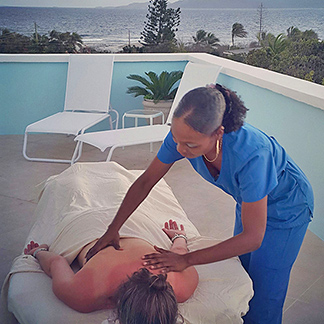 ... can also be arranged in your villa.
From their hopping salon, to private villa calm, Nails R Hair delivers a quality service at a reasonable price!
Map, Hours & Contact
Directions: At the Mason Complex, next to Lake's Wholesale Supermarket.
Hours: Open from 8:30am-6:30pm
Tel: 264-498-7379 / 581-4247