S'Mores at Malliouhana...

Sweet Childhood Dreams Are Made of These!
S'Mores are not currently available at Malliouhana. This page will be updated if/when they become available again.
High on a bluff overlooking the turquoise sea, Malliouhana's setting is enchanting.
Secret coves lie below, hidden between cliff-sides. From above, the dazzling ocean views take your breath away. It is an intimate property that has forever been synonymous with quiet, calm and classic Caribbean luxury.
Malliouhana's Bonfire View of Meads Bay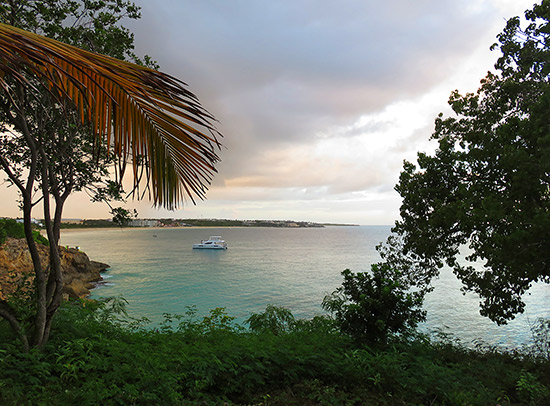 That in mind, it is not the first spot you think of when you hear the word "bonfire." No, bonfires at Malliouhana are far from the "beach bonfires" that we have all gathered around on many a summer night.
Replace on-the-beach with sea view. Subtract sand on sticky skin and add elegance and calm. That is the setting for a bonfire at Malliouhana.
The S'Mores Setting

Malliouhana's bonfire sits on the perch that separates Meads Bay from Long Bay. Surrounded by palm trees and a few steps down to a secret beach, they have carved out a tropical bonfire escape.
The Bonfire Begins!

You enter the circle of palm trees and are whisked into another world. The smell and sound of wood crackling, the palms swaying around you and with a window to Meads Bay, it is almost surreal.
We arrived and watched the fire catch as the sun began to sink low in the sky. When the fire was ready? It was time!...
Bring Out the Marshmallows!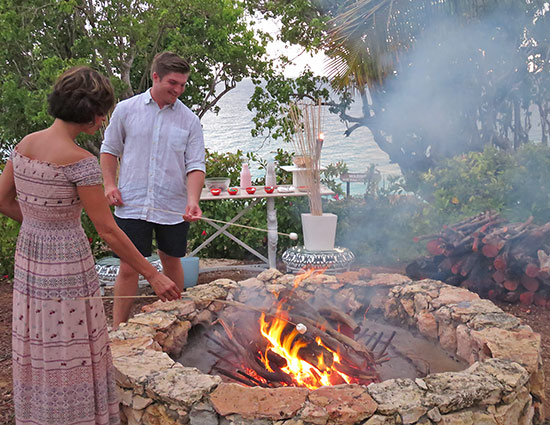 A whimsical feeling washes over you as you pop your marshmallow (or 3!) onto a long, fine pointed stick.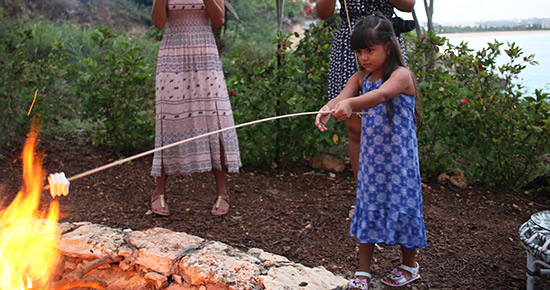 "How many years has it been since I've done this?" I laughed with my friend Kirmani as we roasted our sweet treats. "I must have been her age!" (See photo above.)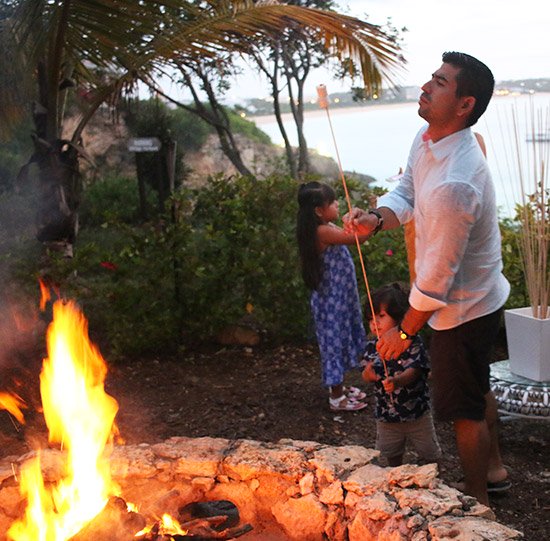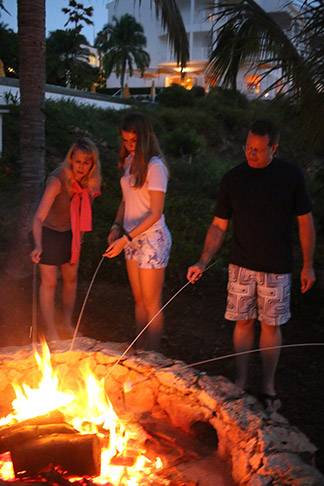 I wasn't alone in that light-hearted, jovial feeling.
Husbands and wives...
Fathers and sons...
Mothers and daughters...
Sisters and brothers...
Everyone was swept up in the moment.
As the marshmallows browned, we really started to get into it.
"Who can cook the ideal marshmallow" was the name of the game!
As we all know, roasting marshmallows is about finding that perfect balance.
Under-cooked, hard and cold won't do.
But, don't roast too long, or a crispy fate awaits your marshmallow...
Our Friend Louise Lost This Round of The Game!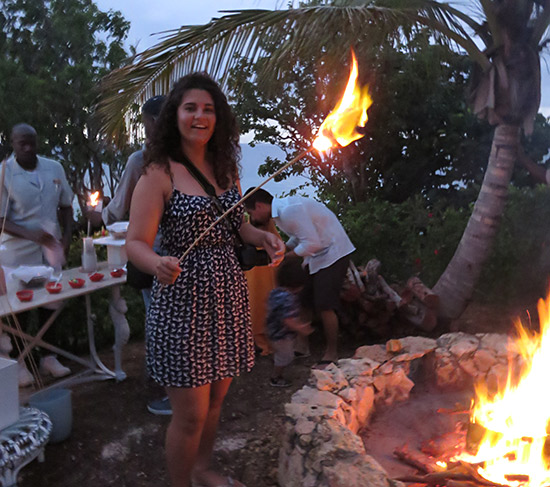 Striking that "slightly-charred on the outside" and "gooey on the inside" in-between is key!
Gourmet S'Mores & Sam's Fresh Fruit Smoothies
Once the balance is struck?
S'More "Accoutrements"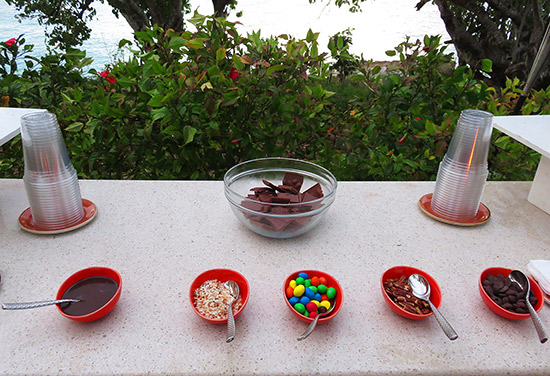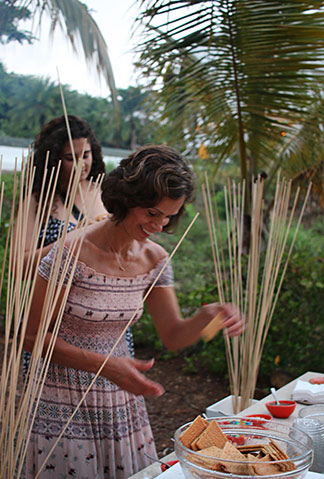 It's time to turn that marshmallow into a gourmet s'more, Malliouhana-style!
S'more "accoutrements" (Ha! Ha!) start with slabs of dark chocolate and Graham crackers (naturally).
It doesn't end there, though.
Fresh-grated coconut...
M&Ms...
Pecans...
Chocolate buttons...
Chocolate sauce...
It is a decadent, sweet heaven!
S'Mores in the Making

The best part for those of us who take our s'mores seriously?
Malliouhana carries s'more-friendly marshmallows. They offer the classic, puffy marshmallow (for the traditionalists, I suppose!), and they also have a marshmallow that none of us had seen before.
Flattened, these square marshmallows slide perfectly between two Graham crackers and a slab of chocolate. It's a tiny detail, but for anyone who knows "the struggle" of handling those cylindrical, puffy marshmallows, it is a significant one. ;-)
S'More Ready!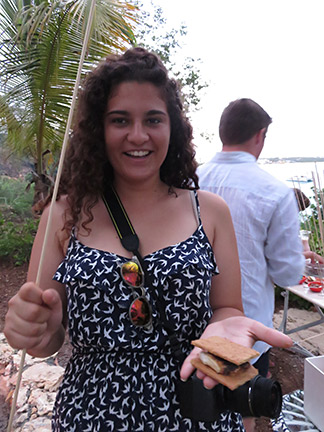 Gourmet s'more assembled and devoured, the night gets evening sweeter. Wash it all down with Sam's fresh fruit smoothies...
Sam & His Sweet Smoothies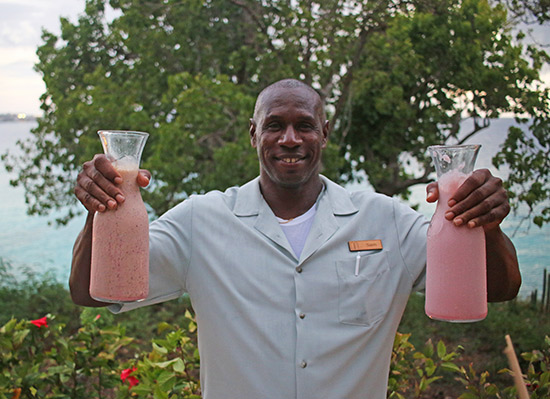 "S'More, Please!"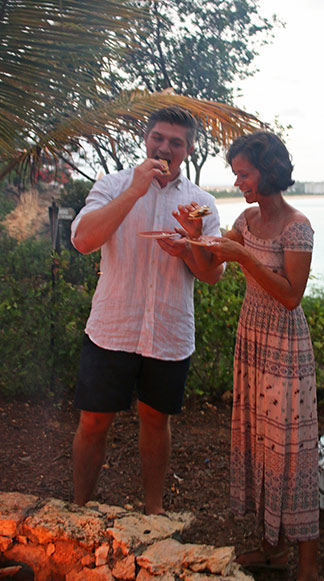 S'more and smoothie polished off, what next?
Do it all again.
And, everyone did!
There was a certain spirit in the air that night...
Was it the rush of sugar?
The mesmerizing fire, blazing in the night sky?
Was it the setting?...
The stars above, the sea below and the lights of Meads Bay dancing in the distance?
Or, perhaps it was because it brought out the kid in us.
Somehow the novelty of it stirred up thoughts of childhood days, tickling a warm spot in our memory.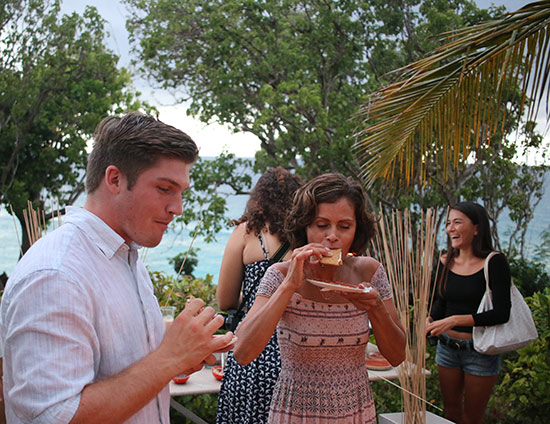 Whatever the reason, a buzz of happiness surrounded the campfire that night...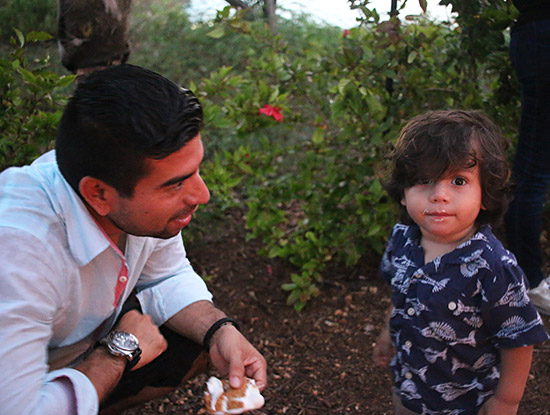 Contagious and infectious, we were all beaming!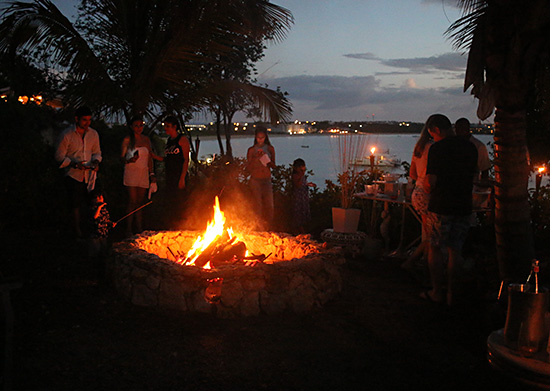 Good Night From Malliouhana
Before the night came to a close and we all said our good-bye's, Sam came over, prepared with lemon-chilled towels to refresh before sending us off into the night.
Chilled Towels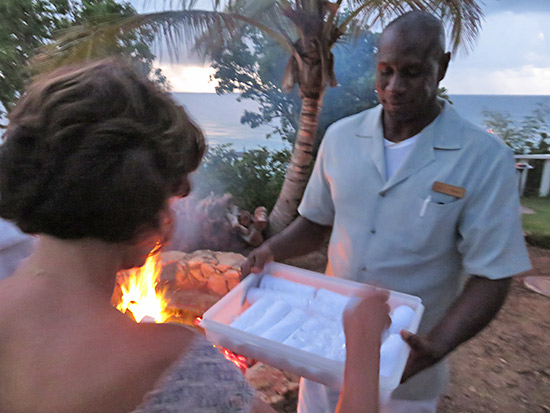 A final thoughtful touch on a flawless evening!
Good Night From Malliouhana

From the setting, to the gourmet s'mores, to even the chilled towels, Malliouhana delivers yet another unique and elegant way to enjoy a Caribbean evening.
S'Mores at Malliouhana can be booked for $50/person (min. 2 people). 24 hour advance notice is required. To book, call: 264-497-6111.
*S'Mores at Malliouhana is on the Anguilla Card. Use your Card and save 10% on your evening of s'mores! More on the Anguilla Card here.*