Anguilla Gyms & Fitness Centers
The good food, the long afternoons in the sun, the rum punches... staying in shape while on an Anguilla vacation can sure be a bit of a challenge. ;-)
The good news? An exercise craze has swept the island!
That means there is a wide variety of gyms and fitness centers.
So, you are bound to find a place that suits your needs and will keep you fit while you're away.
Below you will find the most popular gyms in Anguilla.
The Dungeon Gym & Fitness Center
Even from the name you get a no-nonsense feeling. If you're already a gym junkie, then you'll love the atmosphere!
Weight Lifting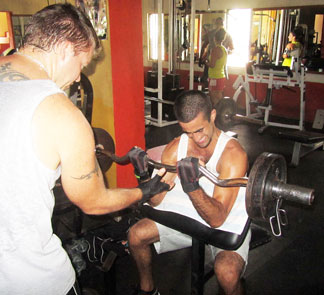 From its regular members to its equipment this gym was made for those who take their physiques seriously.
How seriously? Some of its members have even represented Anguilla in regional and international body building competitions and fitness shows!
For those of us (yes, myself included!) who are only amateurs when it comes to gyming, don't be afraid to ask questions. The employees are patient and are happy to slow down and suit your pace.
Fitness Store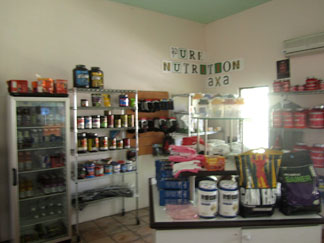 Dungeon gym also has a fitness store stocked with well known muscle supplement brands, as well as organic substitutes.
For those vacationing in Anguilla, gym walk in fees are $10 daily.
For those living in Anguilla, gym membership starts at $45 for aerobic sessions and $50 for weightlifting, monthly.
Contact...
Email: the_dungeon_gym_@hotmail.com
Phone: (264) 476 607
JC Recreational Centre / Louis Price
Looking for more alternative, non-equipment-based ways to get exercise? JC/Louis Price's Recreational Center might be the place for you.
Teens playing basketball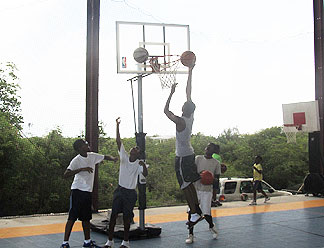 This isn't just a gym, like the name says, it's a recreational center.
They have all of the facilities to play various sports including basketball, soccer, volleyball, table tennis, badminton and even chess!
These sports are played outdoors, in a wide, open, polished space.
Inside, the gym has plenty of equipment suitable for amateurs and those who are more experienced, including a wide selection of weights and bicycle machines.
Louis Price also hosts a number of fitness classes, as well as strength training, amateur body building and pilates.
Mr. Price also offers private personal trainer and masseur services, if you would prefer to exercise from the comfort of your villa, hotel room, or home.
Walk in fees are $10 daily. Monthly gym membership costs are at $50. Other classes are also at $50 monthly.
Contact...
Email: louisprice@anguillanet.com
Phone: (264) 497 3962
La Severine Total Fitness and Massage Services
La Severine... such a creative name, right? As you might expect, this is a creative gym. ;-)
Mr.Pradel's Fitness Bootcamp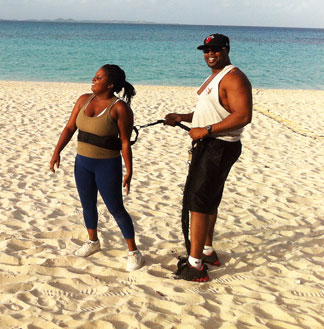 People from all age groups, with any gym experience will love the welcoming atmosphere.
La Severine Total Fitness & Massage Services features a wide array of gym equipment and weights, giving you more variety in your work outs.
Certified masseurs are available to offer their services. They offer a wide selection of massage therapies, including swedish massages, aromatherapy and deep tissue.
Yoga classes and fitness 'bootcamps' are also held here.
Mr. Pradel himself is so charismatic and funny, he will certainly get you to crack a few smiles during your work out.
Walk in price is $8 daily, while standard gym membership costs $35, monthly. The costs of the massage services are subject to change.
Contact...
Email: Email: realfriend722000@yahoo.com
Phone: (264) 772 7948
Mobile: (264) 582 8838
Other: (264) 235 948
Styler's Fitness Center
Tucked away in the quiet village of North Valley you will find Styler's Fitness Center. The friendly feeling here allows you to work out comfortably.
Gym Equipment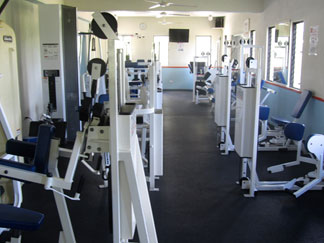 This gym has state of the art equipment suitable for both novices and more experienced athletes alike.
What really stands out here are the 7pm aerobic classes.
And, they often play locally-produced Soca music. It's so fun to work out to the fast-beat music. It's like a miniature carnival every night!
Personal training and massage therapy services are also available.
Gym membership starts at $75 for the first month and costs $35 for every following month.
Contact...
Email: stylerfitness@gmail.com
Phone: (264) 497 5143
Mobile: (264) 235 6050
iFitness AXA
Brand new, this gym is already making its presence known!
Water Aerobics Pool

Outside, there's a large cool pool available... The water aerobic work outs are lots of fun.
Their cardio sessions are grueling. They're literally not for the faint of heart!
Lastly, their weightlifting section is still being completed. When it is, I'm sure it will be one of the best on the island.
This gym already has a strong clientele who all give it raving reviews.
Workout Equipment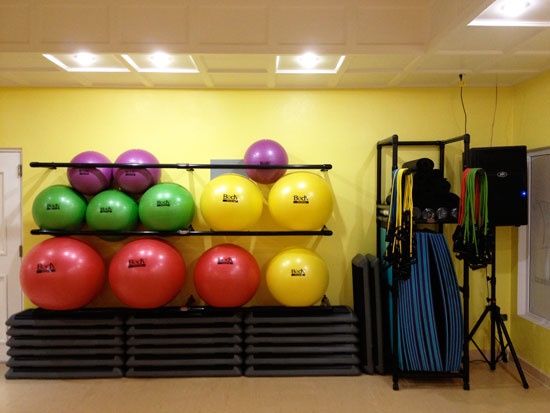 iFitness is pricier, but considering all its facilities, it's a pretty good deal. Walk in fees are $8 daily. First month's membership costs $70 and every following month is $40.
Contact...
Email: ifitnessanguilla@gmail.com
Phone: (264) 498 4544
Gym Locations
The Dungeon Gym & Fitness Center
Louis Price Recreational Center and Services
La Severine Total Fitness and Massage Services
Styler's Fitness Center
iFitness Anguilla