Sorana Spa...
The Spa at Aurora Anguilla
Anguilla is synonymous with relaxation, people escaping to its pristine, white-sand beaches for a dose of Tranquility Wrapped in Blue. What if you want transcendental Tranquility Wrapped in Blue?
The island's leading spa, one of the world's best, remedies all.
Sorana Spa at Aurora Anguilla

Click "play" above for Aurora's spa experience.
This spa has been the recipient of Condé Nast Johansens' prestigious and highly-coveted "Most Excellent Spa Hotel" award on more than one occasion. Formerly part of CuisinArt Golf Resort & Spa, it sets standards for elite spas down the Atlantic coast, through the Caribbean and even the Pacific Islands.
Today, this world-class spa is owned by Aurora Anguilla. The sumptuous three storey building sits on the western corner of the resort's lush property.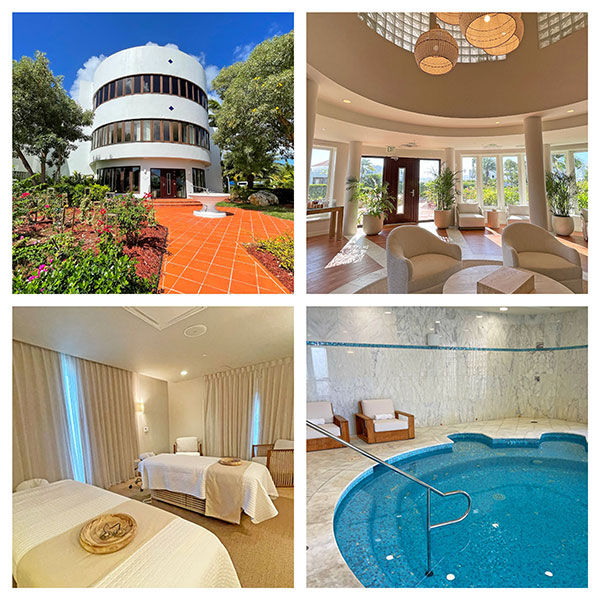 Plush locker rooms, relaxation lounges, a "Thalasso" pool and sixteen treatment rooms offering a plethora of scrubs, facials and massages await you.
Welcome to Sorana Spa at Aurora Anguilla, your oasis of calm.
Inside Sorana Spa
Completely serene, switch off your mobile device before you step inside. Entering Aurora's spa means entering a world free of disturbances.
Inside The Spa at Aurora Anguilla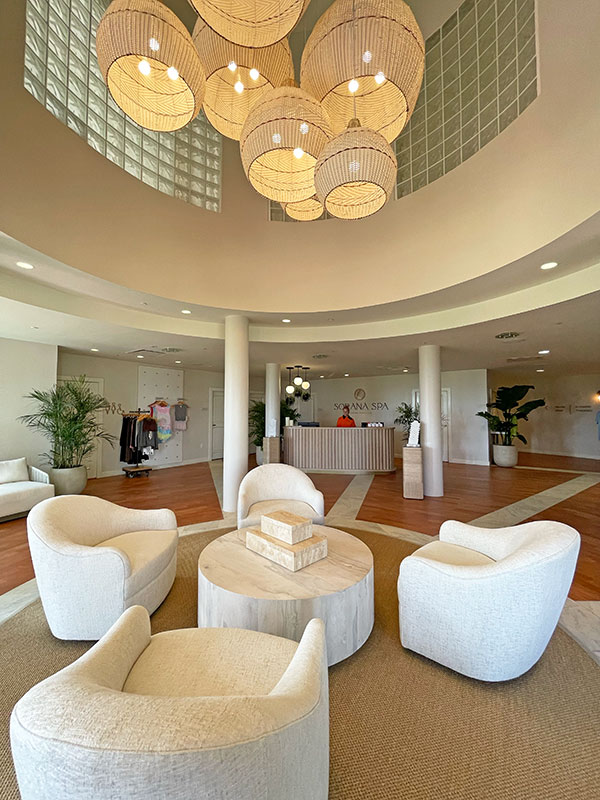 Its interior strikes a fine balance between immaculate and clean, and warm and inviting.
White walls are offset by rich wood floors. The circular structure of the building defines the atmosphere, creating a more exclusive feel.
Aurora's spa is all about providing you with the treatment that best suits your body and its needs.
With state of the art equipment, mineral pool and luxurious locker rooms and lounges there is nothing like this in Anguilla.
Luxurious Locker Rooms
The experience begins at the locker room. This is so much more than your average locker room.
Inside The Women's Locker Room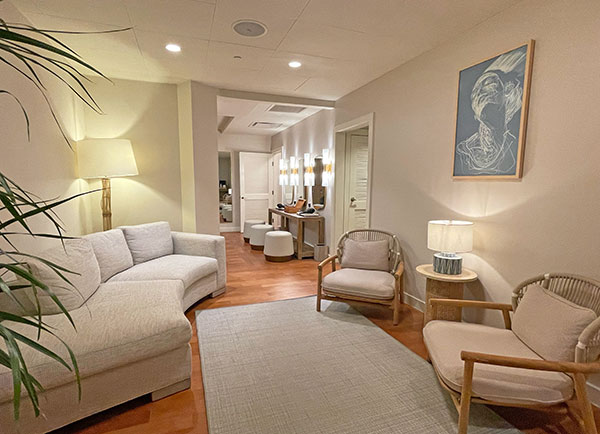 The space includes showers, a beauty area...
Beauty Area

... complete with combs, Q-Tips and luscious creams.
There is also a comfortable lounge, steam room and refreshment station.
Inside The Women's Locker Room

Take a sip of chilled water as you slip into your plush robe and slippers.
(Special Note: Once you are ready for the next stop, there is no waiting in a busy and exposed waiting area. You move from private and peaceful locker room to your next tranquil destination.)
Thalasso Pool
The best way to ease into a total state of tranquility? Start at the spa's Thalasso pool.
Thalasso Pool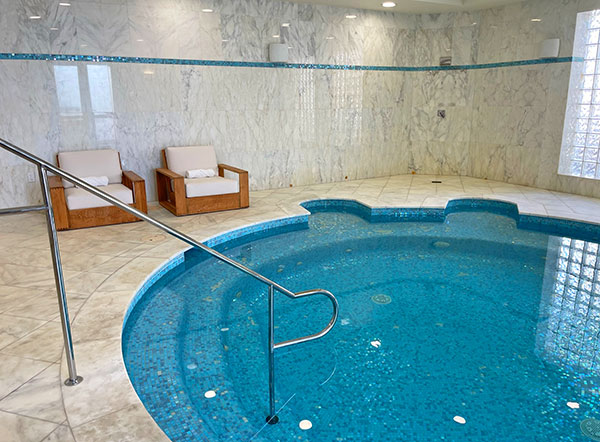 Kept at a balmy 37°C (body temperature), the room fills with a gentle mist as the jets come on. Its waters are a combination of fresh and salt water, rich in minerals. The salt water's buoyant effect further reduces stress on joints and muscles.
The pool is meant to ease every tension. It is a goal that is realized in seconds!
Jets On!

Close your eyes and lay back as the mineral-enriched water floats away the stress of the day.
You leave completely loose and free.
Special Tip: Don't forget to take a seat on their heated chaises. These stone chairs heat up, caressing your back and legs. Each second spent on them is oh soooo soothing!
Facials, Massages & Manicures
Aurora's spa offers a variety of indulgent treatments that will blow your mind. For example...
24K Gold Age-Defying Facial with mogra, Queen of Jasmines, and 24k gold
Gentle Tide Facial with organic algae, oil-free phytonutrients, and botanical oils
Detox Body Wrap with mineral-rich clay infused with powerful herbs like spiked ginger lily, spirulina, and green tea
Simply reading the list of ingredients transports you to a total state of zen!
Elegant Massage Room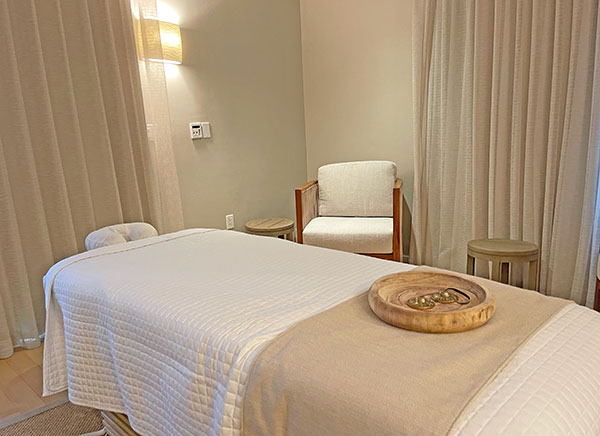 Aurora also offers a variety of couples of experiences, including the "Couples Rendezvous Ritual" which features an Anguillian caribella scrub, couples massage and scalp massage.
Couples Massage Room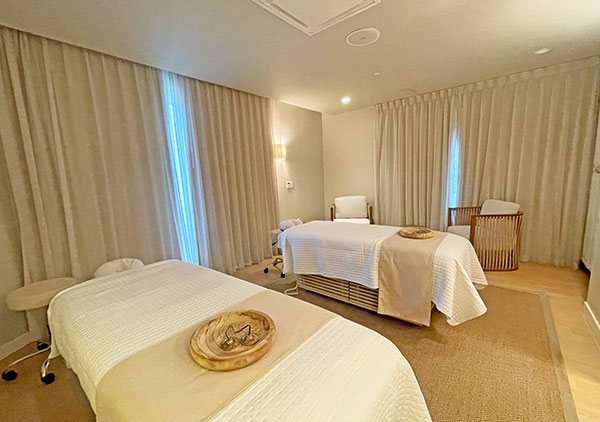 Last but not least...
The Salon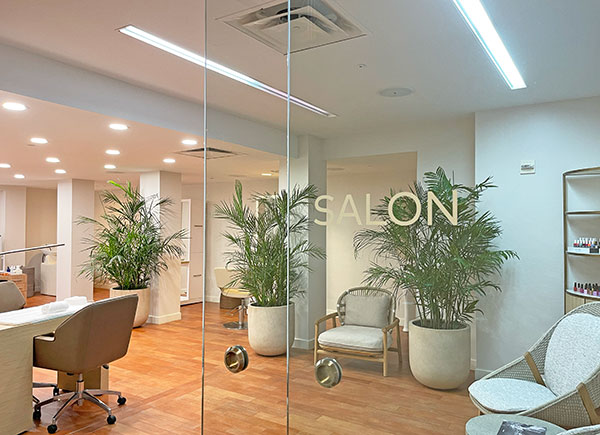 The spa's elegant and chic salon is the location for manicures and pedicures. Like the facials and massages, Aurora's manicures and pedicures are innovative.
For example, the Deep Sea Pedicure with a mineral foot soak and seaweed scrub or the Ocean Mineral Manicure with a red algae scrub for your hands.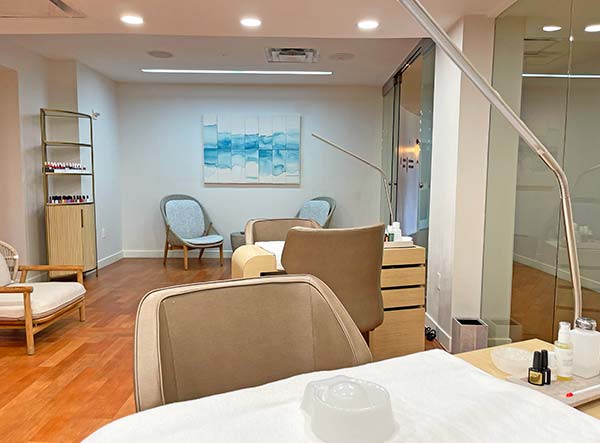 From head to toe, Aurora's treatments are sumptuous.
Following your treatment? A little more relaxation is in order!
Relaxation Lounge
When one is in need of relaxation, one need not look further than...
The Relaxation Lounge

Comfortable lounge chaises line the circular room and face oversized windows. The circular design is a stroke of genius, the curvature providing extra privacy.
With a cup of tea, and amidst the room's heavenly lighting, take in the views of Aurora's property, the Caribbean Sea and St. Martin in the near distance.
The View from The Relaxation Lounge

It doesn't get more relaxing than this.
In a private and luxurious environment, Aurora's spa over-delivers on its promise to repair and rejuvenate, all with a warm, personal and natural touch.
Book Your Spa Treatment
To book, call: 264-222-3820