East Shoal Restaurant
Reincarnations Since Le Bar
This restaurant location has gone through several reincarnations since Le Bar. Click to skip down to the Anguilla restaurants that have been here, including its current reincarnation.
It seems like just yesterday my family and I had grumbling tummies and happened to be strolling along Shoal Bay East, when we smelt savory scents. Who was responsible for this more-than-just-appetizing aroma?
Didier and Veronique from
Le Bar!

Our #1 choice on the menu turned out to be the top cheeseburger on the whole of Anguilla (if not the entire Caribbean!).
And one does not make that claim lightly, considering the quality of Anguilla restaurants.
Every trip to Anguilla since our discovery of Didier and Veronique's "little bit of paradise", on a "little bit of paradise", has never been quite complete without popping in for an herb-stuffed burger chez Didier et Veronique.
So, on our last vacation to Anguilla, my family and I had to pay them a visit!
Mom Enjoys Her Last "Dider-Burger"

We all had a great time: soaked up sun and chowed down on "the Best Burger on Anguilla"; can it get any better? A few months later, just Yuki (my sister) and my Dad returned to buy land. They repeated this blissful routine, except with one slight, disappointing snag. As my Dad and Didier were "chewing the fat", it came to my Dad's attention that...
LE BAR IS CLOSING!
Noooooooooo! Cap Juluca will be taking over, and Didier will be moving out.
No more Didier and Veronique, no more Le Bar, no more best burger.
But you know what that means... The hunt for the next best Anguilla burger is on!
Update 2009: Anguilla Ku
Deon, from The Overlook, took over once Didier and Veronique left Le Bar.
It was a great, seaside spot for a refreshing drink, burger and fries, or chicken and ribs, and even pizza, after an afternoon playing in Shoal's surf!
Update 2010 and 2011:
Tasty's Too, Sea Sand Restaurant and Bar
As of 2010, Dale Carty from Tasty's has taken over, giving the new establishment two names...
Tasty's Too

Sea Sand Restaurant and Bar

This, too, was one of my Mom's favorite places to relax with friends for lunch or Dad for dinner, not to mention our lunch-time-stop-spot on a family Shoal Bay beach day!
Update 2012: Moments
Summer 2012 Update: Ku Hotel and its restaurant, Moments have closed. It is unknown if/when they will reopen.
Mom and Lorraine Logan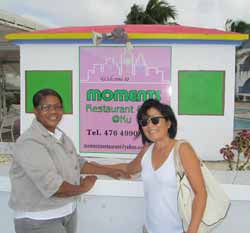 Lorraine Logan has taken this location over, renaming it Moments. Lorraine worked with Dale and jumped at the opportunity when Dale offered it.
Although Ku Hotel is for sale, both it and Lorraine's Moments (and may she have many great ones here!) are open for business.
The menu is all new. Be sure to check out its popular shrimp spring rolls and blackened fish sandwich.
Open for breakfast, lunch and supper. Reasonable prices.
We'll be back to try breakfast on Shoal Bay and report back to you soon!