Anguilla Restaurants...
The All-Time Best Anguilla Burger
Update 2015: I am delighted to announce that Le Bar has re-opened on Sandy Ground! More on the new Le Bar.
Hanging around Shoal Bay East, getting hungry and looking for something truly different among all the Anguilla restaurants on the beach?
How does a "French Cuisine Beach Bar In A British Colony" sound to you? Rather long for a name? I agree... and so does the owner, Didier Van. So he simply calls this oasis of charm...
Le Bar.
It's so easy to miss. Somehow, we had never spotted it before. But during our March, 2004 trip, we spent 3 days at the lovely Shoal Bay Beach Hotel.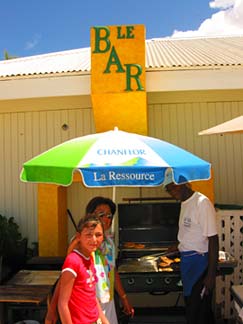 So as we were walking past the pool toward the beach, well...
Our stomachs growling, we had been trying to choose from all the different Anguilla restaurants that abound in this area. The answer to our hunger, though, was just five seconds (literally) away...
The tantalizing smells from Le Bar's "Le Grill" ended all doubts.
The grillmaster, Ambrose, one of the sweetest and funniest people you'll ever meet, danced and moved to the background music.
So did we... straight to a table, dying to see the menu!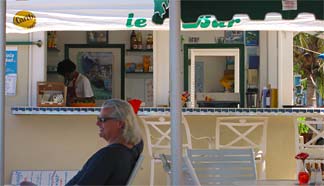 Ahhh.... we felt like we were back in St. Martin again, only better. No need to take the ferry!
Mmm... So many great choices on this "frenchest of all Anguilla restaurants"! I didn't know what to have...
There was the chevre-chaud (goat cheese melted on toasted French bread and salad), ribs, and "a very special cheeseburger." Everything sounded so good.
I was planning to have the chevre-chaud at the Tropicana in St. Martin, my favorite! And I knew Yuki would order the ribs, so I could swipe one or two from her.
So it was a toss up between the tuna-on-salad and the cheeseburger "provençal." And, between the two my stomach chose the 12-ounce cheeseburger. Yes, that's T-W-E-L-V-E ounces (a Quarter-Pounder only has 4!).
Ambrose came dancing and jiving and smiling over to our tabled while my burger cooked on the grill, teasing me with its odors. Ambrose took a look at my sister's sunburnt arms. He cringed, and asked what happened.
We had taken a wonderful all-day sailing tour on Chocolat all of the previous day (more on this adventure another time). He cringed and winced even harder. He left with a smile and said he'd be back "in just a second."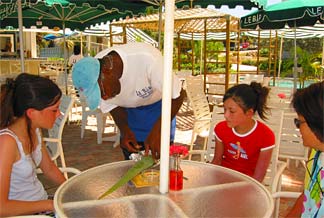 Ambrose returned with a large piece of a genuine aloe plant.
He cut about four inches off the end and then sliced that in half lengthwise.
The soft interior of the two pieces flowed with cool aloe juices.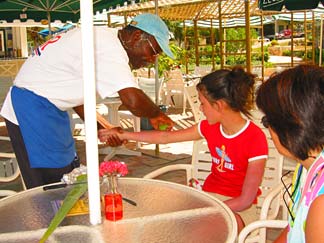 He rubbed that soothing aloe gently, all along my sister's sunburn.
He put the rest of the (very) large piece into a bag, leaving us with more than enough natural sunburn lotion for later use.
And the best news of all? By this time, the food was ready!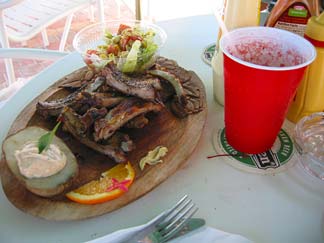 Yuki's ribs came first.
They looked so good, I almost thought I made a mistake!
Together with a light salad and a baked potato, what could be better?
And then I had my answer!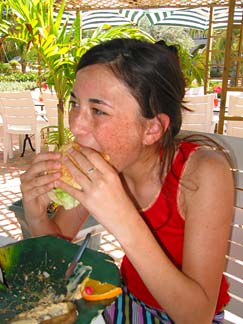 The cheeseburger was truly incredible. Unlike any burger I've ever tasted.
Best burger on the island!
The key was that the patties were prepared fresh and liberally spiced with fine herbs from Provence.
"Which herbs?," my Dad asked.
"Ahhh," Veronique (Didier's wife) said with a smile. "That must remain our secret."
My Dad loved the burger every bit as much as I did.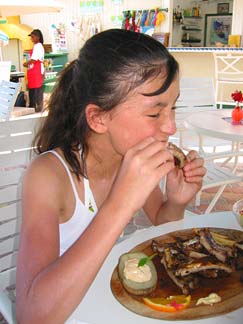 How about the ribs?
Well, my sister appeared to be enjoying them. I'm not quite sure though -- how about you tell me...
It was all I could do to swipe a single rib while she looked the other way for a second!
Oh yes... her arms stopped hurting about 15 minutes after Ambrose applied the aloe juice.
What a place! Part restaurant, part clinic!
What did my Mom have? The ribs, too. And she devoured them with the same gusto.
How much did we enjoy Didier & Veronique's Le Bar? Well, we try to eat a different place every time. But we just couldn't resist going back a second time. And you know what?
We all had exactly the same thing. It was just as, if not more, yummy!
As my Dad says... "Why try to improve on perfection?"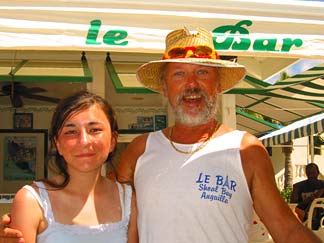 Our second visit was just a little more interesting.
Why?
We got to meet Didier himself, a friendly, outgoing bon vivant.
My Dad naturally chatted it up with him. He (and his wife Veronique) moved here from France twenty years ago! His views on Anguilla's history during that time were most interesting.
Didier has started many Anguilla restaurants and bars -- chances are that if you see one with the word "Le" in front of it, Didier was likely the original owner!
Anyway, if you're looking for the best burger on Anguilla, it's at Le Bar.