Le Bar...
Anguilla's Best Burger is Back!
Update: It's with a heavy heart that we announce that Le Bar has officially closed. We will miss you, Didier & Veronique!
It was a sad day when Veronique & Didier Van closed their original Le Bar, a beloved French bistro on Shoal Bay East.
Nearly a decade after its closing, and we still longed for their 12 oz. burger. Specially prepared with a secret recipe, it rivaled all others that had crossed our plates.
When word circulated that Le Bar would be opening again, hope was restored. That hope grew into cautious optimism as we saw the evidence. The construction, the French Tricolour and then finally the sign.
Le Bar is back!...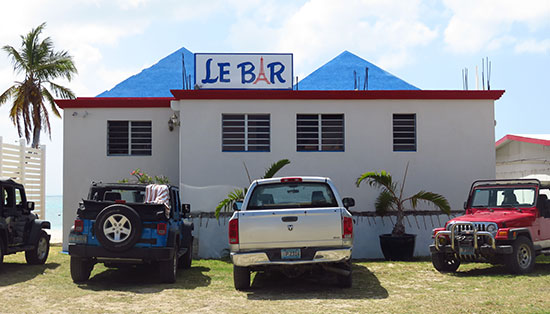 ... this time on Sandy Ground.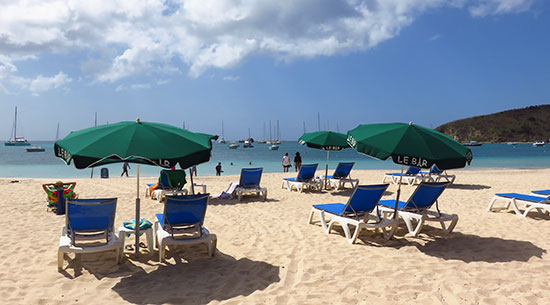 French Joie de Vivre & A Laid-Back Ambiance
Set next to Dolce Vita and a few doors down from Sand Bar, Le Bar is right in the middle of Sandy Ground's bustling beach restaurant sene.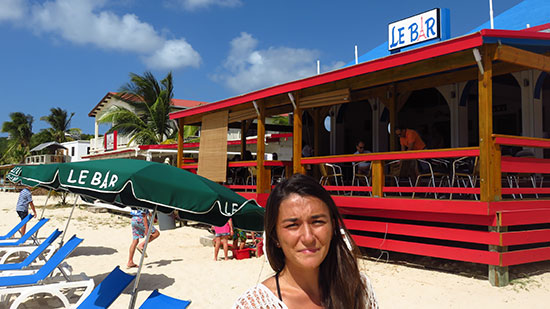 All wood and open-air, the restaurant stares out to the sail boats dotting Sandy Ground's charming harbor.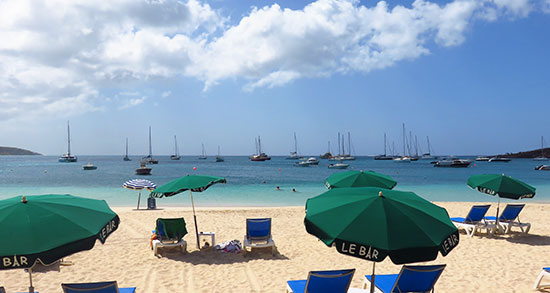 With French natives Didier and Veronique Van as hosts, the inviting, neighborhood feel of Sandy Ground suits Le Bar's lively owners and their jovial spirit.
Up the steps and into the French bistro, we felt right at home.
Didier emerged, greeting us kindly. After all of those years, he still remembered us from way back in the Shoal Bay days when we would spend hours at his spot, chowing down on burgers while he and my Dad would chat politics.
"Bisou" From Didier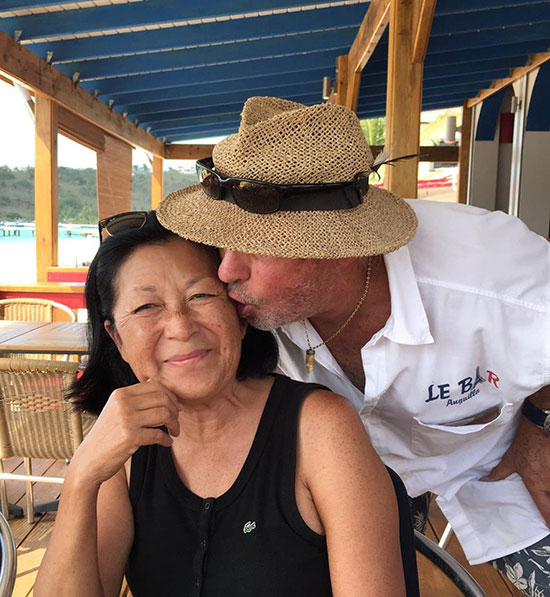 Over a glass of rose, he talked about Le Bar today. "We are open for lunch now, and dinner on Friday only. Every week I am going to St. Martin in our boat," he pointed to the distance...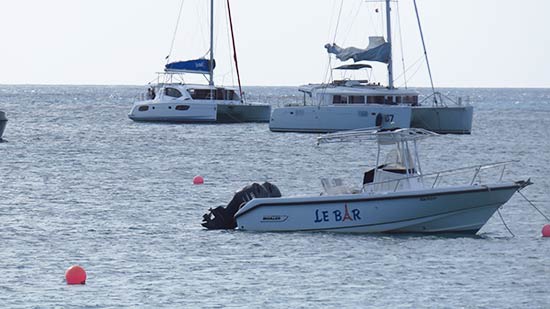 "The freshest gourmet products from St. Martin, straight to Anguilla and I take care of it every step of the way. French cheeses, meats and seafood, too, for our Friday night seafood dinners," he continued.
The Menu
Just what is on Didier and Veronique's menu?
French and Anguillian classics!...
Langouste salad (lobster with homemade mayonnaise), chevre chaud (goat cheese), French cheese plates and charcuterie plates, ribs, chicken, "l'onglet Maitre d'Hotel" (a tender steak), fresh grilled tuna, snapper and crayfish.
A tight menu, I have no doubt that each and every dish is ultra-fresh and perfectly prepared. The French are known for their excellent cuisine after all, and Didier and Veronique are seasoned professionals when it comes to French cuisine and dining.
But, we weren't here for anything except THE burger!
"It is on the menu, right?" we asked before taking a look at it.
"Bien, oui!"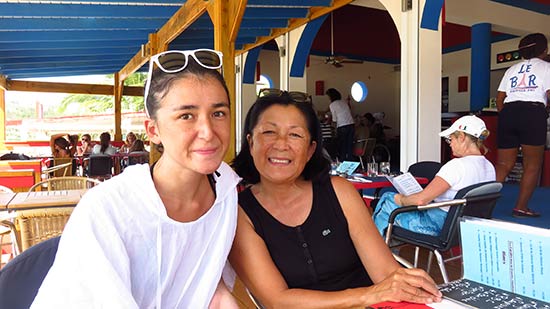 Le "Veriunic" Burger
Labeled "Le Veriunic Burger," prepared with Veronique's secret herbs, we ordered four.
In good time, four picture-perfect burgers, just as we remembered them, were placed in front of us.
Le Veriunic Burger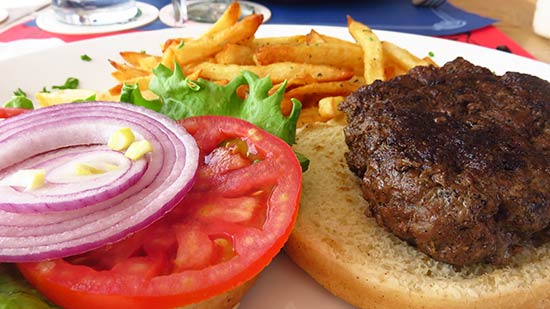 A thick patty, fresh tomato, lettuce, onion and all on a sesame seed bun. No sauce.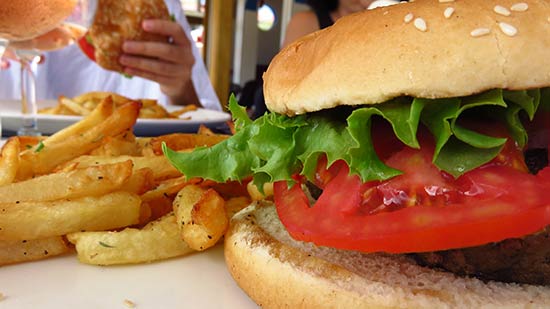 First bite and?...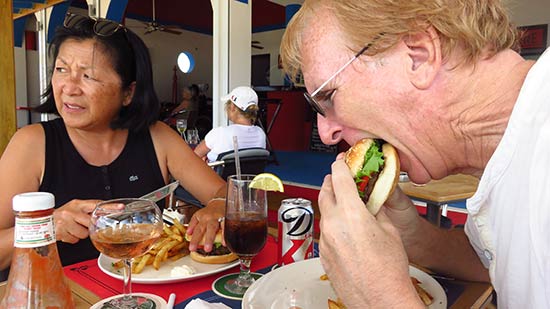 We were back in burger heaven!
It was just as we had remembered. Seasoned with secret herbs from Veronique's hometown in Provence, she guards her recipe closely and never reveals exactly what goes inside. Is it rosemary? Thyme? A combination? Whatever it is, it lends a subtle, flavorful kick to each bite.
True to the burger's name it is "very-unique," prepared by none other than Veronique!
Best of all, they have added perfectly crisp, fresh-made true French fries to the menu, too.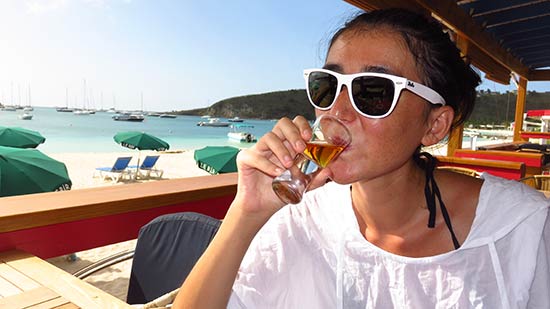 Capped off with Veronique's homemade basil rum, we left full and satisfied, knowing we can now rest easy. Le Bar is back and better than ever, and so is the best burger on the island!
Update: Le Bar is now open for lunch and dinner! Click here for more on their dinner specials and, our favorite, their all you can eat Friday night Mussel Party.
Map, Contact & Hours
Directions: Take a left at the first, narrow drive way just next to Bijoux Boutique in Sandy Ground (if you are driving on Sandy Ground's main road towards Pumphouse).
Hours: Open daily for lunch and dinner. Closed Sunday for dinner. Closed all day Wednesday.
Tel: 264-498-3229 / 264-772-3229