Spirited Nights in Sandy Ground...
Dining at Le Bar After Nightfall
2016 Summer Update: Le Bar is now open Fridays only for both lunch and dinner. All you can eat mussels are served throughout the day!
Anguilla's original bistro on the beach, Le Bar has been a favorite for long, leisurely lunches ever since they first opened in the 90s.
Dinner at Le Bar

Today, Le Bar's spirited atmosphere and delightful French cuisine can be enjoyed for lunch and dinner!
Set on the sands of Sandy Ground, the night-time vibe is just right.
Sandy Ground itself is home to a well-established bar scene and a burgeoning dinner scene.
Charming restaurant after restaurant turns on their lights come dark, each sparkling in the night sky.
With a special buzz in the air, Sandy Ground village truly comes to life after sun-down.
Le Bar makes a wonderful and different addition to the collection of Sandy Ground restaurants with its terrific French menu and authentic "joie de vivre" ambiance.
Inside Le Bar at Night
Bustling with happy patrons dining on French specialties, and with rosé flowing, owners Didier and Veronique have perfectly captured that live-and-let-live French essence with their Anguillian-French beach restaurant.
Le Bar By Night

A family friend restaurateur once told us, "the secret to a great restaurant isn't just the food, it's the experience." And, with Veronique's flair, Didier's quick-wit and Myra's warmth, Le Bar creates personal and lasting impressions.
Light-hearted and lively from the moment you are welcomed inside, the whole team puts you right at ease.
Le Bar By Night

What's For Dinner?
Le Bar's dinner menu focuses on doing a few dishes, all to perfection.
For $25, you have your choice of grilled Anguilla crayfish (with garlic lemon butter), catch of the day fish (with Veronique's special provençal seasoning), grilled sirloin steak or the famous Veryunic Burger. Your choice comes with organic salad and true French fries, roasted potatoes, or rice.
A terrific deal for $25!
The Famous Veryunic Burger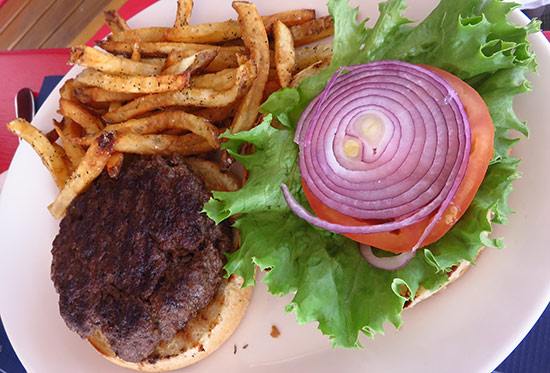 Add an appetizer or dessert for $29, or make it a three course dinner for $34.
Appetizers include country pâté (with French cornichons), escargots with garlic butter, Riviera fish soup and gaspacho.
Desserts include house-made chocolate mousse, Myra's recommendation, the cheese cake, key-lime pie and tropical fruit salad.
Chocolate Mousse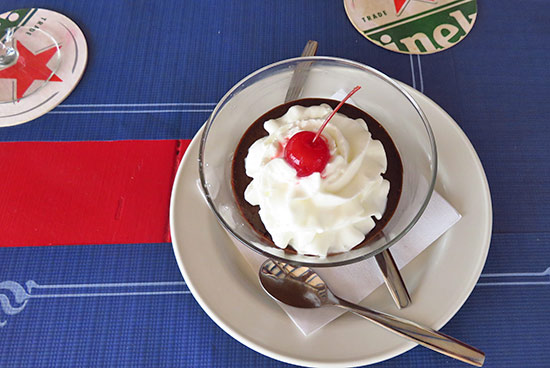 In addition to their prix fixe menu, come Friday night, Le Bar hosts one of our family's favorite weekly events...
Le Bar's Friday Night "Moules Frites" Party
Every Friday, Didier personally travels to St. Martin to collect fresh mussels, flown in that day. A few short hours later, the "moules frites" (mussels with French fries) party begins!
"All you can eat," fresh mussels are steamed to perfection in a white wine sauce with shallots...
Moules Frites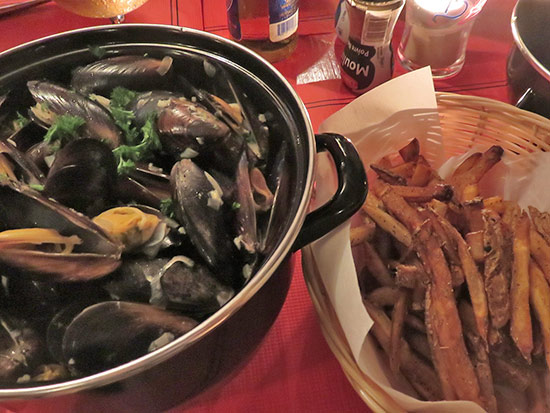 ... and served with French fries, sprinkled with Veronique's secret combination of provençal herbs.
Les Frites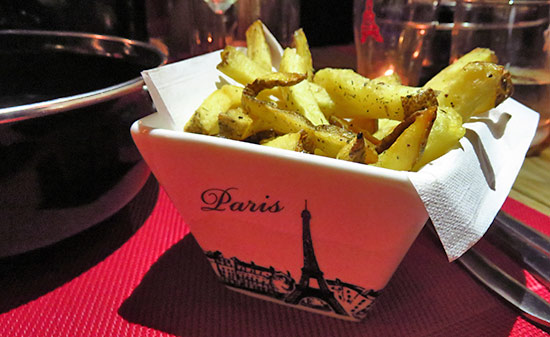 A true slice of French dining heaven in Anguilla!
Les Moules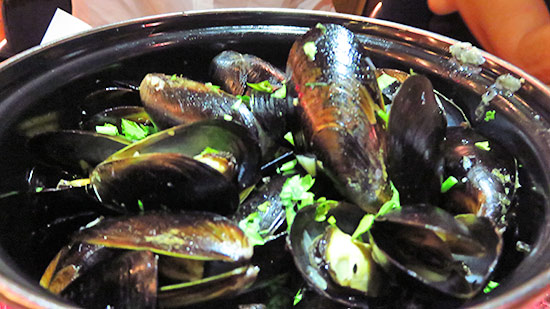 Ask for a basket of their perfectly crisp French baguette to soak up all of the mussels' juices and soft flavors. And when the mussels run out? It's time for round two. ;-)
All you can eat mussels and French fries for $25.50, and that includes a glass of white wine, too! It is by far one of the best deals on the island.
Yuki and Mom
After Another Terrific Meal at Le Bar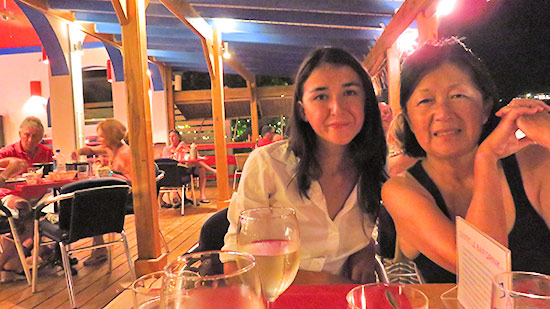 Consistently excellent, dinners at Le Bar always seem to end too soon. At Le Bar, it's never "good bye"... more like "see you soon," or "à bientôt!"
Le Bar is open nightly for dinner. To make reservations, call: 264-498-3229