St. Martin Return '03
During our first visit to Anguilla, we discovered that the "French Riviera" was mere minutes away from the British West Indies. Yes, St. Martin!
Ever since our first day trip, it has been a regular "Anguilla ritual" to leave "Britain" for "all things French"...
Great restaurants and gourmet shops, superb shopping (Planet, Quiksilver, etc.), and a certain "je ne sais quoi" is what the French side of the island ("St. Martin") is all about. It ranks 10 out of 10 on our list of things to do when we visit Anguilla.
As usual, we dined for breakfast at La Croissanterie... scrumptious breads and croissants! But it's the mid-afternoon lunch at the Tropicana (also part of our routine) that we most eagerly anticipate...
The Tropicana...
Our Favorite Restaurant in St. Martin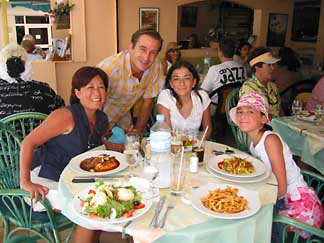 Here we are with Alex, a delightful waiter at the Tropicana. The food was "magnifique"... chevre-chaud, french fries that can't be beat anywhere... Mmmmmmmm! We were not disappointed! As always, the Tropicana lived up to its reputation!
If you choose to go to St. Martin, which we strongly recommend, be sure to say hello to Alex for us... and order the chevre-chaud and fries (you can see them on our table in the picture above, in the foreground).
Just before you step on the ferry back to Anguilla, drop in at the gourmet grocery store. My dad always brings home two bottles of Pouilly Fuissé and several cans of "bloc de foie gras trouffé" (at last, something that does not involve rum punch!).
Heh heh!