Grand Case, St. Martin
On each and every Anguilla vacation, my family and I have taken the #1 day trip to St. Martin.
Not much has changed since our 2004 St. Martin update.
We still hop aboard the Anguilla ferry, cross the Caribbean sea, enjoy a breakfast of delightfully fluffy croissants, stroll through Marigot, shop in French boutiques, and end the day with a spectacular meal at Tropicana.
However, on our most recent trip, my Dad and I, traveling sans-mother and younger sister, decided to spice up the routine.
My Dad suggested...
"Why not skip Marigot and try Grand Case?"

I wasn't too keen on skipping Marigot completely, (although it may be routine, it's a routine I adore!) so we compromised. Grand Case would be Part 1 of the #1 Day Trip, Marigot would be Part 2. That I could handle. So, off we went!
Once we docked in Marigot, my Dad and I took a quick taxi ride through St. Martin's non-tourist areas, down to Grand Case's seashore.
Famished, my Dad and I put our stomachs first. A great exploration of Grand Case would be saved for later once we had refueled!
My Dad and his good friend had visited Grand Case previously, so we dined at Grand Case Beach Club's restaurant, Sunset Cafe, a bistro he raved on and on about. (This restaurant is a short walk east along Grand Case's main road, just outside of the town's central hub of activity.)
This serene spot overlooks the beach club's two quiet shores, truly emulating a south of France feel.
I didn't have to leaf through the menu long before I found what I wanted... my all-time favorite meal, salade de chevre chaud!
As we waited for our order, we gazed out at the scenery. The waves gently lapped the shore, visitors quietly cooled off in the turquoise, Caribbean, sea. We could even see Anguilla!
I still believe that us Anguilla-lovers have the better end of the deal. The breathtaking views of mountainous St. Martin are far more exotic and exhilarating than the flat, arid land that is Anguilla!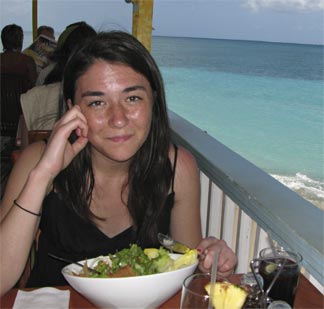 It wasn't long before our meal arrived.
The warm goat cheese was served atop a toasted baguette, along side brie wrapped in a light philo pastry shell.
It was simply divine (although Tropicana in Marigot still gets by vote for #1 best)!
My Dad's recommendation?
Go with mussels served with their heavenly French fries.
Full and happy, my Dad and I bid Sunset Cafe adieu and walked back down to Grand Case's main strip.
As we strolled back into town, we passed a few French homes and a picturesque opening down to the beach...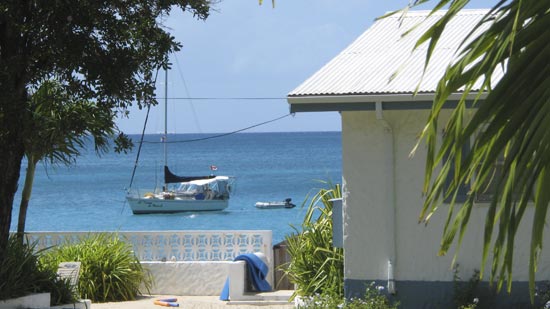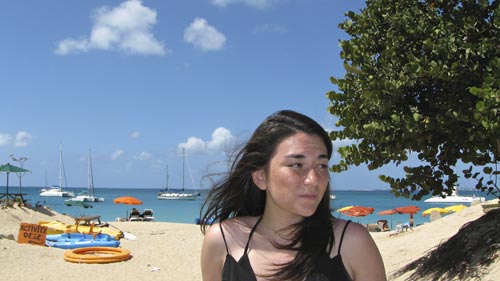 My Dad insists that Grand Case is that little, funky, coastal town you would happen upon in France, but not having been to France since I was a toddler, certain aspects of it reminded me of Mexico. The strings of Christmas lights laced between street lamps and traffic lights, the kitschy churches...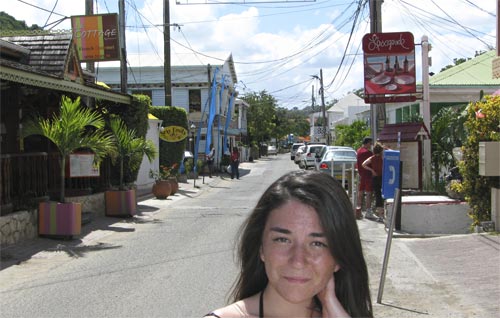 The one thing that truly defines Grand Case though, are the endless amounts of restaurants. From high-end brasseries, to bars and cookouts...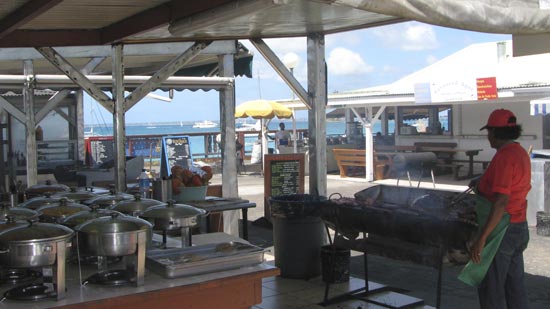 There is something here for everyone!
Grand Case was also rich with cute shops...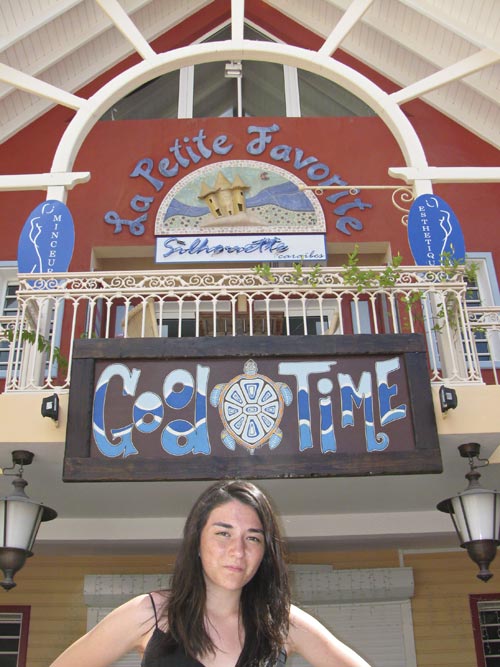 Many were closed due to the hour (1:30 PM when Europeans take sonesta). So, we'll have to return to experience that! But if you visit Grand Case before I get back to experience the shopping, I would love to know your Grand Case shopping tips.
The town's major strip started winding down, so we decided it was time to head back into Marigot.
We had a bit of difficulty finding a cab back, but a man sitting outside of a Chinese restaurant saw us struggling, and gave us a ride in his taxi. (I guess he just sits and waits for tourists in need to pass by, looking quite hopeless!)
And so, we returned to St. Martin to carry on the second part of the St. Martin tradition... French shopping!
After visiting all of our favorite French shops, it was time to board the ferry back home. Once we were sitting up top, leaving the harbor, we caught one more glimpse of Grand Case in the distance...

Visiting Grand Case was a memorable experience. Breaking old habits and tradition certainly can have their rewards.
'Till next time Grand Case!
More on Grand Case
Hotel L'Esplanade, which overlooks Grand Case, is a top choice hotel in St. Martin. Conveniently located, with comfortable rooms and pretty views, this French hotel fits right into its surroundings.
Ocean 82 has an unbeatable setting, overlooking Grand Case beach, and with Anguilla in the distance. Serving fine French food all afternoon, in a modern-yet-laid-back restaurant, it makes for a terrific lunch option.
Bistrot Caraibes offers one of the top French-Caribbean dining experiences. The menu is fresh and expertly prepared (with house specials such as homemade smoked Norwegian salmon and Lobster Thermidor) and the setting, in the heart of town, blends cozy-comfort with modern-refinement. Owners Thibault and Amaury Meziere have crafted a restaurant that truly defines Grand Case.