Ocean 82...
Lunching "Au Bord De La Mer"
in Grand Case, St. Martin
Update 2021: Elegant seaside dining at Ocean 82.
When daytripping to St. Martin from Anguilla, Grand Case is a must-see. With a distinctly cool French-Caribbean vibe, this seaside town is something straight from a travel novel. Home to some of the best five-star restaurants in the Caribbean and, at the same time, some of the most locally loved "LoLos" (French-Caribbean term for Caribbean BBQ), cultures blend here.
On a recent trip over, we discovered a terrific five-star lunch spot, serving some of the finer French food in the area...
One of the few French restaurants that serves lunch all afternoon in Grand Case, it's not only a top choice, it's a convenient one!
The Setting
For location alone, Ocean 82 gets a 10/10.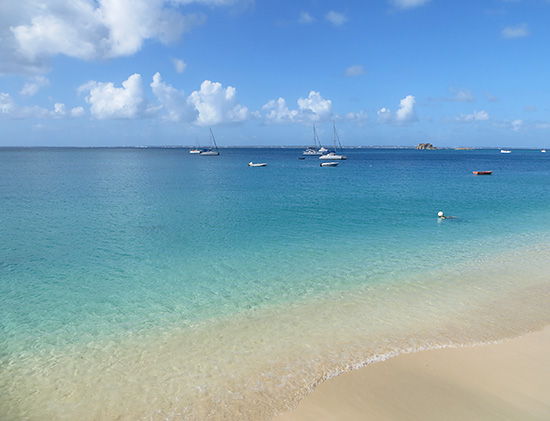 The restaurant's wooden white shutters nicely offset and add warmth and charm to its otherwise more contemporary interior design. Propped open, they provide panoramic views.
Being a self-professed Anguilla lover, it's fun to see Anguilla from "the other side" and take in glistening Grand Case beach, gazing longingly at Creole Rock (one of the best snorkeling spots on the island!).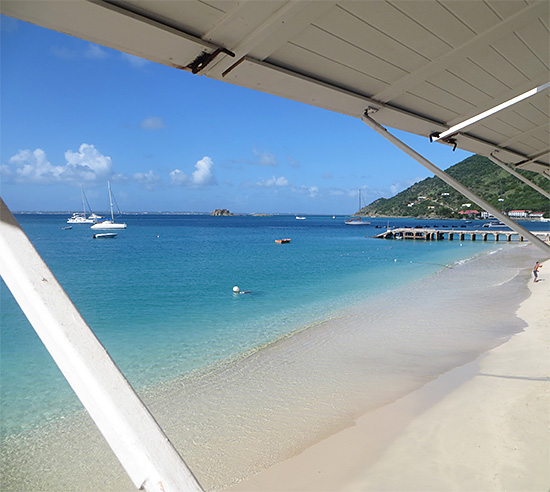 Looking the other way is another interesting view, one that feels more classically in tune with the French-Caribbean village.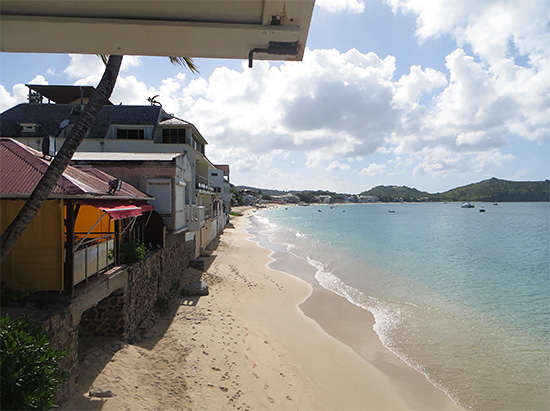 Modern and elegant, trendy and cool, it's no surprise that this restaurant is also owned by Thibault Meziere, the owner of the very successful and expertly executed Bistrot Caraibes just across the street.
Thibault was there to greet us when we arrived. We were on the late side for lunch (2pm), but luckily, as I said above, they serve lunch all day. In fact, I might even recommend you do dine later. Sharing the restaurant with just a few other patrons is blissfully calming and quiet!...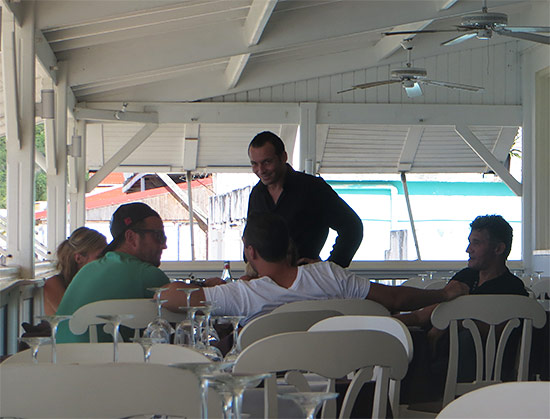 The Menu
Our kind and gracious waiter brought over a hand-written menu, displaying the day's specials. Specials that day included shrimp and lobster fettuccine, warm goat cheese toast with honey served with smoked duck breast carpaccio, and a seafood salad.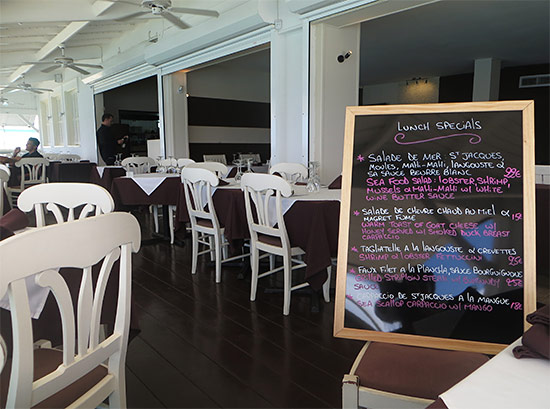 Their full menu included tempting items such as "mahi mahi tartar trilogy" (mahi mahi done peruvian, tahitian, creole), tuna spring rolls, homemade duck liver pate, crispy St. Marcellin cheese salad, homemade lobster and mushroom ravioli and escargots.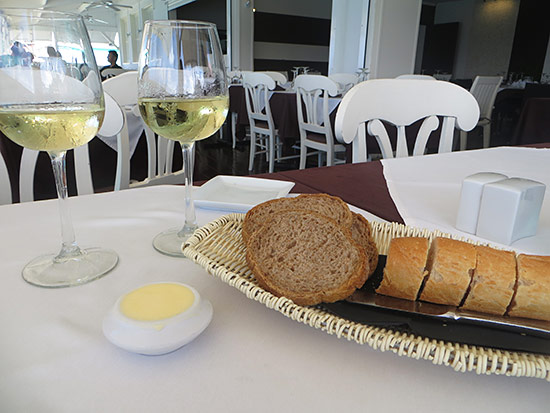 While we weighed our options, our waiter brought us some fresh French bread and two glasses of chilled white wine.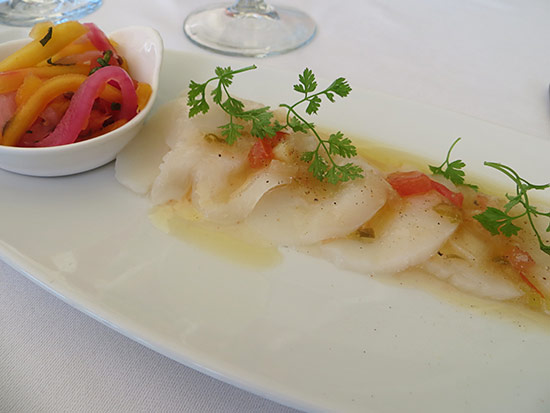 We ultimately went with what our waiter suggested. The daily special for an appetizer, sea scallop carpaccio with mango. Thinly sliced, with just enough flavor from the mango, it was light and refreshing on a warm afternoon.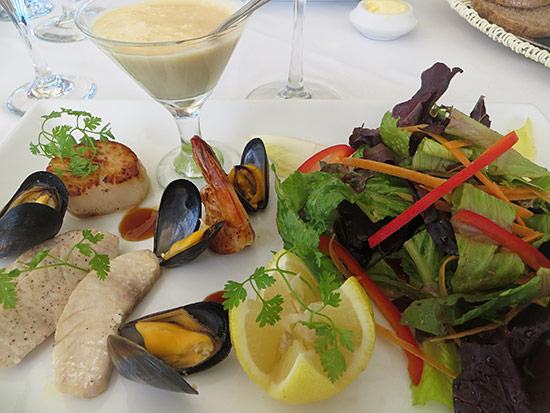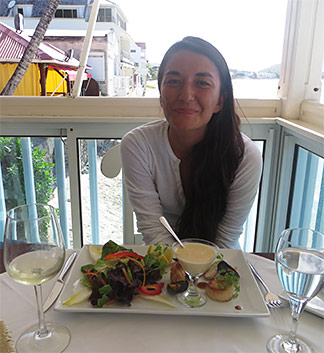 For our mains, I was again sold by our waiter on the seafood salad. This came with shrimp, mussels, scallop and mahi mahi, and was served with white wine butter sauce on the side.
Elegantly presented, it almost looked too pretty to eat!
I can still taste the scallop and mahi mahi.
The sauce was just right, not overpowering the fresh seafood in the slightest.
My friend Sanja was in the mood for something a little heartier than salad. ;-)
For mains, they have a lamb shank (cooked 24 hours with white wine, honey and rosemary), chicken breast stuffed with lobster and mushrooms, mahi mahi with mango chutney, breaded tuna steak with sesame seeds, and so much more.
Sanja went for the beef cheeks and veal stew served in a pot with porcini mushroom risotto.
Presentation is really anything but an after-thought...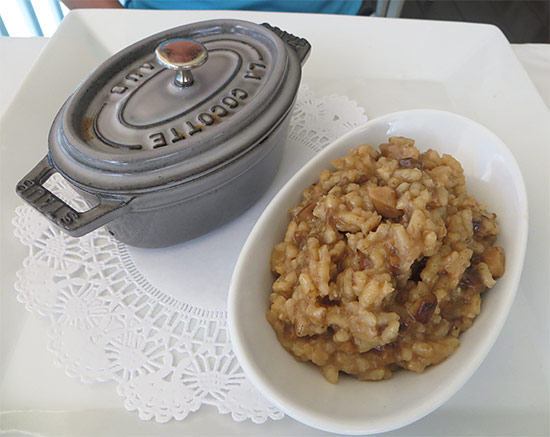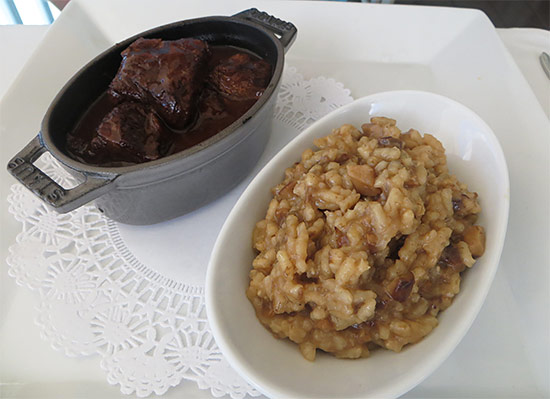 I admit that I'm not the most adventurous eater, which is why I am so glad Sanja didn't tell me they were beef "cheeks" when she offered me a bite. Had I known, I might have declined her offer and missed out on the most tender piece of meat I have ever sampled. Between the beef and veal stew and the mushroom risotto, the flavors complimented each other perfectly.
We chatted with Thibault and took in the ambiance. Small prop planes flew overhead, landing at the small, regional airport nearby. It is one of the most picture-perfect Caribbean airports. The setting, the wine, the bread, the food... this is dining "au bord de la mer" at its finest. It all felt truly exotic.
The afternoon coming to a close, the sun riding low in the sky, it was time to head back to Marigot and come home to Anguilla. With a shot of Patron Cafe, we thanked Thibault for another idyllic dining experience in St. Martin.
À bientôt!