Ocean 82...
Elegant Seaside Dining in
Grand Case, St. Martin, F.W.I.
Grand Case combines the best of all worlds: beachfront setting right on the Caribbean Sea and some of the most exquisite French cuisine in St Martin.
A long and calm beach, it lights up come night time and delivers on its promise of a delicious, picture-perfect evening. This charming sea-side village is known for its plethora of dining options. From cheap and affordable quick eats, like BBQ stands, to elegant and upscale options, Grand Case fits the bill for every budget.
One of the more sophisticated restaurants in Grand Case?...
Ocean 82

As you walk into Ocean 82 you are immediately greeted by the welcoming staff. They invite you in with a smile and escort you to your table by the sea.
The view of waves gently lapping on shore, yachts docked and the lights of Anguilla in the distance immediately impress you.
Without a doubt, Ocean 82 is perfect for celebrating any special occasion - particularly a romantic evening.
Picture-Perfect Table by the Sea

With a vast drink and cocktail menu, "choosing one" is the only tough task here. Frozen drinks, champagne cocktails, gin, vodka, whiskies, tequila and a variety of rhums and other liquors populate the menu. I decided to go with a classic and favorite of ours...
Mojito Cocktail to Start the Night

Drink in hand, let's tackle the menu.
Cold & Hot Appetizers
Ocean 82 offers a variety of starters: hot, cold and nightly specials.
From the "Cold Appetizers:" a choice of mixed salads, duck liver pate, mozzarella stracciatella or the...
Mahi-Mahi Tartar Triolgy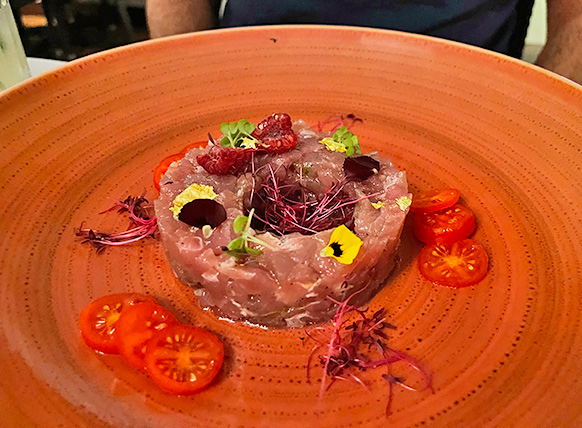 This colorfully decorated dish is Peruvian, Tahitian and creole inspired. Fine chunks of fresh Mahi Mahi are garnished with cherry tomatoes, micro greens and edible petals. Every bite is fresh delight!
Also from the "Cold Appetizers"...
Tuna Spring Rolls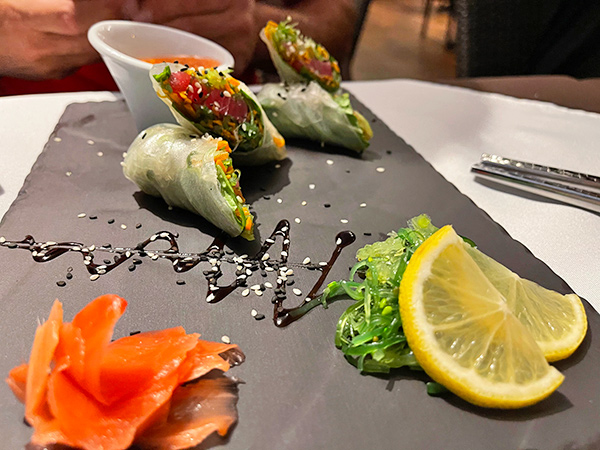 Two spring rolls are sliced in two and packed with finely minced apples and tuna. The dish is served with imperial sauce and topped with sesame seeds. A light twist on your average spring rolls!
Now from the "Hot Appetizers." Options include escargots in garlic butter, poached-perfect egg, pan seared foie gras and...
Homemade Lobster & Mushroom Ravioli

Three palm sized homemade ravioli are stuffed with chunks of mushrooms and freshly caught lobster. They are served in a chicken broth infused with savory truffle oil.
Next...
Frog Legs

A French delicacy, tender frog legs are pan seared to perfection in a garlic and parsley sauce. The meat falls right off the bone!
Main Courses
Ocean 82 breaks their main dishes into four sections: Soups, Pastas, Fishes and Meats & Poultry.
Let's have a look at the soups: the traditional onion soup, traditional spanish gaspacho and...
Creamy Lobster Bisque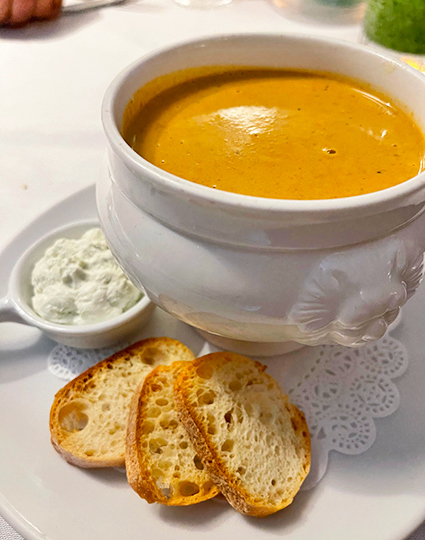 This was my favorite dish of the night! A generous bowl of lobster soup is served with a side of light garlic cream and crunchy toast. Packed with fresh flavors and the taste of caught-that-day lobster, I was in love! We highly recommend this dish.
On that note, every dish containing lobster is fresher than fresh! They are caught and kept in a lobster tank right on-site.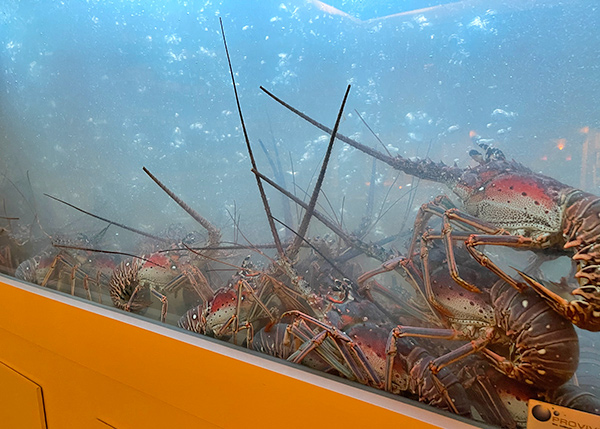 After the soup options, we enter the lovely Pasta section. Your choices include 3 cheese penne, Alfredo fettuccini, fettuccini with vongole, penne arrabiatta and...
Lobster Fettuccini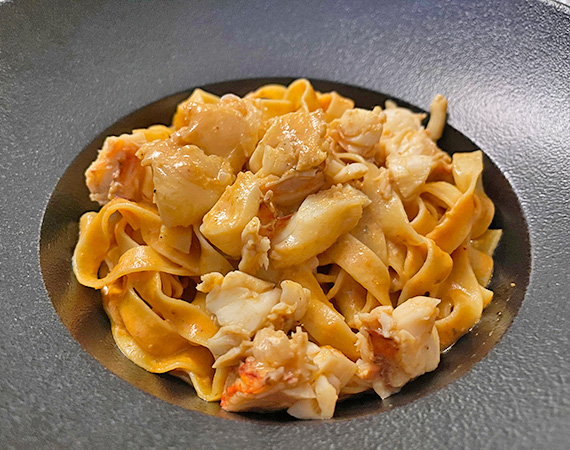 Another favorite dish! Everything in this bowl screams "flavor." The pasta is cooked adente and comes lathered in a light lobster sauce with lobster chunks.
Next, on to the Fish section. Options include roasted local mahi-mahi, red tuna tataki, sautéed shrimp, roasted sea scallop with smoked duck breast carpaccio and grilled lobster from the tank.
Lastly, Meats & Poultry dishes of beef tenderloin, braised lamb shank cooked for 24 hours, roasted organic chicken breast stuffed with proscuito or...
Roasted Duck Breast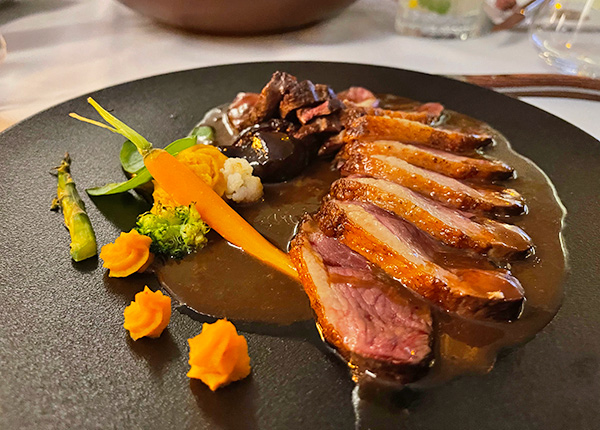 Thinly sliced duck breast is roasted with figs and served with a caramelized balsamic vinegar reduction.
Another mouth-watering choice?...
Beef Cheeks & Veal Stew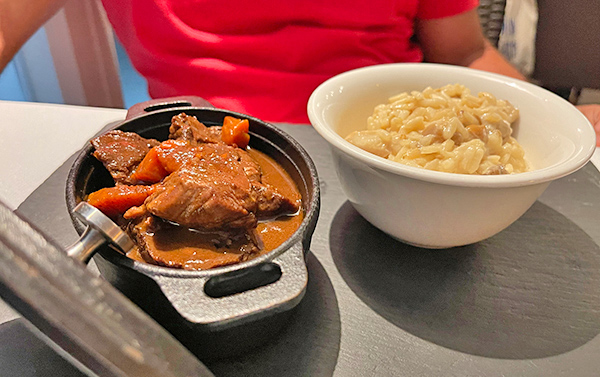 These pieces of beef cheeks and veal melt in your mouth like cotton candy! Their side of porcini mushroom risotto is their perfect complement.
Note: Mains are also served with your choice of vegetables, potato gratin, mashed potatoes, sweet mashed potatoes, sautéed potato, homemade french fries, rice, pasta or salad.
Sweet Endings at Ocean 82
Appetizers and main dishes done, it is now time for our favorite part of each meal. Here is a look at the dessert menu...
To start, every French restaurant must have a section on the menu for cheese! Ocean 82 serves an assortment of cheeses from France, with a salad in a balsamic dressing, grapes and walnuts.
And for those of us with a sweet tooth? Choices of ice-cream and sorbet, creme brulée of the day, homemade molten chocolate cake with vanilla ice-cream, coffee & macarons, Grand Marnier souffle or...
Homemade Profiteroles

The perfect way to end an evening! Three soft profiteroles are stuffed with vanilla ice-cream, topped with almonds and drizzled in chocolate sauce. We 100% recommend this dessert!
Next, a dessert from the specials of the evening...
Exotic Ring Dessert

Multi layered and sophisticated, this dessert tastes as good as it looks! Rings of cake and passion fruit mouse are all served with a side of sorbet.
After dessert, we sat in awe of the views of Anguilla and mega yachts in the distance. With exquisite food, great service and incredible views, Ocean 82 is one of our favorites in St. Martin.
We will be back! Until next time, Ocean 82!
Welcome to Ocean 82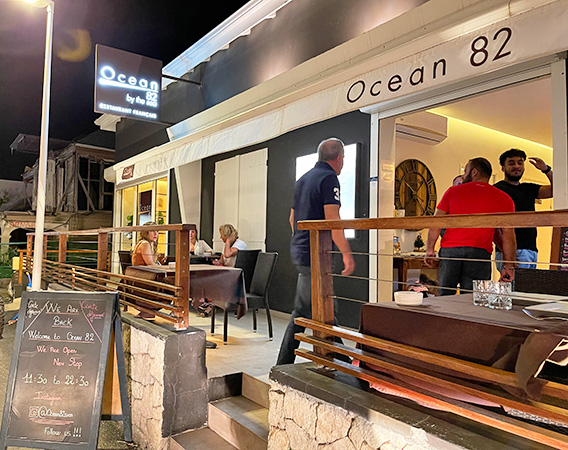 Directions: 82 BOULEVARD DE GRAND CASE, 97150 SAINT MARTIN FWI
Opening Hours: Open daily for lunch & dinner from 11:30am to 10:30pm
Tel & Email: To make reservation, please call at +590 590 52 98 12 between 9am-8pm.