Bistrot Caraibes...
Fine French Dining in Grand Case, St. Martin
Grand Case, St. Martin is the gastronomic capital of the Caribbean. Five-star eatery upon five-star eatery lines the beachside community's narrow main street, with a few smokey Caribbean BBQs and laidback bars mixed in. When it comes to high-end restaurants, most are French or Italian, and all are influenced by their environment, Caribbean flavors and the Caribbean Sea.
In a town with so many options, how do you ever choose just one?
A good rule of thumb is to start at the top. Start with the one that has been written about over and over, hailed as one of the best island-wide...
Bistrot Caraibes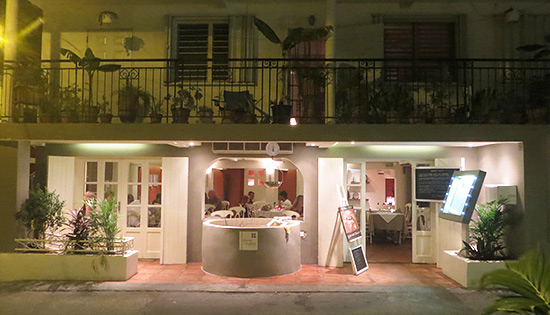 Inside Bistrot Caraibes
Walking along bustling Boulevard de Grand Case in the heat of the Caribbean night, Bistrot Caraibes catches the eye. In subtle contrast to the more worn, surrounding buildings, it is lit up and twinkling, in a modern building, all grey and white. Looking so fresh, it beckons you to come inside.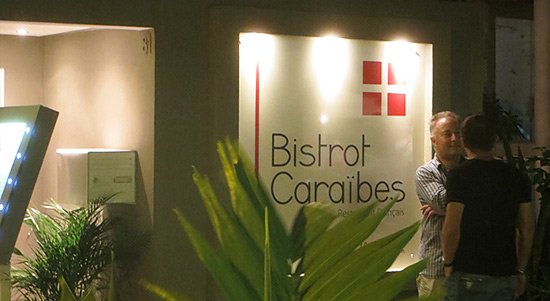 The interior decor is equally pleasing, with perfect overhead lighting and temperature control. They have truly struck the right balance between a charming, cozy French home, and a more modern, fine-line driven style of design.
My Mom and I stepped off the street and were graciously welcomed by one of the owners, Thibault Meziere.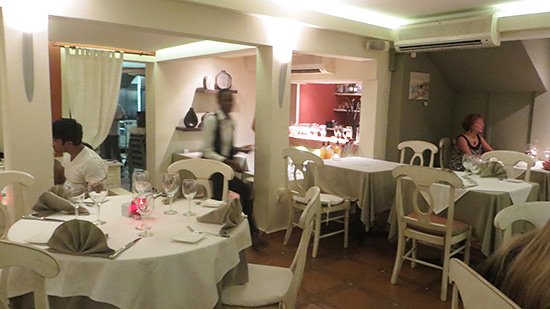 We were shown to a seat at the restaurant's edge, closest to the open lobster "pond" (tank) and white-wood-framed windows overlooking the busy Grand Case night. A town with a distinct French-Caribbean feel, this table is in the midst of the action yet set back from it all.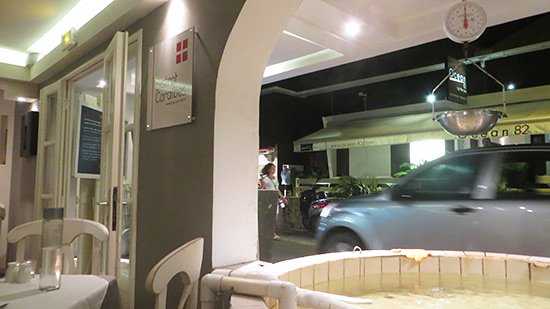 With a sense of complete comfort yet undeniable refinement, we felt just right.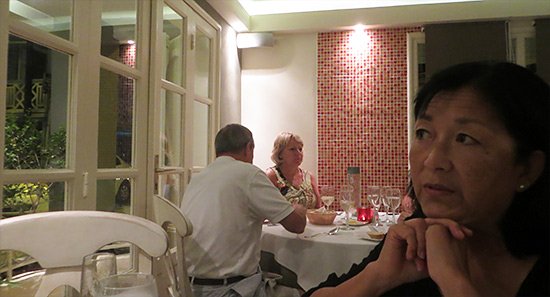 Thibault Meziere
Thibault returned shortly after seating us, and introduced himself and the restaurant.
Together with his brother, Amaury, they have owned and operated this restaurant since 1993. They have another restaurant in Grand Case, too, Ocean 82 (just across the street). Experts with decades of experience under their belts, they know how to craft the ultimate fine French-Caribbean dining experience.
With Thibault Meziere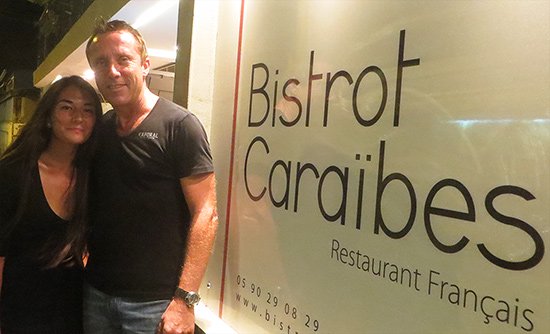 After a short chat, he kindly took our drink order. The special that night was a champagne-based cocktail infused with peach. Before the words "it is kind of like a Bellini" could escape his lips, we said "2 please!"
The Menu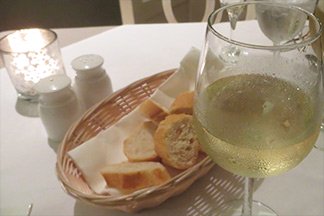 We sipped our champagne drinks, and his sweet son brought us the menu.
The menu prominently features the day's specials.
That night they included tuna tataki, a shrimp pasta and a whole sea bass.
We munched on the fresh French bread as we weighed the other menu options.
Homemade Norwegian Smoked Salmon

Their regular menu was equally tempting. For appetizers they have all the French favorites, including beef carpaccio, frog legs, escargots and duck liver. Good news for garlic lovers. They put a special callout box on their menu, highlighting appetizers that will appeal to you most!
I was torn between the homemade smoked Norwegian salmon and the "hot goat cheese in a smoked breast of duck." Topped with onions and capers, I became more and more fixated on the salmon. Sliced right, with more of a smokey flavor than a fishy flavor, and served with just enough toast, this "house specialty" is not to be missed. My appetite was officially whetted.
Tuna Tataki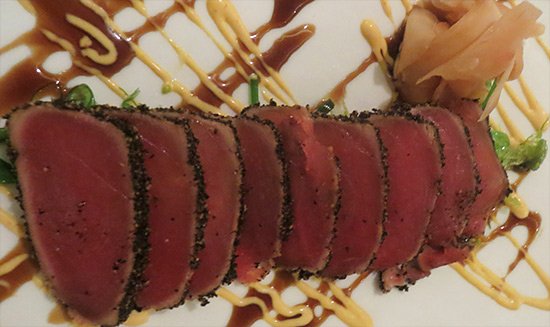 My Mom ordered the appetizer special that night, the tuna tataki. It was also excellent. She even noted that they must have made their own ginger since it was so finely prepared.
In between courses, I had just enough time for a cigarette. A no smoking restaurant without an outdoor terrace, Thibault quickly noticed and suggested we step across the street to his other restaurant, Ocean 82, to sit comfortably on their veranda and smoke. Talk about attention to service!
And, when we returned? Dinner was served. The timing was impeccable...
The Pasta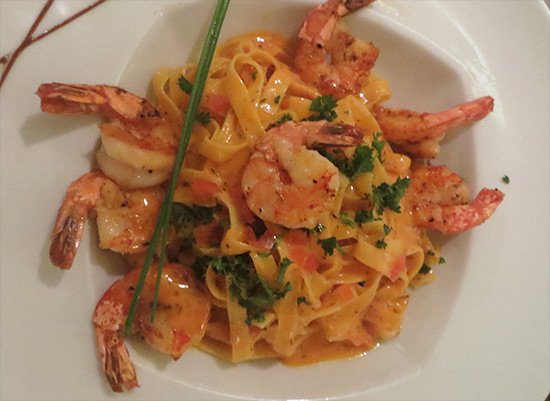 We both tried the specials that evening. My Mom went with the shrimp pasta in a light tomato sauce with chives. I chose the sea bass. A whole fish that Thibault debones, it is grilled to perfection and served in the most gentle of butter sauces with chives, zucchinis and tomato puree on the side. Caribbean-style rice was served with it.
The flavors were well balanced, the sauce not taking away or overpowering the fresh, lightly salted fish. The last time I had such expertly cooked sea bass was in Venice. Bistrot Caraibes' sea bass really took me back!
The Sea Bass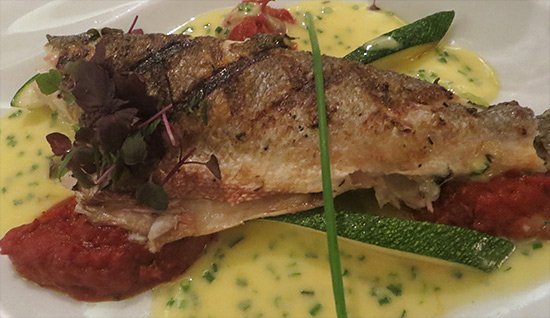 Other entrees at Bistrot Caraibes include lobster (grilled or Thermidor), grilled rack of lamb (in a vegetable-thyme sauce and served with garlic mashed potatoes), veal scallopini (with blue cheese) and snapper (in a saffron-mussel sauce). The lamb and the lobster are on my radar for our next visit.
With the Caribbean Sea just a few meters away, and the lobster pond right in the restaurant, Bistrot Caraibes' lobster is fresher than fresh. And, Thermidor, all crunchy with a mix of aromatic flavors (cognac, mustard, etc.), is one of my favorites.
The well-sized portions devoured, we were pleasantly full. We sat back and took in the atmosphere. We visited during a quieter time of the year, yet this restaurant was still full with people eating, drinking, laughing and just enjoying the evening.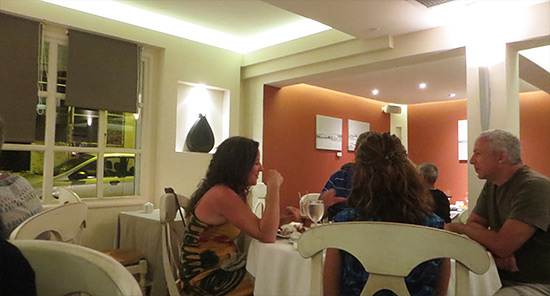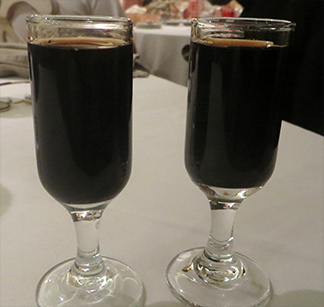 Cheese plates, creme brûlees, profiteroles, ice cream, hot chocolate cake... it all sounded so good, but I couldn't stomach another bite.
Our last choice was between a cappuccino (elegantly served in a champagne flute) or a coffee cocktail. We opted for 2 Patron Cafes, our favorite way to end a meal.
If we can tear ourselves away from the Patron next time, we will give their signature homemade ginger rum a shot. Everyone raves over it!
Glasses empty, the bill paid, we bid "adieu" to Thibault and headed back out into the Grand Case night. A flawless evening. The only issue? It ended too soon. ;-)
Until next time...
Location, Hours & Contact
Hours: Dinner only.
Contact: (011) 590 590 290829 OR (011) 590 690 536144
Reservations recommended!