Barbados Vacations Part 2:
Surfing Barbados and
Surfing Big Waves on the East Coast
Late in Summer 2009, Yuki and I had our first surfing lesson in Montauk, Long Island, New York.
The water was dark, cold.
The conditions were less than ideal for beginners hoping to ease into an exhilarating sport.
Hurricane Bill had only passed through the day before, leaving 8' waves, rippling in every direction.
It was a kamikaze mission for any first-timer!
Yuki was crying tears of fear.
Despite those tears and fierce waters, our Montauk surfing experience was the onset of an addiction. An addiction to the ocean, to the waves, to the freedom.
The experience sparked a feeling so pure and powerful. Pulling out of Ditch Plains, Montauk, I knew this would not be our last time riding waves...
Ten months later, and 2000 miles south, our surfing careers were in full swing.
Barbados surfing has an international reputation for being a prime surfing destination, offering the best waves in the Caribbean.
The breaks are smooth, consistent, some days you can even be surfing big waves over 6' high.
Could any location better fuel our addiction?
Planning a day of Barbados surfing was priority #2, right after booking our flight to Barbados!
Day 2 of Our Barbados Vacations: A Barbados Surfing Vacation!
Contrary to popular culture opinion, Zed's not dead! ;-)
Zed's Surfing Adventures is a Barbados surfing school and rental with a leading reputation.
Zed Layson was born and raised in Barbados. He started surfing when he was 7 years old, having participated in surfing competitions around the world, from Brazil to Japan.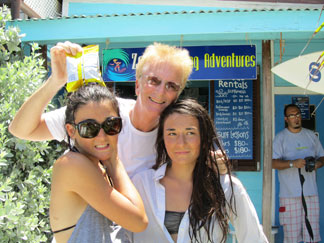 Who could run a more trusted surfing school?
Booking a three hour Barbados surfing lesson with Zed's Surfing Adventures was the easiest decision we made during our Barbados vacation.
The only hitch?
Surf time was 9:00 AM, and on the other side of the island.
It wasn't the distance that bothered us. It was the small off-roads to get there that killed us.
The direct highway only took us so far.
When the highway turned into service roads, we knew we were in trouble. It wasn't long until we were on our own, weaving through a geometric maze of 60s styles homes.
Total travel time to Zed's Surfing Adventures on the southern coast? Over an hour. I recommend taking a cell phone with Zed's phone number!
Zed's is the hidden gem at the last spit of road...
We entered the sandy-bottom surfing establishment, greeted by Zed's kind wife who set up our lesson. She noticed the looks of concern across our faces, "Are you nervous," she asked in a smooth Italian accent, smiling.
We explained the conditions of our previous surfing lesson. She laughed and assured us that Barbados surfing was different, "No, don't be nervous. Surfing is fun! And here, it is beautiful. There is nothing bad that can happen. I love it."
A pregnant woman of petite portions, so calm and confident, she inspired us!
Shortly after we were introduced to our surfing teacher, Barbados native, Bodie.
Barbados Surfing Teacher Bodie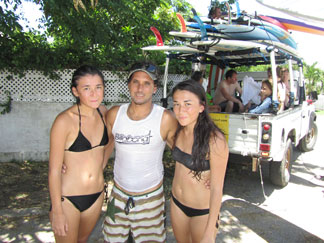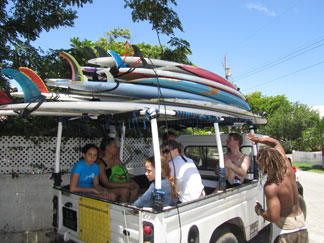 "We had a Grandma out here last week, and she was standing up. Let me tell you, it's the best place in the world to learn to surf. You girls will be fine," he smiled, ready to go!
Within moments we were on the road.
Together with a gang of eager, early morning surfing birds we set off in search of the best waves of the day!
We traveled in surfin' safari style.
Surfboards strapped to the roof of the beach buggy, we took off down the road from Zed's "office."
Barbados Surfing Spots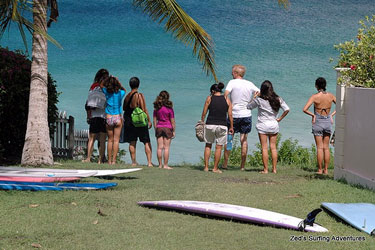 Photo Taken From: Zed's Official Flickr
My Dad turned down the cold, dark, rough water in Montauk, Long Island, New York, but couldn't resist the clear blue Barbados water.
Yep, that's right! It was a Dad-and-daughters surfing day!
Yuki and I had learned our surfing basics in Montauk, Long Island, New York, but it was time to refresh and educate our Dad.
Thorough and detailed, Bodie took us through the key steps to standing up on the board and maintaining our balance.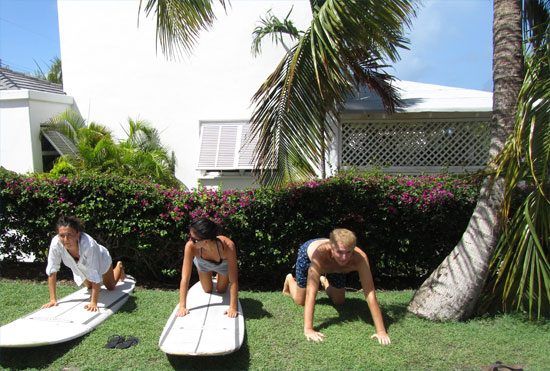 After a solid thirty minutes of practicing our surfing techniques on land, we were ready to take our strategies to the sea. It was time to paddle out...
Dad and Yuki Paddling Out


Now, many places claim to be the "best surfing spot for beginners." But then you get there. The water is chilly and murky, wetsuits are not optional and the waves are unpredictable. The truth is, most places lie.
Bodie had not.
The sea was warm, shining a clear turquoise, straight to the bottom. No wet suits allowed for increased maneuverability. And we had a few special guests... Sea turtles surfaced just inches from our boards!
Surfing in Barbados was a calm, relaxed learning environment.
Our Montauk surfing experience holds a special place in my heart. It was our first surfing spot and we got lucky with a genuinely nice, patient teacher, but Barbados surfing just can't be beat.
In fact the conditions were so calm and clear, I was more interested in soaking up the sun, lying on my surfboard, slowly drifting out to sea, than trying to catch waves...
But, Bodie was a committed teacher.
He didn't allow us to fall captive to the Barbados sun and calm sea for too long... Paddle and fall, paddle and fall we did.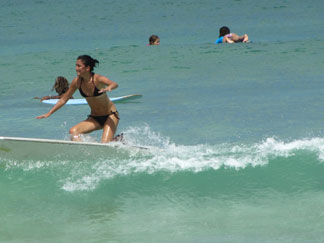 It took a while to regain our surfing legs, but once we got them back? We were unstoppable!
Yuki was the most eager, catching the most waves of the day. She was fearless.
I, on the other hand, was content lying on my surfboard, the small waves rocking me ever so gently as I watched the sea turtles surface and dive.
Despite my preference for the sealife, sun and snoozing, I caught a few waves, and even learnt new surfing techniques. I learnt to ride "across" the wave, and by accident! I paddled back to Bodie with a look of amazement on my face, "What was that? I want another!"
When you ride "across" the wave, you ride the wave's energy, cutting through the water faster. The sensation is completely different. It's an exhilarating feeling unmatched by any sport I have ever tried.
Here's a clip of me riding "across" the wave...
As for Dad, he got up too, riding several waves all the way into shore!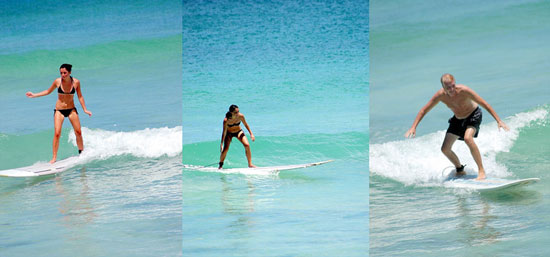 Photo From: Zed's Official Flickr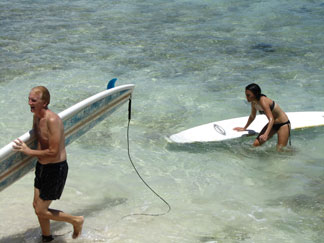 Three hours melt quickly when you are surfing Barbados.
Before we knew it, we had each caught our final waves for the day.
I solemnly rode my last wave in, "This is what surfing is all about," I thought.
Save the wet suits and the aggressive waters for somebody else!
Exhausted and dehydrated, it was only noon.
The day was young!
Next? Off to explore the east coast and see "pro" surfers truly surfing big waves...
Oistins, Flying Fish
Before we set out for more driving and exploring, we had to refuel.
The town of Oistins wasn't far, so we back-tracked to sample one of the most famous Bajan foods... Flying fish!
Oistins, Barbados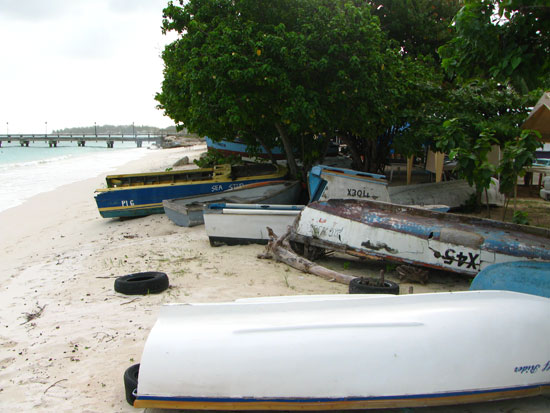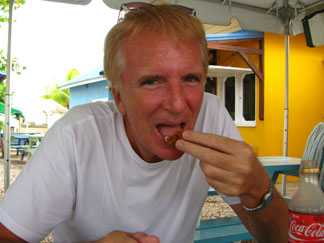 Oistins is a coastal town on the island's south side.
It is a working fishing village, famous for its Flying Fish and Friday night Fish Fries.
We missed the Friday night fish fry, but were still determined to sample the Flying Fish!
Deep fried Flying Fish, and a plate of West Indian favorites, including rice and peas and macaroni pie, coming up.
Full and happy, we were back on the road!
Barbados East Coast
What had been exhilarating Barbados surfing for us, was nothing compared to what we were about to discover on Barbados' East coast.
Zed's had us protected in a shallow, quiet cove on the island's southern coast. It was truly a perfect spot for beginner and inexperienced surfers. The East coast is where the action is!
Now, we were headed East!
The drive was majestic. The island is dense with lush green foliage. The remnants of plantations remain, some are still in operation, run and rented by the government from plantation owners.
The powerful waves in the distance were a reminder that we weren't in Caribbean seas anymore. We were approaching the open Atlantic ocean!
Barbados is the most Easterly Caribbean island, so it's no wonder why the East coast is infamous for their rough and wild breaks.
In a little town called Bathsheba, you will find them, the breaks and the surfers. Small groups of surfers pop up here and there in the surf as you head into Bathsheba. And then, a surfing town emerges.
Over twenty people in the water, surfers "dropping in" on the same wave, cars jammed on the side of the road, boards strapped to the roof. A powerful, concentrated surfing culture is evident.
This is the "Soup Bowl," nicknamed for its frothy waters. There were no wary beginners in the water, leery over the prospect of standing up on a board.
Barbados Soup Bowl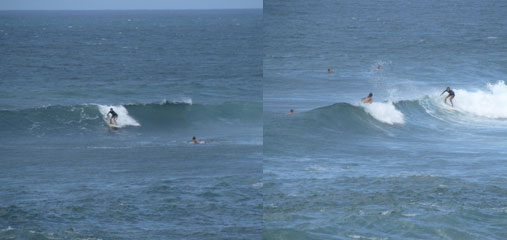 These guys were experienced, skilled, beyond simply catching and riding waves. They were trying aerial tricks of all kinds and advanced surfing techniques.
With a few more rounds of lessons at Zed's, that will be me and Yuki in no time! ;-)
We stretched our legs...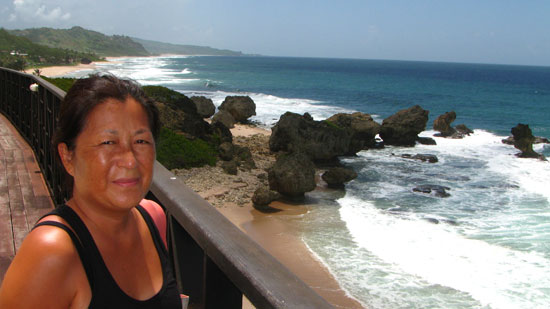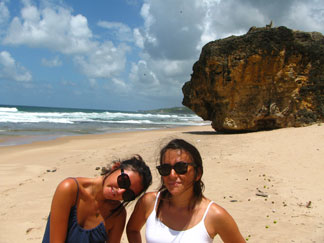 If you don't come to Bathsheba for the surfing, come for the scenery.
Barbados' West coast is more tame, quiet and refined.
The East coast has a different flavor. The shoreline is rugged, the water is rough.
An untamed spirit of freedom is alive in the constant breeze.
If we return to Barbados, we will stay in Bathsheba, a special down to earth surfing spot.
After driving through the town and having our fill of watching the surfers hurl themselves over the edge of wave after wave, we gave in to exhaustion.
It was time to call it a day, and return to Cobblers Cove.
Click here to read Part 3 of Barbados vacations: Visit Barbados Caves, Gardens and Barbados Restaurants
More on Caribbean Surfing
More on Surfing