Barbados Vacations Part 3:
Visiting Barbados Caves, Gardens and
Barbados Restaurants
Our Barbados vacation was winding down.
We had explored the island's capital, Bridgetown.
We experienced Barbados surfing with Zed's Surfing Adventures.
We had driven the southern, eastern, western and even into the northern tip.
What was left to do on our visit to Barbados?
Barbados surfing had been my and Yuki's choice. Now it was our Mom and Dad's turn!
On their list? Two major Barbados vacations attractions that we had missed. Barbados' Harrison's Cave and Andromeda Botanical Gardens.
Back to the East coast of the island, we started at the destination furthest away from our Barbados hotel.
Visiting Barbados' Andromeda Botanical Gardens
Set in lush mountains overlooking the island's free and fierce Atlantic coast lies a lush six acre botanical garden.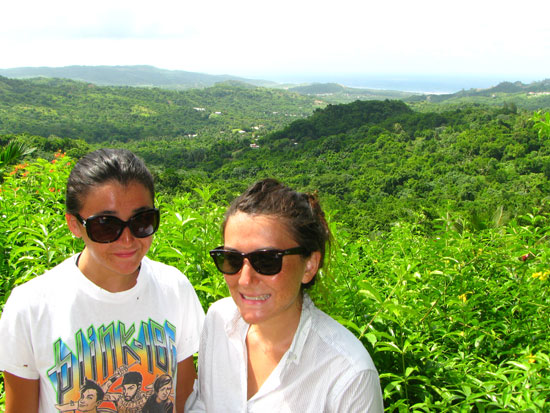 A visit to the Barbados botanical gardens was my Dad's idea. To put it plainly, my Dad is a plant guy.
When we lived downtown Montreal, when I was a baby, he built a greenhouse on the large terrace of our apartment where he grew 500 different species of cacti.
Before we moved to the countryside (outside of Montreal) after Yuki was born, he donated them to Montreal's Botanical Gardens.
Today, at home in Anguilla, he has started his cacti collection again.
This time, no green house! Every day he spends over an hour outside in our backyard, where the dry, desert climate create perfect cacti-growing conditions.
The Andromeda Botanical Garden is beautifully sculpted and well-maintained.
At the beginning of the walk they provide umbrellas, to shield you from unexpected moisture.
Hoping to not run into any mud slides, we left the check-in area and broke into the fresh aroma of botanical garden.
In flip flops and sandals, we were fine and never opened our umbrellas once!
The walk is approximately thirty minutes and weaves through rolling hillside, providing the most spectacular vistas out to sea.
It is a leisurely stroll, with plenty of benches for resting and taking in the scenery.
Before you reach the vantage points, you weave between orchids, ferns, hibiscus, bougainvillea, palms, begonias, cacti and even palms the height of a house.
The Andromeda Botanical Garden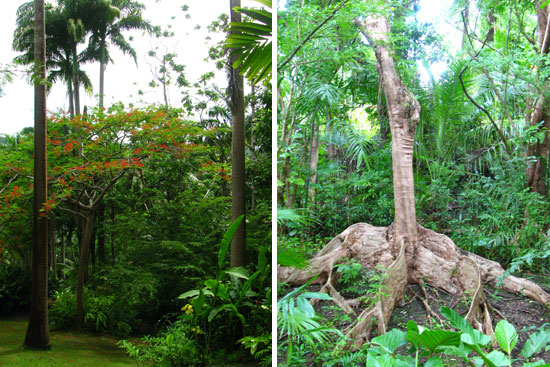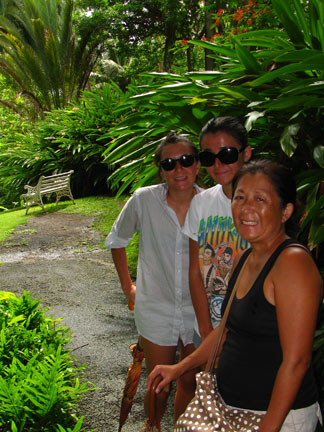 This botanical garden has over 600 different species of plants, and is an ongoing site for research for the University of the West Indies.
My Dad was amazed to see many different species co-existing, from plants that require little sunlight and damp humidity, like ferns, to sun-seeking, dry-heat needing plans like cacti.
My Dad was in awe!
We continued down the path, and 30 minutes evaporated quickly.
It is not a long walk, but it's a lovely spot.
Now, onto our next destination!
Visiting Barbados' Harrison's Cave
Smack-dab in the middle of the island is one of the biggest sights to be unearthed (Ha! Ha!) on a Barbados vacation...
Barbados' Harrison's Cave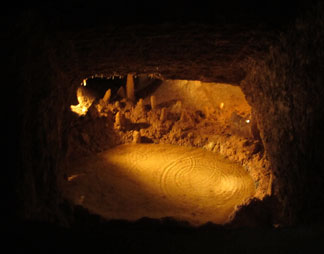 Hundreds of feet below the Earth's surface lies a limestone cave, one of the biggest in the world.
Burrowing underground was #1 on my Mom's list.
I had passively agreed, not fully understanding what we were getting ourselves into. A bit claustrophobic, had I known that the cave spans nearly 1.5 miles underground I may have reconsidered my disposition.
Nevertheless, we charged ahead and paid for our tickets.
Down an elevator we went, heading for the building below, the site of an interactive education zone and the tour...
You are taken to Earth's core by tram that comes in shifts. There is only one road in and out of Harrison's Cave.
While we waited for our tram to arrive, we were invited to hang out in an education area.
There were many interactive stations for learning about how Harrison's Cave came to be, and rock formations in general.
Harrison's Cave began being formed thousands of years ago.
It was first discovered in the 18th century, but the explorers didn't get far inside because it was particularly difficult to navigate.
It wasn't until 1970 when the cave was fully explored by an engineer and spelunker from Denmark. With a small team of two, they stepped into darkness, uncertain of the mysteries that could possible lay ahead.
Eleven short years later the cave was open to the public.
Halfway through a video on volcanoes and the ocean floor, our attention was diverted. Our time had come...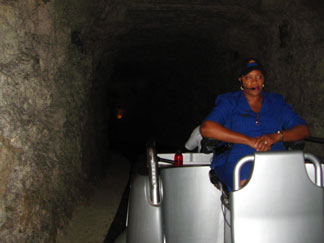 We stared down a pitch black tunnel.
Only then did it register.
"We are about to descend into the bowels of the Earth. What could be down there? What if an earthquake hits?"
Fear was running through my mind.
Distracting me from my thoughts, our tour guide arrived front and center, and the journey began.
She seemed like she had done this before, and she was alive and here to tell the story. Stress was temporarily relieved.
Harrison's Cave is a limestone cave that still carries water.
We could hear water rushing into the still pools as we approached the sites carved out along the tram's route.
As we moved deeper into the cave, our guide pointed out a small lake to our left. Over six feet deep, there was a ladder on the far end of the cave wall.
"This is the emergency exit, in case of flooding," she warned.
Salactite formations hung from the ceiling and stalagmite formations grew from the floor, glistening, crystallized.
The greatest wonder lay at the end of the ride, the "Great Room."
The "Great Room" is the biggest room in the cave, reaching over 50' high.
Surrounding the "Great Room's" clearing were mountains of rock. I wondered what kind of cave monsters existed in those rocky cliffs, and were making a meal of us in their minds as we looked-on blissfully unaware!
Before heading back to the surface, we were able to get out, walk around and get up close to the formations.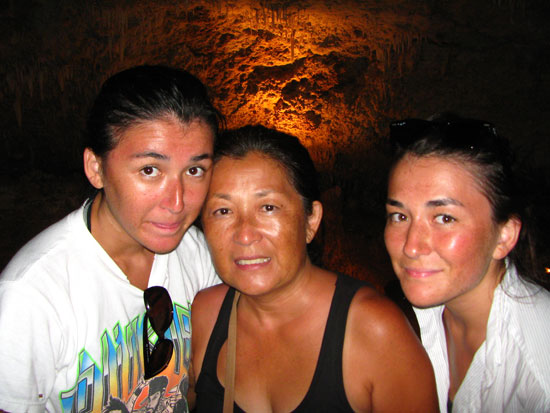 Although the cave was significantly cooler (27°C) than a hot summer day in Barbados, my skin was flushed. I could feel a thickness in the air, and the pressure of being hundreds of feet below the Earth's surface.
Anxiety started setting in.
In the nick of time, our guide called us back to the tram and up we went, passing the formations one last time.
The day was drawing to a close.
We had criss-crossed the island, again. We had seen the caves, the gardens, the surf.
There was only one thing left to do...
Barbados Restaurants: Beach House
Our Barbados restaurants experience had been limited.
Whether we had a big lunch, or swapped Barbados restaurants for Barbados hotel room service, we had not yet experienced Barbados restaurants for dinner, apart from the room service menu.
After cleaning up and resting, we headed to an elegant Barbados restaurant at the edge of town, just a short drive from Cobblers Cove.
Beach House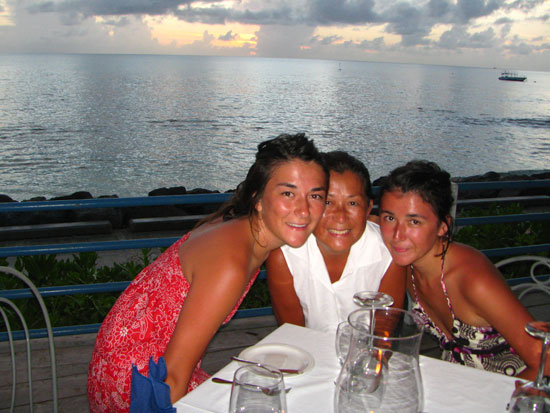 The puff-pastry bread basket was to die for, followed by sumptuous sauteed black tiger shrimp, served with jasmine rice in a mango, pineapple and coconut curry. My only regret? Not also ordering the seafood crepe my Dad went with.
The drinks and food were excellent, but it was the ambiance that captivated our hearts, set in the idyllic calm of the West coast.
Picture-perfect, we watched the day fade from the sky, into the stillness of the Caribbean sea, as the evening and our vacation came to an end.
Until next time Barabados, see you in the surf!