Beaches For Anguilla Lovers,
Montauk Long Island
Montreal isn't famous for its beaches. Its fine dining, nightlife, and European culture? Yes. But, definitely not its murky lakes and rivers. Our family never did much "beaching" before we were introduced to Anguilla.
Since we started traveling to Anguilla in 2002, we became spoiled with a pristine seashore that stretches to the horizon. We stopped exploring other spots on the globe for their beaches. Even if a new travel destination had beaches, temptation wouldn't call our names if they weren't up to Anguilla standards. He he! ;-)
But sooner or later we all get knocked off our high horse.
Vacationing in Anguilla developed a love for the beach... Anguilla beaches, but living in Anguilla for seven months formed a much deeper need to be near the water... in any form.
So, when Yuki and I moved to New York City to start university after nearly a year (for me - over a year for her) of living in the Caribbean, indulging in white-sand beaches, and water so clear you swear you could see the pores of your skin below, it wasn't an easy adjustment.
Where can we swim?
On an afternoon walk around Brooklyn with a friend, we came across "Mollusk Surf Shop". What a funny shop to find in a city, I thought. But apparently the joke was on me. The man at the cash assured me that thousands of people in Manhattan surf nearby all the time. He said that Montauk was the best spot. Montauk? Hmmm. The wheels started turning.
So, I did a little research on Montauk and on Long Island. I found this great website... Loving Long Island. The website is so personal and thoughtful, highlighting all of the must-sees and uncovering some hidden secrets. The next step? Pitch the idea to Mom and Dad.
It had been years since our last family drive (we used to drive twice a year to The Cape). Everyone fell in love with the idea. My Dad said, "Just get us there Nori!"
I got in touch with a family friend, Melissa, who knows New York inside and out. Her vast knowledge of New York City is really put on display in her website, NYC Insider Guide. If you need any tips for a trip to the City, look no further!
From rental cars to breakfast spots, Melissa held my hand, helping me put the day trip into action. And then... bright, early, and already muggy, we escaped the buzz of the city...
It's about a three hour drive from Manhattan to Montauk. We didn't take a scenic route, or detours here and there. We followed the I-495/Long Island Expressway all the way to the very tip of Long Island. Montauk is "The End". It's as far as you go by foot or by car!
A Familiar View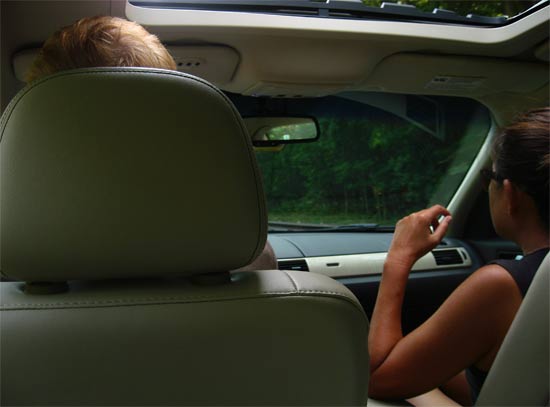 Our Favorite Spots


The scenery slowly turned from industrial, to slightly suburban, to pristine countryside. There was no sign or notice that we were approaching the seaside, unlike the traditional East coast fishing village I've seen so many of. The only indication of the ocean were the waves breaking behind what appeared to be a grassy hill, but which was in fact a dune. Montauk otherwise felt like a country town.
Yuki's jaw dropped. We had a surfing appointment at 1:00 and the waves looked huge from the road. Would we survive? He he!
I paid them no mind as we pulled into Bird on the Roof for breakfast. This is the spot for breakfast in Montauk. We all had omelets, but apparently we should have gone for the French toast. I heard their French toast is heaven.
On our way out of Bird on the Roof, we stopped at a beach just to get a feel for the waves.
We Weren't in Anguilla Anymore...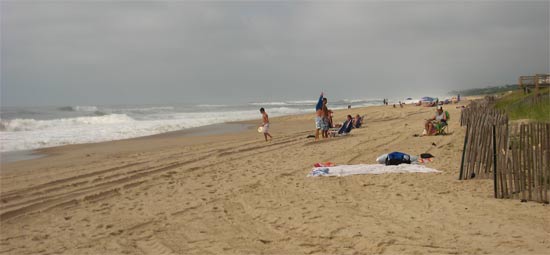 The area had seen some of the worst waters that weekend. Hurricane Bill (which actually followed us to Montauk - it was threatening Anguilla too!) came through Montauk. We were there for the tail end. The water looked rougher than anything Yuki and I had ever seen. She was already swearing that she would pass up the lesson...
On to the lighthouse!
Montauk Point Lighthouse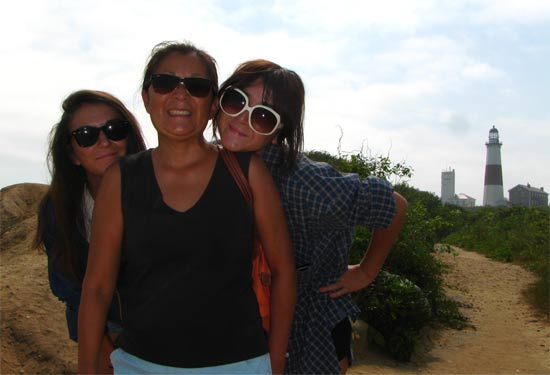 It is one of the most charming lighthouses we have ever seen (which makes sense - it is New York's oldest!). Despite its historical value, we skipped the museum, and explored some of the trails around the lighthouse. We cut across to one along the searocks.
Down A Dusty Path...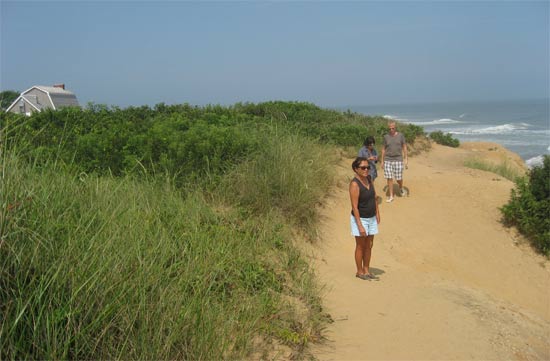 Across The Searocks...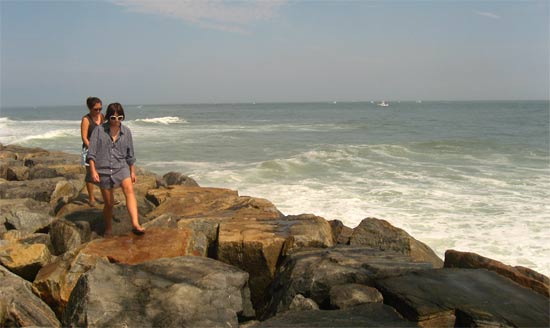 And Around The Bend?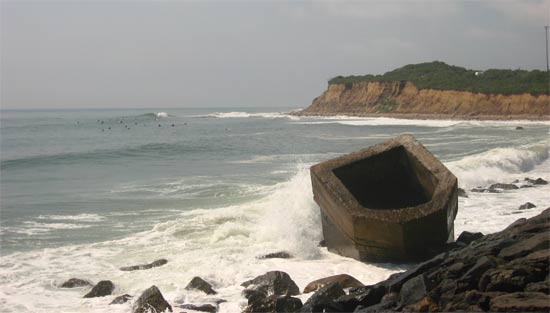 Surfers!

Somehow, Yuki still wasn't reassured.
It was onto Sunset Surf Shack. Time was ticking...
We met our surf teacher, Zak, and got suited up. I debated over a wetsuit, considering the scorching hot day outside. When Zak said he was bringing one, I couldn't turn it down. He had been swimming here longer than I had anyway, and my standard of cool water was Anguilla in February!
Ditch Plains, Montauk Long Island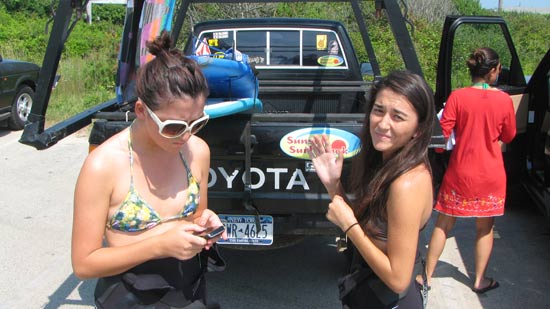 Yuki was not playing coy when she showed some severe concern about surfing in those rough waters. Her arms crossed and expression tight. We headed down to the beach...
Struggling With The Surfboards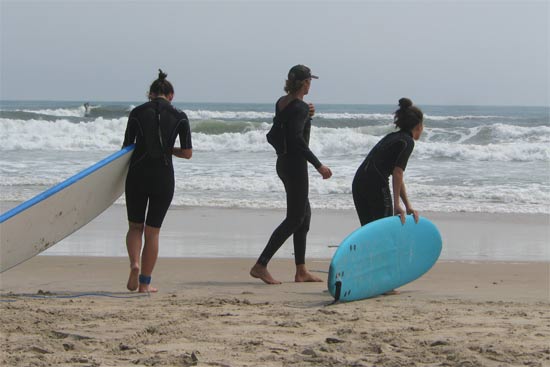 Sand Paddling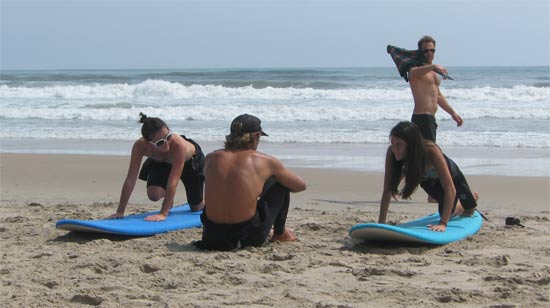 Heading Into The Water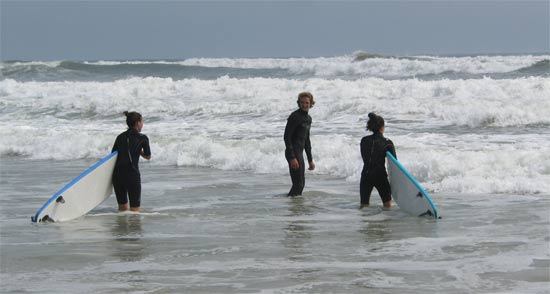 I was shocked how quickly Zak had us in the water. I feared that the greater portion of the lesson would be spent on the beach, getting sand under our fingernails. But nope! My wish had been granted. Now, it was too late! This was it! No turning back...
We approached those waves with caution. Nervous, Yuki hung back for a little bit. Eventually Zak got her in the water...
Fighting the Waves!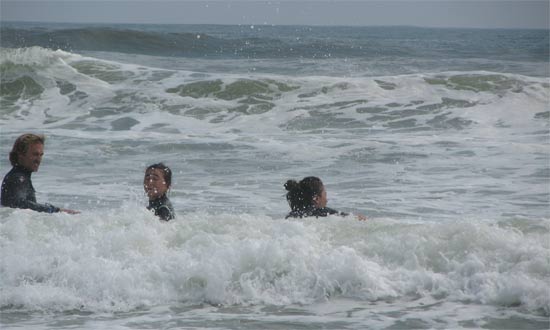 Getting Ready...


How invigorating. The water was cold, dark, and so refreshing. The waves were rough and constant, fighting them to get past the pull was a workout in itself. It's no wonder surfers are in such great shape!
Even then, that was only half the battle.
Bewildered by the waves, Zak timed them for us. He agreed that this was difficult water to learn surfing in. He had been living in Montauk for three months and had never seen the water like this. He told us when to paddle and then pushed us off. The first few times I toppled right over shortly after standing up, but I started getting the hang of it. And when that happened?
What a sense of freedom!
Then, we did it all over again.
I would like to say the lesson zipped by, but after an hour and a half, my body was frigid and aching. I don't know how Zak could handle it for so long.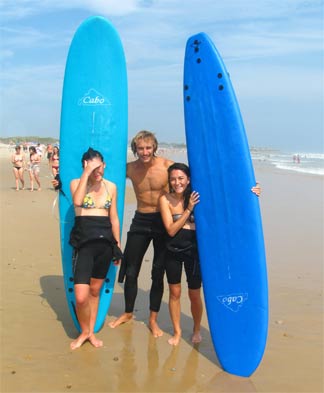 By the end of the lesson I was tired, but it was a rewarding feeling!
Still, I can't believe I waited this long to try surfing. Anguilla doesn't have surfing waves, but St. Martin isn't that far. ;-)
I can't wait to get back in the water and give it another try.
Ditch Plains was a great surfing spot.
The parking lot was loaded with cars with racks and surfboards in tact.
There were fathers and sons in the water, people on longboards, experienced surfers much further out, and then... us. What a mix!
It is a real surfing town.
We said good-bye to the beach and thanked Zak for his kindness and patience.
More on Surfing
More on Caribbean Surfing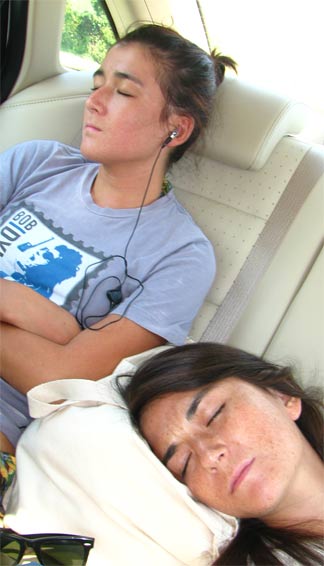 Actually, we said good-bye to all of Montauk after the memorable surf lesson.
My Dad had found a map of Long Island and was armed to explore.
Off we went...
Well, we all left together...
But Mom and Dad did most of the exploring.
Yuki and I did a lot of the snoozing.
It felt just like the old days!
On our way out we drove through East Hampton. Yuki and I awoke for this one. Starbucks, Hermes, Brooks Brothers all modeled into small-town storefronts.
My eyes were wide. I wouldn't have pictured something so ritzy after Montauk, a pretty down to earth spot.
I had heard of the Hamptons before, I just never visualized it!
The upscale market climbed as we headed out of The Hamptons. I missed a few stops along the way, but managed to stay awake for...
Sag Harbor

The Yacht Club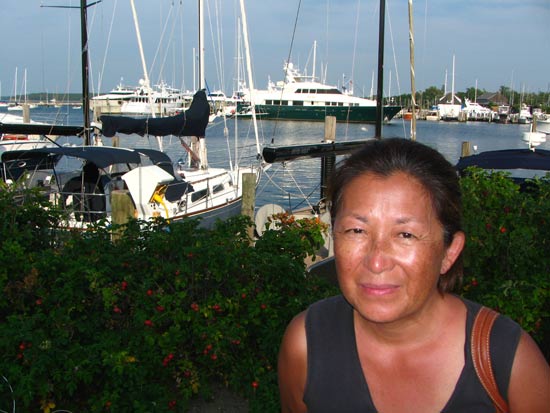 For sixteen years we lived in a small town outside of Montreal called Hudson. There was a yacht club in this country village, but the biggest boats harbored there must have been 25 feet. Anguilla? Spectacular yachts of all sizes visit the island regularly, but never have I seen a concentration of luxury yachts so dense as in Sag Harbor.
Then, Stonebridge Golf Links and the homes in the surrounding area proceeded to blow that concept of luxury out of the water...
Home Gates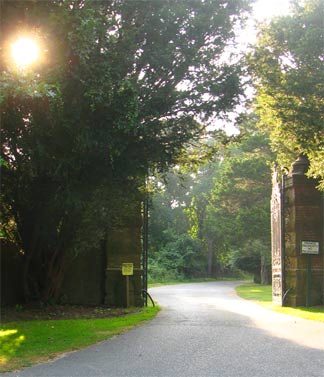 Stonebridge Golf Links Clubhouse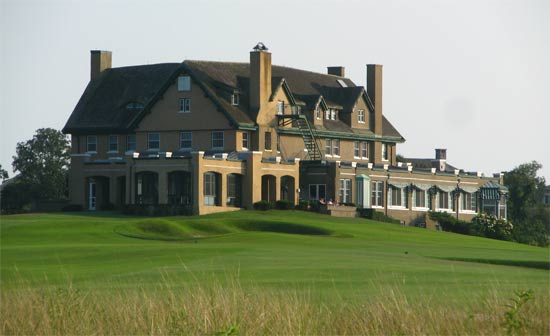 This is a land of wealth and luxury, where the New York City super elite come to sail, golf and play with their various toys. What a wonder. Imagine the people who play at Stonebridge, and live in those homes on the water. A different world...
The rest of the way home? Yuki, Dad and I were knocked out. Mom was in charge!
The rich and famous scene dazzled the mind. I couldn't begin to understand what it must be like to enter that clubhouse or that yacht club. What a scene! Still, amidst all of the multi-million dollar homes, yachts and memberships, Montauk was my favorite.
Montauk Long Island may not have Anguilla beaches, it may be a few degrees cooler, but it's a down to earth beach town, at the very tip of a beautiful coast line. Everytime I get a little homesick and find myself missing Anguilla, it's reassuring to know that not far there is a spot that embraces the attitude I miss, right on the same salty sea.
I'll be back, Montauk!