Surfing Rincón, Puerto Rico...
Welcome to the Surf Capital of the Caribbean
Known worldwide for its 20' winter waves, and for having the most prominent surf community in the Caribbean, there was no way we could not visit Rincón for a day on a recent long-weekend trip to Puerto Rico.
I only had to tell my surf teacher, Franck Rigal owner of SXM Surf Explorer, once that I was thinking about going to Rincón before it became an obsession. "Amazing, amazing. The community is huge there," he said, his expression serious, "You will fall in love."
Sold, or "vendu" as they say in French. It was set. We were going.
Rincón Surf School
#1 on Google, #1 on TripAdvisor, featured on the Travel Channel, Rincón Surf School is the place for lessons and guided tours. I called before booking through their website.
An enthusiastic and energetic voice came through the line. He recommended a morning lesson, before the waves would get "all blown out." That would mean an early departure from San Juan, but that's part of the adventure, right?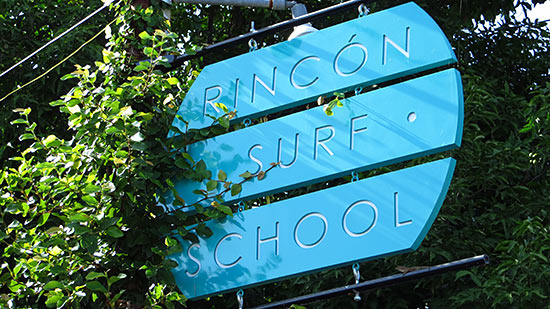 On the west coast of Puerto Rico, Rincón is a 2.5 hour drive from San Juan. Lesson booked, car organized, when the day came, we were up at 6am, ready for Rincón and the morning surf lesson! Anticipation mounted as we made the drive along the northern part of the island.
Mostly McDonalds-lined highways, with the odd Taco Maker here and there, the Caribbean-style concrete buildings that bump up next to them and the Spanish signs are welcomed reminders that you are in fact in the Caribbean.
As we approached Rincón, those roads thinned out to double lanes, surrounded by dense greenery. No chain restaurants, either. We had reached the peaceful countryside.
Note: I highly recommend entering the GPS coordinates of the school into your smartphone, and then just follow the directions.
I knew we had arrived when I saw the oh-so-coooool surf sign in light teel (above photo).
Pretty Sights at Rincón Surf School

Stepping out of the car, I was a little nervous for what was in store. Rincón Surf School seemed like such a bigger operation than I was used to. And, everyone here is part of a much bigger surf community!
Outside Rincon Surf School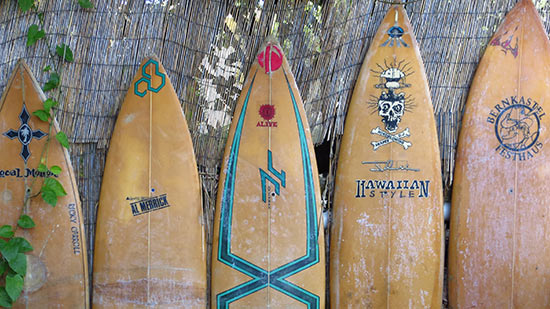 But, I had nothing to be worried about. The guys at Rincón Surf School couldn't have been nicer and more fun.
The owner, Travis Moore, greeted us at the entrance of his charming, white, wooden three-storey building. Friendly and well-traveled, he's experienced in the extreme sports industry, with another business in Argentina. He's on top of things, and really instills every ounce of confidence in you and your ability to surf.
With the Owner, Travis Moore and His Daughter

He introduced me to my surf coach for the day, Whit. Originally from California, Whit has lived around the States. He had been calling Panama and Nicaragua home before moving to Puerto Rico in early 2013.
To tailor the lesson to my level, he asked me about my experience so far, including where I'd been surfing, how often I surf, what I'm comfortable with and what I wanted to get out of the day.
Before heading out, he explained surfing in Rincón and the reason for the big winter waves. Because Puerto Rico is so exposed to the Atlantic, their reefs and beaches capture the distant winter storms that brew in the vast open ocean.
With Whit Inside Rincon Surf School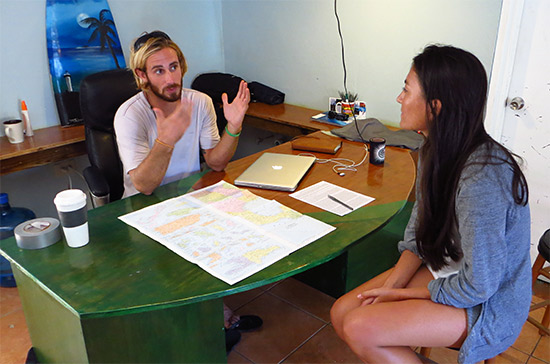 Whit also mentioned that there are plenty of spots and a nice variety of breaks, too. The northwest coast of Puerto Rico jets out, generating swell on both the north and west sides. So, when the waves are flat on north, you go to the west, and vice-versa.
Without any other questions, we were ready to go!...
Jobos, Puerto Rico
With the waves in Rincón as still as a pond, we were heading north to Jobos, another famous surf spot in Puerto Rico.
Jobos Looking West

Jobos Looking East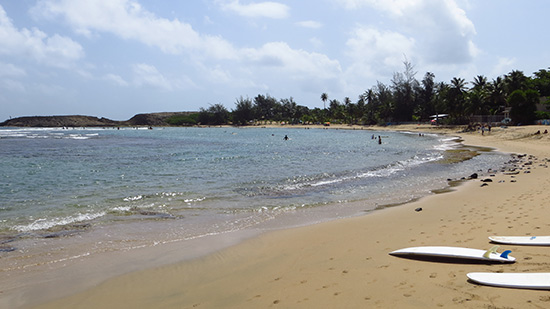 About 30 minutes from the surf school, the drive was well worth it when we stepped out onto the beach to see beautiful, blue breaking waves. With 2 hours of surfing in front of me and Whit, my Mom, Dad and sister, Yuki, spread out their beach towels and applied sunblock.
Whit put me on a 9' NSP board. Made from coconut, it's light for its size and easy to get up on.
Last minute surf instruction from Whit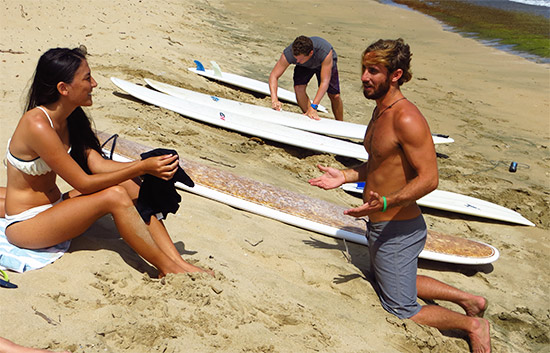 Before we hopped in the water, Whit pointed out a few things to watch out for.
Breaking over a reef, he told me to keep my feet up so I wouldn't get nicked by any sea urchins. "And, conserve your energy. Make each paddle count," he advised.
It was time...
Paddling out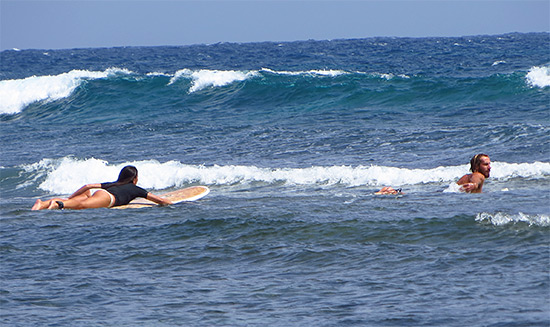 "Up and over, up and over," he repeated each time a bigger, oncoming set neared. Making it look so easy, his confidence was comforting. Once past the breaking waves, he explained the "line up," the points on land that tell us where to position ourselves in order to catch a wave.
Pointing out the line up

Then? We waited...
Not for too long, though...
Whit identified the best waves, told me to paddle, and then gave me a final push. Woooo!...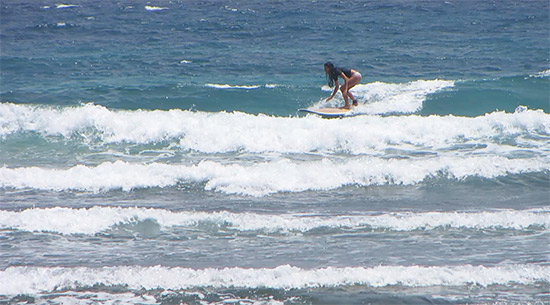 Small and fun, they were perfect. In the summer, Puerto Rico truly is one of the best spots to learn to surf. Not scary, not steep, not aggressive, just smooth and easy.
I'm proud to say that I managed to catch 100% of the waves I tried for that day, and even caught the longest wave I have ever ridden...
Calm and laid-back, yet with an acute attention to safety and a drive to help you improve, Whit made it a great morning. His style and attitude in the water is a perfect blend of fun and focus.
With Whit post-lesson!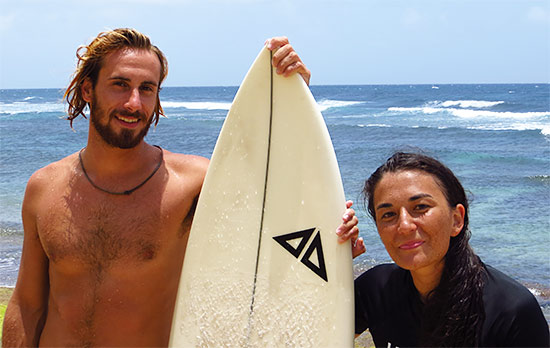 La Cambija Restaurant & The Town of Rincón
Early afternoon by the time our surf lesson wrapped up, we headed back down to Rincón. It was a flat day wave-wise, but I still wanted to say we had set foot on a beach in this surfing paradise.
First things first, the post-surf meal. We stumbled upon a terrific spot filled with locals and a few sunkissed surfers...
La Cambija

Puerto Rican food on the menu, good prices, welcoming service, we took a seat on the wooden benches.
Inside La Cambija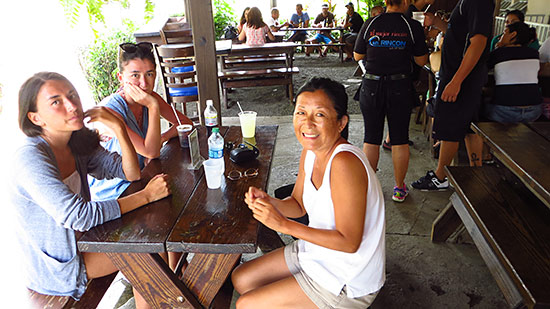 Chicken and fish are the main menu options, either on a skewer ("pinchos") or inside a burrito. They also have empanadas and nachos. I opted for the daily special of a breaded mahi mahi burrito, with a side of salad and fried plantains. Yuki went for a chicken burrito, and my Mom and Dad ordered tuna "pinchos."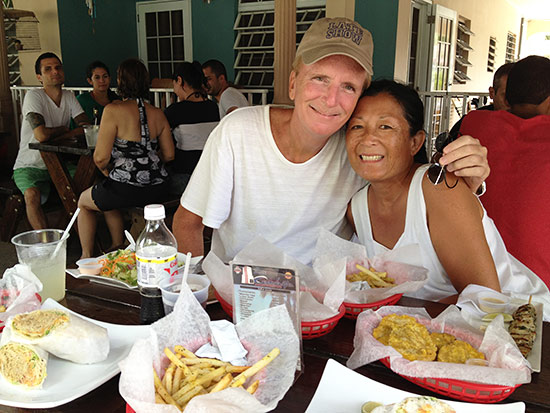 Talk about quantity and quality!
I urge everyone to skip the fries and stick to fried plantains. They were excellent. The mahi mahi burrito is a repeat, too.
Mahi Mahi Burrito at La Cambija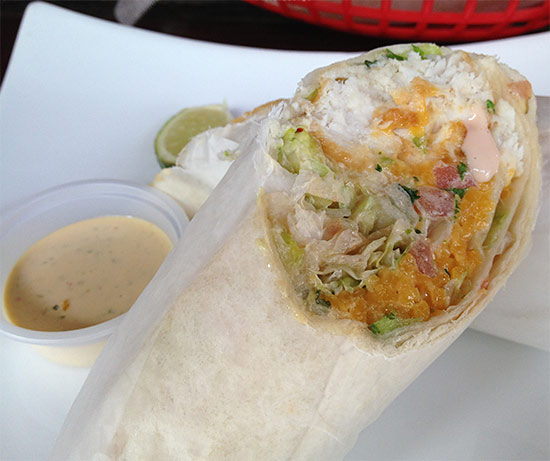 Fried Plantains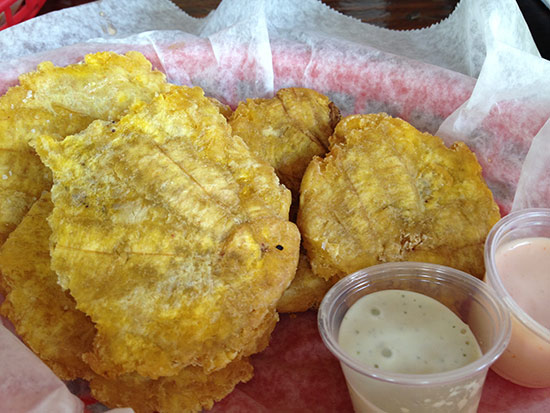 As lunch wrapped up, rain clouds descended.
But, we weren't going to let them send us back to San Juan just yet.
To the town of Rincón!
You know a place is populated with surfers when there's a bronzed statue of one at a major junction.
Dotted with a couple of surf shops, the surf community is well-defined, without being overly commercial.
It feels real.
Past town, down the coast, and you get to the some of the bigger breaks in Rincón, including the famous Tres Palmas where they get those big faces in the winter.
There on a flat day, it was all gently swaying palms and grazing cows...
Palm-tree lined, PR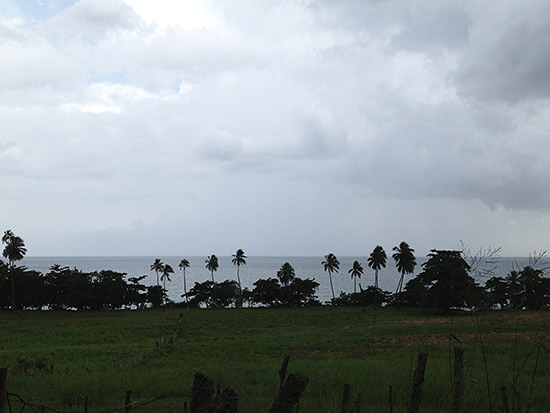 At the road's end we reached El Faro, the lighthouse. As we snapped this last picture of my parents in front of the lighthouse, the battery died and the clouds opened up.
El Faro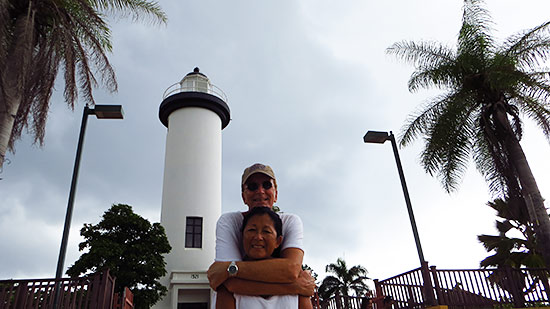 That was our cue to head back!
My only regret? Not staying longer to better capture the flavor of Rincón surfing. A couple of more months in St. Martin, and I'll be ready to return! 'Til next time... ;-)
More on Puerto Rico
More on Caribbean Surfing
More on Surfing